When Katie Dunn and her husband, Casey, bought their first home a few years ago in the Pacific Northwest, the new mom aimed to create a modern, cozy, and coastal home for their baby boy, Henry. Today, the Dunns' Pinterest-worthy abode includes the perfect combination of minimalist and organic decor with chic farmhouse style — and every inch of the place is, not surprisingly, stunning.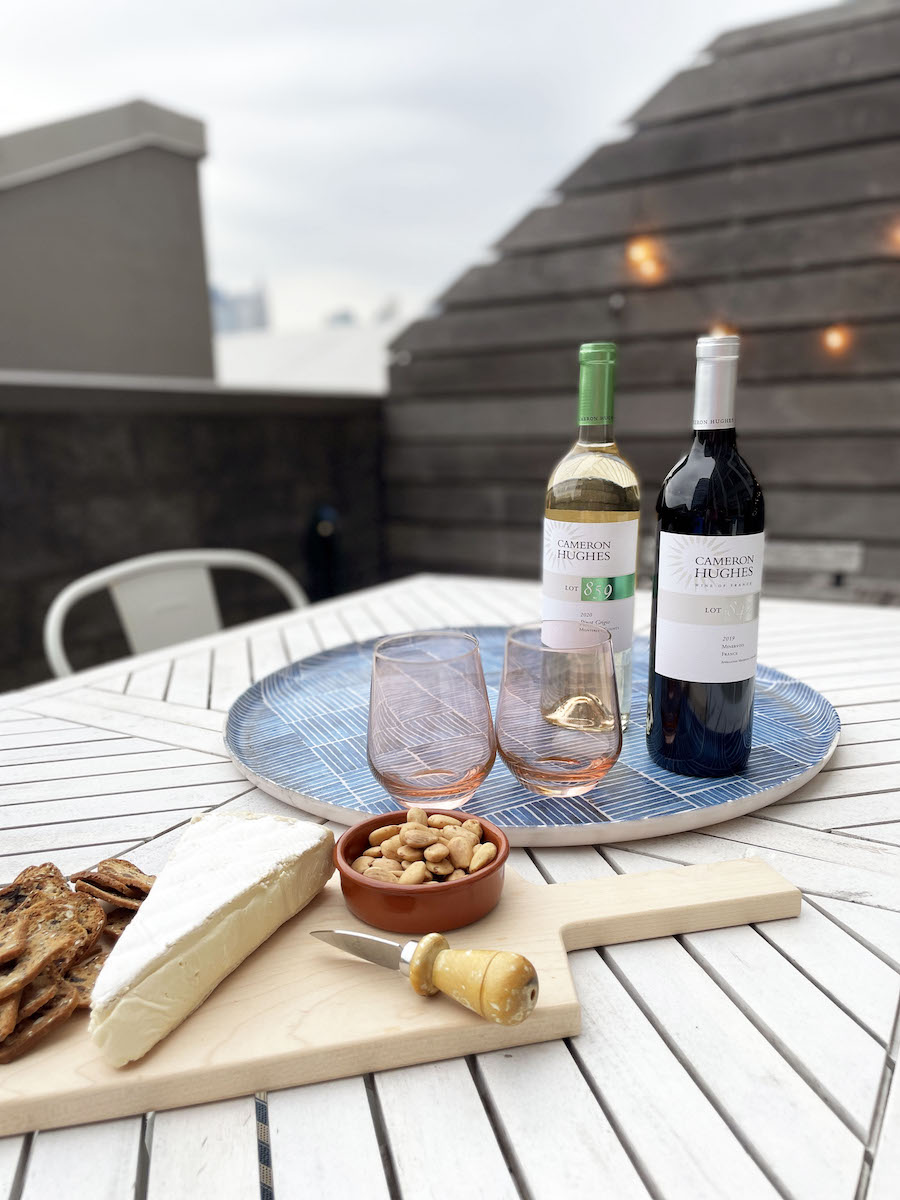 plus, the wines to go with them! 🍷
From beautifully-curated open-shelving in the kitchen and tranquil greenery in the living spaces, to the cutest "Little Man Cave"-inspired nursery and one gorgeously updated bathroom, you're bound to get quite a lot of decor inspiration from this Kirkland, Washington house.
Keep scrolling to read Katie's expert advice for first-time homeowners, find out her plans for her home's next DIY design update, and learn her best mom hacks for working at home with a newborn!
Name: Katie Dunn, Part-time dental hygienist and part-time blogger
Location: Kirkland, WA
Sq. Ft.: 1,670
Years Lived In: 3
Rent or Own: Own
Children: Henry, 4 months 
What was your first job and how did you land it?
During college, I worked as a sales associate in the Brass Plum department at Nordstrom every summer. Does anyone even remember it being called that?! Now it's just known as BP, and it's not even a department. Just one of their in-house brands. I was what you might call a shopaholic (sorry, dad), so I was excited to get that employee discount! Needless to say, I didn't save much during college. 
Now you're working part-time on your blog, Classically Dunn. What made you decide to start blogging?
I've always had an interest in photography and design. When we bought our house and started making little updates here and there, I thought, "How fun would it be to document the process?" I have been an avid blog reader for years, so I thought, "Hey, I can do this, too!" It's the creative outlet that I didn't know I was missing in my life. Through blogging and Instagramming, I have been able to hone my photography skills and let my creativity shine through. If I can inspire even just one person, then I would call it a success!
In addition to blogging, you're a part-time dental hygienist and a new mother. Do you have any mom hacks for being your most efficient self both at home and at work?
Efficient? What does that even mean as a mom?! Ha!! Only kidding. Generally speaking, I'm a Type A personality. I have to plan ahead and be organized. If I don't, then I'm just one giant ball of stress, and life is just too short for that. I work three days a week as a dental hygienist, so I use the other four to get things done around the house. Every week, I make a mental list of the things that I need to get done and those that I would like to get done. We've been blessed with a good sleeper, so as soon as Henry goes down for his naps, I'm usually working on something from my list, which could be laundry, dishes, or photographing content for the blog. That way, I can be present and focused on him while he is awake. In the evening, after he's gone down for the night, I try to do a quick lap through the house to pick up from the day. 
All that being said, I keep an open mind, and I try not to be too hard on myself if I don't cross everything off of the list, which is usually the case. There are plenty of times when I just need some time to sit and catch up on my favorite Bravo shows or even just take a nap. Being a mom is tough, and I know it's important to have time to relax too. The chores will always be there.
SHOP THE LOOK
Your home is located in Washington. What made you and your husband decide on this particular area and how has Kirkland inspired your home decor?
We are both natives to the Pacific Northwest and, when we met, I had been living and working in Seattle and he lived in Kirkland about 15 minutes away. When we decided to move in together, I wanted to try living more of a suburban lifestyle. With Kirkland situated on Lake Washington, we had easy access to waterfront parks, restaurants, and shops. Downtown Kirkland has a really great small-town feel, which we love. I fell in love with it instantly, so when it came time to buy a house, it was an easy decision to stay here. It should come as no surprise then that the coastal, northwest vibe of the town has definitely influenced my home decor. I love incorporating coastal landscapes, plenty of greenery, and other natural pieces into my designs. 
How would you describe your design style?
I would say it's a combination of things! Some words that come to mind are organic, minimal, modern with a hint of farmhouse meets coastal! I am a firm believer that you can blend many styles and still achieve a natural, cohesive look. When you walk into our home, I want it to feel serene, fresh, and most importantly, comfortable.
SHOP THE LOOK
You and your husband rented for three years prior to owning a home. What do you enjoy most about owning versus renting?
I love that we can make it our own. While there are certainly ways to do that while renting, we don't have to ask permission to paint the walls, give a vanity a makeover, or even to put holes in the walls! 
What advice do you have for couples who are in the market for their first home?
When we first started looking, I had a hard time looking beyond the aesthetics. It is so important to remember that even if you don't love the finishes or paint choices, etc., you can always change those things later! Try to look beyond the surface. Does the house have good bones? What is the property like? How is the location? One more thing: the real estate market is hot right now in our area, and we were able to avoid the crazy bidding wars by shopping on an off weekend when there are fewer buyers. Holidays or big festival weekends are a great time to look! 
SHOP THE LOOK
What was your most challenging update to your home? Do you have any plans to further renovate the space?
Honestly, we haven't done anything too crazy YET! The biggest update was probably the bathroom makeover. We started out with a beat-up old vanity and a very dated light fixture. A fresh coat of paint on the vanity and a new fixture later, and we have a whole new space! 
Later this year, we plan to finish the master bedroom as well as the downstairs family room where we will add an office area. A kitchen reno is definitely on our minds too, but that will likely be a few years down the road. 
When tackling a new project in your home, what does your design process look like?
First, I look for inspiration. I look at what's around me, whether from nature or a favorite storefront and even a magazine or catalog. Then, I head to Pinterest and my folder of saved posts from my favorite designers on Instagram. Once I have a general idea of where I want to go with the space, I create a mood board so I can see how different textures, colors, and specific pieces of furniture or decor will go together. I'm a visual person, so it's important for me to be able to see everything together first!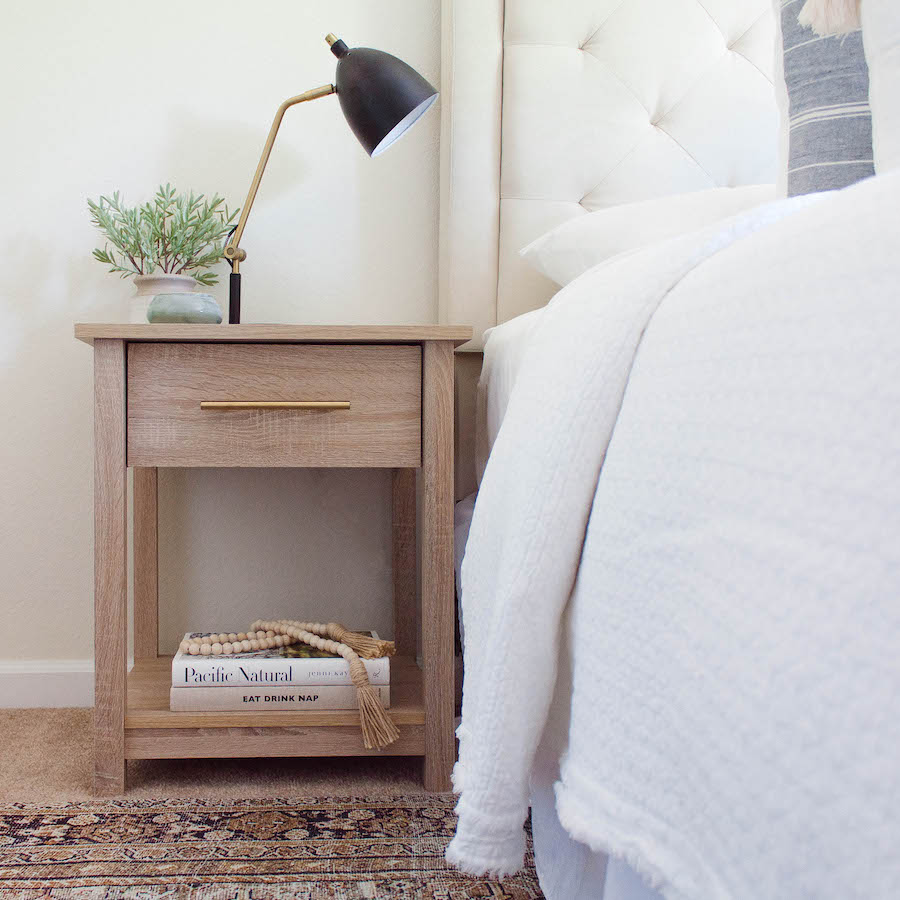 SHOP THE LOOK
You welcomed your first baby, Henry, in April of this year! Were your first days of motherhood what you expected them to be?
Absolutely not! But I don't think anyone can ever be fully prepared for how much your life will change (for the better) after bringing a child into this world for the first time. For us, we envisioned bringing our new baby home and getting settled into our new way of life, but that wasn't the case. Henry was diagnosed with a rare disease known as Hirschsprung's Disease shortly after birth. Instead of bringing him home, he had to be transferred to Seattle Children's hospital via ambulance where he would await further diagnosis and testing. 
As you can imagine, that was terrifying! As a new mom who had just given birth, hormones were raging. I was physically exhausted and mentally drained and now immediately starting on this whole new path we never could have prepared for. Instead of cuddling him in the comfort of home, we were navigating tubes and wires and cords in his hospital crib every time we wanted to hold him. He ended up having surgery at nine days old, and we were finally able to bring him home after two weeks in the hospital. He's now a happy, healthy 4-month-old boy, and aside from a couple of small scars on his belly, you would almost never know anything happened. But even after all of that, I would gladly relive the tears and the stress and the fear of that time over and over knowing that through it all I get to be his mom. 
Do you think your design style has changed since you've welcomed Henry? How do you see it evolving as he grows?
To be quite honest, I don't think my design style has changed much. I still love neutrals and lighter tones, and I won't change that just because we have a new baby who tends to be messy. As he grows, and as our needs change in the home, I will just look for more durable fabrics and make sure that our pieces are both aesthetically pleasing AND functional! I believe it's possible to have both. 
SHOP THE LOOK
In the time you've lived in Kirkland, is there a particular memory within your home that you cherish most? 
There are two memories that come to mind. The first is the night we closed on the house and got our keys. Our agent gifted us a nice bottle of champagne, and after he left, I remember just sitting in the empty house talking about how excited we were and envisioning what our future might hold within the walls of our new home.
The second memory I will always cherish is the first day we brought Henry home. Shortly after he had been admitted to the hospital, my husband, Casey, and I came home for the first time since he was born to get some sleep, a shower, and fresh clothes. I'll never forget looking into that empty nursery on that night. It was surreal. I never imagined coming home without him. When we finally could bring him home for the first time, two weeks later, it was even more special than I ever could have imagined. We were so proud of our brave little baby and so grateful that he could come home to the house we had been preparing for him!
How has your relationship with your husband grown since adding a little one to your family?
When they say having a baby is hard on a marriage, that is the truth right there. While this whole experience has had its ups and downs, our experience with Henry has brought us closer together. I had a long, hard labor, and Casey was a rock through the whole thing. His strength (and I mean physical strength, too — mamas who've been through back labor, you know what I mean) kept me going. And through the difficult following weeks, we really had to lean on each other for that emotional support too. 
That being said, the No. 1 thing we've greatly improved upon since Henry's arrival is communication. Being totally transparent and clear about needs and where you need help is so important. New babies rely so much on the mother, and it can be overwhelming at times. So, I've really learned to be clear about how my husband can help and also when I need time to myself  — even if it's just to run to the grocery store. Once we learned how to better communicate, that has made all the difference!
SHOP THE LOOK
If you had to choose just one, what has been your favorite moment of motherhood so far?
There are so many joys that come with motherhood. My favorite moment comes every morning when Henry wakes up for the day. He always wakes up so happy, and there is nothing sweeter than the huge smile on his face when we walk into his nursery to get him up for the day. That smile lights up a room. It melts my heart, and at times I wish he could stay this way forever! 
What advice would you give to your 22-year-old self?
I had a lot of fun in my 20s, but I always had it in the back of my mind that I was ready for marriage and babies. I didn't get married until I was 31, and I had my first baby at 33. My 22-year-old self would have thought that was crazy to wait that long, and now that I'm here, I realize how ridiculous that sounds! I would have told 22-year-old Katie to just sit back and enjoy life. Travel a little more, see the world. Stop worrying about where you'll be in 10 years. You've got a great career, and you're on the right track. You'll get there when it's right. Just enjoy the now!
Katie Dunn is The Everymom…
Favorite way to start the day? A fresh cup of coffee before Henry wakes up.
I wish I knew how to… take on bigger DIY renovations. I know I can learn, but the unknowns scare me.
Netflix show you are you currently binging? Dead to Me
Biggest mom fail? Oh, you want me to pick just one?! Ha! On a recent walk with a girlfriend and our two babies, we stopped for a moment. I turned around for a split second only to have my friend say, "Uh… Katie!!!!" I turned around and there goes 8-week-old Henry rolling away down a (slight) hill in his stroller. I didn't set the brake! I still can't believe I did that. Thank goodness he didn't go very far and I caught him pretty quickly.
Last item you splurged on? New rug for the guest bedroom.
If you could have lunch with any woman, who would it be and why? Chrissy Teigen! She's hilarious, an amazing cook, never takes herself too seriously, and is so honest about motherhood and her postpartum journey. Not to mention, she loves watching Bravo just as much as I do, and she's married to John Legend. Yeah, I think that about covers it!
Coffee or tea? Coffee! 
Dream vacation? Anywhere on a warm beach! Toes in the sand, book in one hand, and an ice-cold bevvie in the other, and I'm a happy girl!
Go-to dinner spot? Cafe Veloce. It's nothing fancy, just a little family Italian restaurant here in town. My husband grew up going there! We love it!
Last book you read? Eleanor Oliphant is Completely Fine by Gail Honeyman.