Some of our favorite home tours come from interior designers. Obviously, they have an eye for design based on their experience in the field, but they know about trends before anyone else and take risks in a way most would be afraid to do. Kimberly Telfer is a great example of an interior designer with a home that involves simple decor that makes a statement. (We're obsessed with the bold accent wall in her living room!)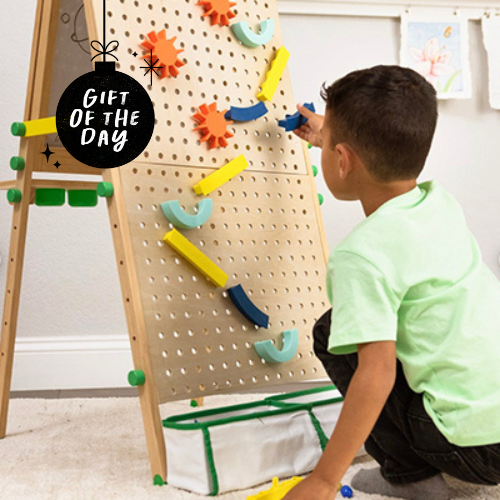 Art, fine motor skills, and fun all mixed into one great gift! Kids will learn engineering with the marble run but also get creative with the art easel mode.
Kimberly talked with us about design challenges she's faced with this home, how Texas has influenced her style, and how her son inspired the design of her home. (Spoiler alert: it's adorable!!)
Name: Kimberly Telfer, Interior Designer
Location: Frisco, Texas
Square Footage: 1,800
Rent or Own: Own
Children: Jack, 5 years old
What was your first job and how did you land it?  
I took an internship while I was in college for a hospitality firm in Dallas and they hired me on as a junior designer when I graduated. They designed hotels and restaurants. It was insane, but really fun, and I got to travel a lot.
How would you describe your design style?
I want our home to feel welcoming and cozy.  I lean more toward a minimal, relaxed, modern style. I also love natural wood and try to find pieces that add warmth. I like spaces that are styled but also feel lived-in.
You've lived in Texas your whole life – has that influenced your design style at all?
Other than the fact that we have a wire sculpture of a longhorn, I don't really know if it's influenced my design style very much at all. I grew up in the country and I am drawn to a more simple style and earthy colors. I was surrounded by nature and wildflowers, and I like having plants and flowers and something a little wild (besides our kiddo) in our home.
SHOP THE LOOK
Your mom has a killer design eye, and you studied design at Baylor University when you were in college. How has your design style evolved over the years?
My style has evolved so much from my early years as a designer until now. I had more of a traditional sensibility when I was younger, probably closer to my mom's style. It took a while for me to find my own style. I love evolving and changing and being creative as I grow as a person and in my own style.
You and your husband moved into your current home three years ago and basically Fixer Upper-ed the whole place! What was that experience like? What advice do you have for moms who are novice DIY-ers but want to tackle some serious projects as you did?
Well all the credit has to go to my husband, who does all the heavy lifting! I design and he makes it happen — we have many more projects to come! First of all, have patience with yourself and with the process. It will almost always takes longer than you think. I recommend starting with small, easy projects to gain a little confidence in your DIY kills — even something as simple as painting a room is a good start. Paint makes a huge impact as well!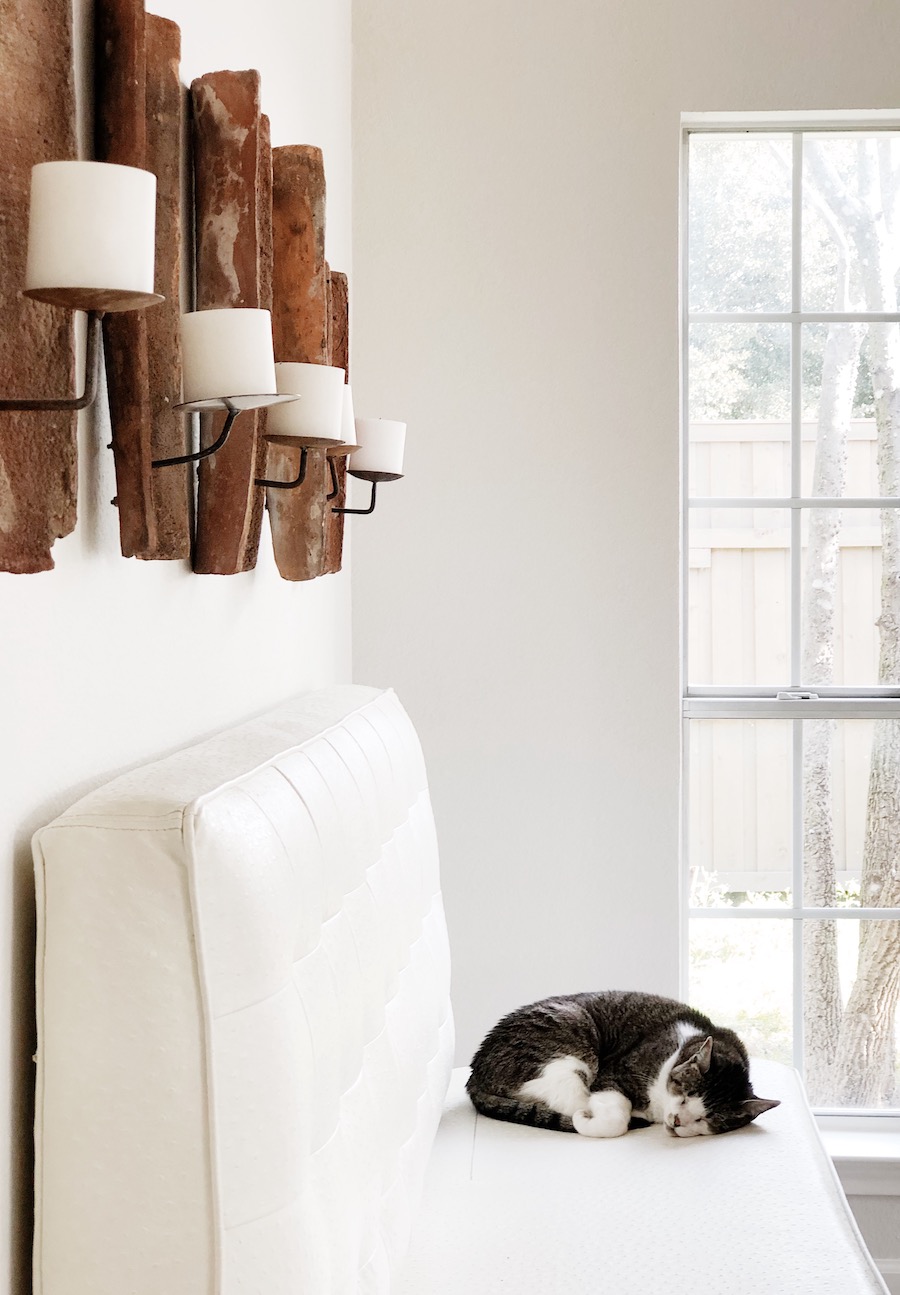 SHOP THE LOOK
While working on your home, you lived briefly with your parents. What was it like to live back with your parents while married and with your son?
I was surprised at how much I loved it! I really like alone time and our own space, so I honestly thought I might go crazy, but it was so helpful since Jack was about one at the time. Also, it was a very sweet time being all together under one roof. I actually cried when we moved out, even though I knew I'd see my parents the next day! It made me realize that I can live with very little. Everything was in storage when we stayed with them, and I didn't miss our "stuff" at all. I realized when we moved into our house I wanted to get rid of everything and live much more simply.
Does your husband have a strong design style? How do you compromise on that front?
Andrew has great style — although he usually loves what I come up with, which is really nice. Andrew wanted concrete floors while I wanted hardwood. It didn't really make sense to put wood in this house and he suggested concrete. I'd always wanted to try concrete anyway, and we both love the way it turned out.
Every home has its challenges – were there any quirks or big-time hurdles you had to overcome when designing this home?  
Every single thing in this house has been gutted except for the kitchen cabinet bases — this house was a total mess! At first, the biggest challenge was having the patience to save up for bigger projects and learn to do them ourselves. In my job, we go in and renovate for our clients all at once. We are currently living with the original master bath (half gutted)! At first, that was so frustrating. I have learned to be grateful for what we have and excited to save up for each project so we can do exactly what we want. I love getting to work together with Andrew on each project. We make a great team.
SHOP THE LOOK
We
love
your whole color scheme, especially that black accent wall. How can someone incorporate bold, dark colors without totally taking over the space?
I have a black, woven light fixture in our dining room and black pendants in our kitchen that don't overwhelm the space, but add in a pop of dark color. Art can be a great way to incorporate dark, moody color as well.
Where are your favorite places to shop for furniture and decor? What are your non-negotiable splurge items?
I shop for all my pillows and a lot of decor from small online shops. A few favorites are Minda Living, One Affirmation, Cloth and Main, Habitation Boheme; and Susan Connor, New York. I also love Minted, Juniper Print Shop, Loveyourspace.shop, and Etsy. Anthropologie, West Elm, Wisteria Home Decor, Crate & Barrel, Amazon, and Target are great for furniture and decor. We major splurged on our Cloud sofa from Restoration Hardware in the family room. It's upholstered in Perennials fabric which is completely kid proof, pet proof, and husband proof! It cost a bit more but it's our favorite spot and was totally worth the splurge. Also, invest in a good mattress!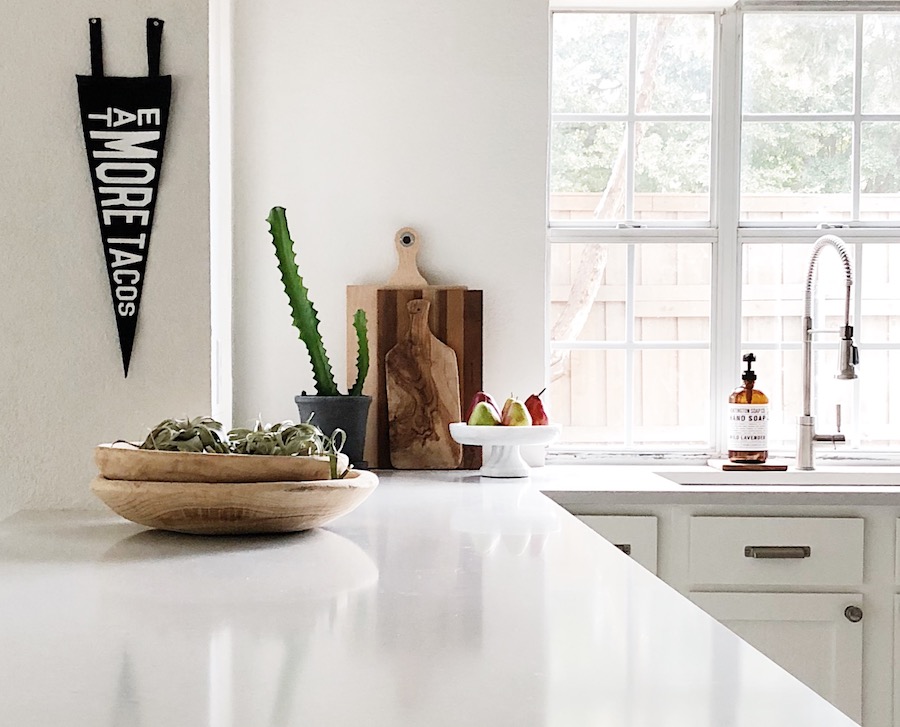 SHOP THE LOOK
What design changes did you have to make to accommodate your little Jack, if any?
I haven't really changed how I've designed our home too much, because I don't like anything too precious — if something gets broken, it's just stuff. I was worried about Jack with our concrete floors at first. We have cozy rugs throughout for play. We also have baskets in the family room with Jack's toys so I don't have to look at primary colors all the time.
One thing I've always done is incorporate Jack's cuter toys into the design. For example, we currently have a set of wood dominoes in a bowl on our coffee table, and we used to have a wire basket with bleach wood blocks and fun colored wood animals underneath a side table.
You love entertaining – how did you set up your space to make that a possibility?
We thought about knocking down the wall between the dining room and kitchen so it would be one big open space, but we wanted to be able to have friends over to hang in one room and so the kids could have their own space. It's a smaller home and Jack's room isn't very big, so we wanted space for all the kiddos to hang.
Where do you get your design inspiration from?
Art, nature, travel, and magazines like Domino — even the Anthropologie catalog! Also from designers like Leanne Ford, Pinterest, and of course, Instagram!
How do your kids inspire you, in your career or otherwise?
Seeing the world through my son's eyes is a constant reminder to be thankful for this life and to be myself. He laughs and smiles all the time, and he's so free and open which is so inspiring. I've learned so much being his mom like just being silly and goofy. Also, he's taught me to let things go. Kids forgive so fast and don't hold grudges — why should we hold on to that stuff?
SHOP THE LOOK
How do you and your husband divide parenting roles? How did having kids change your marriage?
We work really well together now but honestly, during the first year and a half it was incredibly hard to find a balance in our marriage, work life, and parenting. It was a hard time, but also the most wonderful time, and we learned a lot and grew so much as partners. He has his strengths and I have mine and we work as a team and lift each other up and ask for help when we need it.
I work full-time outside of the home and Andrew works from home. Andrew takes Jack to school, and I usually do bath time. We take turns with bed time. A year ago I started taking Thursday afternoons off to spend more time with my guys, which has been a game-changer. I took a pay cut, but the reward of having that dedicated time together with them has been great.
What are some of your favorite activities to do with your kids these days?
When the weather is nice we head to the park. We are really involved in our church and Jack loves it so you can find us there every weekend. We take Jack to the gym with us — he loves playing basketball with my husband! We like to go to the movies on Tuesdays when most theaters have discounted rates. I look for events around town that would be fun, like a BrickLive Lego event we went to recently — I found discount tickets on Groupon and we spent the entire day building Legos. We have always carted him around with us to festivals, the farmers market. and brunch with friends that also have kids.
SHOP THE LOOK
How did your view of motherhood change when you had your first?
When I first had Jack I was super focused on making sure he was healthy and happy, but also that the house was spotless and the laundry was all done. I realized even though I was wearing him around the house when I was doing chores, I wasn't necessarily present. I wasn't getting down on the floor with him because I thought I had to pick up, etc. I wasn't being truly present with him or my husband. A switch flipped, and luckily it was pretty early on. I realized the most important thing was to be there for my son — to look him in the eye and let him see me smile, not see me stressed. I bought paper plates and let the laundry pile up. We took naps together instead of before when I would work when he napped. My time and affection are more important to him than whether or not the house is clean.
Your husband is a first-generation American with a Jamaican mother and Scottish father. How has his heritage influenced how you're raising your son, Jack?
Jack calls his grandpa Scotty, which I just love. I am so interested in Jack knowing about where his grandparents are from and look forward to taking him to Scotland and Jamaica one day with them.
SHOP THE LOOK
When it comes to motherhood, what are you most confident in? What are you still insecure about?
I know Jack feels unconditionally loved by us and that he can be himself, which gives him confidence.  I am also happy that Jack is growing up in church, in a community. I know the day will come that he might not want to talk to me or to my husband about something, big or small, but he's surrounded by people that care for him deeply, won't judge him, and will be there to guide him when we can't. It's hard to even think about those teenage years and beyond right now, but I feel confident he'll have a support system that is far reaching and rooted in Christ. In those three things, I feel confident.
The biggest insecurity I have is in Jack's diet. It is so hard to get him to eat well at this stage. I feel like it's my fault, because I wasn't home with him more when he was little and didn't make him try more foods. I feel very guilty about that at times — it's so embarrassing to admit, but it's the truth. His pediatrician says as long as we're keeping him alive, he's fine. It's something we are working on daily, but it's probably my biggest struggle as a mom right now.
SHOP THE LOOK
If you have to pick just one, what's your favorite moment from motherhood so far?
That might be impossible! One of my favorite memories was my mom and I taking Jack to see his first movie, Paddington. My mom was a big Paddington fan and I read all the Paddington books when I was a kid. We are super fans, to say the least, and even though Jack was so young we thought it might be fun. There is a funny moment in the film when Paddington cleans his ears with a toothbrush and drinks mouthwash. Jack burst out with the biggest laugh, just giggling so hard for a really long time. It was the best sound I'd ever heard — just pure joy. Sharing that moment with my mom was really special. There really are a million favorites.
Kimberly Telfer is the Everymom…
Design trend you wish would go out of style ASAP? I do really love fiber art but I just cannot get into macrame plant holders. I just can't. Don't hate me.
Best brunch in Frisco? The Heritage Table. It's in an old 1917 converted Victorian home on Main Street, you sit out on the porch when the weather is nice, the owner stops by your table to say hi. Everything is yummy!
Favorite way to end a long day? Snuggled in bed with my guys, reading a book, or watching a movie together.
Go-to date night? Dinner on a patio somewhere with some live music, no kiddo, and no rush!
Kids show you secretly love? PJ Masks
Last book you read? The Girl Before by J.P. Delaney
Weirdest thing your son said recently? Poop. Poopy poop poop. Poooooooop. It's all poop lately.
Most embarrassing mom fail? I forgot his shoes one time on the way to church. I had to get there early. I sent my husband to Target to buy shoes but he got the wrong size. The kid went in with no shoes. Oh well!