Lynett Exposito wants to inspire you – and she's damn good at it. A paralegal by trade and interior designer by passion, she launched her first design blog with the goal of sharing her favorite design inspo with her friends and family, which eventually snowballed into Fringed Haven, her very own interior decorating firm.
She gravitates towards the bold and the authentic, wanting every room – and life – she touches to be the best it can be. We sat down with her to talk everything from raising considerate humans (the biggest job of all) to where she gets her inspiration to just how she's keeping her own home a "fringed haven" with littles around.
Name: Lynett Exposito, paralegal and owner of Fringed Haven
Age: 37
Square Footage: 950 sq.ft.
City/State: Miami, Florida
Children: Andee, 5, and Kevin, 2
As a paralegal by day and an interior decorator by night, how did you discover your passion for home design and what motivated you to launch your interior decorating firm, Fringed Haven?
Before starting my business, I was always interested in interior decorating, even as a child.  I recall having an opinion about my room color and furniture. I specifically remember choosing red Formica (eek!) furniture with black and white bedding for my bedroom. As I got older, I found that I had a knack for interior decorating and styling. My friends and family would come to me for advice on their homes.
As a source of inspiration for them and myself, I started my first blog over 10 years ago, consisting mostly of my DIY projects. Then a few years ago, I started a different blog, mostly about life and decor, along with an Instagram account. Again, friends and family came to me for design advice and someone actually reached out to hire me. I got to thinking, is this something I should be doing? YES! Here I am.
With two jobs in very different fields, how do you prioritize your work day in order to maximize your productivity and avoid burnout?  
Since both are so different, it's easier for me to separate the two. Monday through Friday, 7-3 I am strictly a paralegal. After work until the children's bedtime, I'm a mom.  After that, I am whatever you need me to be. That's when I answer emails, do consultation visits, and work on design plans for my clients.
In order to avoid burnout, I don't work every night. I'll choose two nights a week where I get all my design work done and then give myself the rest of the week off.  It's all about finding the right balance. I also set specific times where I use my phone for social media. That way, I'm not constantly working.

Does decorating homes for others influence the way you design your own home? If so, how?  
I feel like the way I decorate my home influences the way I decorate others' home. I find that a lot of my clients have similar styles to my own and often cite my home as a source of inspiration.
Often times though, I do feel inspired to change up my home when building out new spaces or shopping for my clients. There is so much inspiration out there and sometimes my clients come up with some pretty great ideas.
What was your original vision when you began the decorating process of your home? How has that changed since introducing Andee and Kevin?
The main reason I fell in love my house was the amazing natural light it has. When I envisioned my home, I wanted to make sure I embraced the brightness but also wanted it to be very cozy. Since I prefer a home that is casual and comfortable, having children didn't really change much of my vision. Of course, there was a time we had a huge play area take over my living room, but we have moved past that. Currently, we have a home that's comfortable for the children yet classy enough for the adults, too.
You, obviously, have your own design style – how did you bring in your husbands tastes as well?
I am one very lucky wife because my husband leaves it all up to me. The interior is my domain as long as I have a nice big TV for him to watch sports. The exterior is all him.
All homes have quirks and design challenges; how did you overcome yours? 
Our home is very small, which means the rooms are particularly small. That being said, the closets were almost nonexistent. The first thing we did was close up Kevin's closet and open it up to the master bedroom. That gave us a bigger closet in the master which was very much needed for two people. Then, we closed up this weird nook Kevin's room had, that was about five-by-three feet and built him his own closet. It worked out great!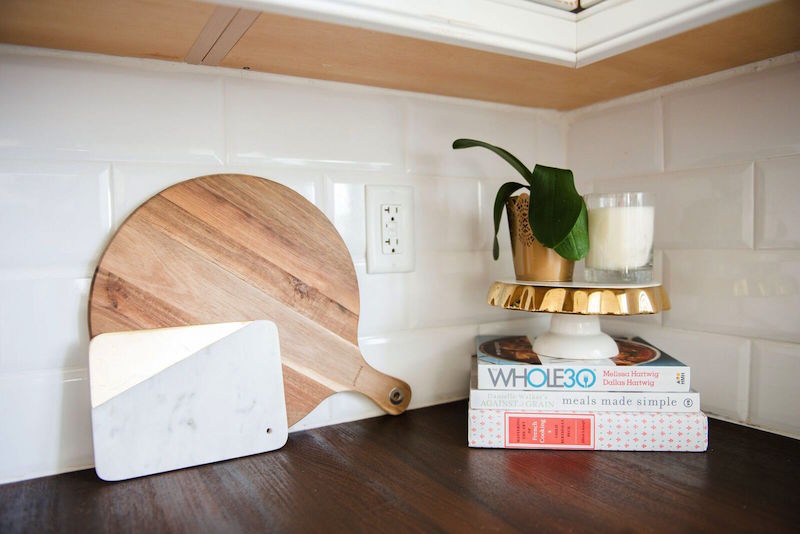 You mentioned that your design style fits your family pretty well. Were there any special modifications you made to your vision to accommodate the littles?
Comfort and durability are key, especially with two small children. I tried to incorporate stylish pieces that I knew would last against spills and sticky hands.
When it comes to the functionality of your home, is every room a space for your kids to play in or are there designated areas for them?
Being that my house is so small, we don't have an area dedicated for them to play in. All our spaces are kid-friendly!
What's your trick to maintaining your white kitchen and light-colored furniture with kids?
The Magic Eraser is the holy grail! There's nothing that it can't get out. I buy them in bulk at Costco and use them frequently. My son as a knack for coloring on my white walls…

Do you have a system for tidying up your home to control the spread of all of the kid stuff? How do you encourage your kids to help clean up?
My kids love to bring their toys out to the living room to play. I don't mind because we can watch them play and spend time with them. However, I feel like a broken record constantly saying, "Everything that you bring out, you must take back."
While designing Kevin's nursery, how did you decorate a room that reflects his personality while still being practical in keeping his belongings organized?  
I really wanted to create a space for Kevin that would easily transition from nursery to big boy room. When they're babies, they don't have many things. As he's gotten older, we invested in some cubbies and, honestly, stuff everything into them.  

When it comes to designing a nursery, what are the primary considerations you think about?
Comfort for mom and baby is very important. Mom's spend a lot of time in the nursery feeding, changing, rocking so it has to work for them too. Also important is that the room easily transitions from baby to toddler. When I designed my daughter's nursery five years ago, I insisted on buying a crib that didn't turn into a toddler bed (because of course, I would want a new bed). That led us to spend double the money. This time, we bought a convertible crib and won't have to worry about it for a few years. I think it's also important to buy pieces that will transition as the children get older, like the dresser.
Walk us through the decorating process of Andee's big-kid room. Were you able to involve her and her personality at all?
I definitely included her in the project because I wanted to her to love it (and start sleeping in her own bed). We started off with the bed because it's pink and she loves pink. She actually helped me build the bed with her "tools." Since I'm not crazy about pink I decided to go with a light aqua for her walls to offset some of the pink. I knew I wanted it cheery and happy like her, so I threw in a bunch of bright colors, too. The flamingos were her and perfect for Miami.
What tips do you have for parents who are trying to design a room that grows with their child?
Big items like dressers and beds should be versatile. Stick to simple lines and away from baby-like details. You can always remodel a room and incorporate some of the big items as your child grows.

Where are your favorite places to buy home decor?
West Elm, HomeGoods, Target, Wayfair, and local home boutiques like Victoria's Armoire, Nadeau, and Home Decor Store.
What can a parent do to encourage a strong sibling bond from a young age?
Let them play together, share a room or a bed, let them fight with each other. I try not to intervene too much when they're playing/fighting. They always work it out. I also try to do everything with both children so they can experience it together. For example, if Andee is helping me in the kitchen, I find something small for Kevin to do as well. Or I'll have her help me dress him.
How do you and your husband divide parenting roles?
We're 50/50. He does everything I do, and I do everything he does. This goes for both children.
When it comes to being a mom, what are you most insecure about and what are you most confident in?
I am most insecure about preparing them for the future. I question whether I'm doing a good job raising kind, strong, considerate humans.
I am most confident in the unconditional love I show them, day in and day out, no matter what the circumstances may be.
If you could only pick one, what has been your favorite memory from motherhood so far?
Nursing both of my children. I absolutely loved everything about it.
Lynett Exposito is The Everymom…
Guilty pleasure? Trashy TV.
Favorite home trend? Modern farmhouse.
Best color combination for a room? Blue and white.
Favorite family night activity? Doing puzzles with the kids.
The perfect end to a day? A glass of wine and a hug from my husband.
Most embarrassing mom moment? Forgetting to wear nursing pads and leaking through my shirt on our first date night!