Let's face it – there's a lot of negative stuff going on in the world right now. When a news notification pops up on our phones, more often than not we'll read it with pursed lips and a heavy sigh.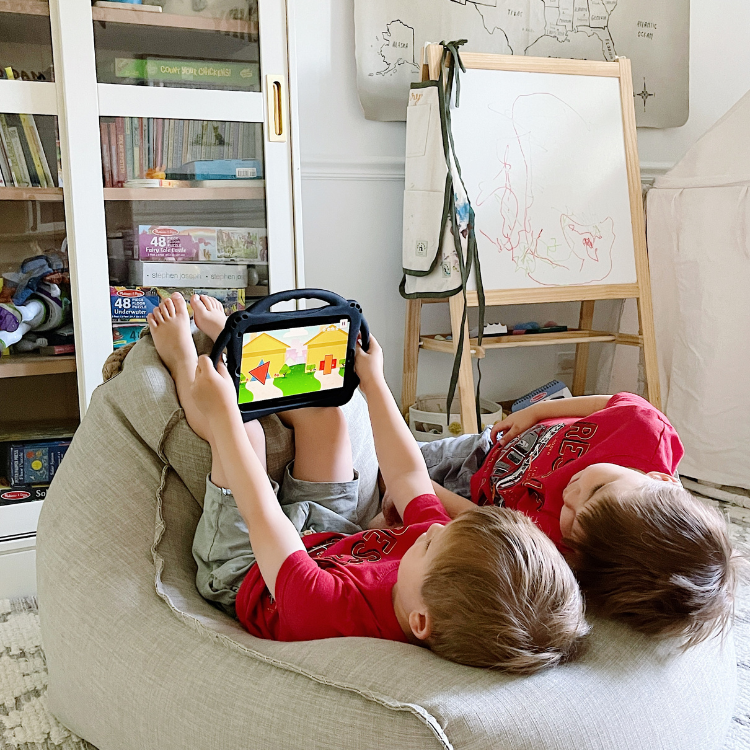 a pediatrician shares what she *really* thinks about LOs and screen time
In a time when it's so easy to get caught up in all the hardship, people like Kaylan Chisholm are a true breath of fresh air. Mom to ten-month-old Otis, Kaylan is deeply interested in the lovely in life, whether it's capturing it with her gorgeous photography, adding to it as a makeup artist, or creating space for it with her interior design. Her passion for her family and for the joy of her community is so evident in her Instagram feed and her blog – and in her home, which is being made to be a place of gathering and great memories.
Kaylan walked us through her adorable 1940s Cape home that she and husband Cody are renovating and told us all about how to live the minimalist life of our dreams, what it's like to be a work-from-home mom, and how powerful breastfeeding has been to her as a new mom.
Name: Kaylan Chisholm
Age: 24
Current Title/Company: Wife, mom, and entrepreneur
Square Footage: 1800 sq ft.
Rent or Own: Own
City/State: Salem, Virginia
Children: Otis, 10 months old
As an entrepreneur with a passion for photography, interior design, and makeup, how do you stay inspired, and what tips do you have for women who are trying to discover their own niche?
I stay inspired by the people in my life. I know that sounds cliche, but my family and friends are some of the most amazing human beings and I am blessed to know and work closely with ladies in each category who help encourage and push me in those areas. Have something you're passionate about? Find your community to help get your juices flowing! Community is everything.
With your professional focus in different industries, how do you manage your schedule in order to ensure you're growing and staying current in each one?
I think this changes with each season. Makeup is usually thriving at certain times of the year and on the weekends. As for staying current in the makeup industry, well, I like a simple, classic, timeless look. This doesn't really change all that often, maybe I'll add a few new products in here in there.
During the week, my focus shifts towards the other two: design and photography. Design is tricky, because I'm not one to follow the trends to a certain extent. I like what I like, and trends always go out of style. It is a never-ending cycle.  This doesn't mean I don't appreciate what the design world has to offer, as it can be inspiring to try a new twist on things, but I like to mix the old in almost always. Character is good.
Photography is all about knowing your craft and taking the time to try new things is important. I like grain and grit in my images, but sometimes I like them super crisp. This changes depending on my subjects, whether that be inside a home, babies, or people. I think no matter what industry you're in, definitely know your "tried and true" but also live a little. It's always good to try new things, but don't forget where you came from.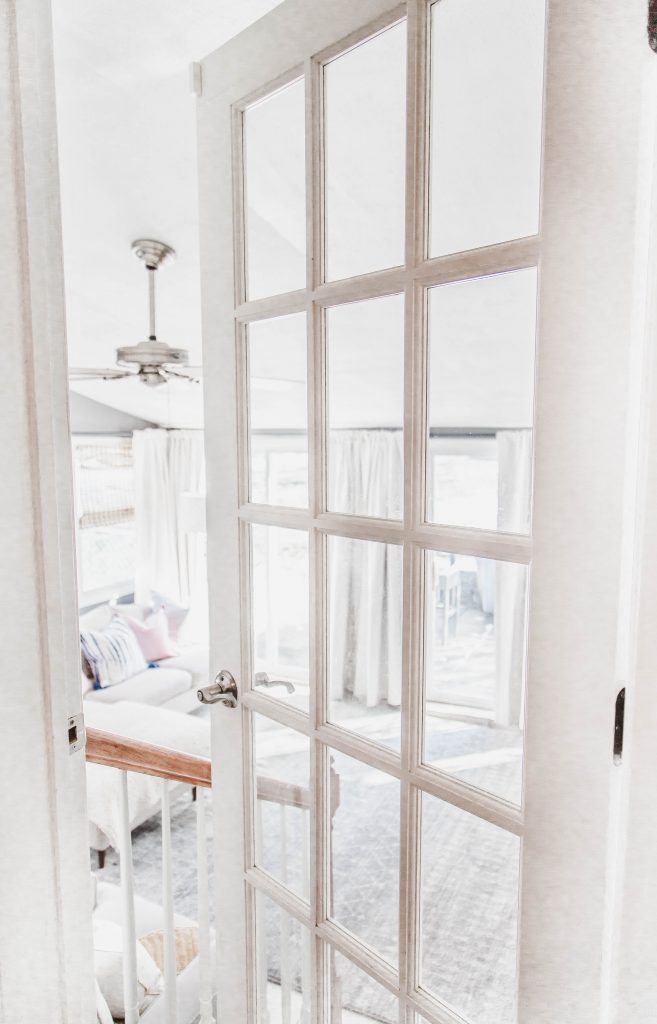 Tell us about the transition of becoming a work-from-home mom to your baby boy, Otis Fitzroy, and what surprised you the most about it.
Becoming a work-from-home mom has its pros and cons, just like any other job. Except you don't ever get a break, nope. Being a mama is a hard job in and of itself. The most surprising part is probably how lonely it can be.
What are the rewards and challenges of being a work-from-home mom?
The rewards are great – being with my son whenever he needs me, always being present for his "firsts," making our house feel like home, having the ability to go to Target whenever I want (really a reward, am I right?!)
The challenges? Never getting a break from all my responsibilities. My businesses are not at the point yet where I can hire someone to come and take the load off. The load is always in full force. My to-do lists get accomplished during nap time (you know, as "accomplished" as naptime allows) or if he plays on his playmat for independent play.
During your workday, what boundaries do you set in order to separate your work life to your home life?
I wish I could say I have this nailed down 100%. I know when I start to feeling spread too thin, I take a step back and assess. How long have I been staring at my phone while Otis has been awake?
How long have I been sitting at my computer editing photos while my husband and son are in the other room playing? Does this Instagram post really need to be made right now? These are some of the questions I ask myself daily to help keep me in check of what really matters in the day-to-day. Boundaries start there for me.

How did you decide on your childcare situation as a work-from-home mom and why is it the best option for you?
As of right now, it is just me. It helps us save money!
What features were you looking for in a home and why did you and your husband decide on your current Cape Cod house in Virginia?
We wanted a home that was cozy, full of character and potential. Location was also a big thing for us. The people who lived here before had two littles, and when we walked in, the place felt like home. We didn't notice all the wonky details. We noticed the charm. We felt it was a perfect first home for our growing family.
How did you create a design plan and what were the first steps in the process?
I decided the kitchen and painting the cabinets were the first things I wanted to tackle. I honed in on what we wanted, what we could afford, and went from there. I have expensive taste and not so much the budget to match. We were very particular about how we did things. I made a list of "definites," and then a list of "I would like to have" if it works. 
When it comes to your design style, you believe "less is more." How has this philosophy helped you create the home you envisioned?
When you live in an older home, you don't have the luxury of wide open spaces. The kitchens in the 40s were tiny. Which is hard to believe, because that is where people spent most of their time.
We decided that we did not need all the things the world was telling us we needed to have in our home. The less stuff you have usually means the more you save, the more room you have for experiences and conversations. Our home is little, with little rooms. But one thing for sure is our guests always feel welcome and taken care of.
I like crisp clean spaces. In a perfect world, I'd like nothing on my countertops except for a coffee pot, cookies, and a plant. Appliances clutter my small kitchen and then that transitions into my mind — I cannot think straight or function with *stuff*.

While designing your 1940s home, what difficult design quirks did you face and how did you overcome them?
So many difficult little quirks. At some point along the way, there was an addition made to our home which was our master bedroom and the family den. Both of these rooms were honestly what really sold us on the house. But we quickly learned that the den isn't insulated well at all and the heat/AC is just completely wasted in there. Another random tidbit – when we removed the door frame in our bedroom to install the barn door we made, they used paper towels to "insulate" the frame… so weird!
Tell us about your favorite DIY home project. Why was it meaningful to you?
So far, I would say the favorite is our exposing the brick in the kitchen. It is so warm, (literally) and it is such a beautiful, simple accent to our small space. It was done on a whim one day. No planning involved. My husband Cody and I were both home on a snow day and got to work once we realized IT WAS BRICK under the plaster! Who covers brick!? Lost my mind. It was so messy, it was so much fun, and it is SO beautiful. It was the first project we did and what really got our kitchen remodel going.
What design lessons have you learned from all your DIY home projects?
The finishing touches and details are what really sells the finished space. I used to always get in go go go mode and we would get 99% of the project finished but I easily tuckered out and didn't end up completely finishing the project until weeks later. It is important to finish and to finish strong.
With a husband who also enjoys DIY home projects, how has working together on your home strengthened your relationship?
Well, it can be tough. He is the manpower behind it all, and I have all the nice and pretty designs. He always is asking questions like, "Is this necessary?" "Do we have to do this?" "Why can't we just do it this way…?" But then once the project is finished, he ALWAYS is thankful we did it!
I'm always so appreciative of how hard he works to make my vision come to life. He then is pretty impressed with my ideas, too. It gives us both a sense of, Wow, you're pretty good at what you do. It is encouraging.
Why is it important to share a hobby with your significant other?
It gives us something to do together. We get so busy in our day-to-day that it gives us the chance to work together, takes our mind off of the mundane. Doing projects allows us to see each other's creative side and skills. I'm always so impressed that he knows so much about things and is so strong – it's also pretty dang attractive if you ask me.
What does the future look like in regards to your unfinished basement and next DIY home projects?
The unfinished basement is where the laundry is, I would like to organize it, make it more "homey" down there, and add some shelving for toilet paper/paper towels, all of our kitchen appliances that don't get used often, etc. The rest of the space is housing Cody's tools, camping gear, and who knows what else he has down there. I try not to look at it. He doesn't quite get the "less is more" in the basement because it's all of his other hobbies' accessories. Definitely a work in progress.
Where are your favorite places to shop for home decor?
Let's just say, I have an Anthropologie and Restoration Hardware style with a Target budget. I like to find pieces that not everyone is going to buy, though. I like one-of-a-kind pieces. I like the thrill of seeing a $250 chair and then thrifting one similar and refinishing it for $50 bucks. Not always does it turn out, that's for sure, but it gives me a chance to get my hands on something and create. A small shop I absolutely adore is Threve Mercantile located in downtown Wilmington, NC. Good price point, unique goods.
What influenced your decision to create a half nursery half guest room and how did you combine the different purpose of each room into one cohesive space?
We needed to make the best use of our space for out of towners. This included leaving a queen in our guest bedroom while adding in a white crib. All of our families live two hours away and none of our best friends are located in our area. I have a huge passion for hosting. I love to feed people and make a big cup of coffee while chatting or playing games around our kitchen table. The more the merrier. I had to maximize all of our rooms in order to accomplish this.
What tips do you have for people trying to maximize a room's functionality?
I would have to say find items that are multipurpose. Utilize baskets and hooks often. Think of different ways the room can be used. For example, in the nursery, we have a wired basket that sits on his dresser and it's full of everyday blankets for Otis. We bought two of these baskets. When we have guests, we remove the basket full of Otis' things and replace it with the other basket, which is full of fresh towels, linens, etc., for our visitors.

How did you design a half nursery for Otis that's personal for him and also follows your "less is more" approach?
We knew right off the bat he was not going to be in need of many things. We have the basics: A crib, two sound machines (a must have for a smaller home), diapers, wipes, clothes, baby blankets, and a humidifier. We don't have a diaper pail, we just use our trash can right beside his room. A stinky diaper? We just walk outside and put it in the trash bin. We don't have a changing table, we use the bed in the room with a Gathre changing mat down for protection.
We like the Rock 'N' Play or play mat because they fold up and are easily stored behind the sofa or under the bed. His room has just enough touch of baby by having a few stuffed animals, a simple painting, and a couple of wooden creatures hanging out on the door frame. Most of these things are easily removed to make sure guests don't feel bombarded by baby things.
Walk us through the process of preparing your home for Otis – what changes (if any) did you make to create a baby-friendly space, and how has your home transitioned as he's grown?
Honestly, we haven't made many yet. We have, though, lessened the "stuff" in our family den and added a cushion under the rug for a play area as he grows and is able to move around better. As he grows and his needs change, we will accommodate as time moves on.
How do you and your husband divide parenting roles and how has having a baby impacted your marriage?
So far, I usually do everything besides bedtime during the week if my husband is home from work, and he also tends to take care of his nap times on the weekend. Cody works pretty long days and sometimes he is on call on the weekends. Though when he is home, we usually have a project going on, so typically, I feed Otis, then we take turns playing and finishing things up around the house.
Having a baby has really pushed us to be more aware of how we are spending our time, whether that's together or doing things we enjoy as a family. Cody has many hobbies, and I am a homebody who grew up with a family that does almost everything together – him, not so much. Having a baby shifted our focus. Otis is what is most important now. We have actually been able to enjoy each other more because we are more likely to stay at home together as opposed to going out. Our free time is now is spent together cuddling and playing with our kid. It truly is what dreams are made of. 
How do you make time for your own self-care and what does it consist of?
As a new mom, learning this has been so hard. When baby goes down for the night is when I recharge as much as possible. This includes a long shower, a bubble bath, a face mask, watching Netflix, eating popcorn, or something along those lines. I'm not that high maintenance by any means, but going to get a mani or pedi, going to get my hair done, driving to Starbucks or a local coffee shop and sipping on something yummy – all those things are so refreshing. 
When it comes to being a mom: what are you most insecure about and what are you most confident about?
Wow, such a toughie. The thing I have probably been most insecure about is being proud of myself for breastfeeding, yet it's the thing I am most proud of. I am timid to talk how my experience breastfeeding because I don't want to hurt other people's feelings who weren't able to or chose not to breastfeed. For me, it was worth all the frustration and pain at the beginning. Breastfeeding in public? That is hard for me. I have done it a handful of times… it just takes practice I guess!


If you could only pick one, what has been your favorite memory from motherhood so far?
By far, hearing Otis laugh! He smiles a lot, but he is super stingy with his giggles. So whenever they happen, I just melt into a little puddle and try my hardest to make him keep laughing.
Kaylan Chisholm is The Everymom…
Diaper bag essential?
Costco Wipes.
Favorite room in your home?
Master bedroom.
Easiest DIY project?
Painting kitchen cabinets.
Last book you read?
Uninvited by Lysa Terkeurst
Most embarrassing mom moment?
One time Otis had a huge blow out in a parking lot, I had no extra clothes with us, but had to go meet friends inside the restaurant with a naked baby. Guess what? I've never forgotten an extra outfit.