There are so many reasons to celebrate all the amazing things that moms do—on Mother's Day and beyond. All moms put in hard work, whether they collect a paycheck for it or not. Today, we're going to celebrate some of the moms who took the leap into the business world and founded incredible companies and empires.
It's not easy to start your own business, especially as a woman. In fact, just 2.2% of the $150 billion invested in companies by VCs annually goes toward woman-led startups. Despite that low percentage, Forbes reported that when VCs invest in women, they actually make more money. Women-run businesses deliver higher revenues and tend to have better company cultures (female-led companies tend to be more purpose-driven and are more likely to offer child care as well as equal pay). Based on the positives that come out of female-led businesses, the percentage of investments in these businesses will hopefully continue to grow.
Taking the leap into starting your own business is no easy task. Ready to be inspired? Here are some of our favorite mom-founded businesses—some you've probably heard of, plus some new ones for you to check out!
1. Spanx, Founded by Sara Blakely
So many women sing the praises of successful businesswoman and philanthropist Sara Blakely. As the founder of Spanx, Blakely has brought women's shapewear to the masses and in 2012 was on the cover of Forbes magazine for being the youngest self-made female billionaire in the world. Whether you love her for her savvy business moves or simply because you live in the Spanx faux leather leggings, she's a woman to look up to. Blakely is a mother to four children.
Nordstrom
You probably already own these, but if you don't, now is the time to snag a pair. They are a cult favorite for a reason: They are comfortable, flattering, and go with everything.
2. Kyte Baby, Founded by Ying Liu
Searching for the softest baby clothes and sleep sacks? Hopefully you've discovered Kyte Baby, a brand offering a range of baby gear made from bamboo. The brand was born out of a need from Liu when one of her daughters experienced chronic eczema and needed a fabric to help keep her cool. What started as a solution to her family's problem turned into a successful business. Liu is a mother to five children.
Kyte Baby
Speaking on behalf of my toddler, these sleep bags are the absolute best. They are soft and cozy while keeping your little one at just the right temperature. Pro tip: Buy two to score free shipping but also because they take a while to air dry, so you'll want a backup for laundry day.
3. Partake Foods, Founded by Denise Woodard
Partake Foods was founded when Woodard's daughter was diagnosed with multiple food allergies. The delicious food brand offers a wide range of snacks that are certified gluten-free, non-GMO, vegan, and free of the top nine allergens. And just to do a touch of name-dropping, Partake Foods is backed by Rihanna and Marcy Venture Partners (cofounded by Jay-Z).
Amazon
Check out this five-pack variety set full of vegan and gluten-free delicious cookies.
4. Drybar, Founded by Alli Webb
If you've ever been desperate for a blowout and did not have the energy to do it yourself, you've likely come across Drybar, the hugely popular blowout-only salon. Webb launched the business in 2010 and it has since grown to over 90 locations, with products sold at Sephora, Ulta, Target, and more.
5. Little Spoon, Cofounded by Angela Vranich & Michelle Muller
With a mission to make parents' lives easier, Little Spoon brings families fresh, organic, and convenient baby food and toddler meal options. As mothers themselves, the cofounders know that introducing solids and getting your kids to eat nutritious meals can be a daily struggle. Little Spoon helps set kids up with healthy eating habits from day one.
Little Spoon
Little Spoon is an editor favorite as a go-to simple way to introduce solids to your baby.
Use code EVERY35MOM for 35% off your first order!
6. Bodily, Founded by Tovah Haim
For those who have felt blindsided by postpartum recovery, Bodily is here for you. Haim created Bodily in the hopes of offering women judgement-free, inclusive, and evidence-led resources and products to help mothers feel supported as they recover from childbirth and as they navigate breastfeeding.
Bodily
Breastfeeding and pumping? Do yourself a favor and get this bra. It's the best.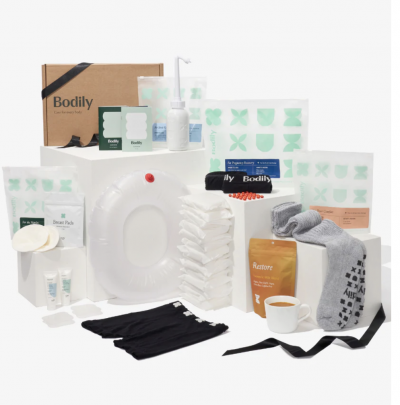 Bodily
If you're stressed about what to pack for the hospital and what to have at home for recovery, get this set that has it all in one place.
7. KiwiCo, Founded by Sandra Oh Lin
Using her creativity, market research, and her own experience as a mom (plus her chemical engineering degree and Harvard MBA), founder and CEO Sandra Oh Lin started KiwiCo to make homemade STEM/STEAM learning activities easier on parents and fun for kids. Since 2011, KiwiCo has grown from a small business to a company with over 100 employees dedicated to the mission of encouraging the next generation of tinkerers, creators, and innovators. Lin is a mom of three.
KiwiCo
Sign up for KiwiCo's Panda Crate and get expert-designed toy sets delivered to your door every two months. Sets provide toys appropriate for your child's age and development.
Use code EVERYMOM for 40% off your first month's subscription!
8. Tower 28, Founded by Amy Liu
Liu founded beauty brand Tower 28, a clean beauty brand that doesn't break the bank (and is available at Sephora!). One of her favorite products is the SOS Daily Rescue Facial Spray, a must-have for moms. Liu is a mom of three.
Sephora
This three-ingredient treatment spray will soothe stressed-out skin and reduce the appearance of redness.
9. Olive & June, Founded by Sarah Gibson Tuttle
Founder Sarah Gibson Tuttle spent 10 years as an equity sales trader at J.P. Morgan and Morgan Stanley in NYC before she decided to move out west to Los Angeles. Once there, she struggled to find the perfect nail salon. This drove her to open Olive & June, named after her great grandmother and grandmother. What started as a luxurious salon experience has now become the go-to for at-home DIY manicures. The Mani System complete with the poppy device is a game changer.
Olive & June
This complete package comes with everything you need to master the at-home mani. The toughest part is choosing what color to get.
10. Melissa & Doug, Cofounded by Melissa Bernstein
If you have kids and your kids have toys, you're already on a first-name basis with Melissa Bernstein, the cofounder (along with her husband) of the hugely popular brand Melissa & Doug. The company was founded in 1988, and since then, Bernstein has designed all 5,000 of its products while also raising six kids.
Melissa & Doug
A reader and editor favorite, this scoop and serve ice cream set encourages imaginative play, counting, and fine motor skills.
Use code EVERYMOM20 to get 20% off any Melissa & Doug product!
11. Bobbie Formula, Cofounded by Laura Modi
Bobbie Formula was cofounded by Laura Modi, mom of three, as the first American "European-style" formula that has the highest DHA on the market and uses organic pasture-raised dairy. Modi's journey began when she was searching the aisles of a local pharmacy in search of formula for her baby and was surprised by the lack of options. This led to the development of Bobbie, made with no fillers, persistent pesticides, corn syrup, antibiotics, or other unnecessary additives. The protein levels mirror that of breastmilk and the product doesn't use high-fructose corn syrup.
Bobbie
Sign up for a monthly subscription and have this high-quality formula delivered to your door. It takes away one more thing on mama's mind.
12. WubbaNub, Founded by Carla Schneider
If you have a baby who loves their pacifier, surely you know about WubbaNub, the adorable pacifiers that come attached to mini stuffed animals. Yes, they look cute, but those little animals serve a purpose by helping keep the pacifier in place (exhausted parents everywhere know what we're talking about). Founder and CEO Carla Schneider felt that exhaustion and created WubbaNub in 1999 as a way to keep her little one happy. WubbaNub just launched a line of detachable pacifiers at Target.
Target
The animals on these pacifiers help keep them in place. The new detachable version allows for easier cleaning.
13. Ten Little, Cofounded by Fatma Collins and Julie Rogers
Ten Little was founded by two moms after they experienced just how overwhelming and confusing shopping for little kids can be. With children's speedy growth, finding the right shoes became a difficult task. That's where Ten Little was born—it allows parents to find the perfect fit for their little ones right from home. The company has since expanded to include toys, crafts, puzzles, and more.
Ten Little
Shop Ten Little shoes by printing out a size guide to ensure you get the perfect fit. My toddler wears this particular style and it's a favorite in our house. She is comfortable and they are super easy to get on and off.