With two school-aged children, a husband who travels every week, and a puppy who's still working on being potty trained, our household's morning routine can quickly turn into the equivalent of a category-5 tornado. With so many things that need to get done before we walk out the door at 8:20am (kids dressed, breakfast made, lunches packed) it can hard to get my own self ready.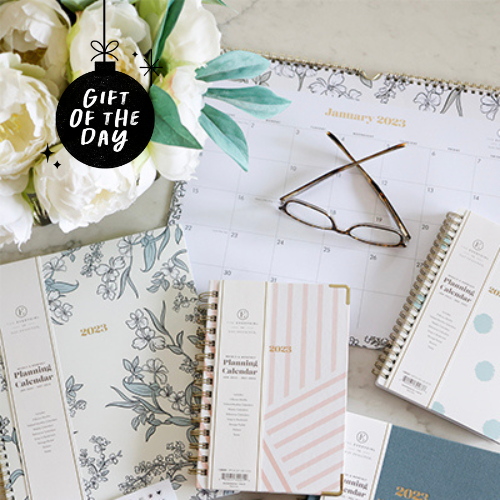 Help a mom stay organized and keep track of important doctor's appointments, playdates, and (hopefully) some scheduled 'me' time with this pretty wall calendar.
As we all know, nothing dampens a day like feeling rushed and frantic in the morning. It negatively sets the mood for the entire day and it's something that can be easily fixed with a little bit of preparation.
Over time, I've implemented a few hacks that have helped make my mornings lead to significantly happier days.
1. Prepare the night before
"Nighttime" is this magical time when I honestly believe I am going to be super-productive when my kids are in bed.
In reality, after making dinner, cleaning the kitchen, bathing the kids, helping to brush teeth, reading bedtimes stories, and giving cuddles, I am pretty worn out and just want to plop on my bed and watch mindless TV. And some nights I do, but then the next morning I wake up to chaos.
If I'm really aiming for a calm and streamlined morning, I know that I have to prepare the night before. Here are four things I do every night that makes my mornings calmer:
– Make the kids pick out their outfits for the next day
We do this before bedtime and it helps with stalled decision-making in the morning. They love asking Google, "Hey, Google, what's the weather for tomorrow?" to help them decide what to wear. And since they've picked out their own clothes, they don't wait for me to "help them" get dressed in the mornings. They do it all on their own.
 – Pick out my own outfit for the next day
If the outfit I'm planning on wearing needs ironing or is missing a button, I have time to take care of it the night before instead of scrambling to find a backup outfit the next day. If it needs a belt or other accessories, I have plenty of time to find them without feeling rushed. Having time to add extra touches to my outfit makes me feel like I've got it all together.
– Clean the kitchen, pack lunches, and prep the coffee machine
After dinner, my kids will watch TV while my husband and I clean the kitchen. The trash and recycling are taken out, the coffee is prepped for the morning, and I pack my kid's lunches and my husband's and my lunch. It's just one extra thing I don't have to think about in the morning and the added benefit is that it saves us money because we're not tempted to order out for lunch or grab a coffee from Starbucks.
– Check my Google calendar and my to-do list for the next day's tasks
I check to see if my kids have any playdates scheduled and if there are any practices or lessons I need to drive them to. I also check to see what my day looks like and if I have meetings or appointments I need to attend. There have been a number of times when I've missed things, like the cable guy coming or the after-school concert I was supposed to attend, because I neglected seeing it on my paper calendar. Now I put everything (and I mean everything) into a family Google calendar so that my phone can ping and keep me on schedule.
I also keep my to-do list on my phone and update it the very second something comes up, or else I will never remember it. Next up on my list, buying my children's teachers end-of-school-year gifts and confirming an interview for an upcoming article. Check and check!
2. Boost your skincare
I absolutely have no time for a full face of makeup in the mornings. I need a routine that is minimal and effortless but that keeps me looking fresh and put together, so my morning makeup routine remains simple.
Nighttime is when I put effort into my skincare routine so that I can wake up with fresh skin that doesn't require a ton of makeup. This little me-time also helps me unwind and focus on myself. I usually take a shower at night to wash my hair so I don't have to deal with it in the morning (it's very thick and takes a lot of time to dry). I also have time to condition, exfoliate, shave, and use all the oils and lotions at my leisure.
3. Wake up earlier
Nothing will be more beneficial to you in the mornings than waking up at least a half hour before the rest of your household. Of all the hacks I've tried over the years, this is the only consistent thing that actually helps me have a more productive and calmer morning.
I'm usually up every morning at 5:30am (trust me, it's taken me a while to get here) and I lazily take the puppy out, drink my coffee, do some personal writing, and workout. I hop in the shower to rinse off, put on makeup, let down my hair (I braid it the night before), get dressed, and wake up the kids by 7am.
From there, we have an hour and twenty minutes for them to get dressed, brush teeth and hair, play a little, and eat a decent breakfast before heading out for the day.
What hacks do you use for a more streamlined morning?