My kids are 21 months apart, so when I started preparing for baby number two, there were some things I could reuse from my first baby and other things I'd need to get duplicates of. The big ticket item I'd need to get was a second crib. My first baby was still in a crib when I found out I was pregnant with my second. While I would have loved not to get a second crib, there was no way I was transitioning my first child out of her crib any sooner than necessary.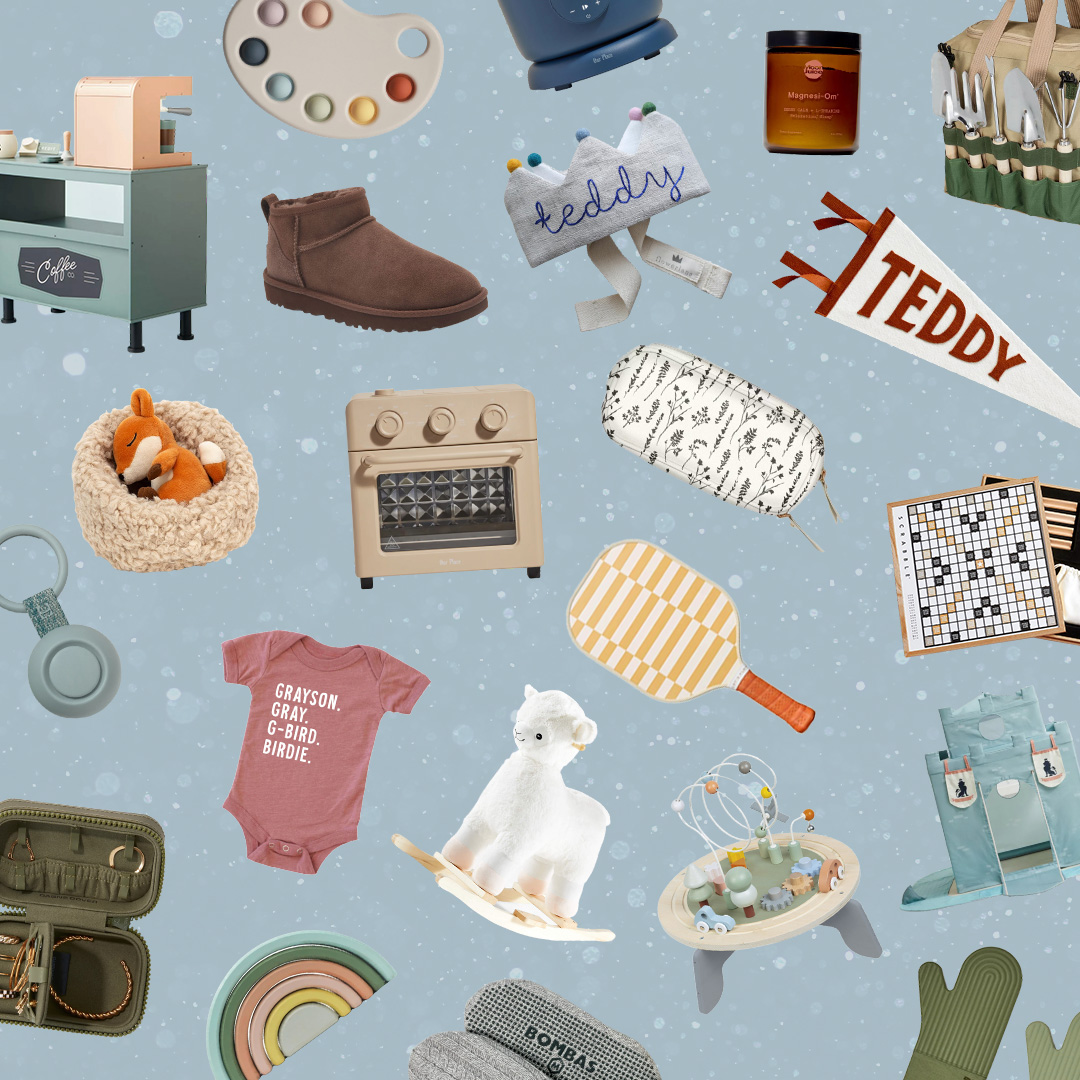 everything you need to ace holiday gifting this year 🎁
Knowing that I was happy with the crib my daughter was using, I nearly bought the same one in a new color, but at the last minute chose a totally different brand and style: the Nestig Wave Crib.
With a price tag of $699, it's not the most budget-friendly crib on the market, but it's also not the most expensive (head to Pottery Barn, and you'll see several cribs exceeding $1,000). The Nestig is definitely an investment piece, so if you're unsure whether it's worth the price tag or if you're curious as to what sets it apart, read on to hear all about the crib and (spoiler alert) why I love it.
Nestig's Wave Crib is more than a standard convertible crib.
Many cribs transition from crib to toddler bed, and The Wave Crib takes it one step further, starting as a mini crib. The mini crib is super compact and comes with a mini crib mattress. This is amazing and can take the place of a bassinet. For my first baby we used a bassinet, then at about six months moved my baby into her crib. With The Wave Crib, we used it as a mini crib in our bedroom and then rolled it across the hall and converted it to the standard crib size after about four months.
And that brings me to another thing I love, the wheels. The crib comes on wheels, so while it was usually next to my bed, I could also slide it across the floor easily to move it. This would also be great if you need to bring your baby (while in the crib) into different rooms in your house (the bathroom, for example). You can also remove the wheels when you're done scooting it around your home. There are also three mattress heights to adjust to as your child grows.
It comes with (almost) everything you need.
For some cribs, you are required to buy the conversion kit separately, but this crib comes with pretty much everything you need to take it from mini crib to standard crib to toddler bed. You will need to buy a mattress for the standard crib size (it comes with the mini crib mattress). To make things easy, you can order your mattress from Nestig, and they carry top brands like Newton Baby (which is what we use), Naturepedic, and Lullaby Earth.
The one item that is a bit challenging to purchase is the sheet for the mini crib mattress, which is not a standard size, but you can order adorable crib sheets through the Nestig website.
It's safe, handmade, from a small business, and sustainably sourced.
I'm no stranger to Amazon, but when I can, I do love supporting small businesses like Nestig. Their products are handmade with care in Brazil in a family-owned factory. Beyond that, materials come from sustainable sources and are produced once purchased, leading to low waste.
Safety is a priority for the brand, and the cribs are made with non-toxic, lead, and phthalate-safe materials and are made from sustainably harvested solid Brazilian Pine.
It's beautifully designed and well-made.
I've had my Wave Crib for 16 months and love how it looks in my son's nursery and have loved the quality so far. Both of my kids have sunk their teeth into their cribs (not an uncommon thing for one-year-olds to do), and while my daughter's crib shows the chipped paint, the Wave Crib doesn't. There are some small indents, but you can only see them if you look very closely.
You can choose from natural wood or white. I went with natural wood, and it suits the nursery well. I find the design to be a bit more unique than standard square cribs, and I like that it adds some character to the room.
While I went with The Wave Crib, there's also The Cloud Crib (which comes in standard colors as well as fun colors like mint, rose, bluebell, and more) and The Snow Crib. Each is uniquely designed and can fit the aesthetic of any stylish nursery.
Plus, they have more than just cribs.
Nestig started with cribs and has expanded to a more extensive offering with crib sheets, quilts, mobiles, washable rugs, and side tables. I have my eye on several items (how cute is this cloud table?) as I expect the quality and style will match that of the crib we have. So far, we have one of the mobiles, which is a very sweet accessory above the crib (we have the starship one!)
Nestig
Nestig has multiple soft, washable nursery rugs to match your decor, like this striped option.
Overall, I'm very pleased with my decision to add The Wave Crib to my son's nursery, and I recommend the brand to anyone searching for the perfect crib.