Whether you are pregnant or considering a gift for a friend, a bassinet is often a top registry item. A bassinet is a sleep space that is specifically designed for newborn sleep. The size of a bassinet makes it convenient to have next to your bed and tend to your newborn throughout the night. Oftentimes bassinets are also portable and can be easily moved throughout your house.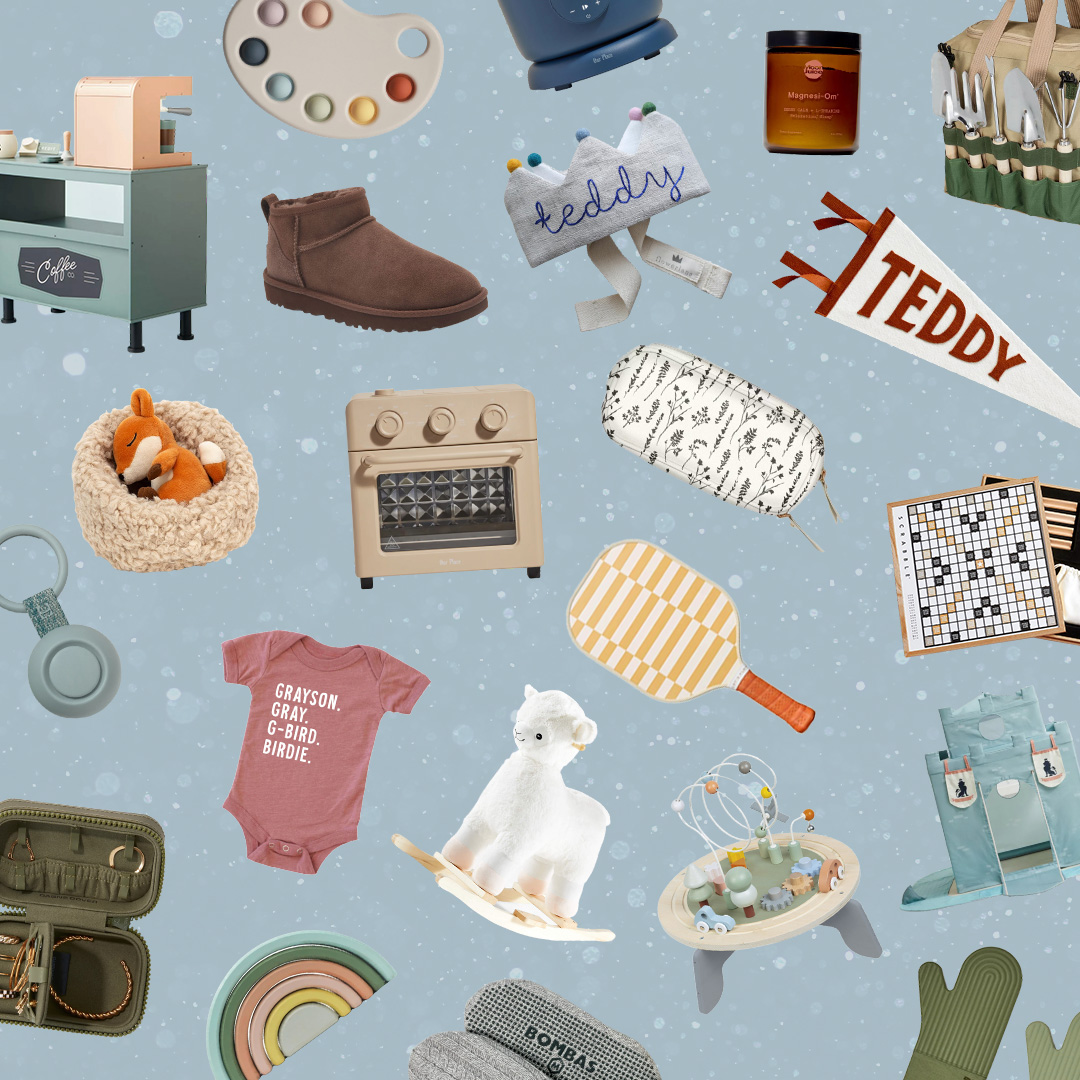 everything you need to ace holiday gifting this year 🎁
As a Pediatric Sleep Consultant, it is important to remind you to always practice safe sleep habits with your baby. Here are the American Academy of Pediatrics (AAP) Recommendations for safe sleep:
Use a crib or bassinet with a firm flat mattress and a fitted sheet.
Room-share (not bed share) with your baby for the first 6 months of life.
Lay your baby on their back to sleep for the first 12 months.
Avoid anything loose in your little one's bassinet or crib. (This includes: loose blankets, pillows, stuffed animals or bulky clothing.)
Avoid the use of positioners or crib bumpers.
The amount of bassinets and travel cribs available on the market can make it overwhelming when it comes to purchasing one for your baby. When making your decision, it is important to focus on: safe design, mesh siding, flat sleeping surface, and portability. I have simplified the search process for you by breaking down the components of the best baby bassinets and travel cribs on the market!
Best Overall Bassinet
The Halo bassinet checks all of the boxes that should be included for the design of a newborn's bassinet.
Highlights:
Best for c-section mamas and night feedings: This bassinet was designed with c-section mothers in mind! The 360° swivel design and lowering bedside wall allows for easy access to your baby when mobility is limited for middle of the night feedings and diaper changes.
Sturdy frame: The four-point base of this bassinet makes this bassinet extremely stable.
Adjustable height: Whether you are short or tall, this bassinet is for you. The adjustable height is a great feature that allows for you to customize the bassinet based on your bed height and overall preference.
Side pockets: It is so helpful to have the essentials near you and your newborn. The side pockets on the Halo Bassinet allow you to stow away the necessary supplies such as diapers, wipes, and diaper cream.
Waterproof pad: Life with a newborn is bound to include the occasional diaper blowouts or bouts of spit up. This bassinet makes it easy to clean up those messes by including a waterproof pad and sheet.
Best Budget-Friendly Bassinet
This bassinet has the necessary functionality of a bassinet with a great price tag.
Highlights:
Great price point:

If you are looking for a bassinet at a very reasonable price, this $89.99 option is for you.



Flat surface: From a safety perspective, this bassinet has a great flat and firm mattress.

Mesh sides: Not only is important from a safety perspective to have breathable sides to the bassinet, but this also allows you to peak in on your newborn as he or she is sleeping.
Rocking and stationary mode: This bassinet allows you to switch between a rocking or stationary mode. The rocking is done manually by you moving the bassinet. It is important to make sure the bassinet is secured to stationary mode when you are not next to it. 
Best Smart Bassinet
If you are looking for a smart bassinet that responds to your little one, I highly recommend the Snoo.
Highlights:
Senses your baby's movement/cries: The Snoo is best known for its ability to respond to your crying baby. As your little one starts to fuss or move, this bassinet amps up the volume of the white noise and motion.
Sleek design: The white mesh design with wood-wrapped base makes for a beautiful piece of furniture within your house.
Controlled remotely via mobile app: The Snoo app not only allows you to control the movement and sound of the bassinet remotely, but you can also track your baby's sleep patterns.
Clip-in swaddle: The clip-in Snoo swaddle sacks allow for your little one to stay safely in place.
Mesh walls: Similar to the previously listed bassinets, the Snoo also has great breathable mesh walls.
Rental option: With the hefty price tag attached to this bassinet, the Happiest Baby company does have a monthly rental option available.
Sleep tip: The Snoo works really well for some babies, but for others it does not make a difference with their sleep. It is important to remember that newborns still need to wake in the night for feedings and diaper changes. This product will not eliminate the need for those necessities.
Best Minimalist-Designed Bassinet
If you are looking for a sleek designed bassinet that also has great functionality, this one's for you.
Highlights:
Lightweight: After giving birth to your newborn, it is often recommended not to lift heavy furniture or objects. The lightweight design of this bassinet makes it easy to move throughout your house.
Clean  and sleek look: If you are looking for a bassinet that will enhance your interior design, this one's for you. The minimalist appearance is pleasing to the eye.
Spring movement: Similar to that of a stroller, this bassinet has the ability to have a spring-like movement where you can help settle your little one to sleep.
Easy to store: If you are wanting to fold and stow away and save the bassinet for another baby, this product is for you! Once folded, it is very compact.
Best Portable Bassinet & Crib System
If you are planning to travel, this Lotus crib & bassinet system is amazing! It will grow with your baby from bassinet to a portable crib.
Highlights:
Ultra lightweight: The last thing a parent needs when traveling is another heavy item to carry. When the crib system is in place, the Lotus only weighs 13 pounds.
Backpack bag: Similarly, it is essential as a traveling parent to have your hands free—I love this travel bassinet & crib system because it includes a travel backpack cover.
No shake: Many pack and plays or portable cribs have a shaking movement. This shake can startle your little one as he or she gets comfortable while falling asleep. The Lotus crib design allows your little one to have a floor-resting mattress to eliminate the shake effect.
Waterproof mattress: Always important, even on the go.
Bassinet to crib conversion: This system is all-encompassing and easily converts from a bassinet to a larger portable crib.
Best Budget-Friendly Pack and Play
Whether it is a portable crib for travel or a safe space for your little one to sleep at their grandparent's house, this pack 'n play is a great budget-friendly option.
Highlights:
Carrying bag: This portable crib comes with a zipper bag to help you transfer it when traveling.
Simple and sturdy: This portable crib does not include bells and whistles, but is very sturdy and can be set up within a few minutes.
Locking wheels: The wheels underneath allow you to move the pack and play into place and lock for safety.
Additional Travel Accessories
One essential component of keeping your little one's sleep on track while traveling is recreating their at-home sleep environment. To do so, I highly recommend making the room they are sleeping in as dark as possible.
The SlumberPod is a must-have when traveling with a baby or a toddler.
Slumberpod
The SlumberPod is a really nice-to-have when traveling with a baby or a toddler. This safe and portable tent allows you to create a blackout environment for your little one.
Travel Black-Out Curtains
Another amazing blackout option when traveling are portable blackout curtains.
Sleepout
With easy-to-use velcro suction cups and 100% blackout, they will help you create that dark environment within minutes.
Amazon
Our editors also swear by these portable black out curtains for travel.
multiple patterns available