When Meaghan Gallagher needed design ideas for her baby daughter Nell's nursery, she looked no further than her favorite bloggers' sites for inspiration. With gorgeously minimalist pieces from retailers including Serena & Lily, West Elm, and Crate & Kids and some added input from a local interior designer, this Chicago mama put together the sweetest feminine nursery for her little girl — and you'll love every inch of it.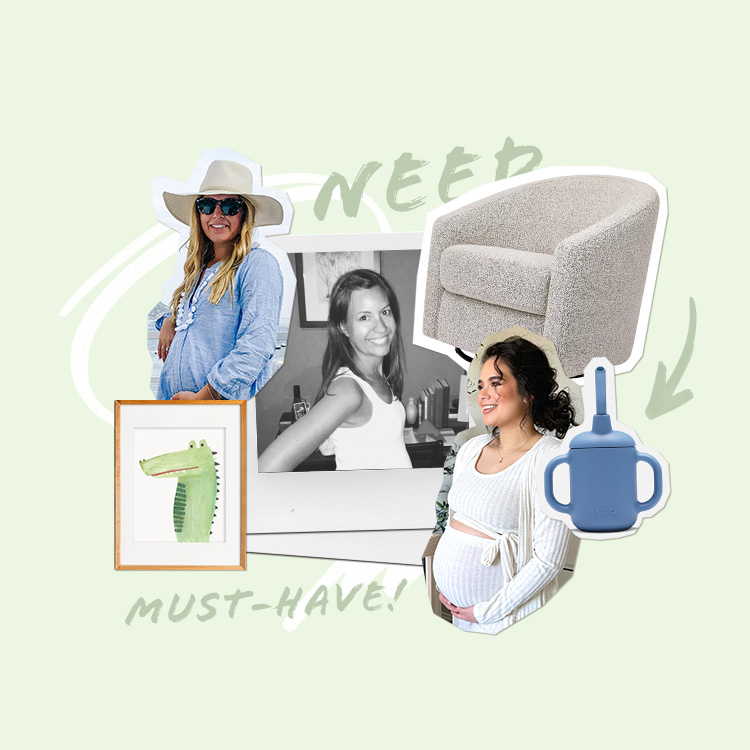 babylist has everything you need—and more! 💕
Keep reading to find out how Meaghan and her husband knew their Windy City house was "the one," learn the home essential she thinks everyone needs, and check out this new mom's best decluttering hacks for keeping kids' spaces tidy!
Name: Meaghan Gallagher, House Manager
Age: 35
Rent or Own: Own
City/State: Chicago, IL
Children: Nell, 10 months
You currently reside in Chicago's Southport neighborhood — tell us about where you live! 
We live in Lakeview, but more specifically, the Southport neighborhood of downtown Chicago. It's about a seven-minute walk to Wrigley Field, and we live about one minute away from the heart of the neighborhood which includes tons of restaurants, bars, shopping, coffee shops, workout studios, a park, and great classes for kids. I love the area as it is the perfect transition spot for young families. We always say you have to live here if you have a dog or baby! We rarely use our car on the weekend as we typically walk to anything including multiple grocery stores.
You live close to your fraternal twin sister, who is now expecting. Did you specifically chose a house nearby?
Prior to moving to the Southport area, we purchased a condo in Chicago's Bucktown neighborhood. While the area was great and a definite change from the Lakeview rental I previously lived in with a friend, it was definitely further from most of my friends and family and I typically had to spend time and money on Ubers, trains, and/or buses to spend time with them. My husband, Mike, and I knew after we got married that we would soon want to expand our family and it made sense to find a bigger place that was closer to my sister. Since our parents and my brother-in-law's family live out of state, it was important for us to live close by to help each other out when we can! My sister and I grew up in the same neighborhood as many of our aunts, uncles, grandparents, and cousins so we've experienced the benefits of having family close by. 
This is maybe a funny question, but what is it like having a twin?!
Since I don't know any different, having a twin is great. We don't have any other siblings so we don't really know anything else. We have always gotten along well, which has helped us be super close. We went to the same college, Michigan State University, joined the same sorority, Pi Beta Phi, and even moved into our first apartment together. We are lucky to call each other our best friends and can't imagine not living close to her!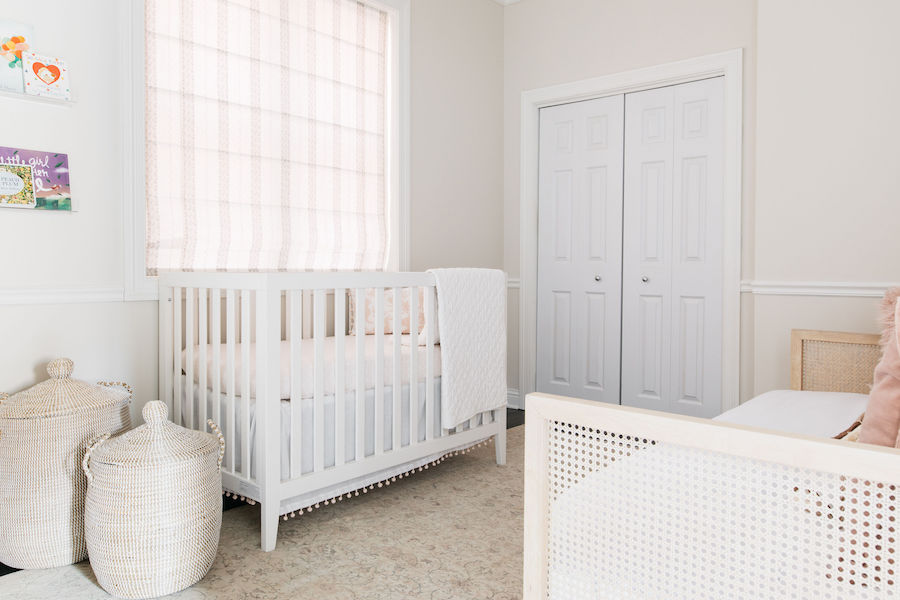 SHOP THE LOOK

How has it been experiencing new motherhood with your sister? 
It's the best and great. Since we had babies around the same time but not exactly at the same time, we've been able to share everything. We also both have two girls, so [we can share] clothes too! I can always rely on my sister to answer any questions at any time of day. 
How does your parenting style differ from your sister's?
Our approaches to parenting are similar. I would say we are both pretty laidback in our parenting styles. We value our families and friendships, so it is important to both us to ensure our children don't limit us from doing things with them too! 
You and your husband recently bought your first home — congrats! Tell us about the process of finding your house.
We actually put in an offer on our home just before our wedding and closed about 10 days prior to our wedding — talk about crazy timing! The market in Chicago can be competitive so as soon as my sister saw our listing, I went to look at the property hours later and we put in an offer that very same day. We worked with a realtor for both selling and buying our home. It was important for us to find a bigger place knowing that we wanted to start a family soon after our wedding. 
How did you know your place was "the one"?
I walked into the home (without my husband) and said, "This is perfect." It had the space and style that we wanted. We actually put in an offer prior to my husband even seeing the home!
What things were most important to you when finding your next home?
Location and that it had three bedrooms!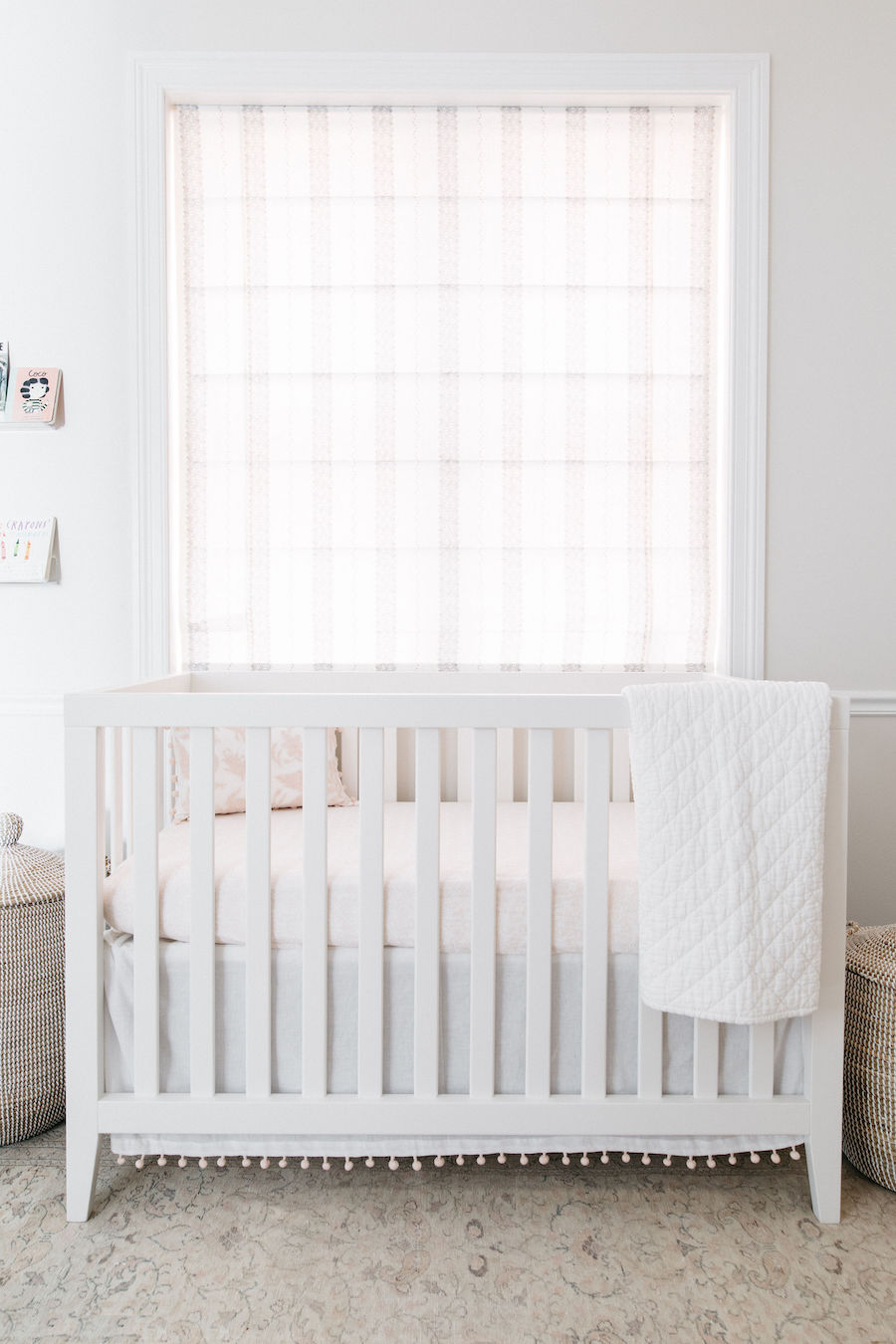 SHOP THE LOOK

Tell us about designing your daughter Nell's adorable nursery! 
I would say my main source of inspiration was Pinterest and other bloggers' nurseries. Many of the influencers I follow seem to be in the same life stages as me which has been super helpful in many of the decisions I have had to make in regards to decor, design, and raising a baby!
How would you define your design style? 
My style might be considered a bit more traditional with transitional elements. This includes warm tones and a pop of color here and there. I like my home to feel inviting and welcoming but not too cluttered! 
What are some of your favorite pieces in the nursery?
My favorite piece might be the mirror above the changing station. Or the daybed! 
You worked with an interior designer to complete Nell's nursery. Tell us about that process. 
I enjoyed working with a professional as I think [our designer, Kira David Design] provided a sense of confidence in my decor choices. Before having a designer's input, I sometimes felt like I made abrupt decisions that I ultimately ended up not liking shortly after. I would have called myself more of an impulse buyer and likely ended up wasting more money and time buying and returning things.  
Where are some of your favorite places to shop for baby furniture and decor items?
Serena & Lily, Target, West Elm, Lulu and Georgia, CB2, Crate & Kids, and Restoration Hardware.
SHOP THE LOOK

How do you maintain a balance between traditional and transitional decor? Any tips and tricks for cutting down on clutter?
I think picking a few more traditional furniture pieces and then using other elements such as curtains, rugs, and pillows to make the space feel transitional works well. I like to think that furniture (and more pricey items) can be used a long time, and then, I have the opportunity to switch out the less pricey items in the future as styles change. 
If you ask my friends, they'll say I hate clutter. What is most important to me is to make a space feel larger than it actually is. I'm constantly (at least quarterly) going through drawers, closets, etc. to ensure we actually use everything in our space. If not, I get rid of it! I'm a big believer in less is more. I had a pretty simple baby registry as I didn't think our daughter needed all the latest gadgets. I think living in a small space with no storage has helped me keep the clutter to a minimum!
What piece of design advice would you give to someone who is setting up a nursery for their first baby?
Less is more! At first, your baby only needs somewhere to sleep, a few outfits, diapers, and food. You can always buy more as you get a sense of their personality and know if other items might be needed.  
How has your style changed since you became a mom?
I'm definitely more mindful of the furniture pieces I buy and think about things like Nell possibly hitting her head, if she can spill something on it, how easily stains can be removed, etc. I'm definitely leaning toward more practical pieces now that I'm a mom! 
Nell is such a cute baby! How does she inspire you?
Nell is 10, almost 11 months old. She definitely inspires me to be my best self! She is just always so happy and excited about everything. It definitely makes you reevaluate your daily life and how your approach your decisions. 
SHOP THE LOOK

What has been your favorite moment of motherhood so far?
I think watching her grow, learn, and explore. It is amazing how fast a baby changes and with each new day they practically learn something new. One of my favorite recent moments was watching her learn how to clap and how proud of herself she was. Now every time she likes something, she claps! 
What does a typical day in your life look like?
My day typically starts around 7am when Nell wakes up. She drinks a bottle, eats some breakfast, and then we always head on a quick walk to get coffee before my husband goes to work. Nell and I then head to the gym. Luckily, my gym has a kids' room for her to play in while I try to do a workout class or hop on the Peloton. Next, we return home for Nell to nap for an hour or two. My babysitter typically arrives around 11am which is when I head to work. I work for a family full-time (four girls and two dogs). I perform household duties (grocery shopping, meal prep, dog walking, errands, laundry, and taking the girls to their after school activities). I return home around 7pm and put Nell to sleep. Then, after making dinner for my husband and me, the day ends with a glass of wine, dinner, our favorite TV show, then bed around 9pm!
Meaghan Gallagher is The Everymom…
Favorite thing to have for breakfast? Oat milk latte and either a yogurt parfait or oatmeal with peanut butter, banana, and cinnamon!
Favorite end-of-the-day routine? Putting Nell to sleep or relaxing and watching a show with my husband with a glass of rosé. 
One home essential everyone needs? A Sonos speaker! We definitely listen to more music in our home than watch TV. Nell loves music too and has just started to dance — it's so cute!
Favorite song to listen to before a workout? Anything by Kygo! I'm loving his Whitney Houston "Higher Love" remix. 
Underrated ice cream flavor? Jeni's strawberry (it's seasonal and only available in summer!). 
Most embarrassing mom fail? Running out of diapers or forgetting a diaper when we were out and Nell wearing a swim diaper the rest of the time (which do not absorb a lot of pee!).