Who among us isn't grateful for their health right now? The last time I went to the doctor, I had a list of minor ailments to share with her—my knee sounded like a creaky stair, my period stole my patience each month, and I had an achy baby toe. Now I look back and say, "Welcome to your late 30s, friend."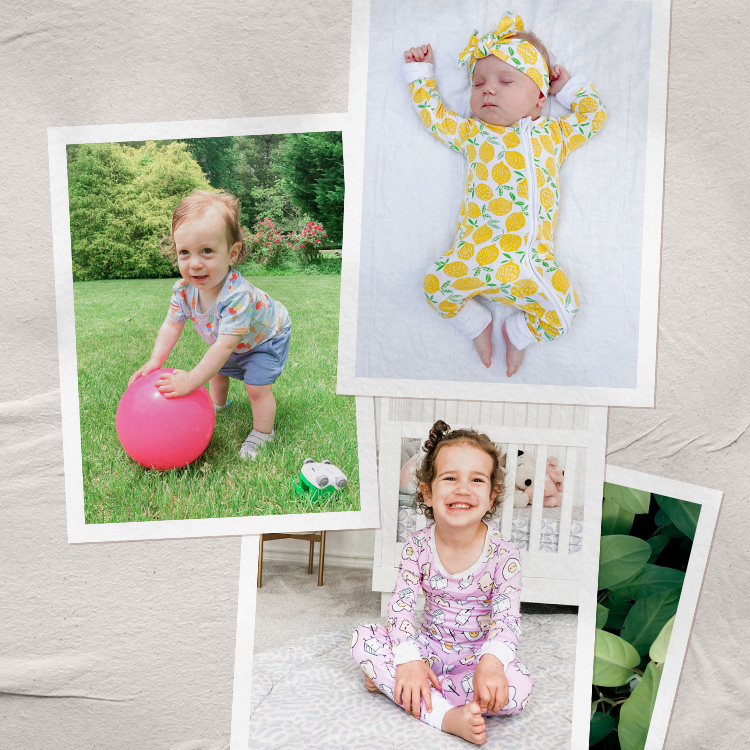 it's more than just their cute PJs... get ready to add to cart! 😍
I'm among the grateful to be healthy. But my body still feels the effect of carrying two children, my uterus still delivers me a potent dose of PMS each month, and my mind still takes on the typical emotional labor of motherhood—plus a pandemic. It can feel like a lot, although not at a level requiring a medical diagnosis.
Enter CBD. CBD is short for Cannabidiol, which is known for its anti-inflammatory, pain-reducing, and calming effects. If you're hesitant to try CBD because you associate it with marijuana, not to worry: by definition, marijuana needs to have 0.3 percent THC or higher and CBD made from industrial hemp flowers does not. It can be taken in a variety of forms—from capsules to drops to creams (hello, creaky knee) to even bath bombs.
Our team has been using a range of premium CBD products with the help of Equilibria. After months of trying out different dosages and forms, each of us has found the Equilibria product we like best, given our own unique goals for CBD usage and the positive effects we've experienced.
Our editors all started with the Brilliance Box—which includes Daily Drops, Relief Cream, and Daily Softgels—and with the help of Equilibria's Dosage Specialist, found what works best. A few of us have also been lucky enough to try out the female-founded brand's Balance Bath Bombs and Mindful Mineral Soak too, and we're obsessed.
Read on for more on our favorite Equilibria CBD products and how we use them in our daily lives. 
Equilibria
CBD products first piqued my interest after I had my son, but I was breastfeeding, and there wasn't enough research to confirm it was safe if it was transferred through my breastmilk. Now that my breastfeeding days are behind me, I've started using the Daily Drops as part of my bedtime routine and have really enjoyed the experience. They say consistency is key when taking CBD, so most nights as I'm getting ready for bed, I place 1-2 drops under my tongue and let it sit for about a minute. After that, I continue with washing my face, brushing my teeth, etc. By the time I'm done, I can tell that the stress from the day isn't consuming my mind as much, and my body feels more relaxed. I also wake up feeling more positive and with a brighter outlook on the day ahead.
Use code THEEVERYMOM for 20% off your first order!
Equilibria
Oh, CBD relief cream … how do I love thee? Let me count the ways. When my hips hurt, you're there for me. When I have menstrual cramps, you're there for me. When I have a kink in my neck, you're there for me. When I feel a tension headache coming on at 3pm from staring at a screen all day, you're there for me. The combination of ingredients (especially the menthol which helps with my headaches) offers comfort and relief almost instantly as I massage Equilibria's relief cream onto wherever I need it. I keep this handy and reach for it time and time again and cannot recommend it enough.
Use code THEEVERYMOM for 20% off your first order!
Equilibria
I was admittedly a little skeptical of using CBD at first (would the products really do anything?), but Equilibria's Brilliance Box did not disappoint. My favorite product is by far the Daily Softgels as they give me a boost of much-needed energy during my mid-workday afternoon slump. Anyone else hit 3pm and seriously need a nap all of a sudden?! Consistency is key when taking the Daily Softgels, and after about a week of taking them, I definitely felt an extra pep in my step, a general sense of calmness, and newfound focus to finish out my workday. Having an extra aid to help curb my anxiety right now is invaluable and I love that the Softgels are a quick and easy way to instantly help me feel better.
Use code THEEVERYMOM for 20% off your first order!
Equilibria
I was very skeptical of CBD before trying the Equilibria bath bombs. Now, my friends and family are probably sick of hearing me talk about this product. I love a bath at the end of the day to unwind and have some quiet time to myself. I can honestly say that Equilibria's bath bombs took my relaxation to a whole new level. I also tend to get sore muscles regularly from exercise and neck/back aches from lugging around two tiny humans. Without fail, every time I am trying to get rid of a particularly difficult ache, a CBD bath bomb does the trick ... for good.
Use code THEEVERYMOM for 20% off your first order!
Equilibria
In addition to loving the bath bombs, I'm also obsessed with the Mindful Mineral Soak to add to my baths after a long day with the kids. I've also found both of Equilibria's bath products to be the perfect gift items for my mom, who is always helping with the kids and doing little things to help us out. She loves the bath bombs as much as I do, but she's not someone who generally pampers herself with things, so I love giving her the bath bombs and bath soak as a small thank you for everything she does.
Use code THEEVERYMOM for 20% off your first order!
Equilibria
I know many people use CBD for sleep, but I don't tend to have trouble falling or staying asleep (I know I'm lucky, and it frustrates my husband that I can sleep so soundly). So, I planned to use the Daily Drops to calm anxious feelings as they popped up during the day, and increase my dosage around my period when my mood is noticeably different. I have much less patience with my kids, my husband, and my dog, especially right now when anxiety levels are high about everything. Taking a pause with the drops under my tongue for 60 seconds really helps and I can feel the calming effect within minutes. Additionally, after I saw Everygirl Editor Beth use the drops to calm her irritated skin, I decided to try it as a face oil after a little too much sun. It worked great at soothing my skin, so I'm happy to have a new use for them.
Use code THEEVERYMOM for 20% off your first order!
As per FDA guidelines, Equilibria CBD is not intended to diagnose, treat, cure or prevent any disease or ailment. As always, consult with your physician before starting any new program that may interact with your current health plan.
This article was originally published on August 20, 2020.

This post was in partnership with Equilibria but all of the opinions within are those of The Everymom editorial board.