Let me begin this by saying that I myself am not a mom — not even close. The closest I've gotten to any form of parenting is babysitting a 3-month-old a few times a week for a summer in college, and that is in itself enough for me for a long, long time. I'd leave sweaty, covered in puke, and too exhausted to do anything but go home and sleep for 12 hours. Moms, I can't begin to imagine how you do it every day, but I commend you.
With that out in the open, I work with a lot of wonderful, new moms, and every day I see how their routines have been simplified since having children. There's less fuss, and that's something I can always get on board with.
When you're a mom, keeping your identity is something that's important. While it's totally reasonable (and understandable) to never change out of your favorite leggings and sorority T-shirt, sometimes, you just need to look put-together. I imagined it like what I'd wear to run errands, but as a version of myself that's 1,000 times more tired than I am.
These are easy, functional, and quick outfits for anything you need to check off your to-do list on a given day — from school pick-up to a run to the grocery store.
1. Boyfriend Jeans + Crewneck Sweatshirt + Sneakers
Sunglasses / Jeans / Sweatshirt / Tote Bag / Sneakers
2. Military Jacket + Black Jeggings + White Tee + Cheetah Print Mules
Jacket / Jeggings / White T-Shirt / Mules / Tote
3. Leather Leggings + Duster + Black Tank + Slip-On Sneakers
Leather Leggings / Duster / Black Tank / Slip-On Sneakers / Sunglasses
4. T-Shirt Dress + Slide Sandals + Fun Sunnies + Leather Tote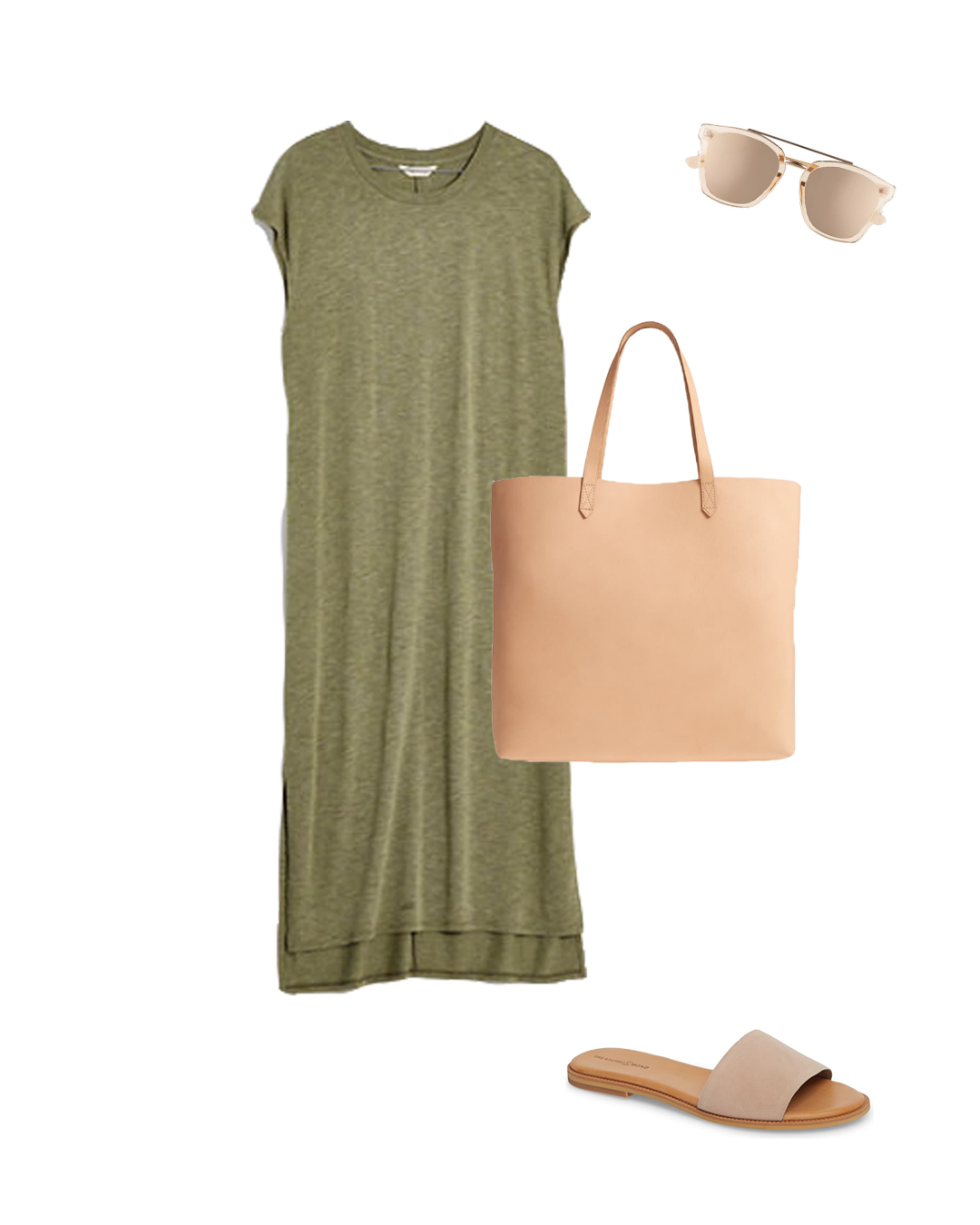 T-Shirt Dress / Slide Sandals / Fun Sunnies / Leather Tote
5. Graphic Tee + Denim Shorts + Canvas Tote
Graphic Tee / Denim Shorts / Canvas Tote / Slides
6. Linen Joggers + White Tee + Sandals + Tortoise Sunglasses
Linen Joggers / White Tee / Sandals / Tortoise Sunglasses