It's no secret that Lara Brehm has impeccable decor taste and knows aesthetically-pleasing interior design when she sees it. And when the Paris-based graphic designer and her husband decided to buy the two bedroom unit next door to their studio apartment and convert both spaces into one, 970-square-foot home fit for a family-of-three — soon to be four! — figuring out the renovations and design of their new abode came pretty easily to Lara. Fast forward four years and Lara, her spouse, and their toddler son, Oscar, live in a gorgeously neutral apartment that'll seriously leave you dreaming of the perfect minimalist decor.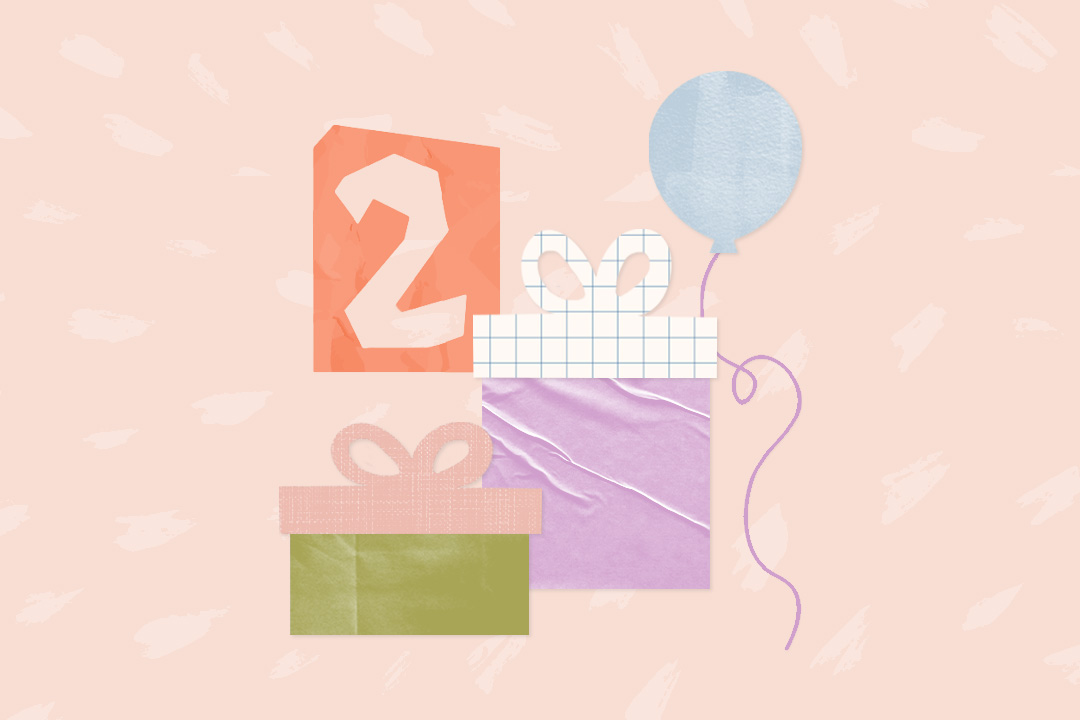 a LO in your life will love these! 🎁
Scroll down to learn more about Lara's graphic design work, how the City of Love has influenced her home's aesthetic, and how exactly they combined two Parisian residences into one beautiful place!
Name: Lara Brehm, Graphic Designer
Location: Paris, France
Sq. Ft.:  Approximately 970
Years Lived In: 4 years this December
Rent or Own: Own
Children: Oscar, 3, and expecting baby boy No. 2 this December! 
What was your first job, and how did you land it?
I started as a freelance graphic designer straight away after my studies mostly because my dad was a freelance photographer, so I had always witnessed this way of working, knew about the difficulties but also about the benefits, and wasn't afraid of the challenge. It is still hard work to find the perfect balance, but I wouldn't trade it for any other way of working as it allows me to be very present for my son (even if late-night work is often involved after he's in bed). Aren't those first years of a child everything for a mom?
SHOP THE LOOK

You have such a strong color scheme and aesthetic throughout your whole apartment! How would you describe the design style?
Not sure there is name to define my style, I just really like white walls and neutrals with a touch of soft colors and a few textures to give the decor some depth. Also, lots of wood! I need my home to feel fresh and airy yet cozy and inviting.
Has living in Paris influenced your design style at all?
It has influenced a lot of the decor I buy, of course, and certainly given me a sense of aesthetic, but I think the main elements of my home would be more or less the same living in any other part of the world.
You and your husband originally started with just the studio apartment. What made you decide to renovate and add on the apartment next door rather than moving to a bigger space?
The garden! The garden is what made me buy the studio apartment in the first place, and we knew we most probably wouldn't find any other 970-square-foot apartment with such a garden (a quite big one for Paris standards), so we negotiated hard with the owner next door and finally convinced her to sell us her two-bedroom apartment the moment the lease of her tenant was coming to an end. Best decision ever!
SHOP THE LOOK

Can you tell us about the process of expanding and uniting two spaces?
Physically uniting both apartments was a rather easy fix as the wall between both was not a load-bearing wall. The more challenging part was to figure out how to redesign each space so it would complement the other part of the new bigger apartment. What once was the studio apartment became a huge room with a bathroom for our son to begin with and eventually ended up as two kids' rooms with a corridor and a bathroom. The kitchen was moved out and rebuilt slightly differently in the two-bedroom apartment where the space was redesigned completely to hold an open kitchen/dining/living area and a master bedroom with an ensuite bathroom. It was a fun process, and I loved redesigning all the spaces [and] the best part was seeing it all come together as I had imagined!
What has been your favorite project of the renovation so far? 
The whole renovation was really a lot of fun, but I think decorating each room has been my favorite part, and to be honest, it's still a work in progress! And with our second son due at the beginning of December this year, I can foresee a lot of fun decorating the last room in the apartment that still needs to receive some extra love and attention! 
You're a huge fan of clean lines and bright spaces. Can you tell us a little bit about why they are so important to have in a home?
To me, clean lines and bright spaces bring instant calm and peace of mind into any room. As a work-from-home graphic designer, I really need the relaxed feeling to be able to focus on my work. Like a blank canvas all around me. I also feel it makes the apartment feel bigger and lighter and makes any change of decor super easy because about everything matches white walls!
SHOP THE LOOK

You have such a minimalist lifestyle even with a little one running around! That's pretty amazing. Do you have any advice for other moms that want to keep the toys and gear from piling up?
Baskets! Hide the toys you don't want to see in wicker baskets! Not only will they be hidden, but it will also be easier for your kids to find their toys and clean them up after playtime! You can attach an image of what goes inside on each basket/bin or even label them for bigger kids who can read.
Also, from very little on, I taught my son that he can play in the living room if he wants to during daytime, but before naptime and at night and before going to bed, he has to clean up and take all of his toys to his room. That way we have a toy-free living room to enjoy our evenings in. 
Where are some of your favorite places to shop for minimalist products? 
Actually, I don't look for minimalist products at all, I think I'm just naturally attracted to plain colors, clean lines, and simple shapes. I'm sure I could find the one and only "minimalist" product at Anthropologie! Some of my favorite decor shops and brands are Merci (Parisian concept store in Le Marais), The Conran Shop, HK living, and a lot of smaller brands I discovered on Instagram such as Mikanu, Gabrielle Paris, and Oak Gallery.
Do you have a favorite room in your room? If so, why?
Our open cooking/dining/living area because it's where we spend most of our time as a family and it also doubles as my office during the day. It has one window and big three door windows which means lots of natural light coming in, and it's where we take all our meals, be that an aperitivo around the coffee table, a quick snack at the kitchen island, or a proper meal around the dining table. It's where we have dance parties with our little boy and where we spend cozy evenings as a couple. It's the center of our apartment and really is the heart of it.
SHOP THE LOOK

Were there any quirks when you combined the spaces that you had to design around? If so, tell us about them.
There was one concrete beam we couldn't take out or move to avoid extremely high costs, and it is located about 20 inches too deep into the space I wanted to use for Oscar's room. So, I decided to place the wall that divides both kids' rooms where it was intended to go and use the depth between that wall and the concrete beam to design three niches below the ceiling of the added room. It has become a fun little storage space and would have been lost space otherwise.
All of Oscar's wooden toys are so pretty! Where have you collected them from?
I'm a fan of the aesthetic of wooden toys rather than plastic and electronic ones, so I always intended to get more wooden toys for Oscar. I want him to be aware of the beauty of some toys versus others and to get a certain sense of aesthetic from early on. Wooden toys are also a much more sustainable and environmentally friendly than plastic toys — if I can teach him that at least a bit, I will feel very happy! Our favorites are by Wooden Story, Ostheimer, Holztiger, Bloomingville Mini, Kid's Concept and Sarah & Bendrix.
We're huge fans of literally anything Parisian over here at The Everymom. What's your favorite part about living in Paris?
Oh, that's really a tough one! I have lived in Paris for 30 years now, and I really love so much about this city! Its architecture, its many cultural options, tons of restaurants and cool districts… I don't think I can choose a single favorite part. I also love that you can live in a more residential area of the city and reach a completely different area where life is buzzing in no time! And then, French bread and pastries, of course! They're simply the best!
SHOP THE LOOK

How has Oscar inspired you both personally and professionally?
Oscar inspires a few interior choices I make like switching our square glass coffee table for a round wooden one when he was starting to walk or finding convenient storage options so he can reach his toys or shoes on his own. But overall, I think I make most of the same choices I would make not having kids. I think our kids need to respect their interiors too, and if we teach them lovingly that there is no eating or painting or Play-Doh or any messy activity away from the dining table (or dedicated space), they will understand, and your white sofa will stay as white as possible with kids! 🙂 So, I tend to base my decor and furnishing choices on my taste and not on what's safer with kids. But that's a very personal decision and I totally understand those who want to stand on the safer side. Our sofa cover is entirely removable and washable after all!
Seems like your little guy is always on the go and traveling with you and your husband! What are your go-to hacks for traveling with a little one?
My only advice for traveling with kids is to just stay cool about everything as long as they get the sleep they need. Vacations are everyone's vacations. In our case, they are Oscar's, but they are, of course, also my husband's and mine! And I don't feel like arguing on holidays, so I'm a lot cooler about the rules than at home. If bedtime is delayed by a couple of hours, it's OK (he can catch up the sleep at the next nap time). If too much sugar is eaten, that's fine too… as long as everybody enjoys the time off and knows it's back to the regular rules once we're home again. Having fun and caring less about rules is what vacations are about, right? Just make sure everyone has their share of fun activities each day — something for mama, something for papa, and something for the kids! It's all about balance to keep the family happy!
SHOP THE LOOK

What does a typical day look like of you?
I usually wake up to a little guy standing next to my bed asking me to get up and make him breakfast. We have breakfast together (either the two of us when my husband is at sea or as a family when he's home), then bring Oscar to daycare, then come back home and do a few chores as I like to start my workday with a clean and fresh apartment. When the house is clean, I often take the time to work on editing a couple of photos for my Instagram while I sip on my second cup of tea of the day. (The first one I usually get to finish or even to drink while it's still hot! )
Next, I move on to my graphic designer work for the rest of the time Oscar is at daycare. My lunch usually consists of a quick cold meal behind my laptop or if I have a bit more time, I'll have a quick lunch outside with a friend. When I come home with Oscar, my time is entirely dedicated to him until he is in bed around 7:45pm. We play inside or in the garden (depending on the weather), we read books and draw, he gets a bath and has dinner, we read a bedtime story and sing a couple of songs, and he goes to sleep. When he is in bed, depending on my husband being home or at sea, we have dinner together or I have dinner on my own or a couple of friends come over. A lot of the nights I also need to open my computer again get back to work, but I wouldn't change this work from home full-time-mama life for anything in the world as I can enjoy so much time with my son and watch him grow! 
When it comes to motherhood, what are you most confident about? What are you still insecure about?
I'm confident that we're giving my son a loving, straightforward, respectful education. When I hear my son telling me he loves me throughout the day, seeing him being kind to others, and asking for permission to do things, I know I've done a good job in raising a loving little human. Of course, he also throws tantrums and has his moments, but overall, he's a tall, strong guy with a very tender heart, and this makes me so happy! I really hope to achieve the same thing with our second baby!
I'm still insecure about over-protecting him a little and not letting go enough. I still feel like he's my little baby, but he wants to explore the world and try all sorts of things, even if they're a bit dangerous. I'm working on keeping my calm and letting him fail and fall to learn on his own.
Lara Brehm is The Everymom…
Best way to end a long day? Oscar goes to bed early and then… legs up, glass of red wine, candles, and soft jazz music!

You can't leave the house without… Phone, keys, wallet, scarf or sunglasses, depending on the season. 
Favorite restaurant in Paris? Love Le Fumoir — haven't been in a while though. We also go to Auteuil Brasserie on repeat because it's easy-going and in the neighborhood.
Last book you read? Last one I finished was The Handmaid's Tale. Otherwise, I mostly read magazines as I never seem to find the time to finish a book.
Coffee or tea? Tea! Hot, black, no sugar, and several cups a day! 
Dream vacation? Hawaii! We have been to three of the islands on our honeymoon and are dreaming of going back as a family. Would also love to discover Australia and New Zealand!
Most embarrassing mom fail? Taking a very feverish 2-year-old Oscar on a 10-hour plane ride to Miami. Poor thing… it was awful for all of us, but he got better, and we all got to enjoy our vacation, so… happy ending! 🙂