When Alyssa Buth found out that she and her husband were having a girl, she decided to go all in on a girly-nursery theme – and we've never seen a nursery hit a theme as spot-on as this one. A millennial pink wonderland, five-month-old Gianna Grace's nursery is a love letter to her from her mother, Alyssa, owner of a digital branding firm, Dapper. With a gorgeous floral wall decal and some darling bright white accents (we can't get over the rocking bunny!), this nursery is fit for a "peony princess."
Read on for Alyssa's favorite splurge pieces, how she created such a cohesive theme, and how she bonded with her daughter (even though it didn't happen right away).
Name: Alyssa Buth
Age: 27
Current Title/Company: Owner, Dapper LLC
Square Footage:  2,400 sq. ft.
Rent or Own: Own
City/State: Whitefish Bay, WI
Children: Gianna Grace, 5 months
You mentioned that you and your husband bought a new home and undertook renovations while you were pregnant. What drew you to the house?
Before buying our house, my husband and I lived together in apartments in both downtown Chicago and Milwaukee and knew from those experiences what our must-haves were for a home where we would start to raise our family. We wanted something with charm, something that seems like it belongs in the area, something near family and close to the action but removed enough that we could have the space we were lacking in apartment living, and, ideally, something we could grow into as our family expands.  
We've always known we wanted to be in Whitefish Bay because it's a tight-knit community, close to downtown and close Lake Michigan, and because the homes themselves (for the most part) are older, quaint, and would let us flex the creative muscles we didn't know we had until we watched a lot of Fixer Upper. We did a few technical renovations like adding a stair runner so that we wouldn't trip down slippery wooden stairs with a baby in our arms, completely gutted the backyard and sold the old swing set, painted the nursery from brown to pink, and lastly, we had to replace our water heater… the same day I was induced.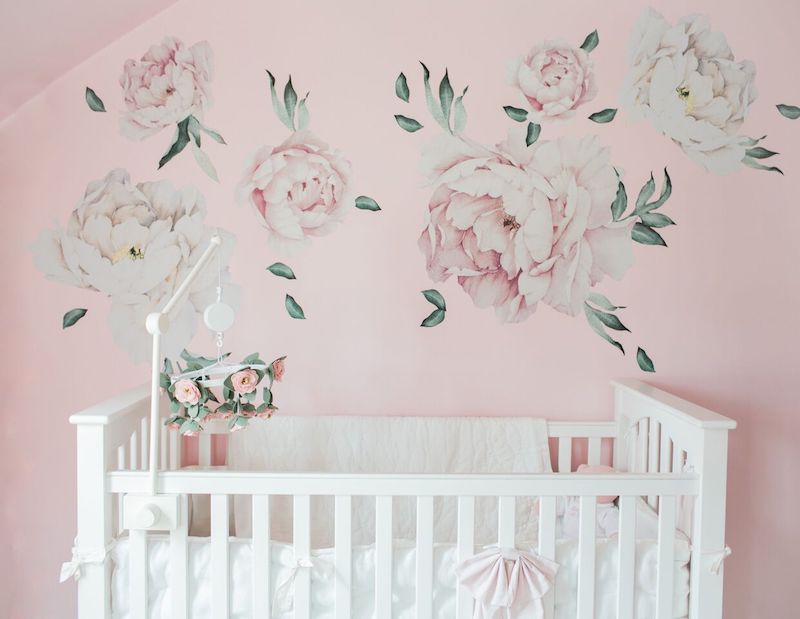 What was your biggest inspiration when designing Gianna's nursery? How did you turn your vision into reality, particularly when working on a budget?
Since finding out her gender, I knew that I wanted to make her nursery as soft and feminine as possible. "Peony Princess" was the goal.  I started to assemble different ideas from Pinterest, store displays, Instagram, etc.
I didn't want to just buy a whole set because I wanted pieces that were convertible from either kid to kid or room to room. The two most important pieces were the glider and the crib, so they got the bulk of the budget. Everything else was just a hunt and we would wait for Black Friday sales and other hot times to purchase things to get the best deals.
What are your best tips for creating a functional yet stylish space for a baby's room?
Find one thing that inspires you and work off of that. I drew inspiration for her room from the floral crown on her Cuddle + Kind dog and went with that. Also, don't feel like everything has to match because you'll drive yourself crazy looking to match colors and textures any time you want to add something to the room.
Where do you get your home decor inspiration? Where do you like to shop for home decor?
While I was pregnant I watched a lot of Fixer Upper, and I LOVE Joanna Gaines's down-home, humble designs. I also love Pinterest so that's helped me make a concept for the space too. Joss & Main and Wayfair are our go-to's. I love a great Home Goods trip, but I don't like how it can be inconsistent when you're specifically looking for one item.
How do you think you'll adjust Gianna's room as she continues to grow?
I think eventually the rocker and changing table top will move to a spare bedroom for baby #2 someday and we'll add in a small desk for her. We do have a playroom, so I'm hoping that the soft pink motif can stay and the playroom can be filled with ever-changing toys as she grows.
With a baby around, it's easy for baby gear to overtake a home. Do you have a system for tidying up your home to control the spread of kid stuff?
The pieces that stay out I tried to keep as naturally colored as possible. So play mats, Moses basket, and the Mamaroo are all on display for easy access. All the little toys we keep in a basket near her crib or in the playroom in a toy box. I try to purchase toys and baby things that are all in a similar palette so they can match each other. Her playroom is Parisian themed and is gray and cream, so if baby #2 is a boy that will become his bedroom and a lot of the furniture and toys will match still.
You also have your own digital branding business. How do you manage the day to day responsibilities that come with both your family and your business? What is your advice for women juggling both?
It's been really hard. Sometimes I feel like supermom other times I feel like I've half-assed everything on the to-do list. Luckily, my mom and my grandma live close by so they've been an amazing support system for babysitting when needed. I also set new standards with my clients, like telling them that I need more time to respond at times and setting deadlines with some cushion.
Getting Gianna on a schedule has been my biggest lifesaver. I know her two-to-three hour mid-day nap is my time to get a bulk of the work done. I also devote my mornings to Gianna and wait until 11 a.m. to get to work things when possible.
I've found that trying to answer emails or client calls while also trying to entertain or feed a baby is impossible and both sides lose, so the more separate I can keep it the better.
My husband Cody is a huge help, and on Fridays when he works from home I get to spend more time working while he takes on some of the parenting duties too. It's been very hard since he's gone back to work after his 2-month paternity leave because he's a consultant and travels out of state Monday-Thursday.
How has your business changed since you've had a baby?
I've tried to reduce as much unhealthy stress in my business as possible. If I had problem clients or clients that were behind on billing each month, I had a talk with them before having Gianna, letting them know that we probably won't be the best match after I have the baby and I'm happy to refer them to someone I feel could help. It's allowed me to work with the clients I love and keep my attention focused on them.
How has your view of motherhood changed since becoming a mom?
My view has immensely changed. When Gianna was born, I wasn't overswept with love and immediate motherhood feelings. I was very confused and scared and I suffered from postpartum depression for a few weeks. I felt very disconnected from this perfect being that I was supposed to immediately be bonded to. Luckily my mom and husband were amazing through it all and let me have moments to myself and tried to reduce my stress as much as possible. Now, I can't imagine life without my daughter, and I can't wait to be best friends with her while watching her grow. I have so much appreciation for my own mother now, too. As my mom reminds me "I get it now."
Also, things that seemed important before baby aren't as much. I try not to load up my plate like I used to because I need to accommodate Gianna. My priorities have definitely changed. I put Gianna and her needs first, always – which is why balancing work has been a bit of a struggle, but we're getting there.
What's the most rewarding and challenging part of being a parent?
The most rewarding yet challenging part of being a parent is how exhausted you are at the end of each day, but how much you look forward to doing it all over again in the morning. I knew there would be late nights and early mornings and middle of the night feedings, but I didn't expect to be so emotionally and physically drained each day – especially when breastfeeding, and especially in the first six weeks. I need to keep my stress as low as possible because it highly affects my milk production. But knowing that I'm feeding her and watching her grow so healthily has been amazing.
When it comes to being a mom: what are you most insecure about and what are you most confident about?
I'm most insecure about breastfeeding because from the beginning I've pumped 50% and breastfed 50% which seems to work out, but if I am stressed I can produce a lot less milk, and then I get very anxious and nervous. I really want to be the type of mom that can have quality breastfeeding time with my baby, but sometimes, with being on the go and working from home, I quickly turn to the pumped bottle and I usually feel guilty. I also feel so guilty when I'm working and need to give her my attention – that has been a struggle.
All that being said, I'm confident that I'm doing something right because she's growing so well and she's so strong. She's already been to 15 states and I take her everywhere with me and that won't change. I'm not the type of person who can sit at home 24/7, so it's been so great watching her interact with the world, even if she can't remember it yet.
If you could only pick one, what has been your favorite memory from motherhood so far?
Two weeks after Gianna was born, we took her down to my parent's house near Scottsdale, AZ. We spent a month out there in the warm weather getting to know each other, taking long walks outside, getting down our schedule, etc. Having that month to disconnect from work, our house, and day-to-day stress and focusing on connecting with Gianna was amazing. I cherish every second we had with her there, and I hope I'm lucky enough to be able to do that with each child we have.
Walk us through your morning routine.
Our typical mornings go like this:
7 a.m. I wake up and pump/get coffee/check emails
7:30 a.m. Gianna wakes up and I breastfeed and change her
8:00 a.m. play time and walk around the neighborhood with our dog
9:30 a.m. time for cereal with fruit for Gianna
10:00 a.m. short morning nap for Gianna (when I do my first round of work, emails, and housework)
Alyssa Buth is The Everymom…
Favorite family tradition?
Every Christmas we go visit Chicago to do holiday shopping, view the Marshall Fields window display, and see Christmas lights. When I was little my dad always let us pick out an American Girl outfit at the store as a present from him. I'm hoping this year we can take Gianna to the city to do the same!
Easy go-to family meal to prepare?
We love Hello Fresh. It's saved us so many times, keeps the fridge stocked, and has helped my husband and I learn how to become better cooks!
Your dream vacation?  
Toss up between Santorini and an African Safari!
Last home item you splurged on?
We just bought Gianna a Little Nomad play mat. Love how the mat looks more like decor than a brightly colored eye sore.
Guilty pleasure?
Watching Cardi B interviews on YouTube while pumping/feeding.
Most embarrassing mom moment?
I scheduled a massage because I was having some back pain from the birth. Within five minutes of being in the massage, I realized I should've considered the whole having milk/breastfeeding thing, and I leaked the entire time while laying on my stomach. Made the massage more stressful and quite embarrassing.