"I'm done!" I was face-to-face with the toilet, battling the worst morning sickness thus far out of my three pregnancies when I made the announcement. Exhausted and sick after cooking a standard and former favorite meal for my toddler and preschooler that was swiftly rejected, I knew something had to give. Between work, parenting two adorably sweet and overall lovely (but fickle) children, and growing another human inside my body—with a pandemic as a backdrop, no less—I reached a breaking point.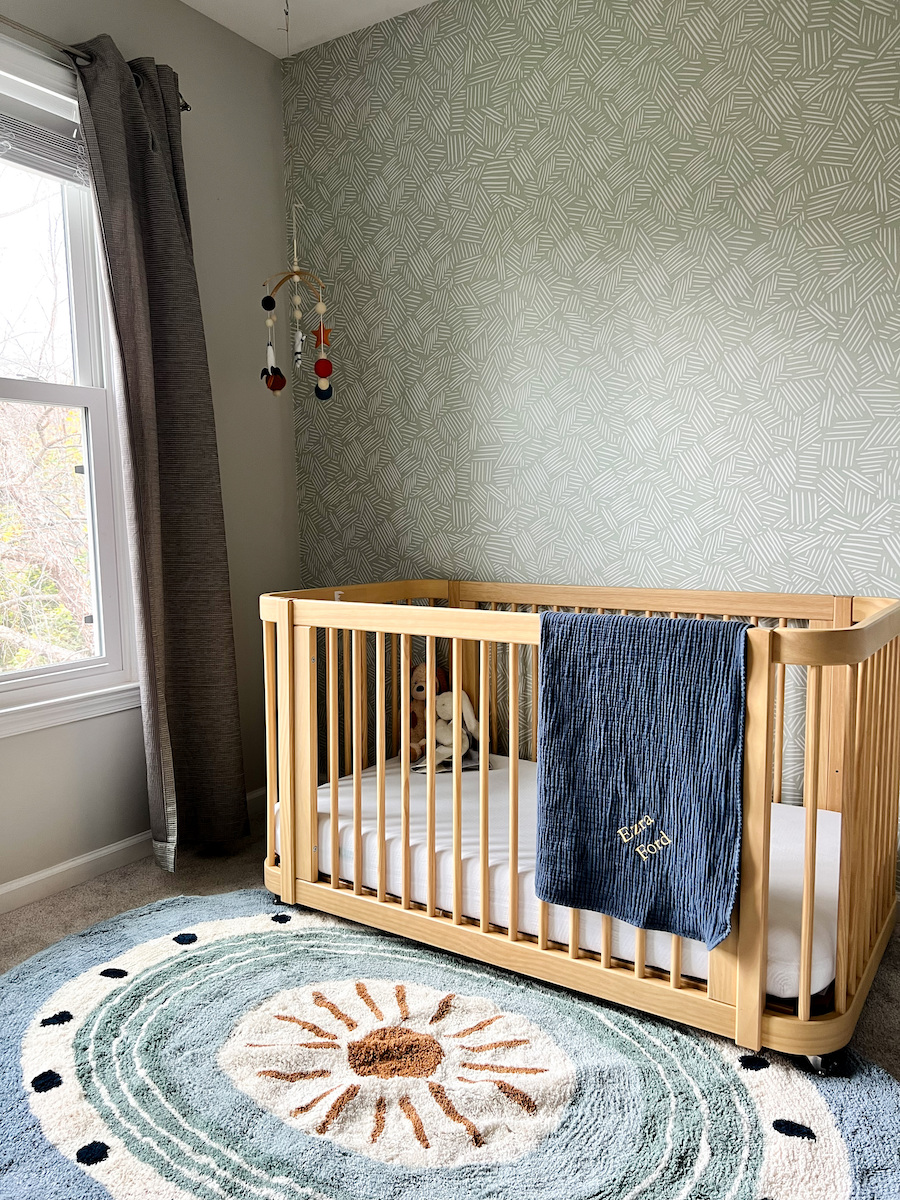 editor-favorite crib brand Nestig just released gorgeous new wallpapers that will easily transform any space 😍
Something had to come off my plate, and for me, that something was meal planning and cooking. I couldn't totally blame my kids for groaning at the plates I pushed in front of them. We'd certainly been in a meal rut, rotating between three to five go-to meals that I knew were not only nutrient-packed but also enjoyed by my little ones… until they weren't.
The biggest change making mealtimes easier in my house
Since proudly "giving up" on mealtime back in January, a couple of things have changed: 1) my morning sickness did, eventually, go away and 2) we found an approach to mealtime that actually works for our family: we cook some nights and we incorporate new meals that require zero prep with Nurture Life.
Nurture Life delivers freshly made (not frozen), healthy meals, made specifically with kids in mind, directly to your door. The menu options include meals for babies starting at 10 months old to toddlers, and kids. I think of it like takeout for kids, but better because it's actually healthy and gives them the nutrients they need: every meal includes a full serving of veggies while focusing on organic produce, antibiotic-free proteins, and whole grains.
Nurture Life
Use code EVERYMOM to get $75 off your first three orders of Nurture Life!
A Mom's Guide to Making Mealtimes Better
Getting out of our rut and switching up meals is a simple enough solution, except for one thing: I'm still a tired and pregnant mom who doesn't have the energy (mental or physical) to come up with an elaborate meal plan each week and then actually follow through and cook it. Here are a few other ways to make mealtime easier on you.
Create an attainable mealtime routine
Along with Nurture Life, we're making cooking easier on ourselves by doing at least one of these things once a week:
One-pot-meal (easy to cook and even easier to clean up)
Easy-to-make meal (for nights when we don't really feel like cooking)
Breakfast-for-dinner (to mix it up and keep it fun)
Freezer meal (one where we can double the recipe to freeze extra for easy leftovers later)
Since getting into a more sustainable mealtime routine, I realized my kids aren't actually picky eaters at all. They'll eat almost anything that's put in front of them. They just don't want to eat the same exact thing day in and day out—you know, like most other people in the world. Having Nurture Life meals on hand means I always have something new for them to try without having to spend time finding and cooking a new meal.
Choose convenience to lighten your mental load
It may seem small, but the little change of adding Nurture Life into our household has seriously lightened my mental load. As a subscription service, it is incredibly convenient for me to know that nutritious and delicious meals are coming straight to my door exactly how often I need them, but it's also incredibly flexible (which is the only kind of subscription I want, tbh)—you can skip weeks, pause, or cancel your account at any time.
Give choices to help the pickiest of eaters
I'm not going to pretend that mealtime is always a walk in the park these days. My kids are still kids, and like most other toddlers and preschoolers with a budding sense of independence, they want some say in what goes on their plates and in their bellies. I can't blame them for this—not only is it developmentally appropriate, but who doesn't want some say in what they eat?
Since I don't have it in me to battle it out and try to force them to eat what's on their plate (which, as most of us know, doesn't work anyway), nor am I willing to become a short-order cook, resentfully giving in and making them whatever meal they request, I've found a different approach that works: giving options.
If I'm cooking that night, I let them decide which side they want with their meal: peas or broccoli? Carrots or cauliflower? If I'm offering a Nurture Life meal, I let them pick which one they want—it doesn't matter to me since I know every meal is developed by Nurture Life's team of in-house chefs that perfect the ingredients to create fresh, delicious recipes that even the pickiest of eaters will love. 
Take the guesswork out of baby-led weaning
It's important to me to set my kids up for healthy eating habits and to introduce them to a wide variety of foods when they're young. And since I've been using baby-led weaning with my youngest—Nurture Life allows her to experience a variety of new foods she can feed herself.
What was once a time and energy drain on me to find new and healthy options regularly, is now as simple as the click of a button. With more than 40 fresh meals made with clean ingredients to choose from, Nurture Life is a decision I know I can feel good about making.
Help kids develop a healthy relationship with food
Getting mealtime under control in my house has, ironically, meant letting go of some control, too. I want my kids to grow up with a healthy relationship with food. I want them to listen to their bodies and trust what they are telling them. Kids, as young as newborns, intuitively know when they are hungry and when they are full. I can help them trust this intuition by not pressuring them at mealtimes. For me, this means no more coaxing for "just one more bite" or bribing them with a treat for a clean plate.
Every meal is developed by Nurture Life's team of in-house chefs that perfect the ingredients to create fresh, delicious recipes that even the pickiest of eaters will love.
It's also common for their appetites to vary from day to day based on their energy expenditure, growth spurts, and generally how they're feeling. That's OK and normal, and I don't need to worry if a few meals aren't gobbled down, as long as their overall eating habits are where they should be.
Embrace the process
In the end, I've found it's all about putting healthy options on the table and allowing my kids to determine what and how much of it they eat. It's about getting to the root cause of what might seem like picky eating, but could actually be completely normal behavior. It's about letting go in some places to make room for more control in others. Who knows how long it will last, but so far, we're all feeling happier and healthier than we were before our mealtime overhaul.
Nurture Life
Use code EVERYMOM to get $75 off your first three orders of Nurture Life!
This post was in partnership with Nurture Life but all of the opinions within are those of The Everymom editorial board. We only recommend products we genuinely love.