Getting back into a fitness routine post-baby can be a challenge for many reasons.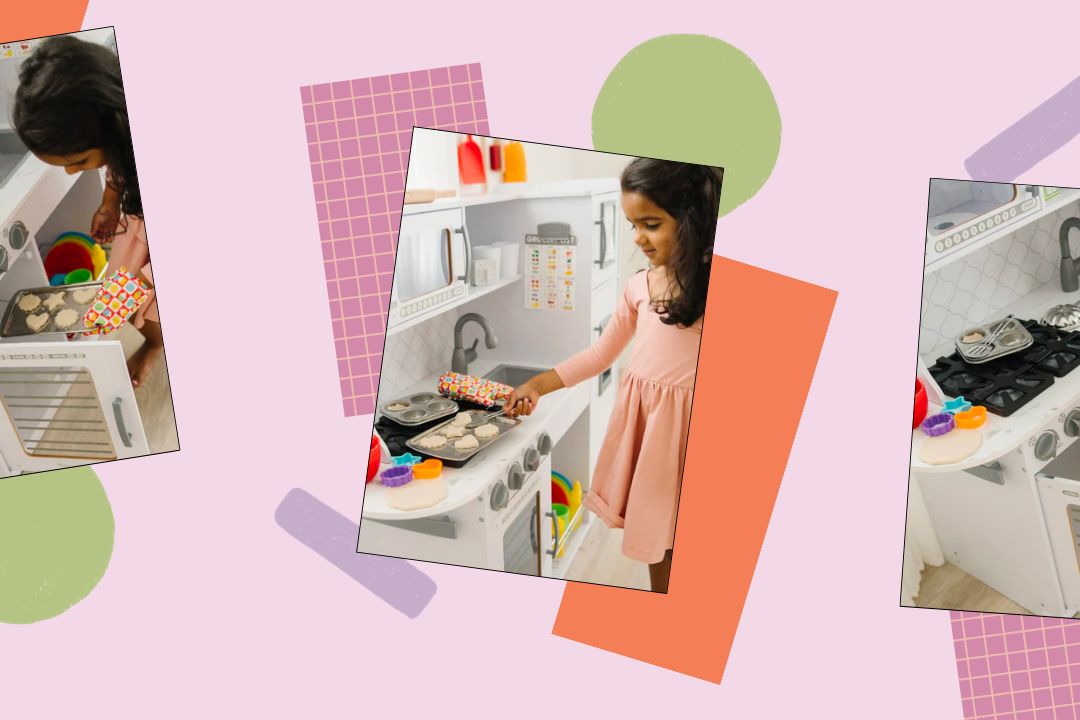 Between the utter exhaustion from being up all night and the physical recovery from labor and delivery, it's often the last thing a new mom wants to think about. I felt this exact way sitting in the examination room six weeks postpartum after getting the OK from my doctor that I was able to exercise again. How can I go spend an hour at the gym when I haven't even brushed my teeth or showered in three days?
I felt intimidated and defeated in that moment just thinking about getting back on the treadmill.
In that moment of self doubt, I made myself two promises. The first was to allow myself grace and just enjoy this beautiful time; I would never get these days back with my daughter. The second promise was to do one thing everyday that made my body and mind feel good—whether that was going for a brisk walk outside with the stroller to grab a coffee, or practicing yoga for 20 minutes before bed. These actions might seem small, but they made a huge difference in my mental well-being. I then felt confident and strong enough to focus on my body and ease into a fitness routine that fit into my new lifestyle while making me happy.
In those early days, I felt the most comfortable doing at-home workouts with my baby sleeping soundly in the next room.
I know for many other moms, busy schedules and daily life responsibilities can also make it challenging to venture out to the gym or fitness classes. However, that doesn't mean you have to give up a great endorphin-boosting workout. There are so many at-home fitness routines that are both effective and fun. To enhance these home workouts, here are five great pieces of space-saving fitness equipment that can be stored easily without taking up any more space—because who really wants to add more clutter to an already baby dominated living room?
Whether it's 20 minutes of Vinyasa flow, a 45-minute HIIT circuit, or a 10-minute walk around the neighborhood, dedicate this time to yourself. You deserve it, mama.
1. Jump Rope
Channel your elementary-school self and shout those schoolyard rhymes. Believe it or not, jumping rope can be a great way to incorporate some cardio into your workouts. The best part is this cardio equipment takes up little to no space and can be used for fun with the kids outside of your sweat sessions.
2. Foldable Yoga Mat
If you're short on space in your home, a foldable yoga mat is definitely a worthy purchase. Beyond yoga, these mats can be used for HIIT, circuit or pilates workouts, meditating, and stretching. You can even toss it in your suitcase for work trips and vacations, or in your diaper bag for park visits!
3. Resistance Bands
Both flat and loop resistance bands are affordable, effective pieces of equipment that can be used in a wide variety of workout routines. In many cases, they can be used in place of hand weights and take up a quarter of the space. Use flat resistance bands when focusing on arm exercises and loop bands for leg circuits.
4. Pilates or Yoga Rope
If your focus is flexibility and stability, snag a yoga rope and start playing around. These durable cotton ropes can be incorporated into your pilates and yoga practice, or used for general stretching post-workout. Place your foot in the loop and hold onto the other end for great leg and hip stretches. These are great for new mamas who have hip soreness after sleeping on your side for nine months!
5. Core Sliders
Even though they look like strange little frisbees, core sliders are very versatile while also being small in size. They can be used on carpet, tile, and hardwood floors, and are perfect for traveling. Use them for floor exercises like abdominal rollouts, sideways plank lunges, and plank mountain climbers.