Parenting is no easy task. Whether you're a mom that errs on the side of minimalism, or a mom downloading all the apps and registering for every new product that hits the baby market, we can all agree that there are some amazing products that make parenting just a little bit easier. And honestly, we deserve it.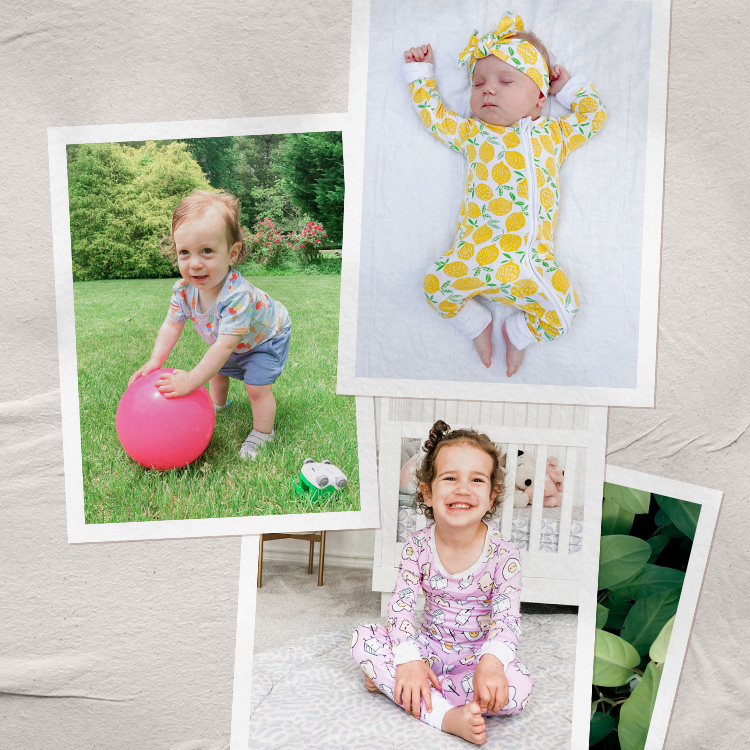 it's more than just their cute PJs... get ready to add to cart! 😍
Especially in the early days, it's hard to know what you'll need and what will positively impact your parenting journey. Is a diaper cream applicator a product you can't live without? Of course, you could technically live without it, but that tiny addition to the nursery is a true game-changer. And if there's a quick app that will help you assess your child's development, why wouldn't you want that on your phone?
Today, we're sharing five innovative new products that will make parenting so much easier.
1. Tryde App for Assessing Your Little One's Development
Understanding developmental milestones is an important aspect of life with a baby, and for many new parents, it's also a confusing aspect. It's common to get wrapped up in comparing your child's development with your friends' kids or even the kids you see on social media. Thankfully, with the Tryde App, you can answer simple questions to assess your child's development, gather toy recommendations, developmental suggestions, and can even get private access to expert advice.
The app—created by a mother-daughter team—is created for ages newborn to 2.5 years, and each month offers a quick run-down of gross motor skills, fine motor skills, cognitive skills, language skills, and social skills. This app acts as a simple guide and resource to ensure you have an understanding of your child's development and when they should be hitting certain milestones. Instead of comparing your child to other children, this app conveniently and simply explains your child's development and milestones.
Based on your responses to 17 different assessments (each 10-12 questions) as your little one grows, the app—which is super easy to use and was clearly designed with busy moms in mind—will give suggestions for how to play with your child as well as toy suggestions that will assist in their development and learning. You can then share these milestone summaries with your partner, healthcare provider, or caregiver.
If you're not sure where your child should be in their development, this app makes it simple, allowing you to feel in control and in-the-know about your child and what they should be working on. The helpful "Ask Tryde" feature connects you in a private chat with infant expert and the app's cofounder, Dr. Cheri Bolebruch, to discuss your baby or toddler's development and can additionally guide conversations with your pediatrician if you have concerns.
App Store
$0.99 for a monthly subscription and $12.99 for a lifetime subscription
2. Hatch Rest+ Sound Machine for a Good Night's Sleep
Ah, sleep. One of the biggest challenges parents face while raising a baby. They say you can't put a price on a good night's sleep, but at $89.99, the Hatch Rest + Sound Machine is a worthwhile price tag if it will help your little one sleep better. And in return, of course, that means you get some shut-eye. The Hatch Rest Baby has been around for a few years, but the Hatch Rest+ Sound Machine is the new and more advanced model.
Some of the exciting features include soft light for late-night diaper changes, the ability to control the light and sound from your phone, a two-way audio monitor, a toddler lock, Alexa-enabled capabilities, and the ability to select a variety of sounds, like white noise and nature sounds. Parents of toddlers rave about this product for helping to keep kids in their beds, while parents of newborns also stand by this product for helping to form good sleep habits.
3. City Sway 2-in-1 Rocker and Bouncer for Expert Baby Soothing
At some point or another, every parent has to tackle the task of soothing a fussy baby. Even the most chill of babies have their moments. The City Sway 2-in-1 Rocker and Bouncer might be the solution to those fussy moments. The lightweight rocker is suitable from newborn to 20 pounds and works as both a rocker and a bouncer. It's a safe spot to place your baby when you need to put them down and the included toy bar will keep them entertained. We also love that it folds flat, so when your child outgrows it, it's not taking up precious space in your home.
4. Mockingbird Single-to-Double Stroller for Your Growing Family
It's always good to invest in a product that will go the distance, functioning for your first baby and shifting to also work when your family expands. The new single-to-double stroller from Mockingbird does just that and at a very reasonable price. The stroller has 19+ different configurations and can be folded with one hand, with or without the seat attached.
The stroller can switch between forward-facing and parent-facing and comes with a big basket to carry all your necessities for outings. The stroller has a UPF 50+ all-weather canopy, plus an attachable full coverage sunshade. In addition to all of these features, the stroller is stylish and has great reviews.
5. SwipenSnap Diaper Cream Applicator for Mess-Free Diaper Changes
Until you have a baby and have your hands covered in diaper cream, you might not understand the genius that is this diaper cream dispenser. There will always be elements of parenthood that are messy, but with the right supplies, like the SwipenSnap diaper cream applicator, this doesn't need to be one of them. Snap a variety of diaper creams into the applicator, and you'll easily be able to apply the cream with one hand while keeping your baby secure and your hands clean.
This post was in partnership with Tryde App but all of the opinions within are those of The Everymom editorial board.