A quick scroll through our Instagram feed will tell you that here at the Everymom, we're kind of into that all-white look. But – and we're telling you this in confidence – we're starting to fall hard for a bright, bold, edgy accent wall, so we're more than thrilled to have sat down and talked to one of our favorite interior decor designers, Samantha Santana.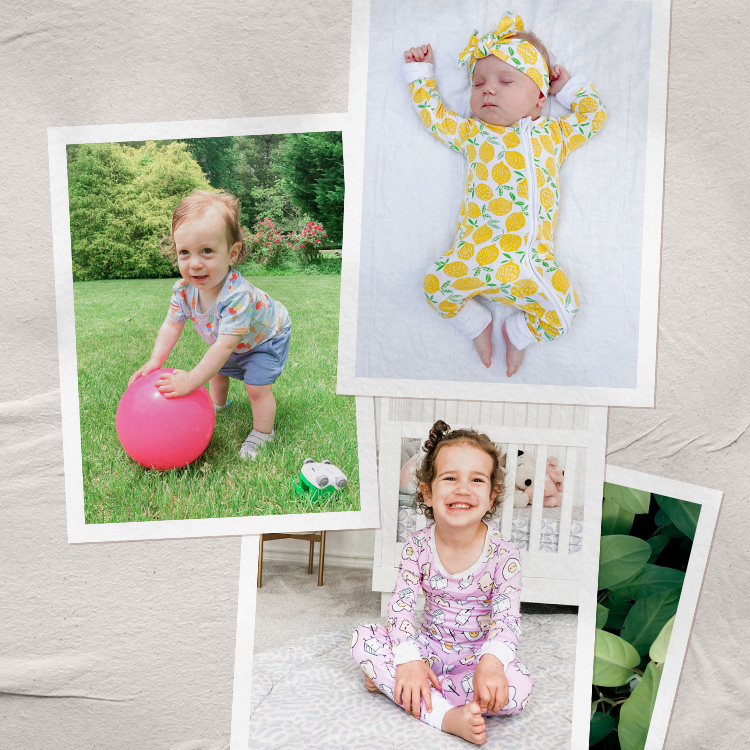 it's more than just their cute PJs... get ready to add to cart! 😍
A former florist, Samantha combined her flower power and her degree in fine arts to create some seriously stunning wallpaper prints that are making even our neutral-lovin' hearts beat a little faster. We chatted with her about what it's like to be a mom and full-time artist/businesswoman/all-around-badass, and the tips she gave us about productivity, creativity, and motherhood can't be missed.
Name: Samantha Santana, Owner and Designer of Samantha Santana
Age: 32
Location: Pasadena, CA
Title: Designer, Owner
Education: University of Southern California, BA in Cinematic Arts & Fine Arts
Children: Juniper, 6 months old
What was your first professional job and how did you land it?
My first professional job was as a floral designer and owner of my first business, Primary Petals. Prior to that, I had worked as a Production Assistant and Assistant story editor for television. After some health problems pushed me out of entertainment, I decided I was done with it and needed to work for myself. It was the best decision I ever made! I have never regretted going out on my own.
Can you tell us about your career journey since that first job?
Since my first professional gig as owner of Primary Petals, I have always been self-employed. I worked for my first business for four-five years, providing florals for weddings and events all over California. It was super fun and very stressful working in weddings. About four years into running Primary Petals, I fell ill to some health problems, which forced me to quit floral design and sell the business.
I wasn't able to perform the physical aspects of my first business, as I was having neuropathy in my hands and feet. I could not walk very well for some still unknown reason. This was in 2013-2014, and my doctors still have yet to figure out why. After selling Primary Petals (which is still running and thriving), I took a year off to treat my unknown medical conditions. It was a dark year, as my husband James also lost his job, and we were forced to crash with our parents until we got back on our feet.
Though we felt we had hit bottom, it was not all in vain. James and I were able to save the money from the sale of our business to buy a fixer-upper in 2015. Likewise, many of my health issues subsided enough to try to resume my normal life. The task of remodeling the house ourselves and having my health somewhat back inspired me to start another business! I had been doing small freelance gigs as a designer in my off year and fell into illustration, rug, and textile design. I loved creating surface patterns so much and sought to marry my past life as a florist into my current work. That is where the idea for photorealistic floral wallpaper came to life. Luckily, the first patterns I designed did very well, and I have been creating wallpaper ever since.
Have you taken your business full time? What are all of the creative products and services that you currently offer?
Yes, I have taken Samantha Santana Wallpaper & Creative services full time since the beginning! Aside from vending original removable wallpaper designed by me, I also create custom wallpaper and surface patterns for other brands and small business, such as Lovely Bride and Morning Lavender. Likewise, I provide textile design services (for example, I create rug artwork for Lulu & Georgia), and occasionally I will act as a prop stylist for photo shoots or a photographer for interior shoots.
How did you decide to take your business full time?
I decided to take my business full time because I wanted to control my own schedule. Being flexible with my time has been so important for helping with my health issues and road to recovery. I could take days off when I didn't feel well, have time for doctor's appointments, or simply take a long break during the day if my hands hurt. I really don't know how I would have fared in an office or design studio with my hands. Don't get me wrong, I still work a ton! It's just a little more spread out during the week.
Now, being self-employed with a flexible schedule allows me time to be available for my daughter, Juniper. I am nursing, so I can feed her all day, and work a little during her naps. I get most of my work done at night after I put her to bed. Really, I am working full-time as a mom and part-time as a designer. I am so tired, but it is worth it. I love to work and I love my baby!
Can you tell us about your design process from start to finish?
My design process for creating floral wallpaper is quite intricate. The takes forever to create one pattern. So, I start off with styling real floral arrangements to photograph. I often go to the Los Angeles Flower Market for florals, but sometimes I'll find flowers and foliage to photograph by walking and scavenging. Next, I will take the styled floral arrangements and photograph them. Those images will then be edited, trimmed, painted, and puzzled together into a pattern with my Adobe Design suite. Lastly, I will order a sample from my printer for review and tweak the patterns a little more to make them perfect. I am hoping to someday soon to purchase a printer for manufacturing my own product, as it would speed up the printing process. Likewise, I would be more able to lower my prices a bit to make the wallpaper more accessible to more people.
How do you budget time to make new wallpaper designs? Do you ever get time to make patterns just for yourself?
Right now, I create and release a new pattern every two-three months. However, I am constantly creating new work for clients. My own work gets pushed on the back burner sometimes for the paying gigs. I need that lunch (and diaper) money!
How did you go about nailing your creative style?
I think my creative style has evolved from all my professional experiences. I bring flowers in from my past life as a florist and surface patterns from my current work. Though a constant that has always been in my style is COLOR. I love bright color, but it looks best when it is paired with more subtle tones.
Can you tell us about where you get your inspiration from? What design accounts or natural elements spark your creativity?
I draw inspiration for nature, my husband, design blogs (Design*Sponge, Design Milk, etc.), and talking. I am a very verbal person and will often come up with new ideas in conversation.
How do you stay inspired?
Honestly, Instagram is a great instigator for inspiration. I love seeing all the work everyone is putting out there! Sometimes it makes me a little self-conscious and makes me think, "Am I good enough? Am I putting enough out there?"
I think doubt, for someone like me, inspires me to try harder. Though, right now, my work has slowed WAY DOWN because of the baby. And that is OK!
Take us through a typical day for you.
My typical day now is different than it was six months ago. I used to be a strict 9 to 5er, never working weekends. Motherhood has changed all that, and I work and sleep whenever I find the chance! I also just moved so I am still finding my rhythm.
Recently, my day starts with nursing Juniper at 5:45 am, getting her dressed, changed, and played with while my husband and I try to feed ourselves, drink coffee, get dressed. Throughout the day I am caring for Juni, and do emails/ design work/ shipping while she naps. Juni and I try to take one long walk during the day, and I try to find time to eat lunch.
When my husband gets home from work, he takes over Juniper care and I will throw dinner together so we can sit down as a family to eat. Then, after dinner, bath time, and nursing, I put Juniper to bed. This is when I get most of my work done. I will typically work from 9 pm to midnight and then head to bed. Luckily, about one day a week, my Dad will come and watch Juniper for me so I can work and clean. If I could find another sitter one other day of the week, I think life would be way more manageable. THANK GOD FOR COFFEE!
Have you done any collaborations? How did you find those partners and what was it like working with them?
I have done collaborations in the past with interior designers and other artists and they have all turned out great! My collaboration with Decorist and Bed, Bath, and Beyond for Lauren Bushnell's apartment is fantastic, and my more artsy collab with Archer Studio for Valentine's Day was so much fun.
For the past year, I have been working on a wallpaper collaboration with three of my favorite florists: Honey & Poppies, The Little Branch, and Rebel Fleurs. This project has been taking forever, partially because it is taking so long to trim out all the details in the photographed floral arrangements, but mostly because I became pregnant when I started this project. I am hoping to have it finished by the start of next year!
What would be your absolute dream collaboration?
I would love to collaborate with a larger brand such as Anthropologie or Target. I have worked on a photo shoot for Urban Outfitters Europe and would love to create a piece for them for retail. Although I would like a larger brand collaboration, I would also love to collaborate with female-owned small businesses. I already threw out a collaboration idea to my friend The Scootabaker for a dessert-filled pattern and would love to do something with my friends at Hesby or Lulu & Georgia.
Your Instagram feed is so beautiful! What tips do you have for keeping up a beautiful, original feed?
Thank you! These are my go-to tips:
1. Always have a color palette to keep your images consistent.
2. Always have original images created by you (or feature your work).
3. Choose quality over quantity. Posting a million okay pictures is not as powerful or aesthetically pleasing as posting a few well-crafted images per week.
You just moved! What are you excited to work on in your new house?
Yes, I just moved out of my tiny 94-year-old home into a slightly larger 93-year-old home, better to fit our growing family. Juniper was living in the kitchen nook, but now has her own bedroom! My husband and I are really looking forward to remodeling the kitchen and bathroom. They are both in need of some serious work as they are old and were a bit neglected. I mean, honey is dripping into the bathroom from a beehive in the walls the last owner ignored!
James and I like doing the handy work ourselves and will be tiling the walls and floors, and doing some carpentry. However, we are not starting anytime soon. We want to wait until I am done nursing and enjoy our baby while she is a baby. Likewise, we need time to save up money for supplies. In the meantime, you know I will be wallpapering every wall I can!
What are some of the skills you've gained through your career journey that help you as a mother? Vice versa?
Skills I have gained through my career journey that have helped me in motherhood are time management, flexibility, and creativity. Running my own businesses has aided in my learning to keep a tight schedule. However, having a baby means things are a little different every day. That is where flexibility from doing custom work and catering to the client's needs come into play. I can compromise my schedule to care for Juni. Lastly, having a creative career means I am good at creative problem solving, which is so helpful with a baby! I can come up with entertainment on the spot when needed, and make her happy and look cute, even when we both have spit-up and poo all over both of us.
Similarly, to how running my own business taught me time management for a baby, being a mom has taught me that time is so precious. It causes me to be super efficient when working, but also to completely relax and enjoy my family when I'm not. I am still learning how to ride this line between work and mom life. It is quite a juggle.
What was one of your favorite projects of 2018?
One of my favorite projects of 2018 was creating a tiny nursery for Juniper in my tiny house. It turned out so well, and the wallpaper was so cute! My second favorite project was designing the Flower Party wallpaper to be used in Packed Party's office. Then, it was later installed in blogger Natalie Ensor's powder room, which looks AMAZING. I think I might use this wallpaper in my new mini-office!
What's something you hope for your company in 2019?
In 2019, I hope to be able to afford a design assistant, take on more custom wallcovering projects with interior designers/ architects, and to purchase my own printer. A design assistant would help me create patterns more quickly to fulfill my customer and client needs.
Creating custom work for larger projects would expand my portfolio and test my design limits. Owning my own printer would allow me to make my product more accessible to more people, as I would be able to manufacture myself and drop my prices a little bit.
Running my own business taught me time management for a baby, and being a mom has taught me that time is so precious.
How do you see yourself growing in the next five years?
I see myself growing in the next five years into a small design studio with a few employees. We will not only sell and manufacture wallpaper but also sell other products with our designs, such as woven blankets, rugs, upholstery, etc. We will also have some sort of larger collaboration with a national chain in our portfolio, and we will be creating surface pattern collections seasonally. We'll get the whole world to WALLPAPER EVERYTHING.
Samantha Santana is The Everymom…
Favorite morning beverage? The New Orleans Cold Brew from Blue Bottle, burly.
Favorite self-care activity? Taking a bath while watching Netflix.
Last website you visited? Buzzfeed or Amazon. I'm addicted.
Favorite home décor item?  RUGS! I design rugs for one of my clients and am a little obsessed with vintage pieces. Oh, and of course wallpaper.
The travel essential you can't live without? My camera.
Favorite part about being a mom? Taking walks with my Juniper.
Favorite way to spend time with your family? Coffee dates with Juniper and James.