Since we last checked in with interior designer Kaylan Kane of Olive Juice Interiors, she's become a mama to daughter Zella Rose, now a busy toddler, and her small business has taken off. As a work-from-home mom, Kaylan manages her work and home life to best fit her family, from practicing daily self-care to constantly researching the latest design trends.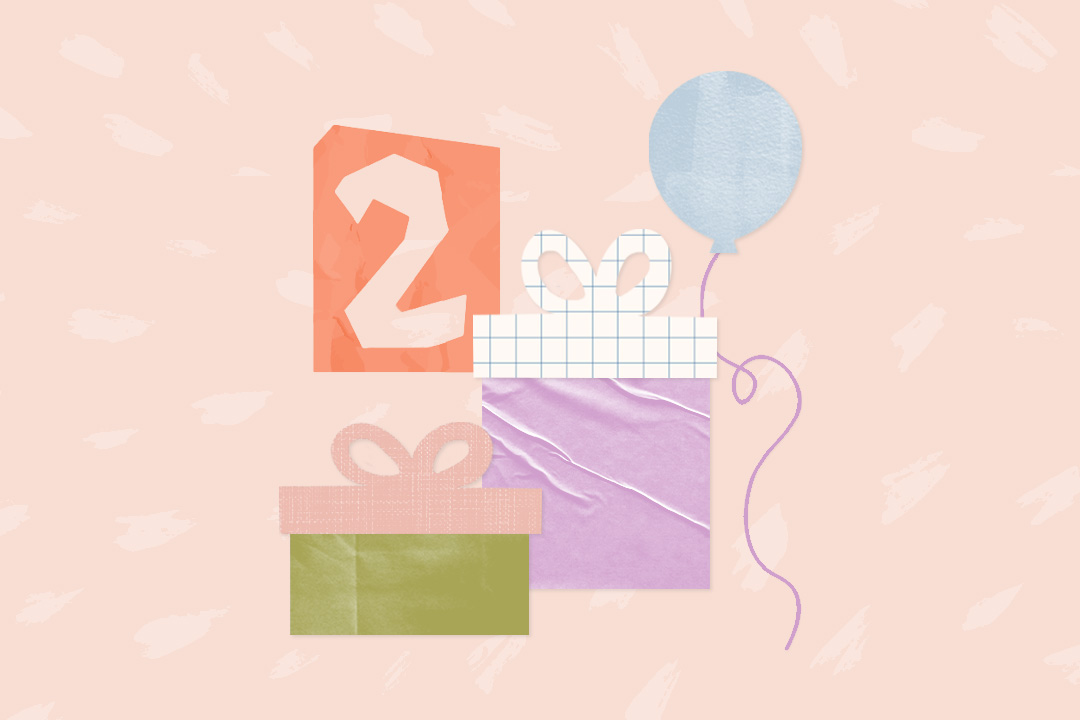 a LO in your life will love these! 🎁
She and her husband, Jack, are raising Zella in an adorable apartment that brings out Kaylan's personal style while staying true to her family's needs (hello mess-friendly furniture). Read on for how she made each space bright and colorful, how she and Jack balance out each other's parenting styles, and the relatable realization that she's in charge of a little person and the responsible adult every moment of the day.
Name: Kaylan Kane
Age: 33
Current Title/Company: Designer and owner, Olive Juice
Square Footage: 1000
Rent or Own: Own
City/State: Chicago, IL
Children: Zella Rose, 2.5 years
How has your residential interior design business, Olive Juice, grown since your last interview with us?
Since we last spoke, I think we have grown leaps and bounds as a small business owner. I have had so many wonderful clients come across my path since 2014, and I am grateful to have created some really fun spaces. I would say that as a mother, I have tried to be more selective about who I take on as a client and how I spend my time away from my family. It's funny, in my twenties when I started my company I would do anything to move my company along and get established, but now that I have a little bit more experience under my belt I try to make sure the projects we take on are time well spent for the client, my brand, and my soul. 

What advice do you have for aspiring small business owners who want to create a company based on their passion?  
Starting a small business is easy, starting a small business and making it successful is very difficult. I wrote a business plan before I started, which sounds old school, but helped me focus in on questions and answers I hadn't thought about or completely figured out. I also had a network of designers and friends which I often used as a sounding board and really helped me when I needed them. Every time I needed to make a decision I asked myself one simple question, "Will this help me get to my final goal or take me further away from it?"
In what way does designing homes for others influence the way you design your own?
I am constantly looking at furniture, lighting, fabrics, wallpaper, and new home items.  It makes me want to switch things up in my home all the time…. and I do! I am constantly rearranging furniture, painting a room, updating a chair fabric. I buy pieces I love and then use them in different ways in different rooms. It helps me make my home feel fresh without purchasing new furniture.
As a work-from-home mom to your daughter, Zella, what boundaries do you set in order to separate your work life to your home life?
Working from home has given me the flexibility to spend a lot of time with my family.  I have to remind myself that we only have a small window where children are at home most of the day.  Since this phase only lasts a few years I wanted to be sure to enjoy it. I get a lot of work done early in the morning and after bedtime.  We are lucky to have some wonderful family and sitters that are flexible for my client meetings and site visits. Having my own office with a desktop computer has helped me get my work done in one space. If I had a laptop I think I would bring it with me all over the house. Having one area to work helps create a limited time to accomplish goals and focus.  
Tell us the rewards and challenges that come with being a work-from-home mom.
I have a flexible work and childcare schedule – which makes it easy for me to put myself last. Work and my family come first, but it leaves little time for me. I let myself get lost a few times, and I have felt burnt out and had this overwhelming feeling like, "I can't do one more thing for someone else." I really try to workout at least once a week and try to take five minutes in the morning to meditate and set my intentions for the day. I try to list (mentally) a few things I am grateful for.

While renovating your Chicago apartment, how did you choose a design plan, and what were the first steps in the process?
Before we moved into this vintage apartment, we re-finished the floors and painted every room. I think starting with a clean slate is important if you are living through construction. I added wallpaper to a few spaces to "spruce" the rooms until I could tackle big projects. I knew we needed to gut the bathroom and kitchen, but we weren't working with a huge budget so everything had to be done in phases. We are still working through those phases…
How do you maximize your apartment space, and what design/storage tips do you have for parents who are raising a family in a small home?
I am constantly purging things we don't use. The stuff doesn't stop working its way into your home. Trust me, for everything you get rid of, two things will accumulate in its place, so do not feel guilty for donating anything you don't like or don't use. I love built-ins and baskets to hide toys and kids items. When at all possible, I try to purchase white or neutral colored large toys that will blend in.
Were there any rooms that presented unique challenges? If so, how did you overcome them?
Our last apartment was flooded with natural light and our current apartment has less light in each room because there is a building right next to us. I tried to keep the color of each room light so the darkness wasn't emphasized.
With a home full of statement rugs and wallpaper, what's your trick to cohesively incorporating bold decor without taking away from the space itself?
I love pattern and color, but I have tried to control my statement piece in each room.  One bold item per room is typically a nice rule of thumb.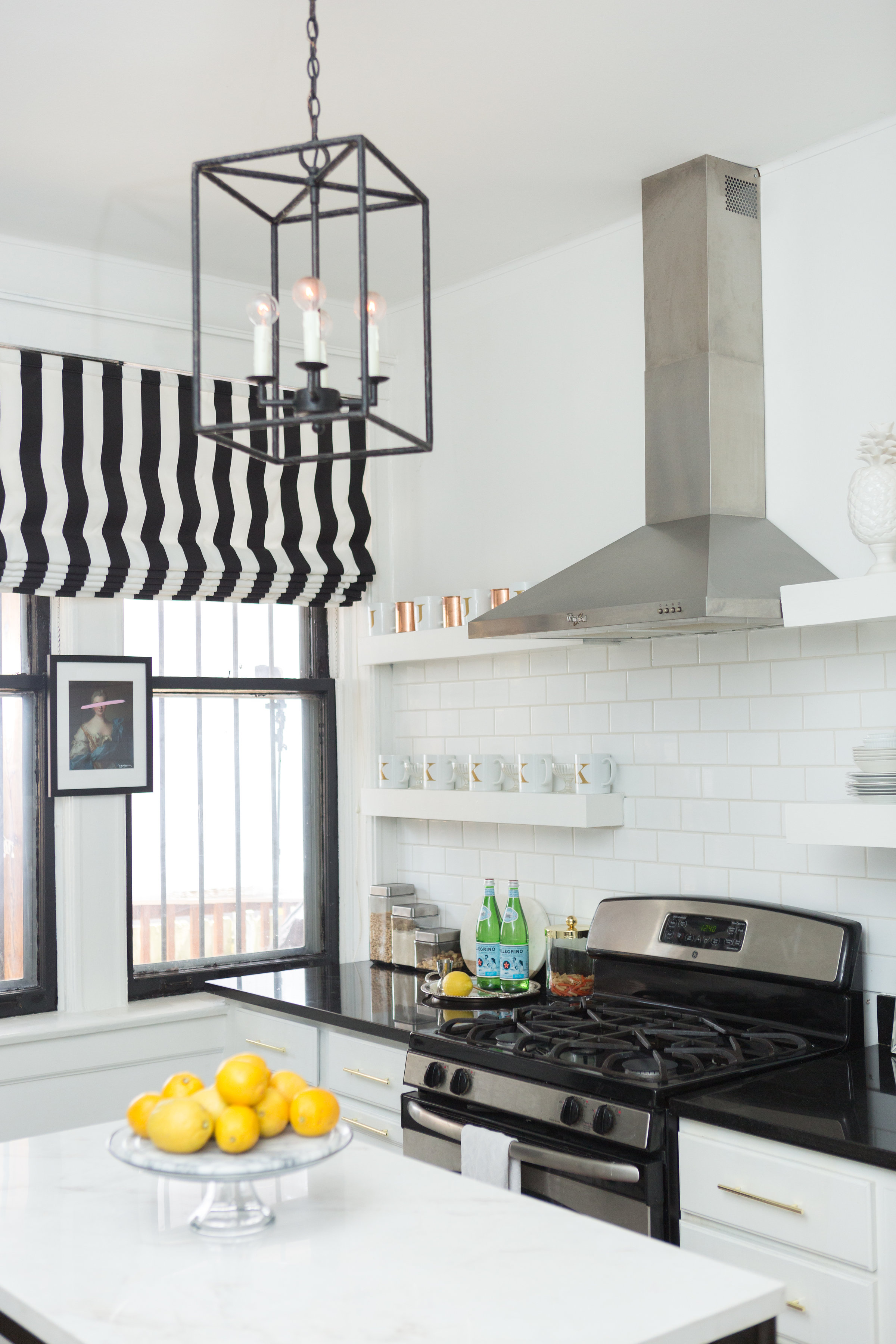 How did you create a room for Zella that reflects her personality and also keeps her belongings organized?
Zella's room is on the smaller side, so we gave her a twin bed, but we wanted it to feel like a modern princess so we exaggerated the height of the bed with a floor-to-ceiling canopy. She also has some amazing art with a ton of personality.
What's your philosophy of creating a home that fits your design style while still keeping in mind your family?
We only have furniture you can live on.  You can sit and set your drink on everything we have. If something is too fussy or expensive, I don't want it in our home. I think everyone today is looking to live in their homes. Every square foot counts so nothing should feel like it's off limits or unused.
When it comes to functionality, does Zella play in every room of the house or are there designated areas for her? 
She makes her way into every nook and cranny of our home!

What's your system for keeping your home tidy, and how do you encourage Zella to help pick up?
We have been lucky – Zella isn't into coloring on the walls, throwing food, or getting dirty. However, she never likes to pick up her toys and things get everywhere. Every night I do a clean sweep and make sure everything is put away, and I like to wipe down surfaces. Then in the morning, I feel like we have a fresh area to make something new.
Where are your favorite places to shop for home decor?
I love to purchase things online (like everyone), but I always try to buy local whenever possible. I love Jayson Home and Garden, The Find, The Painted Lady, MegMade, and thrift stores. So many of my pieces are from the thrift store. My favorite Chicago thrift spots are The Brown Elephant and The Arc.
How did you introduce your dog, Bear, to Zella? How do you monitor their playtime?
Zella and I picked our dog, Bear, out together after our 11-year-old Yorkie passed away. They play so well together, and neither one is scared of each other. Bear always has to be touching her if she is sitting in one spot, and Zella is very gentle with Bear while he is sleeping. I don't know how they figured out their own boundaries but they seem to have an unwritten code they follow.

What do you believe are the benefits of kids having pets and how has Bear affected Zella's growth?  
Our last dog, Coco, wasn't as friendly to Zella, so I think she respects our dog's space; she isn't the type of kid to grab a dog's face or pull its tail because of our last dog. I think it's been beneficial to Zella's empathy to animals. She isn't afraid of dogs we see on the street. I grew up with a dog, so it seemed natural to have one around our little family.
How do you and your husband, Jack, divide parenting roles?
Jack likes to break rules and I like to follow them. I think I am a little more scared of Zella getting hurt and want to constantly protect her. Jack is a bit more adventurous and is a daredevil. In theory, the balance is nice for Zella so she isn't scared or wild, but that doesn't stop me from gasping out loud every time they climb a fence, twirl in the air, or eat hot dogs.
What's your childcare situation and why is it the best option for your family?
I am with Zella the most, and Jack watches her at night or weekends when he isn't working. We have family that helps weekly and a sitter who is flexible during the week.  I really didn't want to miss out on her little things, so it works well for us now.
How are you teaching Zella independence as a toddler?
That is one department Zella never needed help with. "Momma, I do it," is something I hear all day. 
What's your approach to enjoying motherhood while also maintaining your personal identity?
Motherhood for me was like making a change that can never be undone. I was a very carefree person before kids, and now everything I do is because I love someone more than myself. I couldn't maintain who I was, but I am embracing who I am now and trying new things I would have never done before like, joining a mom's group and making cookies. Somedays I am like, "who am I?" and then I remember I am trying all of these new things that are different and exciting in a new way.
When it comes to being a mom: what are you most insecure about and what are you most confident about?  
The hardest thing about motherhood was the concept of being responsible all the time. I think I am constantly worried if I am making the right choice for Zella, whether it's school, what we eat, where we live, or a bedtime. No one tells you what the BEST choice is, so it can feel tricky. I try to do things that make her happy and healthy. Now that she is getting older she can tell me what she likes, which feels like a relief.


If you could only pick one, what has been your favorite memory from motherhood so far?
I know it sounds cliche, but the day Zella was born I feel like my heart grew five sizes bigger, like the Grinch.
Kaylan Kane is The Everymom…
Iconic design trend?
Traditional minimalist.
Project you're proudest of?
Zella's birthday parties (I love party planning).
Self-care activity you love?
Dry brush, it has changed everything.
Favorite children's book to read to a toddler?
A Unicorn Named Sparkle
Most embarrassing mom moment?
When I was pregnant, I pooped my pants in a cab. Enough said.