When my husband and I moved to London over five years ago, we were a family of two. We spent our first three years running around the city and traveling Europe, not needing to consider what a child might be interested in.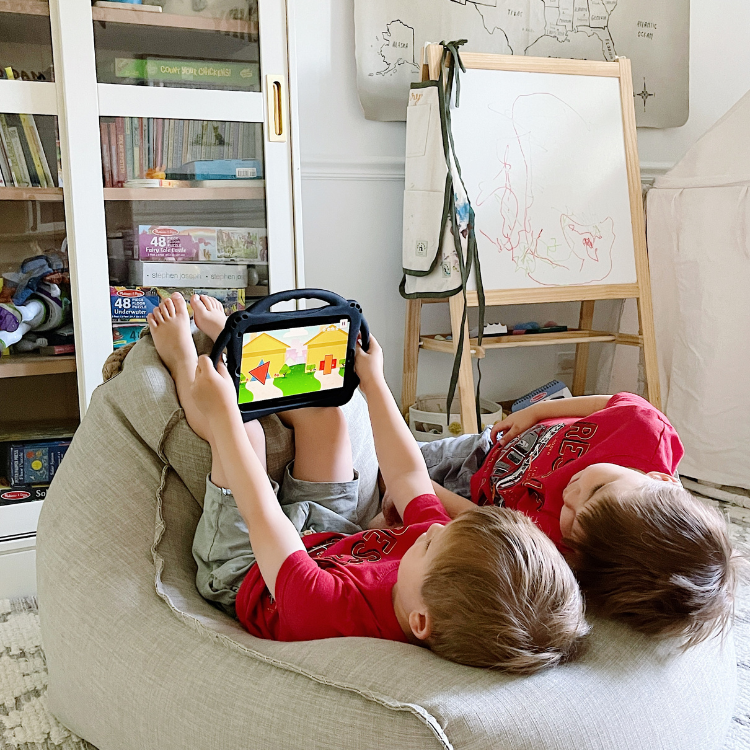 a pediatrician shares what she *really* thinks about LOs and screen time
By the time our son Henry was born, we had moved to a small town just outside of London (think The Holiday), but we'd still make the occasional trip in for an activity. When we decided to pack up and move back to the U.S., we realized that we hadn't experienced as much of London with Henry as we wanted to. 
So, after packing up our flat, we rented a flat in West London for 10 days to experience our favorite city with our favorite little guy. I questioned whether there would be anything interesting for an 18-month-old to do, and after a rough first day, I even thought about ditching this idea and flying out early. But after a little brainstorming, I was delightfully surprised to find London is incredibly kid-friendly if you know where to go. 
We spent the rest of our days with a line-up of activities that were perfect for kids while still being fun for adults. Here are some of the best things you can do while visiting London with kids of all ages:
Museums
London has a great number of museums, but if you're visiting with young kids these are your best bets:
Natural History Museum
The Natural History Museum is set in a gorgeous building in South Kensington, and upon walking in, you'll be greeted by an 82-foot blue whale skeleton dangling from the ceiling. The museum is famous for its dinosaur exhibits, but they house so much more — over 80 million species from the last 4.5 billion years of Earth's history. And free entry means that if your child is done in 20 minutes, you haven't wasted any money.  
Science Museum
Next door to the Natural History Museum is the Science Museum, with interactive exhibits on space, air travel, cars, and more. The Fly Zone is so fun, you may actually enjoy it more than your kids.  Entry is free, so you can pop in for a quick visit and leave when you're ready. 
Victoria and Albert Museum
Depending on how young your child is, I'd probably only head to the V&A Museum for two things: the fountain and the café. The center courtyard has a beautiful fountain, and on hot days (yes, London does get hot), it's the perfect place for kids to wade in and cool off. The museum café is beautiful, has a great selection of meals, cakes, and snacks, and usually has a pianist. And, just like the previous two spots, entry is free.
Soft Play at the Army Museum
If you have kids that are 8 and under, this is a place to help them get out their energy, especially on a rainy day. You can book tickets for the soft play space — called Play Base — for an hour and let your kids climb, crash, and roll around before heading to the very kid-friendly cafe.
Transport Museum
Who doesn't love the iconic red double-decker bus or the Tube? Kids go free at the museum dedicated to the last 200 years of London's public transit. This museum is interesting for both kids and adults  — my bus-obsessed toddler loved running around shouting "bus." 
Richmond Park
47% of London is green space, which will come in handy when your child needs to burn some energy. Richmond Park is on the outer edge of the city, but worth a trip with kids of all ages. Early on in your walk through the park, you'll usually be greeted by the deer  — there are over 630 Red and Fallow deer that have been roaming the park freely since 1637. Less enthusiastic walkers will be happy to know you can rent bicycles. 
Hyde Park
If you need a green escape in the middle of the city, head to Hyde Park. Your kids can run in the large fields in front of Kensington Palace, visit the swans, paddle boats in the Serpentine, climb in the Princess Diana Memorial Playground, or splash in the Princess Diana Memorial Fountain. Hyde Park simply has it all. It's no wonder that we'd visit multiple times daily to let Henry have a good run around. 
Hampstead Heath
If you happen to be in London during a heatwave, head to the swimming ponds at Hampstead Heath. Set in a gorgeous park, these ponds offer a dock for swimmers to jump from and a small area to sit out an enjoy the sunshine. And when you're done, the sweet neighborhood of Hampstead has plenty of cafes and a crepe cart you'll want to consider. 
Kew Gardens
With over 300 acres for kids and adults to explore, Kew Gardens is a perfect adventure for young families. The gardens have a tree-top walkway, an indoor rainforest, and acres of classic woodland. It's a beautiful place to let your kids run free. While it is on the outskirts of London, it's an easy Tube ride to get there. 
Thames Boat Cruise
If you'd rather experience the water while staying dry, jump on the Thames Clipper. This boat takes passengers to various stops along the Thames in central London. You'll get a view of famous landmarks, like Big Ben and Westminster Abbey, cruise under the Tower Bridge, and your kids can stay busy with the free activity books. You can hop on and off at any point as you sightsee in the city. 
Cutty Sark
If you take the Thames Clipper to Greenwich, you should make a stop at the Cutty Sark, a victorian era ship that is now a museum. Kids can explore the main deck, chat with the costumed crew, and navigate the boat on different simulation screens. Henry was just a little too young to enjoy this stop, but I could see it being a big hit with kids 3+. 
Family friendly pubs
The further away from the city center you get, the more family friendly the pubs become. While pubs are a very relaxed place to eat and drink, if you have young kids, try looking for a pub with outdoor play space. Henry enjoyed The Dove in Hammersmith because we could sit outside and watch people along the Thames river. For a play area, you can also try The Duke of Kent in Ealing. Or if you're in Greenwich, try The Old Brewery, which has a large outdoor patio. There are pubs on practically every corner, so take a look around in the area you're staying in and make a reservation for a Sunday roast. 
Food markets
If you get tired of restaurants, London has a wide array of food markets that make eating with young children easier. Try the famous Borough Market for a wide variety of options. Or our favorite, the South Bank Centre, where you can pick up food and then let your kids roam the riverfront. 
Getting around
One final tip: with everything to do and see in London, you'll likely be relying on public transportation frequently. Public transportation in London is fast, easy, and reliable. But if you're traveling with young children, hauling a stroller up and down the Tube stairs can get a little old. Make your life a little easier by planning with this Tube map which shows the stations that have step-free access.