It's 2015, Tiffany Sumner is *very* pregnant with her now-three-year-old, Eleanor, and she's in full nesting mode – and she's moving. The sight is something to behold, as her friends and family follow her kind – but precise – directions to make her and her husband Leslie's new house the home her daughter-to-be can grow up in with the fondest memories.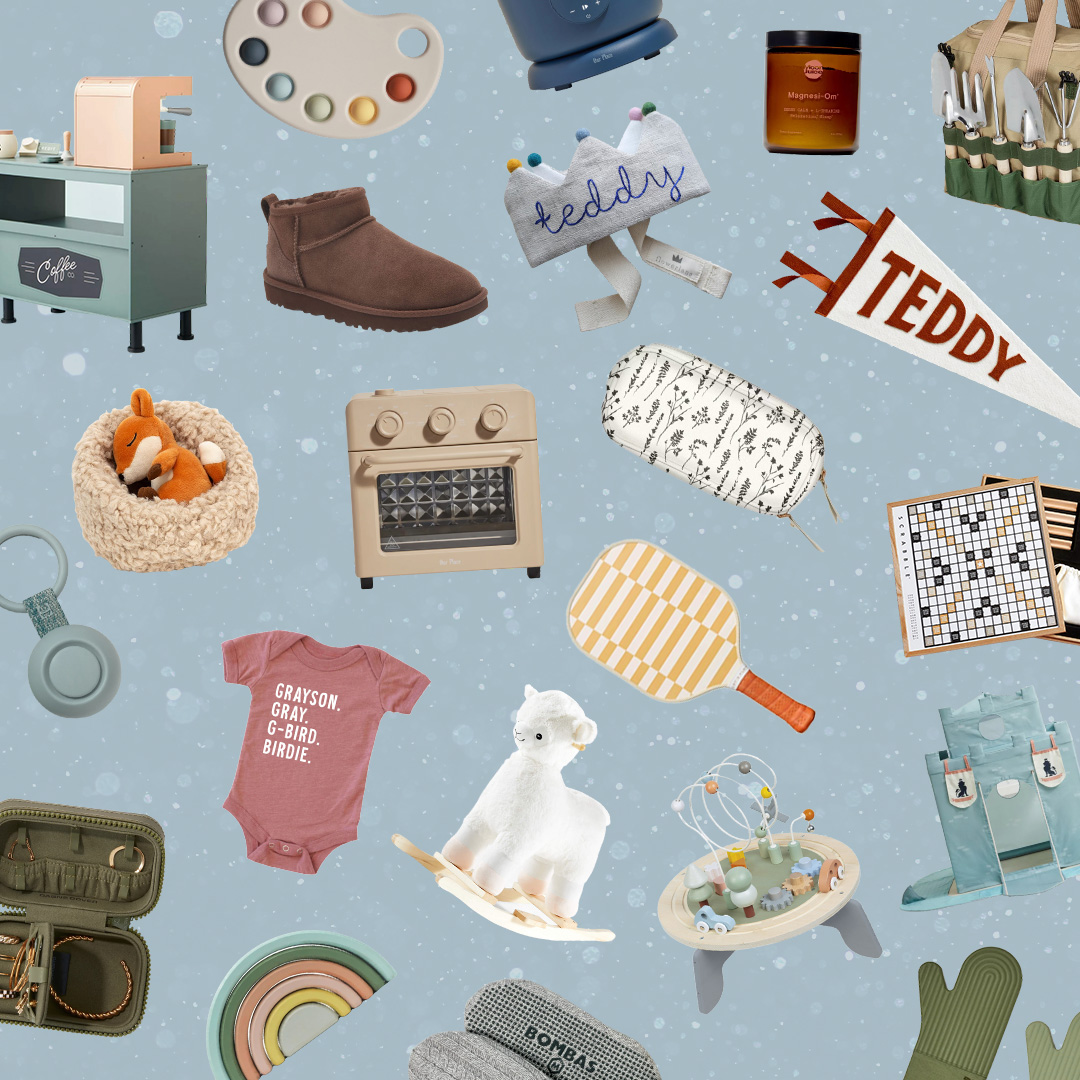 everything you need to ace holiday gifting this year 🎁
Flash-forward to today and all of Tiffany's hard work has paid off in spades. We're swooning over so many parts of this simply Southern home – check out that whitewashed brick and sleek kitchen of our dreams. She's been a stay-at-home mom since Eleanor was born, and we can't wait for you to read her insights into what it means to be a mom and the sweet friendship she's built with her daughter (we're talking early morning snuggles and stretches together – too cute!).
Name: Tiffany Sumner
Age: 28
Current Title/Company: Stay-at-home mom
Square Footage: 1,701
Rent or Own: Own
City/State: Hortense, Georgia
Children: Eleanor Goldie, 3

Your 3-year-old daughter, Eleanor, was born a couple months after you and your husband, Leslie, bought a home in Georgia. That's a quick turn-around of two major life events! Did you plan to buy right before you were due? What were the first steps in preparing it for her arrival?
Buying a house was always a long-term goal for us, but the way that it happened was completely unexpected. We'd always browse homes for sale in our area, but nothing ever seemed to fit our wishlist while staying within our budget. For the majority of my pregnancy, we were renting a two bedroom apartment, and I was using the entire second bedroom as a closet. So the first step in preparing for her arrival was to purge some of my belongings so that she would have a bedroom!
In the process of that, my husband kept coming back to a house for sale one county over from where we were renting. So naturally, we stalked the neighborhood (which was only a few other houses at the time) regularly and watched the price drop several times before contacting our realtor to actually show us the house. As soon as we saw the inside (with three bedrooms AND a good size closet in the master), we were both sold. Family and friends rallied together to get our belongings moved, unboxed, and placed just right so that our house would meet the coziness requirements just in time for Eleanor's arrival.

By the time of Eleanor's arrival, where were you in the decorating process and what rooms were already finished?
I was very pregnant (and hormonal) when we made the move to our house, so everything came together pretty quickly for fear of our home not being ready for a newborn. Looking back, it was such a rookie mistake thinking that our brand new baby needed our entire home to be decorated and feeling cozy before she graced us with her presence.
What was your original vision when you began the decorating process, and how has your design style and home transitioned throughout the years?
I used to just buy and decorate with anything that I liked in the store. Now, I like a cohesive and cozy feel to our home, so I take into account how everything will flow together before making a purchase. Just because I think a brightly colored pineapple painting is beautiful, doesn't mean that it will flow with our modern farmhouse home, adorned in neutrals.

What's your approach to creating a space that fits your design style while still keeping in mind your family?
Our home is a space where coziness meets functionality. I want everyone to feel like they can plop down on the sofa and kick their feet up when they come home.
So while we have a lightly-colored, fabric sofa, functionality comes into play when I can rip the slip-cover off and toss it in the washer. Likewise, I love beautiful baskets because they add to the aesthetic of our home, while also housing lots of toys. So I keep baskets in every room of our house.
Do you have a system for keeping your home as tidy as possible while raising Eleanor?
Baskets in every room are so helpful because Eleanor knows where the toys go when it's time to clean up. Another thing I do is make an effort to do the little things immediately. I try not to leave dishes in the sink when I can just reach down and put them in the dishwasher, and I do a load of laundry every day so that I'm not left with a massive pile to sort through at the end of the week.
I'm not saying that we never have days when our house is a mess because we definitely have days like that. It's not an attainable goal to have a clean house one hundred percent of the time when you live with a toddler, and that's okay too!

How are you encouraging Eleanor to help with household chores? Cleaning up? Etc.?
At the end of the day, or before we leave home, she sees me cleaning my area and putting things away, so when I tell her to clean up her toys, it's not like I'm dictating. We all do our fair share when it comes to cleaning, and she knows what is expected of her. I can't have a messy house 24/7 while expecting Eleanor to keep her room clean, so it's more "do as I do" and "walk the walk" style parenting in that aspect.
When it comes to the functionality of your home, is every room a space for Eleanor to play or are there designated areas for her?
In theory, having a playroom or designated space for Eleanor to make messes is brilliant and obvious; however, real life prevails, and toddlers don't always follow the rules. So in that case, our entire home has to be somewhat kid-friendly. Electrical outlets have safety coverings and sharp objects are kept out of reach of toddler hands.
Eleanor's toys are hidden in baskets in every room of our house, and I keep breakable or sentimental decor to a minimum or higher up on shelves. This is Eleanor's home too, so while we child-proof things that could pose as a danger to her, we also live and decorate with her needs in mind, so that our home is pretty functional for everyone who lives here.
Where are your favorite places to shop for home decor?
Being a stay-at-home mom means decorating on a budget most of the time, so I love stores that offer good quality products without the hefty price tag. Home Goods, TJMaxx, Hobby Lobby, Target, and Ikea have so much to offer when it comes to home decor.
Walk us through the design process of Eleanor's current room – how did you decorate a room that reflects her personality while still being practical in keeping her belongings organized?
While I love my neutral hues and the modern farmhouse vibe throughout our home, I know that Eleanor gravitates toward color, so that's where I started. Her rug was the first thing that I bought for her "big girl room," and I worked around that to create a colorful and playful vibe that she can continue to grow into for years to come.
Her storage situation is similar to the rest of our home in that I still use baskets, and even her teepee, to store toys, but I keep it fun by opting for blush tones or pom detailing. I've even attached little baskets to her wall as a decorative, yet functional, storage solution.
What advice do you have for parents who are trying to design a room that grows with their child? Are there certain timeless furniture pieces to invest in?
If you're trying to create a space that really grows with your child, my best advice would be to think long term. I know that seems obvious, but hear me out. Instead of a changing table for your nursery (that you'll need to replace in a few years), maybe opt for a dresser with a changing pad on top. When your little one has long left diapers behind, you still have a fully functioning piece of furniture that they can carry into their teenage years and even adulthood.
And if you're more sentimental than I am, it might be a nice memory to know that the two of you spent so much time together using that piece of furniture. They may even use it for their little one in the future!

Why did you decide to become a stay-at-home mom, and how has this role changed your view on parenthood, if at all?
Becoming a stay-at-home mom made sense for our family, financially and emotionally. My husband and I both felt that the peace of mind that came with me staying home with our daughter far outweighed any of the reasoning that opposed that decision. Being a stay-at-home mom is hard, but having to leave Eleanor behind for work every day would be harder. This just goes to show that being a mom is hard work, emotionally and physically, for all moms, the stay-at-home moms and the working moms. I've learned that there isn't a right way or a wrong way to parent; there's only what works for your family.
What are some of the struggles that come with being a stay-at-home mom? And how do you handle them?
The thing I struggle with most is trying to savor this time we have together, while simultaneously not losing my mind. Being a stay-at-home mom (or just a mom in general) is a hard job!
Everyone says that this time passes so quickly, and three years in I'm finally grasping that – it's still hard to be fully in the moment and truly appreciate this short season of life in the midst of toddler tantrums and defiance. So I'm learning to slow down, take it all in, and choose my battles wisely.
I want Eleanor to have the fondest memories of her childhood, and at the same time, I don't want to look back and wish that I would've appreciated our time more or done things differently.
What is the greatest reward of being a stay-at-home mom?
For me, being so in sync with Eleanor is the most rewarding part of being a stay-at-home mom. When we brought her home from the hospital, I obviously loved her, but I didn't know her cues. I never seemed to know what she needed, and trying to get her to calm down when she was upset was such an uphill battle. I constantly questioned myself and wondered if I would ever have that magic touch that other moms seemed to have with their babies.
It turns out, that magic touch that I thought I was missing, was just knowing her cues. These days, without any warning signs of sickness, I can predict vomit a good ten seconds before it happens, and I know what certain facial expressions mean before she can even get the words out of her mouth.
What does a typical day look like for you and Eleanor?
We wake up, snuggle for a little while, and then I make the bed while Eleanor brings me all the throw pillows (she's such a good helper these days). Once the bed is made, we head to the kitchen for breakfast. Eleanor likes her breakfast with strawberry milk, while I prefer coffee. Then we brush our teeth, wash our faces, and get dressed for the day. Not even going to lie, sometimes we stay in our pajamas all day long, and I feel zero guilt about it.
Eleanor likes to help fill our diffusers with essential oils, and then we stretch together. Sometimes it's just me stretching while Eleanor climbs all over me. It's a give and take. Then we go on an adventure, which is never the same two days in a row. Adventures can range from running errands and strolling through Home Goods and Target, to folding laundry, or just checking the mail and blowing bubbles in the yard.
We squeeze lunch and snacks in there and lots of hugs. The highlight of Eleanor's day is hiding when she hears the garage door opening since she knows that means Daddy is home. Every day, without fail, Leslie comes in and looks for Eleanor, and she thinks it's the funniest thing every single time. We do dinner, hang out for a bit, and wind down for bath and bedtime. Then we start all over again the next day.
Although routine is important, how do you make each day interesting for Eleanor, and where do you get your inspiration for these ideas?
Eleanor is my inspiration for almost everything these days. She has the biggest imagination, the best ideas, and the silliest jokes. Honestly, I'm not someone who plans out our days. I'm basically winging it on the daily. Come to think of it, I've been winging this motherhood thing for three years now.
What are some toddler activities you do with Eleanor to help her develop and learn?
We do normal things around here like read lots of books and count our toes, but one thing that we have found really helpful for Eleanor's development is that we speak to her just like we speak to each other.
We might use a different tone of voice, but we have never used "baby talk." How can we speak to our child in jumbled sentences and mispronounced words, yet expect her to be an intelligent being? Eleanor is such a sponge, constantly soaking in everything that she hears and sees, so for us, it's important that we try to fill her mind with the knowledge that we want her to retain.
What misconceptions of stay-at-home moms do you hear, and how does the stigma shape you as a mom?
When someone says that stay-at-home moms don't have a job. We have the most important job (raising the future!), and we get it done without ever clocking out or getting a paycheck. I can't say that this misconception really shapes the way that I do anything as a mother, as much as it provokes my sassy side to come out for a quick second.
As a mom, so much of your life can and often does become about the child – how do you maintain your personal identity?
I have to remember that even though she needs me quite a bit right now, this season of life won't last forever. While "mom" is now a permanent part of my identity, "toddler mom" is only temporary.
It's tricky to squeeze in alone time and remember who you were before having a baby while being a stay-at-home mom, but it's also very necessary, not only for me but for my entire family. So I just think that remembering to take the time for self-care is important.
In my current phase of life, self-care can be as simple as strolling the clearance aisles at Target alone. I know that'll change, and someday I'll look back on this time and laugh at what I considered "self-care", but for now, it's what works.
How do you divide parenting roles with Leslie, and in what way has your marriage changed since having a child?
Leslie is very hands-on with Eleanor, and that was honestly a non-negotiable for both of us. Other than feeding her, since I chose to breastfeed without pumping, he has shared in every single task. We've learned more about teamwork in marriage since becoming parents than we ever could have learned otherwise. Neither of us had ever changed a diaper until the day that we became parents; so picture two newbies in the middle of the night, in our hospital room, trying to figure it all out together. Looking back, it's comical, but in the moment, we might as well have been surviving in the wilderness (a task that Leslie would have navigated more smoothly than diaper changing). It's tackling the unknowns together – knowing all the while that we have to come out on the other side as a team – that I attribute to strengthening our marriage. And honestly, I have never been more attracted to Leslie than I am when I watch him in his role as a father.
How would you describe your parenting style and why do you believe it works?
For me, what started as a list of will-dos and won't-dos has evolved into more of a go-with-the-flow parenting style. Before I was a mom, I could tell you how I would, and would not, parent my hypothetical child; but once that hypothetical child was an actual baby, everything I thought I knew went out the window. I want Eleanor to be kind, strong and independent, that is the end goal – how she chooses to navigate the path that leads her there is up to her. I'm here to guide her and show her the way, not completely clear the path for her. I've had to take a step back and learn to go with her flow.
For us, this method works because if I lay down the law and give her a list of things to do that I think will make her into who I want her to be, there are several outcomes, none of which match the future that I desire for her. One: she rebels, or two: she complies, and never learns independence.
For me, being a mom means constantly learning to be the best version of myself in hopes that Eleanor will grow up realizing that everything she needs to be the best version of herself is already within her.
When it comes to being a mom: what are you most insecure about and what are you most confident about?
Becoming a mom has opened up an entire set of insecurities that I had no clue even existed. Am I feeding her the right foods? Does she need another layer of sunscreen? Should I be scheduling more play dates? Do we read enough books? All of those insecurities are met with something else I didn't know existed within me: intuition. So while I'm insecure in the daily decisions that I'm faced with as a mom, I'm just as secure in my intuition that everything is going to be okay. Giving her an extra snack isn't the end of the world and letting her watch YouTube for kids when I need a quiet moment won't rot her brain. It's balance in everything that gives me the confidence I need to keep pushing forward in my weak moments.
If you could only pick one, what has been your favorite memory from motherhood so far?
Eleanor's belly laughs are just the best thing! In that moment of uncontrollable laughter, I know she's the happiest that she can be, and that makes everything else going on seem so small.
Tiffany Sumner is The Everymom…
Go-to workout song?
Do impromptu dance parties in the kitchen count as working out? If so, Eleanor's preference reigns, and she has us listening to "Don't Wanna Know" by Maroon 5 on repeat.
Favorite mom and daughter activity?
Eleanor loves shopping as much as I do, and thankfully, our favorite stores have both home decor and toy sections.
Home essential you can't live without?
Our essential oils are a must! We have diffusers in every room of the house, and little roller balls tucked away in all of our bags for when we're on the go.
Your camera roll is full of…
Eleanor, of course! I also take photos of our home decor, and since Eleanor currently likes to do all the things that I am doing, there are shots by me and then shots that Eleanor takes of our home. It's the sweetest thing  
Most embarrassing mom moment?
My embarrassing mom moments literally started the moment I became a mother. I didn't have my hospital bag with all of Eleanor's cute outfits for our entire stay at the hospital because I refused to believe that I was in labor on our way to dinner! (My contractions were consistently five minutes apart for the entire hour it took me to get ready, but I didn't want to be the first time mom who went to the hospital at the first sign of pain). I sat through dinner having contractions the entire time, and when I finally went to the hospital, I was four centimeters dilated! There was no going home for the bag at that point.
More recently, Eleanor used a few choice words to describe her feelings when she realized she had forgotten her tablet at a grandparent's house. When you're a stay-at-home mom and your toddler says, "freaking damn it, I forgot my tablet!" two things go through your mind: I can blame no one but myself for this, and thank goodness she said "freaking!"