I've been a die-hard Trader Joe's fan ever since I first discovered the magical grocery store when I lived in New York City. Back in those days, Trader Joe's was like the hottest club. If you went during peak time, you'd literally have to wait in a line to get in (and I'm talking about pre-COVID days). Once inside, you'd join the checkout line as you shopped, since it snaked through the entire store.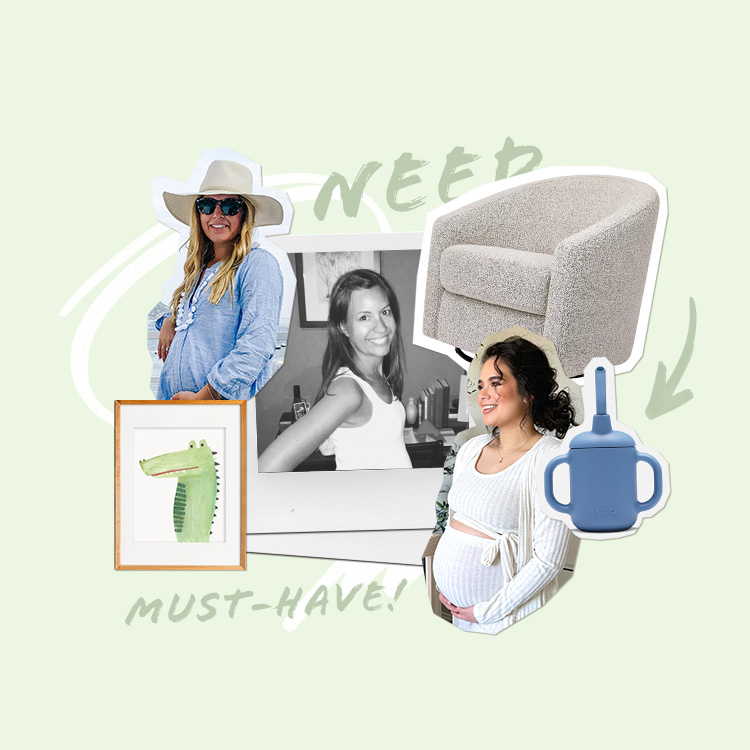 babylist has everything you need—and more! 💕
Eventually, I moved out of NYC, and though I was sad to leave, when people asked about the positives of leaving the city, I remarked that one of the best things was how much easier the Trader Joe's experience is—literally anywhere else.
And thank goodness because now, in addition to shopping for myself and my husband, I'm also shopping for a surprisingly hungry toddler. She doesn't eat quite as much Trader Joe's goodness as I do, but her food does take up a big chunk of my shopping cart. I'm sharing what a typical Trader Joe's grocery list and meal plan look like for my 1-year-old.
A few notes before we jump in. I'm not a nutritionist or toddler feeding expert, but this is what works for us, and hopefully, it will give you some new ideas for your own family. Also, I often make meals for my husband and myself that my daughter can eat with us or the next day. I don't like to waste and also don't force my child into the clean plate club. Whatever is left on her tray at the end of the meal goes back into the refrigerator, and we try again at the next meal.
You'll also notice some repetition. I do want to expose my daughter to new flavors and textures (how else would I have discovered she loves sauerkraut?), but every meal doesn't need to be a whole production. Simple is sometimes best. And finally, sometimes what I provide is fully rejected and lunch ends up consisting of blueberries and cheese, but that's a toddler for ya.
With all of that in mind, here is a basic meal plan Monday through Friday and our Trader Joe's grocery list to go along with it.
Monday
Breakfast: Bowl of Greek yogurt + almond butter, 1/2 blueberry waffle
Lunch: 1/2 blueberry waffle (whatever is leftover from breakfast), scrambled egg with cheese
Dinner: Roasted zucchini and broccoli, roasted chicken slices, applesauce
Tuesday
Breakfast: Bowl of Greek yogurt + almond butter, sliced blueberries
Lunch: Leftover roasted zucchini and broccoli, raspberries, avocado, cut up cheese stick
Dinner: Piece of bread with almond butter and jelly, side of blueberries and raspberries
Wednesday
Breakfast: Blueberry waffle, sliced blueberries
Lunch: Sauerkraut, roasted chicken slices, avocado
Dinner: Tuna salad (canned tuna, avocado, mustard), sauerkraut, blueberries
Thursday
Breakfast: Scrambled egg with cheese, avocado
Lunch: Leftover tuna salad, sauerkraut, sliced blueberries
Dinner: Pasta with kale pesto sauce, applesauce
Friday
Breakfast: Avocado toast, whatever berries are left
Lunch: Leftover pasta with pesto sauce, applesauce
Dinner: Silver dollar pancakes (breakfast for dinner!), blueberries
My Trader Joe's Toddler-Focused Shopping List
Whole Milk Greek Yogurt, Plain
Naturally Flavored Blueberry Waffles
Organic Silver Dollar Pancakes
Eggs
Mild Cheddar Cheese Snack Sticks
Fresh Zucchini
Fresh Broccoli
Unsweetened Applesauce
Fresh Blueberries
Fresh Raspberries
Fresh Avocado
Columbus Rotisserie-Style Chicken Breast (deli-style)
Organic Reduced Sugar Blueberry Preserves
Ezekiel Bread
Albacore Tuna (no salt added)
Brown Rice & Quinoa Fusilli Pasta