Christmas can be pure magic and there are tons of creative ways to celebrate with your family. The beauty of this holiday is the convergence of old and new traditions, which can be either extravagant or budget friendly. Because of all the joy associated with Christmas, naturally, our kids cannot wait for the 25th of December to arrive. For them, it feels like an eternity until the moment they can wake up and see the magic of Christmas morning.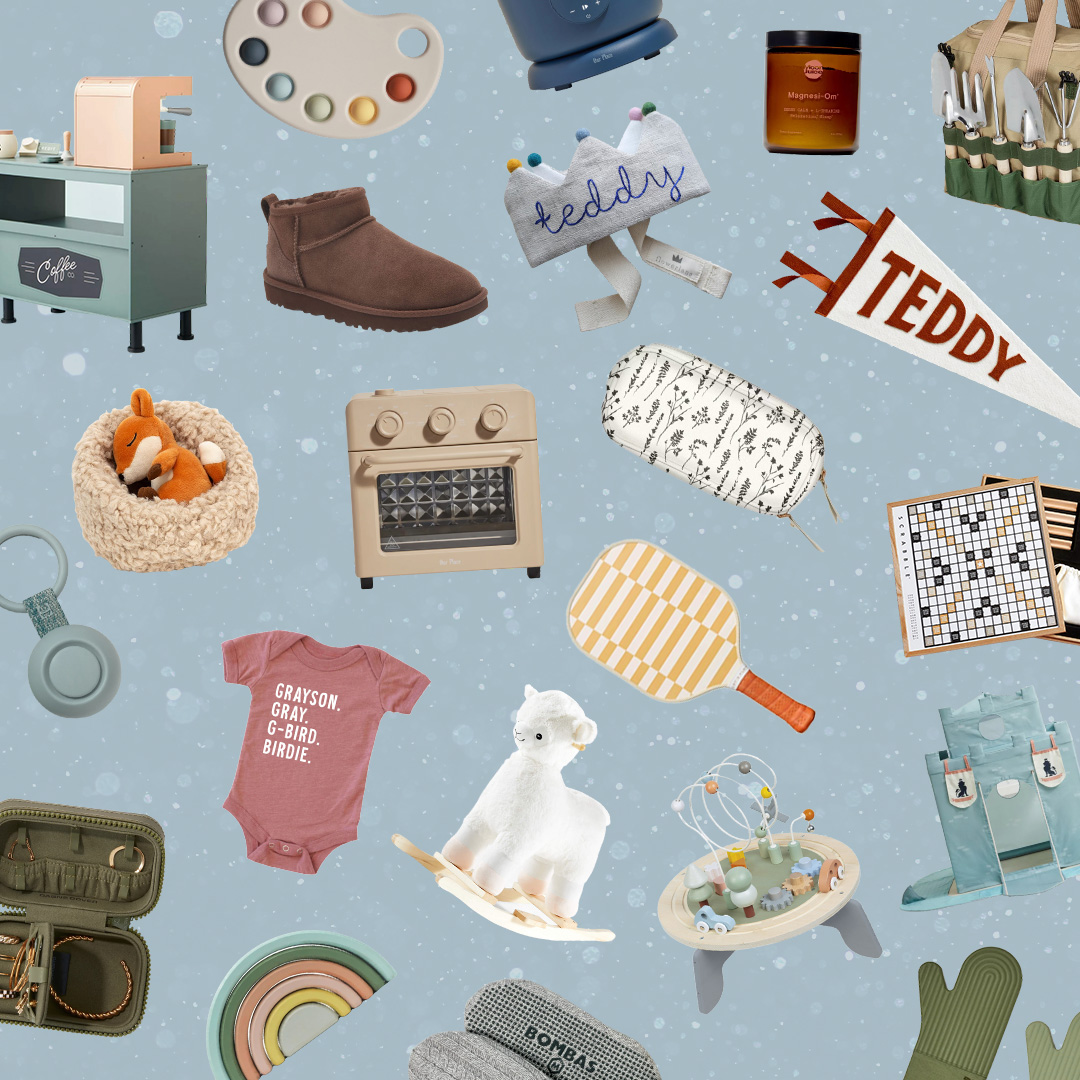 everything you need to ace holiday gifting this year 🎁
Thanks to traditional advent calendars, families can count down the days together until Santa is set to come down the chimney and put presents under the tree. Another merry-and-bright tradition to incorporate a Christmas countdown is by adopting the Elf on the Shelf—Santa's helper and friendly scout elf.
Before I proceed, I want to acknowledge the mental and physical load the holidays have on mothers. We do a lot during this time of year, so my intention when encouraging Elf on the Shelf is not to add yet another thing to your holiday to-do list. Rather, I aim to sprinkle some easy and entertaining ways to add more holiday cheer to your Christmas. You can do all the bells and whistles when setting up your Elf on the Shelf or you can keep things sweet and simple. Below is a detailed description of this festive tradition and some easy and creative Elf on the Shelf ideas to inspire your Christmas countdown.
What is Elf on the Shelf?
The Elf on the Shelf franchise started with the namesake book The Elf on the Shelf by Carol V. Aebersold and Chanda A. Bell sold at your local bookstore, the official Elf on the Shelf website, or on Amazon. If you buy the official starter kit, the book includes your very own scout elf specifically designed for whichever "elf look" your little one desires. There are a variety of elves based on eye color, skin color, and sex, and they even have books in Spanish!
Once you purchase the book and its companion elf, you are set to formally adopt the elf into your family. Included in the kit is a keepsake box and an adoption certificate (see "arrival" section below for more ideas) where you can document this special occasion for your child to remember every Christmas.
Amazon
Choose one of four official elves to come with your book to kick off your family's own Elf on the Shelf tradition.
The Elf on the Shelf is one of Santa's trusted helpers who becomes part of your family every Christmas. Starting on December 1st, your family's personalized elf serves as a representative of Santa to report back every night whether your child has been naughty or nice. To integrate your elf into your family, your little ones can name their elf—any name, like Ana, Fred, Zart, and Banana! Once you welcome your elf into your family, your cheeky elf is placed anywhere in your house so they can quietly observe your child's behavior and report back to Santa every night after the kids go to bed. After all, Santa needs help making his list and checking it twice! 
At night, your scout elf goes back to the North Pole to be reunited with Santa, then returns to your home just in time for your kids to wake up the next day. The elf's daily journey to the North Pole and back is fueled by lots of Christmas magic. But the playful elf will not return to their same location in your house and instead will hide somewhere else. The fun part is having your child search your home in every nook and cranny early morning to discover the new place where your elf decided to hang out. My boys wake up with such excitement every morning to embark on the adventure of searching for their elves!
What are the "Rules" for Elf on the Shelf?
Your job as a parent is merely to move the elf every night so they can "magically appear" in a new location every morning. I recommend putting a reminder on your phone to make sure you don't forget to find a new place for your elf as soon as your kids go to sleep. Of course, they are elves, so they might do some tricky and silly things because they love to see their family be merry.
There are rules that apply to having your very own scout elf:
Elves are instructed by Santa to listen attentively but never speak to their families. They have to make sure to not be distracted from their responsibilities as Santa's elves. Your little ones can chat all day long with them and share stories with their elf buddy.
The next rule is that the kids can never touch their elf, even if they are right beside them. They must honor this rule or else the elf magic might disappear (see below for the magic elf dust remedy)!
Alas, all good things come to a temporary end on Christmas Eve when the kids must bid farewell to their friendly elf (see departure ideas below). This is the big night when the elves return to the North Pole to give the full report to Santa as he prepares to go on his sleigh to deliver Christmas presents around the world. All the elves spend the remainder of the year resting with Santa in the North Pole after all the hard work of preparing for Christmas. They definitely deserve the vacation!
As parents, we discreetly hide the family elf in a secure location so they do not get discovered by our kids all year. However, your little one can rest easy because their same elf will come back next season on Dec. 1 with the same heartwarming Christmas magic. The reunion can be an epic, festive one for all to enjoy!
Ideas for the Elf's Arrival
When you first adopt your elf, you can go as big or as simple as you want to mark the occasion. This is the only time you will do the official adoption, and every year thereafter will be a reunion with your elf. Your home base for the most comprehensive ideas on what to do with your scout elf is on the Elf on the Shelf website. They offer loads of creative ideas including five-minute ideas, crafts and printables, recipes, tips and tricks, and even options to incorporate elf pets! Pinterest is also another great resource filled to the brim with free ideas on welcoming your elf to your family. Blogger Just Simply Mom has some fun and easy examples of ways to welcome (back) your elf to your family, including hiding in a Christmas tree or in a special delivery priority mail package.
The easiest thing you can do when you welcome (back) your elf is read The Elf on the Shelf book with your kids while you all enjoy some hot cocoa. You can also present the adoption letter that comes with the book itself, and if this is the first time introducing the elf to your family, you can have some fun coming up with creative names as part of the "adoption ceremony."
Elf Door
To inspire some Christmas magic, purchase a fairy door and include any additional elf-size Christmas props to add some flare to the welcome (back). I'm a big fan of this bright blue door—it's so cheery! You can place your elf somewhere near the door and explain to your little one that your elf came through that door during the night with elf magic. You can have them hold a "hello" notecard (which is customizable) to express extra hospitality.
Etsy | The Purple Moose Shop
Add a fairy door to your home for an extra magical entrance.
Magic Elf Dust
Even though the rules state our little ones cannot touch their elves, accidents can happen. Do not fret, as there is a solution: magic elf dust! As a reminder, if you touch your scout elf, their magic may disappear. To prevent this tragedy from happening, simply sprinkle them with magic elf dust and the elf magic is protected!
You can include this magic elf dust as part of the welcoming (back) of your elf this season. All you need to do is fill a small fairy vial with a mixture of Christmas-themed glitter and place it next to your elf. You can have the elf hold a Magic Elf Dust card, like this free one from Mama Cheaps, which explains how to use the magic elf dust should someone touch the elf.
Welcome/Adoption Letter
If you want to personalize the welcoming (back) of your sweet elf, you can print a welcome (back) letter, which includes longer prose about this very special event. You can find many free versions of these welcome (back) letters on Pinterest or purchase a customizable one on Etsy that includes the name of your child, the name of your elf, and other personalized details.
Etsy | Design My Party Studio
Customize the text to address your kiddos and include this year's date to explain all of the rules to them.
Etsy | Jermolina Art
If you want a customizable adoption letter with an official printable certificate, you can browse Etsy for many options, like this endearing one.
Etsy | Elle and H Co
Personalize this wooden postcard with your little one's name to start a special arrival tradition.
"Hanging" Arrival
There is nothing more spectacular than a grand entrance. If you are up for doing the pomp and circumstance of a welcoming (back) ceremony, prop your elf somewhere they can hang as they have just arrived from the North Pole. They can even be hanging from a ceiling fan (when it's off!). Your child will be in awe of how your elf can stay hanging for so long!
Ideas for the Countdown to Christmas
From the moment your elf arrives until Christmas Eve, you can be as creative and festive as you want. You don't have to spend much money to do these things, as Pinterest and the Elf on the Shelf site have a lot of free printables and ideas.
If you want to sprinkle a bit more flare to each day your elf returns, you can add some props and/or elf attire to make your elf's adventures extra exciting. The Elf on the Shelf website has a variety of outfits and props that can bring lots of giggles from your kids as they discover their elf in a new location with a new outfit. I am obsessed with the elf in the tutu and the elf in these adorable tees. You can also find a catalog of outfit options on Etsy that will have you scrolling for days. My personal favorites are the Harry Potter robes by Stiches of Green!
The possibilities are endless, so go as wild as you want to! You also don't need to spend a dime when relocating your elf every night. You can simply put your elf in between toilet paper rolls or on top of your refrigerator and your little ones will be happy just the same. Less, in many ways, can be more!
Baking
The holidays aren't the holidays without some Christmas baking. Why not have your elf take the lead by setting them up with all the non-perishable cooking ingredients by their side as well as the necessary cooking utensils, and dress them up in an elf apron and chef's hat? Or you can dress your elf up in these cheery cookie jammies, which are just as cute!
A Written Message to the Kids
Although it may feel like a shame that the elf can't speak, there are many unique ways in which they can communicate with your kids. You can prop your elf on your laptop as if they're typing a message and the screen can project the message they want to share with your child. They can leave messages on chalkboards, mirrors, or other spots around the house. It's such a simple and sweet way to inspire that connection between your elf and your children.
Acts of Kindness
Elves can be naughty at times, but they also have big hearts. One way to teach our kids gratitude during this holiday season is by having your elf encourage acts of kindness for the 25 days they visit your home. In many ways, this can be very impactful for your little children as they learn the value of helping others in a method accessible for their development. Blogger Pam Dana from Over the Big Moon has touching printable good deed cards that can teach your kids that this holiday season is about being grateful and helping those in need.
Caught Doing Something Silly and/or Naughty
Elves like to have fun by being silly and playing tricks on their family. You can have lots of fun devising devious ways your elf gets into trouble at night—especially when they get caught doing things your littles are not allowed to do. You can have them interacting with other toys, looking guilty near a pile of crayons they spilled, or swimming among a pool of marshmallows!
There are many tricky things these elves can do! Check out Jen's Clever DIY Ideas for even more silly elf ideas! You can even make your elves into comedians by having them leave joke notes throughout their visit, like blogger Skip to My Lou's funny jokes. A good laugh is always welcome!
Ideas for the Elf's Departure
Inevitably, your little elf must bid farewell by Christmas Eve because their job is done. But it can be framed as a moment to express appreciation for your elf. You can make it a simple goodbye or do something extra special for their final act of the year. Of course, you will explain to your little ones that your scout elf will return next season, so the countdown will begin once again!
A Goodbye Letter
Just like there were welcome letter ideas, you can provide a bookend experience by composing or customizing a goodbye letter. It can be as detailed as you want and, of course, a handwritten letter can be just as meaningful. Most vendors sell the "hello" and "goodbye" letters as a pack, so you may already have one once you purchase the other.
Etsy | Kanmat Custom Products
This touching goodbye note is so sweet and can be customized to match your family's elf.
Pictures at Night
If your kids are anything like mine, they might get a bit emotional that they won't see their elves for a whole year. To help alleviate some of their sadness, I take a picture of the elves on the pillow next to each child with the goodbye letter right next to it.
Balloon Ride
You can devise an epic welcome and an even more bombastic departure if that is what your heart desires. There is no bigger farewell than going away in a balloon. You can use mylar or helium balloons or put them on a platform attached to a lantern light like the way Kara from @mrscofieldandco (below) did it. Any aerial positioning of your elf will help visualize to your little ones that the elf is leaving for now, but they will return next year for more elf fun.
A Postcard
If you go the postcard route to welcome your elf back into your home, it seems only right to send him off the same way.
Etsy | The LDR
Have this wooden postcard on hand to help get your elf back to the North Pole each year.
The Easiest Mom Hack for Elf on the Shelf
If all this seems like just a little too much to add to your already overflowing Christmas-magic-making plate—let me introduce this genius idea: a complete Elf on the Shelf set with props for every day leading up to Christmas. You can even make the set last for multiple years by sprinkling in creative ideas versus doing them every night.
Etsy | Bash Boutique Gifts
This extensive kit will have everything you need for a magical 30 days of elf fun.
Etsy | Elfin Around Kits
Grab this kit for 24 days of props and activities for your elf.
Etsy | The Present Parent
Choose from 12 or 24 days for a kit with tons of cute Elf ideas.
No matter what you do with your Elf on the Shelf, your little one will be in a magical wonderland every day trying to figure out what their elf is up to now. Elf on the Shelf is just one more way to add some holiday fun to the season that your kids will love all December and then reminisce about for the rest of the year.