Genevieve Custer Weeks had been performing as a professional ballet dancer for years when she realized the model for traditional dance education wasn't adequately tailored for young children. So, to fix that problem, the mom-of-three decided to open her own boutique dance studio, Tutu School, and has since helped expand her successful business to more than 30 franchise locations around the country.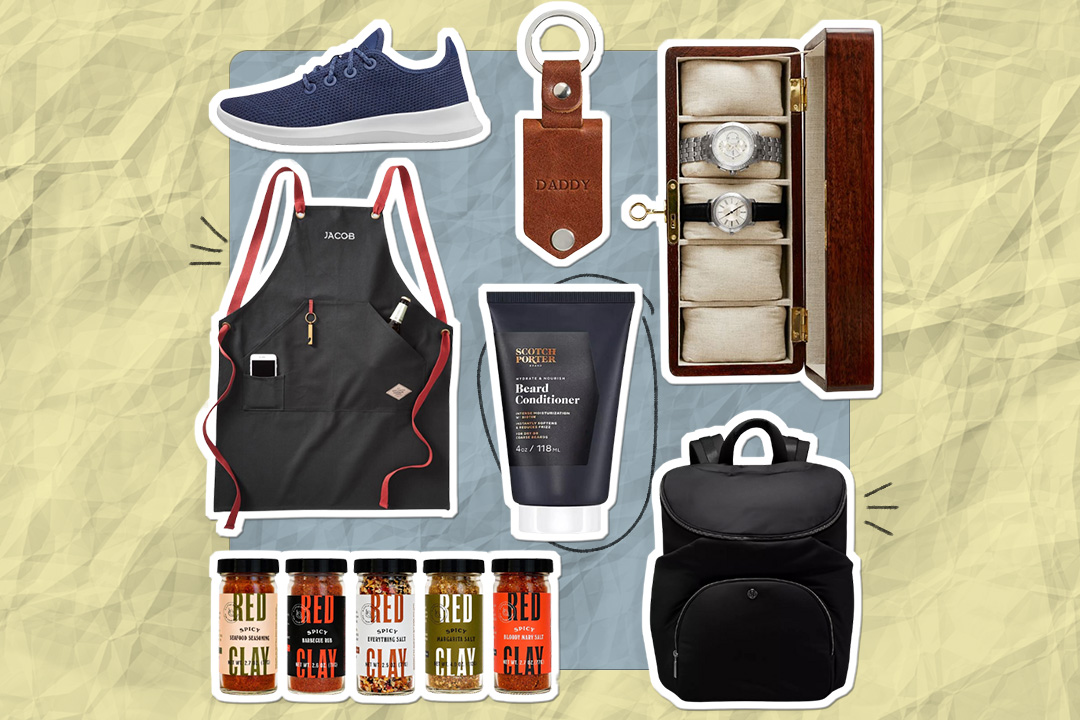 june 18 is coming up fast — have you started shopping yet? 😎
Keep reading to find out how Genevieve juggles being a working mom and an entrepreneur, why she passionately believes ballet is for all children, and check out her go-to mom hacks for raising three kids!
Name: Genevieve Custer Weeks, Founder and CEO of Tutu School
Age: 37
Location: Chicago, IL
Education: School of Ballet Chicago, American Ballet Theatre, San Francisco Ballet School, The Kennedy Center
Children: Sullivan, 10, Thatcher, 5, and Hudson, 5
You are the founder and CEO of Tutu School! Please tell us a little bit about your business and why you started it.
Tutu School is a national collection of boutique ballet schools for children. I founded the company because I realized that traditional dance education isn't tailored to the needs of very young children. We started from a place of, "How do we give children the most magical introduction to music and movement possible?"
Tutu School's mission statement is "Every child should know what it feels like to dance." Why are you personally passionate about dance education for kids?
I think it's so important for all kids to feel at home in their own bodies and to learn how to move through the world with confidence. I also believe strongly in exercising imaginations as much as any other muscle and that children need space in their lives for creativity and joy.
What skills and traits does Tutu School teach children in class? Why were those aspects of ballet especially important for you to focus on?
Beyond fundamental ballet technique, a big part of our program is our Ballet Storytime curriculum, which introduces children to the stories and music of famous classical ballets like Swan Lake and Sleeping Beauty. I'm really proud of that curriculum and our recently-launched update of it. We've carefully selected the themes and values we want to center for our young dancers. We think that while our students are dancing to Stravinsky's Firebird, they can also be celebrating differences; The Nutcracker can be about the adventure of new experiences; in Sleeping Beauty, they can fall in love with the Lilac Fairy — the true hero of the ballet version of that story — and see that with bravery and kindness and love, she takes a dark situation and makes it better. She kicks butt, all while wearing a lavender tutu. Frankly, that's my kind of fairytale.
Prior to starting your business, you studied ballet and then became a professional dancer with the Oakland Ballet — what was that experience like?
I actually continued dancing professionally even after I started Tutu School and only retired when my oldest son, Sullivan, was 3 years old (because we wanted to try for one more baby – ha!). So, Sullivan was there when I took my last bow – he even brought me a bouquet on stage and played in the confetti they dropped for my final curtain call.
I am so grateful for my life as a dancer. I am honestly not sure who I would be if I hadn't had the dream and pursuit of a career in ballet as the defining force in my life for so many years.
What advice would you give young dancers who aspire to be professional ballerinas?
Remember why you dance. It is a difficult career but a deeply fulfilling one if you can remain connected to whatever it was that led you to fall in love with ballet in the first place. For me, it was the feeling of climbing inside music and getting to live there for a while. On stage, in rehearsal, even just in daily class. You can build a career around that; a life even.
Why did you decide to start your own company? What challenges did you face as an entrepreneur that you didn't expect?
While I was still dancing, I was also teaching in between performance gigs, and I fell completely in love with my work with preschool-age students. That was when the idea for Tutu School really began to formulate in my head, and we launched in 2008 in San Francisco (where I was living at the time).
We grew so quickly that actually one of my initial challenges was how to keep up with the growth. I think that's still something we deal with today with more than 30 locations — how to keep pace as we grow while remaining true to who we are as a company. At our core, we're still driven by the same mission I was when it was just me in a single-room studio in San Francisco, dancing like rainbows and butterflies with our very first students.
You also give others the opportunity to open their own Tutu School through your company's franchise option — why was that aspect of the business important to you?
We first decided to franchise Tutu School as a way to scale the company. Fairly quickly after opening the second location, we realized that there could be a Tutu School in every community with families who valued an arts education for their children. But there was no way I could ever open all of the Tutu Schools there could possibly be myself, which is why we turned to the model of franchising.
Truthfully, though, now that we've taken this path, getting to be a part of the entrepreneurial journeys of our Tutu School owners has become one of my very favorite parts of my own entrepreneurial story. It is a humbling and thrilling honor to help our family of owners to grow their own businesses and to build their own Tutu School communities.
How can an aspiring entrepreneur open their own Tutu School, and what qualifications does it require? Where can someone who might be interested learn more info about franchising?
Determining if someone is a great fit for our community of owners usually kicks off with a series of conversations. Our owners come from all walks of life, and each brings a unique skillset and background to their entrepreneurial journey. It's my job, as the founder of Tutu School and caretaker of its brand and mission, to provide our owners with the tools and support they need to round out their own experience and nurture a fulfilling business.
Anyone interested in opening their own Tutu School should reach out via the franchise section of our website. We're always excited to meet new people who are interested in Tutu School's story and opportunities.
In addition to being a business owner, you're also a wife and mom to three boys! Tell us a bit about your family.
My husband Andrew and I live in Chicago with our three kids – Sullivan is going into fifth grade, and Hudson and Thatcher are starting kindergarten.
Are your sons interested in ballet? Do they take classes at Tutu School?
They've all been in classes at Tutu School at various points, and Thatcher is planning to start back up this fall! There was a recent stir on social media about boys in ballet after some insensitive remarks were made on Good Morning America about Prince George taking ballet lessons. At Tutu School, we are unapologetically magical and pink and sparkly, and we also practice marching like ballet dinosaurs (sparkles and dinosaurs are not mutually exclusive).
We don't assume that things that are traditionally thought of as gendered and geared towards girls have to be altered in some way to be palatable to boys – or that girls will only be interested in those things. We know that all of our students love both blasting off like rocket ships and galloping like unicorns. Those aren't activities for boys specifically or girls especially – they are exercises for all kids with growing imaginations.
What was it like raising twin boys? What tips do you have for other moms of multiples?
I always say it was heart-exploding to get to meet two of the loves of my life at the same time. You just sort of learn Twin Triage, and really, maybe the most surprising part of it all is just how much you figure out in the thick of it by going with your gut and picking the next right thing to do. Which, really, I think applies to all of parenthood — and life — too.
Since you are an entrepreneur, what did your maternity leave situation look like after you welcomed each of your children?
I didn't really have a formal maternity leave after either pregnancy, although I was lucky enough to have incredible people on our team holding down the fort at Tutu School and letting me at least step back a bit. To me, though, the primary advantage in balancing entrepreneurship with motherhood is the flexibility. It's obviously not less work, but I do typically get to decide when and where that work takes place. It was a lot to balance the challenges of having newborns with running a business – we actually sold our first Tutu School franchise 13 days before Thatcher and Hudson were born – but on the other hand, I didn't have an employer telling me I needed to be back in an office after six weeks, and I'm so grateful for that.
What did your family use for childcare when the boys were younger? How has that changed as they've grown older?
Because both Andrew and I are self-employed, we've always made it work with a hodgepodge of part-time nannies, family help (amazing grandparents!), and preschool. This fall is the first time we will have all three kids in one school since Hudson and Thatcher are starting kindergarten, and the logistical streamlining that will bring into our life just feels sort of miraculous.
Your husband is a photographer — how does he help support your business?
As a very talented (no bias here) photographer, he is responsible for almost all of the imagery we use to represent our brand to the world. Beyond that, though, he is also a part owner of Tutu School and a constant source of support. He's an advisory board unto himself, and I'm so grateful for his patience with my endless idea bouncing and brainstorming.
Can you walk us through your typical workday?
School starts at 8:30am. Prior to that, there's general morning chaos and all of us running around like we've never gotten ready for anything before. If both Andrew and I are in town (we each travel a fair amount for work), I'm lucky enough to have drawn the "tidying upstairs straw" while he manages breakfast and dishes downstairs, so I typically try and sneak in that day's episode of The Daily podcast while I make beds and get myself dressed. I usually head to work out (spinning and pilates are my go-tos, but I'm really trying to get back into my own ballet classes this fall too) after drop-off. Then, I squeeze in as much work and as many phone calls and meetings as I can until school lets out. Some days after school, the kids have activities or appointments, but we try to do dinner together as a family as much as possible, even if it's something quick and easy on the back porch or grilled cheese and shakes at our neighborhood diner. After the kids go to bed, Andrew and I both get a little more work done but try to be good about making one another close our laptops before total exhaustion sets in. I'd be lying if I said we don't often stay up too late after that streaming something and eating Halo Top in bed when we should be sleeping.
Can you share with us three mom hacks you rely on to make things work in your day-to-day life?
1. Rent the Runway Unlimited subscription: It's kind of like keeping your wardrobe in the cloud and having it shipped directly to you when you need it. You get to have four items home at any time, and then you send what you don't want any more back and select new items. At any given time I usually have a coat, a bag, and two seasonal pieces or clothes for upcoming events.
2. Podcasts and audiobooks: When we're spending time in the car — either between activities or on road trips and drives to our family cabin — podcasts and books on Audible have been lifesavers for us and have kept the kids from spending all their time with screens. We especially love Wow in the World (a science podcast for kids), and on our road trip this summer we listened to From the Mixed Up Files of Mrs. Basil E. Frankweiler, which was really fun because we then visited the Metropolitan Museum of Art with the kids, where the book takes place.
3. The Starbucks app: No, but really. It also helps to have kind baristas at your neighborhood Starbucks who pretend not to notice when you run in to pick up an emergency "car picnic" breakfast before school or camp multiple times in the same week.
How has motherhood impacted you both personally and professionally?
Motherhood has led me to embrace more messiness in life – both literally and metaphorically. I also think it's helped me live more in the moment than I've ever found possible before. Pre-kids, it was so easy for me to always be focused on next vs. now, but children have a way of demanding that you meet them in the present.
What are the greatest rewards and challenges of being a working mom?
I love that my children see me working so hard to build and shape something I believe in. As they've gotten older, they really have a sense of what Tutu School is and of my role in the company, and I feel so grateful that they are a part of my entrepreneurial journey too.
When it comes to motherhood, what are you most confident about? What are you still insecure about?
I still have a lot of moments where I feel the weight of supporting and shaping three separate lives with completely individual needs, but Thatcher had major surgery when he was 6 months old (he's great now!), and I can honestly say that I emerged from that experience and hospital stay with a totally new confidence as a mother that I so wish I had from the very beginning. I felt very clearly after all of that advocating and nurturing and surviving the strength and uniqueness of my role as these little humans' caretaker and – maybe for the first time – really believed that I was up to the task.
How do you handle work-life balance while also making time for self-care?
I try to focus on seasons. It's rare that any given week or month feels perfectly balanced for me, but I definitely notice that my work and my life operate in seasons and cycles. The more that I embrace that, the more I feel that I am able to carve out and celebrate time for myself when it's available and accept in the periods where it's harder to come by that I'm just in a different place in the cycle.
What hopes and goals do you have for Tutu School in the future as your business grows?
I want us to keep growing organically and thoughtfully, and I want us to bring the magic of ballet to as many children as we possibly can.
Genevieve Custer Weeks is The Everymom…
Favorite family tradition? For the past three years, we've taken a big summer road trip adventure in August. Every year, we think we've probably lost our minds, and every year we're so glad we did it. Last year we went to Yellowstone, and this year we went to Niagara Falls, Philadelphia, and New York City.
Easy go-to family meal to prepare?  Anything from Hello Fresh. That's one of my go-to life hacks. I'm also a big fan of impromptu picnics that make my avoidance of cooking feel more like an adventure.
Your dream vacation? I'd love to rent a house for a month or more in the Scottish Highlands, somewhere where my children are outnumbered by sheep.
Last home item you splurged on? Wallpaper for our powder room from Anthropologie. It was worth it – very colorful, kind of ridiculous, and made me very happy.
Guilty pleasure? Streaming historical dramas with a glass of wine.
Most embarrassing mom moment? I once went to pick Hudson and Thatcher up at preschool and asked Thatcher where one of his shoes was. The teacher gently and sweetly explained that, actually, I had dropped Thatcher off only wearing one shoe.
Proudest career achievement? Getting to help other women launch their own Tutu Schools. I never planned to be an entrepreneur myself, let alone support the entrepreneurial journeys of others, and now it is one of my very favorite things.
Favorite date-night activity? We love going out to dinner or drinks, and sneaking away to a non-animated movie still seems like a pretty big deal, but honestly, a lot of my favorite nights with Andrew are just sitting on our back porch discussing and dissecting life.
Best mom advice you've been given? You are enough.
This post was in partnership with Tutu School, but all of the opinions within are those of The Everymom editorial board.