The layered experiences of motherhood can sometimes be underrepresented in the media. But with the explosion of streaming, we're seeing more and more honest motherhood stories front and center. From the heartwarming to the heart-wrenching, not to mention the moments that make us laugh through it all.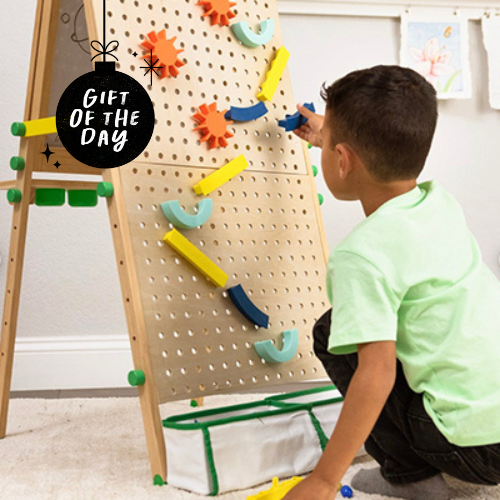 Art, fine motor skills, and fun all mixed into one great gift! Kids will learn engineering with the marble run but also get creative with the art easel mode.
If you need some inspiration, comic relief, or an exotic escape (see number four below), there's nothing like a fun binge of movies and TV shows that showcase moms being their authentic and amazing selves.
Here are 10 movies and shows with mom leads to add to your watch list.
Movies with Mom Leads
1. Erin Brockovich
Where to Watch: Stream on Peacock and available to rent on Amazon Prime Video
Starring Julia Roberts, this biopic covers the story of Erin Brockovich, an unemployed single mother who fought a huge legal battle against an energy company, even though nobody believed she could do it. Her curiosity leads her down a rabbit hole and into the unexpected; before she knows it, she's developed relationships with affected residents and unlocked a case that the world was on edge to hear.
2. Bad Moms
Where to Watch: Stream on Apple TV
Overworked and exhausted mother Mia is on the verge of snapping. After meeting two other tired moms, they band together and abandon most of their daily responsibilities. With their newfound freedom, they go up against a rival clique of PTA moms in a battle of who's doing it best.
3. Lady Bird
Where to Watch: Stream on Netflix
This tear-jerker is a coming-of-age story about learning that home is where the heart is. The shaky relationship between Lady Bird and her mother, Marion, is chaotic and short-tempered; strong personalities constantly clash, but their love is strong. For anyone who may have a troubled relationship with their mom or daughter, this story is perfect.
4. Mamma Mia: Here We Go Again
Where to Watch: Available for rent on Amazon Prime Video
This heartwarming musical comedy is the sequel to the 2008 hit, and is now focused on the stories of learning and understanding motherhood from many angles. Following the 1979 story of a young girl traveling across Europe, we simultaneously get the story of her present-day pregnant daughter as she dreams of travel and exploration.
Where to Watch: Stream on Netflix
Melissa McCarthy and Octavia Spencer dropped this supermom story to Netflix, reminding moms everywhere that it's always a good thing to step outside of the box. After inventing a formula to give regular people superpowers, childhood best friends Emily and Lydia team up to create Thunder Force, their crime-fighting team to stop miscreants from ruining their lives and keeping citizens in constant fear.
TV Shows with Mom Leads
6. Little Fires Everywhere
Where to Watch: Stream on Hulu  and available for purchase on Amazon Prime Video
Number of Seasons: 1
Starring Kerry Washington and Reese Witherspoon, this drama focuses on an upper-class white family in 1990's Ohio become the root of tangled family relations between a mother and daughter. The intersecting lives of two families and the secrets that lie between become an issue none of them can ignore.
7. The Fosters
Where to Watch: Stream on Amazon Prime Video and Hulu
Number of Seasons: 5
Following mothers Lena and Stef, The Fosters is a transformative, five-season TV show that focuses on the dysfunctional, yet loving family of biological, adopted, and foster children living in one household. As they navigate complications in their marriage and being an aid to their children, both Lena and Stef pursue careers as police officers, school principals, non-profit owners, and politicians with the support of each other.
8. Good Girls
Where to Watch: Stream on Netflix
Number of Seasons: 3
A ragtag group of childhood best friends are struggling moms who need a plan. So, they rob a grocery store and end up in a life of crime they never expected. While balancing their new lifestyle, managing relationships and being a mom goes haywire.
9. Dead to Me
Where to Watch: Stream on Netflix
Number of Seasons: 2
Recently widowed and a mother of two, Jen is set on figuring out who killed her husband in a hit-and-run. In the midst of it all, Judy, an eccentric free spirit, stumbles onto her path, with her own loss hanging over her. Opposites attract in this special dramedy.
10. Maid
Where to Watch: Stream on Netflix
Number of Seasons: 1
Alex is a young single mother battling an abusive relationship, mental health issues, and homelessness every day. In order to take care of her family, she turns to housecleaning. The twists and turns that ensue are reflective of many women's experiences, and shares a story that deserves to be heard.