We found out we were expecting baby No. 2 when baby No. 1 was just 11 months old. We hadn't even toasted to making it through the first year before we were bracing ourselves for the hurricane to circle back around. We were still deep in baby land and from there on out, we just kept digging deeper, with more diapers, more wipes, more cries, and even less sleep.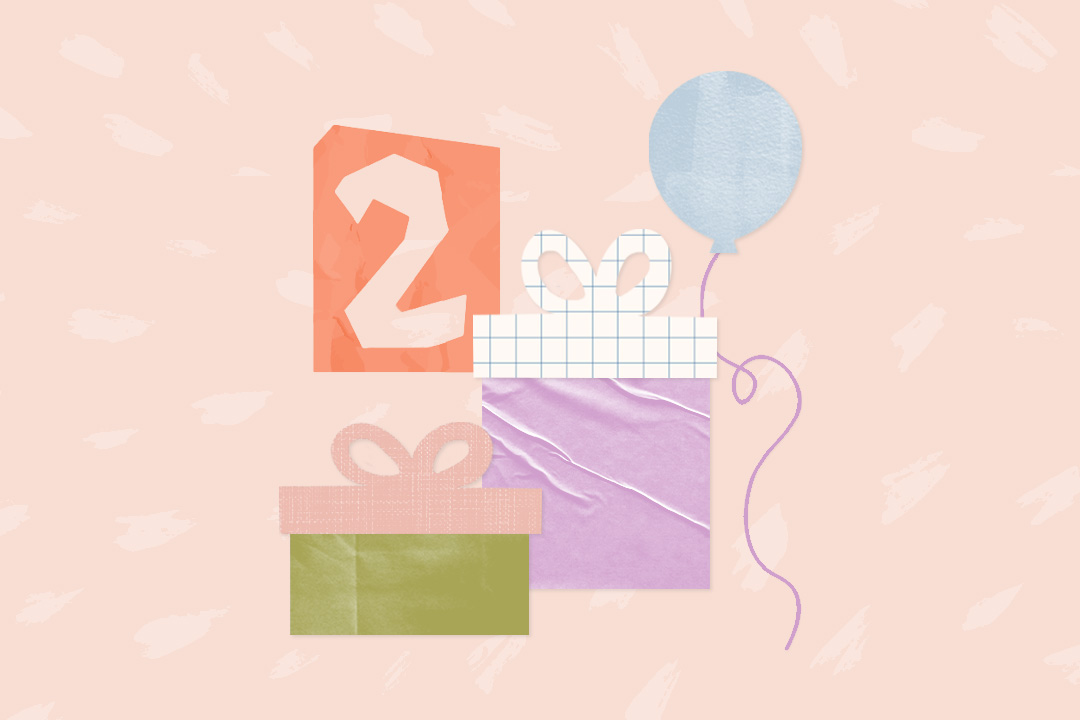 a LO in your life will love these! 🎁
I'll be honest – the whole "two under two" experience is rough right from the start.
I found that being pregnant while taking care of a toddler all day was the hardest physical feat of my life. It was different than my previous pregnancy when I could, for the most part, rest and focus primarily on myself. This time around, I was exhausted and sore from week 1 through week 40.
After I gave birth to our second beautiful boy, my heart doubled in size – and so did the challenges. Many I expected, many more I did not. We've been in the trenches for five months now and as I continue to navigate this incredibly messy, chaotic, exhausting and yet also magical time in our lives, I've gathered some key lessons to share with fellow mamas who also simply strive to survive day in and day out.
If you have or will have two kids under the age of two – pour that second cup of coffee and take note. Here is how to survive.
Be Open to Doing Things Differently
I nursed my first-born almost exclusively but this time around, it just wasn't working out. From trying to prevent my toddler from climbing all over me while I sat topless nursing the new guy, to my constant stress from worrying about my supply – it was definitely not the same experience as my first go around.
So I analyzed the situation, adjusted, and became a combo-feeding enthusiast. It was not my plan to use formula so early on, but every baby is different and every life situation is different. I quickly learned that I needed to be open to different ways of doing things if I wanted to be a happier, less stressed out mama.
Let Go of Trying to Do It All
As much as inspirational quotes want to make me believe differently, I've learned and accepted that I can't do it all. Some things have to give.
For me, that meant letting go of constantly trying to create the "perfect" environment for my toddler, full of only "enriching, educational" activities and cooking impressive meals three times a day.
So sometimes, he has a "picnic dinner" consisting of all the random items we have in the pantry with a veggie pouch tossed in for good measure. Guess what? He absolutely loves it.
We read and play games all the time in our house, but when I need to tend to the baby and want to ensure my toddler isn't climbing across the dining room table, sometimes I let Daniel Tiger babysit.
I felt like a horrible mother for a long time, but I don't anymore. He doesn't sit in front of the TV for hours and I realize this season of our life isn't going to last forever, so for now, when I need a little help occupying my toddler, I'm OK with calling on Daniel.
Accept All Help. Then, Ask for Even More
As I've let go of trying to do it all, I've "let in" the idea of asking for help. Whether that be hired help or family and friends, I encourage all two under two households to think about what you'd like to have help-wise and then do a bit more than that. You will not regret it.
My mom moved in with us for six weeks when baby #2 was born and to say it was helpful is an understatement. She took care of all our laundry, helped with meals, held the newborn so I could shower, and loved on our toddler so, so much, allowing the transition to be 10x smoother than if she had not been here.
We were fortunate, of course, and not everyone has access to that sort of help. Every person's situation is different, but I encourage fellow mamas to accept and ask for help. Decide where you can ask friends or neighbors for a hand, or agree on things like grocery delivery or meal services. If you have the means, hire a loving babysitter or nanny for a few hours a day for your older toddler. Because that saying it takes a village? – it's never been truer.
Your Toddler Needs One-on-One Time. So Do You
I thought that special solo-mommy time would come when my boys were older, when they could understand and appreciate our time together. But I was wrong. My oldest son may only be 23 months, but he 100% knows when baby brother is napping and he can have Mama's full attention.
So, we signed up for music class specifically on Saturday mornings, when the little guy could stay home with Dad. We look for trucks on the drive there and sing and dance together at class. Sometimes, we even stop at Starbucks on the way home for coffee and cake pops.
It's one of my favorite times of the whole week and I'm pretty sure he feels the same. Going from one kid to two is a huge transition for the whole family, and it's easy to feel like your relationships with each member of the family aren't being nurtured – there's only so much time in the day. Making little plans for solo time with each of your kids and your partner goes a long way in easing the guilt of feeling like you're not enough for everyone.
Organization Will Save Your Sanity
Being organized has never been so essential. I'm not referring to major stuff, like taxes and bills. I mean, you need to be organized to even get out of the house now.
When we have to be out the door in the morning, I prep everything the night before. I pack the diaper bag, lay out clothes for both kiddos and myself, prep any snacks and water bottles and write post-it notes with reminders for those items I can't pack until the morning.
It may seem simple, but this sort of thinking-ahead mentality for getting out the door in the morning and any other major outing or errand (which is everything now) makes everything run smoother and lessens the risk of forgetting the important things, like raisins for the toddler and an in-case-of-blowout back-up outfits for baby.
Find Your Coffee and Wine
I've always loved discovering little ways to make my life more enjoyable, and with two babies in tow, this practice is now a necessity. Life right now isn't about big gestures – it truly is the little things that help make every day come and go a bit smoother and with more smiles.
For me, beverages are my bliss. Solid night sleep or not, coffee is what kick starts my day – I legitimately look forward to it every morning. And while it may fuel me all day long, a glass of red wine is what I reach for in the evening. The routine of pouring a glass of wine and sipping it slowly once the kiddos are both (hopefully) asleep is my little treat. The hubby and I cheers to making it through another rollercoaster of a day, take a deep breath, and have a chance to decompress before doing it all over again.
Every mother's "coffee and wine" is different but whatever brings a smile to your face, seek that out and do it as much as possible. It doesn't seem like a lot, but it doesn't need to be. Simple pleasures are important. At the end of a long day, a little win (or, ahem, wine) goes a long way.
When in Doubt, Dance It Out
When the toddler is having a tantrum and the infant has been fussing all day, times can feel pretty bleak.
You have a choice here – you can have a pity party or you can turn some music on and start dancing. It's an almost guarantee that my toddler's tears will dry up and he'll be jumping to his feet in no time. The baby is easily entertained by all the action and now smiling from cheek to chubby cheek. And me? I'm getting the frustration out and pumping the endorphins in.
Even if only for five minutes, it truly turns our day around. We dance, we laugh, and we embrace the chaos because it is so much better than fighting it.
This time is a phase. It's not always easy to remember that, and it doesn't make the days any less trying, but it's the truth. As time goes on, you fall a little more into routine and things seem a little easier once you start to get the hang of it.
Two under two is not an easy feat, but it does come with a double dose of that amazing kid love. You can undoubtedly handle all of the crazy that is sure to come your way – just remember to soak up all the love, too. That's the best part.
How do you cope with two under two? Sound off in the comments!