Like many things in life, crafting the perfect baby registry can be tough the first time around. It's one of those 'how do you know what you don't know?' enigmas that new parents become all too accustomed to. When it comes to knowing what we'll need for all things raising babies, postpartum care, and general life with a little one, we tend to learn as we go. But, one thing we learn early on in motherhood is that leaning on other moms can be incredibly beneficial.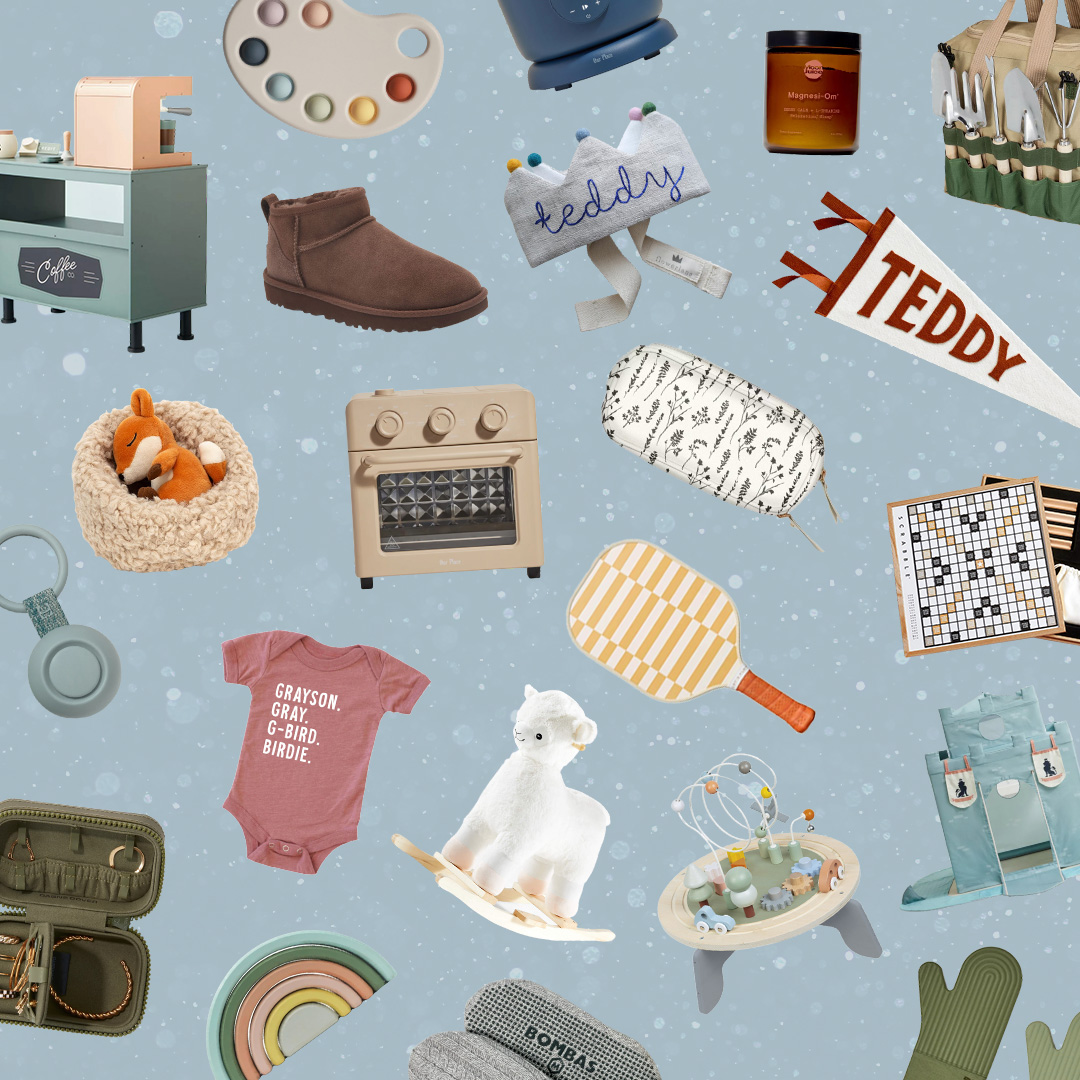 everything you need to ace holiday gifting this year 🎁
It's one of the reasons The Everymom exists in the first place—to share advice, ideas, laughs, and recommendations with other moms and parents-to-be. Our editors have learned a thing or two about parenting and tackling the postpartum journey as moms themselves. Here, we're sharing some nuggets of knowledge from our editors in the baby registry department.
Of course, there are the pillars of a baby registry. Things like diapering, feeding, and other essentials are priorities. But, there are also a few unexpected baby registry items our editors included (or wish they had!), that made becoming a new parent even a little bit easier. Here we're sharing the unexpected baby registry items our editors included on their wish list!
Creating your baby registry can be overwhelming, but we're here to help with editor- and expert-approved picks for everything you need for your new baby (and for you!) with our first ever Baby Registry Awards. Click here for our top picks for everything from bouncers to baby bottles.
Unexpected Baby Registry Items to Consider
Gear to Make Leaving the House Easier
It can initially be intimidating to leave the house with a new baby. Our editors found these products made it easier.
Summer Infant
"While I loved my big stroller, this became our go-to when my son got a little older. We took this stroller everywhere and it was so easy and light to fold up or carry up and down the subway stairs." —Roberta Correia, Editor-in-Chief
Amazon
"Driving with a new baby is nerve-racking (and I did a lot of driving—our pediatrician is 45 minutes away). With my first baby, I registered for a mirror but found myself turning around, squinting, and unsafely focusing my attention on the mirror. We eventually purchased the video monitor, I could visibly see my child so much better and felt driving was safer without having to look so hard. While we gave our car monitor away when we no longer needed it, this handy item will make it's way back on my list for my second!" —Megan Kemp, Sr. Sales Manager Brand Partnerships
Different Baby Carrier Styles
"I registered for a typical baby carrier, which my husband preferred for outdoor walks, the commute to daycare, etc., but I realized I also wanted something a little more comfy/cozy to wear my baby around the house. I ended up loving a baby wrap for at-home baby wearing." —Kathy Sisson, Editor
ErgoBaby
This soft, supportive, and easy-to-strap-on baby carrier is so helpful to parents and other caregivers.
Moby
Unlike the straps and clips on baby carriers, baby wraps cuddle baby to their caregiver with soft fabric. We love the Moby baby wrap for its ease-of-use and size inclusivity.
Multiple Docking Stations for Baby
Every parent or caregiver needs a spot to safely put baby down. And if you have a home with multiple levels, it can help to have "docking stations" in more than one location.
Baby Bjorn
This editor-and reader-favorite bouncer folds flat for easy transporation and storage with an aesthetic that doesn't scream baby gear. Purchase the add on toy bar for extra fun!
House of Noa
Puzzle playmats—like this gorgeous mat from House of Noa—"allow for easily assembled play surfaces for floor time for baby. They are very easy to pack up, transport, wipe down, and fit to all different types of spaces/areas," —Mary Noreen Cheng, pediatric physical therapist
Graco
"While playpens seem like something from 1980s parenting, they are definitely useful. It is crazy how much little ones move as soon as they can roll. I remember finding my baby had rolled under her crib after leaving her on the floor of her nursery for a second. A portable play yard keeps them safe and contained." —Kathy Sisson, Editor
Less Baby Outfits, More Baby Basics
From spit-ups to diaper blowouts, babies can go through a LOT of clothes in a day. Take it from seasoned moms that cute outfits aren't nearly as important in those early days as things like zipper pajamas, burp cloths, bibs, and loads of onesies. Here are some of our favorites.
Extra Baby Proofing
Once baby gets mobile, baby-proofing is essential. New parents can do their future-selves a favor by baby-proofing before the baby comes so it's one less thing to do during those first months.
Postpartum Products for Mom
Don't forget to put yourself on the list with these registry gear picks just for postpartum moms.