I want my children to be grateful and to give back (don't we all?). I want to teach them to value experiences over things and quality time over quantity of gifts. I want them to know how good it feels to give to others instead of receiving for themselves. But I also want my children to experience the pure childhood magic of rushing downstairs on Christmas morning to see what Santa brought and to tear into beautifully wrapped gifts.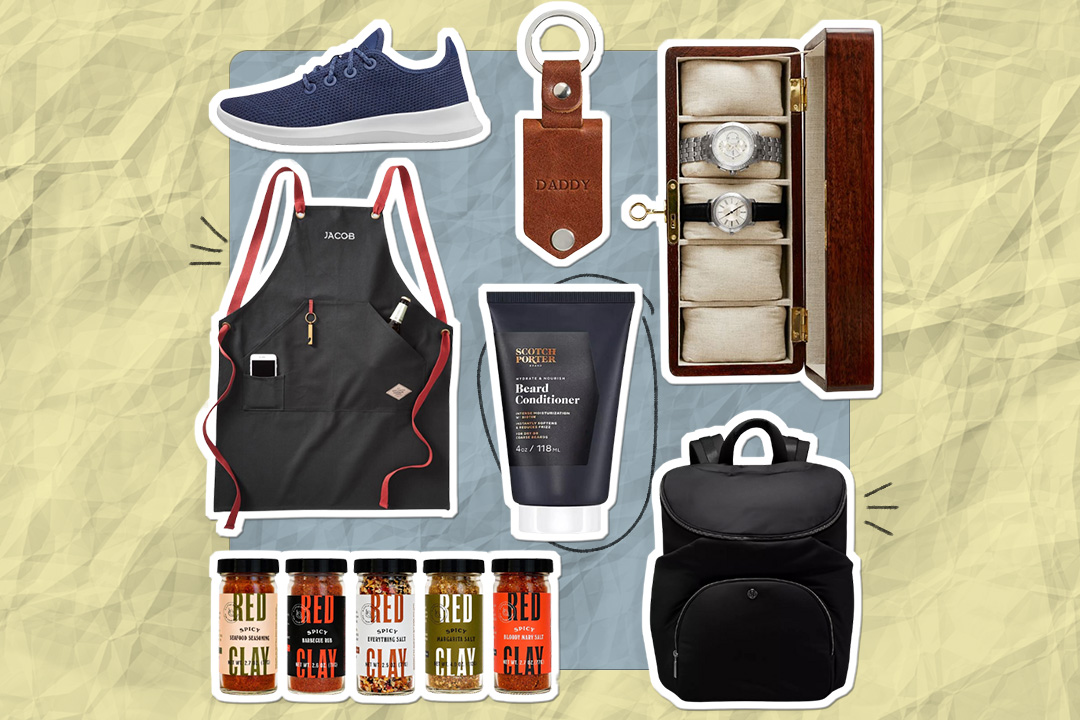 june 18 is coming up fast — have you started shopping yet? 😎
I can't be alone in trying to straddle this line with a 1-year-old and 3-year-old who are still learning that the world does not revolve around them. Here's what I've decided: there is a place for Christmas magic and a place for the magic of giving back at the same table at our home. These things are not mutually exclusive, and there are age-appropriate ways to start instilling the value of doing for others now.
If you're looking for ways to get even the littles of ones involved in giving back this holiday season, below are five ideas to get started.
1. Send Toys Back With Santa
A fun take on donating toys, I purchased a bag from Etsy to send toys that we no longer use back with Santa for other boys and girls. Getting my kids to part with some of their toys, no matter how unused, will be a difficult task but a great lesson for them.
2. Say Thanks to the People Who Go All Out With Holiday Decor
How many times have you driven by a house with holiday decor that brings more joy to your kids than you ever thought possible? Probably a lot. How many times have you let the homeowners know how much joy they've brought to your family? Probably never (if you're like me).
I love this idea from @kidskindclub to have your kids decorate cards to send to the people who go above and beyond in their holiday decor to spread happiness everywhere. Whether it's the house with the inflatable Olaf snowman or the exceptional Christmas light show, grab their address next time you drive by and send them some snail mail. I can guarantee it will bring joy right back to them. Maybe even bake some cookies and leave them with the notes on their doorstep.
3. Send Cards to a Nursing Home
The elderly in nursing homes have had quite a few tough years, and might love to know someone is thinking about them. Let your little ones write and decorate cards for those in nursing homes, include their own artwork or stickers or whatever they think will bring someone else joy.
Target | Piplio Press
Save extras in this 48-pack for notes to mail carriers, hair stylists, or anyone else on your list.
Etsy | GoldStar Graphic Studio
4. Buy Gifts for Another Family
You may be familiar with the idea of "adopting" a family during the holidays. If not, this is where you are paired with a family in need, and you purchase holiday gifts on their list. A number of local non-profit organizations have programs like this during the holidays, so your best bet to get involved is to research or call local organizations in your community and ask. You will then be matched with a family, ideally with kids of similar ages to yours, and shop for the gifts on their wish lists. Of course you don't actually meet the family, but it is a great way to get kids in the spirit of giving back to others.
5. Make Care Kits for People Without Homes
In many places, it's getting very cold. And there are still many people without homes who need basic necessities. Having care kits in your car to safely hand out to someone you see in need can make a big difference in their day. Pick up things like toothbrushes, toothpaste, gloves, hats, socks, tissues, and lip balm to stick into a freezer bag or drawstring bag to hand out as needed. Include a holiday card with a kind message.
Amazon
Includes 6 pairs of socks.
Amazon
Includes 6 pairs of gloves.
This article was previously published at an earlier date and has been updated for timeliness.