You may have seen the meme, "When you buy something from a small business, an actual person does a happy dance." The desire to support restaurants and local small businesses has felt even more urgent these the last few months. We've all probably heard about some of our favorite spots shuttering their doors temporarily—or permanently.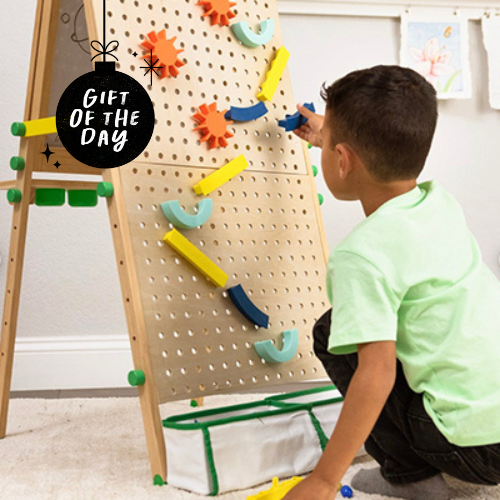 Art, fine motor skills, and fun all mixed into one great gift! Kids will learn engineering with the marble run but also get creative with the art easel mode.
For me, I've been trying to break my reliance on Amazon, finding independent booksellers for my summer reads, and taking the extra step when to learn more about who is behind a storefront, like seeking out female-owned and/or BIPOC-owned businesses, when I'm looking for something in particular.
Part of the fun I find in shopping small is the discovery of something new and unique I wouldn't see at a bigger retailer and the story behind the brand. In this roundup, we wanted to share some editor favorites from small businesses along with recent items we purchased from them. Some stores are up the street in our local communities, and some have created perfectly curated online-only shops.
Read on for our editor recommended lists of small businesses and brands for kids (and for you!), plus, items we've purchased from each.
For Moms
From Kathy, Contributing Editor
This woman-owned business in my town rapidly built a website during the spring shutdown with the help of a local photographer (also one of my favorite local artists). Now her curated home shop is available online. With stores open again, I've been stopping by to peruse the shop for unique home finds. Fun fact: the store's name is an homage to the 100-year-old building's original tenant, a bank.
The Counting House
Bought this as an "off-registry" wedding shower gift for a close friend.
The Counting House
This pillow was the perfect addition to the couch on our covered porch.
From Beth, Associate Editor and Copy Editor
This Black-owned Etsy shop is run by Aurian and Lamont in Philadelphia, and all of their products are handmade! They specialize in natural body butters made with shea butter, kokum butter, and mango butter, and they are fantastic. I have three scents: Sweet Mango, Dreamsicle, and Lavender Vanilla; but my favorite is probably the Lavender Vanilla because it's so light and natural to wear before bed, in the morning, and to apply throughout the day at work. It's the perfect mix between a body butter and body oil; it's heavily moisturizing like a body butter with the beautiful shine and glow of an oil (without feeling oily all day). I'll stop now, but trust me: buy this, and you won't be disappointed.
Elysium Naturals
For $10, this tub will last you centuries. I have used mine all over my body (seriously—all. over.) every single day since June, and I've barely gone through half of the tub.
From Leigh, Graphic Designer

Alice & Wonder has the cutest gifts, fun clothes, and unique accessories. Since I have been mostly isolating with family on the East Coast, I bought their Windy City tee and a sweatshirt to remind me of Chicago. I wear them all the time!
From Keely, Social Media Editor
The Collective specializes in home decor, gifts, and apparel and is owned by a Black woman. Something really beautiful about this company is that the owner focuses on carefully searching out products from other small businesses with a heartful purpose (proceeds give back to organizations and charities) or are locally made, so you can really feel good about spending your money there. They also do amazing customized pieces that make for great gifts. This is my go-to place when I need to buy a quick, but thoughtful gift, a new candle, or to restock my favorite local coffee.
The Collective
Their new refreshing mask spray is to use on the inside of your mask to make wearing it a little more enjoyable.
For Kids
From Lizzie, Contributing Editor
Sprout & Berry is a brand new mom-created clothing line for kids. Each of the pieces is handmade using natural fibers in patterns both you and your kids will love. As I try to move away from fast fashion and fill my kids' closets with clothing that's gentle on the earth and its people, affordable and adorable brands like Sprout & Berry really come in handy. I love that the line features timeless styles with just the right amount of flare to keep things interesting. The pieces I've bought are well-made and meant to last, and I look forward to seeing what she designs going forward. Her next drop will take place in September, so if something's sold out, check back then.
From Ojus, Senior Content Editor
This adorable Etsy shop sells timeless and vintage-inspired children's clothing. With a baby girl on the way, my husband took it upon himself to buy her a coming-home-from-the-hospital outfit. I probably would've gone with footie pajamas, but this romper is so cute and is exceptionally well made. I would 100 percent recommend this brand, much like the other nearly 400 five-star reviews for this shop.
From Ally, Director of Brand Partnerships
I have been a huge fan of Smocking Bird for unique and special items for my boys. I recently went on a Fall/Holiday pre-order shopping bender and can't wait to see my boys in these!
Smocking Bird
customizable with initials or name
Smocking Bird
customizable with initials or name
Smocking Bird
never too early for holiday pjs
From Kathy, Contributing Editor
When this women-owned boutique opened in my town, I felt it encapsulated all my saved items on Etsy and Pinterest. Dubbed as a store for "Children, Home, and Her," Pink Lemonade sells a well-curated assortment of quality baby and kids' clothes, shoes, plus jewelry, accessories, and party supplies for moms (or anyone who loves pretty things). They've now expanded into three brick-and-mortar shops in Michigan, plus an online store, and continue to be my local go-to for hostess and baby gifts.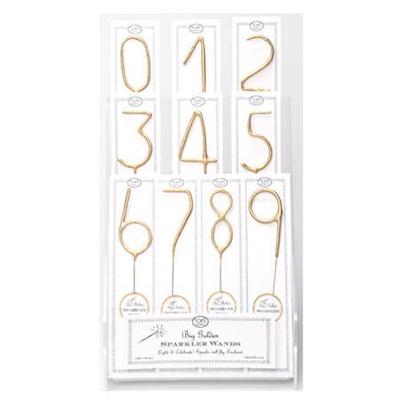 Meri Meri
I bought these to make my girls' birthday cakes and photo extra fun. And I just bought a "4" and a "0" to help my friend celebrate her 40th birthday too!
Tenderleaf Toys
Purchased this puzzle as a 1st birthday gift.
From Ally, Director of Brand Partnerships
I recently picked up the Toddler Farm kit for my 20-month-old son (note: it has small pieces, so we don't allow him to play with this unsupervised) for rainy days when we need to engage in some focused play. He loves bringing out the kit and playing with all of the little pieces and play-doh. I love how unique and customized these are to each child's interest and will be adding this to my go-to gift list.
From Lizzie, Contributing Editor
Semicolon is the only bookstore in Chicago founded by a Black woman, and I am delighted to spend my dollars here. My girls and I are frequent visitors to the library (we have to bring a wagon each time to haul our books home!), but visiting lately just doesn't sound safe or appealing to me. So, instead, we're hitting up our local bookstores and bringing home titles we know we'll enjoy for a long time. Our latest picks are definitely a reflection of my kid's dark sense of humor, and we highly recommend them!
Bethan Woollvin
This retelling of Hansel & Gretel features striking and humorous visuals and a twist ending that is sure to surprise and delight.
Chris Van Allsburg
A story exploring the mysterious territory between fantasy and reality in an uncanny tale that will intrigue readers of all ages.