Though my days of rocking statement necklaces are (sadly) long gone, I still love using classic jewelry pieces to jazz up my everyday looks. Getting ready for a casual and socially-distant park hangout with friends? A pretty, simple bracelet is my go-to to pair with a T-shirt and denim shorts. Staying in for a family movie night? I'll throw on a delicate gold necklace to make even my comfiest loungewear appear a little more cute. A special date night to safely enjoy my favorite restaurant dish? You bet I'm pairing statement earrings with my white jeans and a patterned top.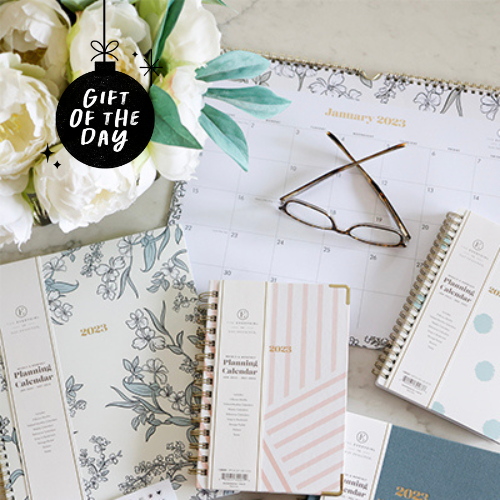 Help a mom stay organized and keep track of important doctor's appointments, playdates, and (hopefully) some scheduled 'me' time with this pretty wall calendar.
I love adding to my jewelry collection, but at this point, I'm really only interested in items that are easy to wear and seamlessly pair with my typical uniform outfits. Right now, I'm also trying to be much more mindful about who I'm buying from. If you're like me and looking to support small businesses and BIPOC-owned brands with your next jewelry purchases, look no further than this list.
Below, we've rounded up five of our favorite Black-owned jewelry brands that you're sure to love too. Happy shopping, mamas!
Established in 2012 by designer Chari Cuthbert, ByChari's site is filled with delicate and classic everyday jewelry. From simple gold necklaces and pretty chainlink bracelets to trendy ear cuffs and stackable rings, the brand specializes in "effortless, unique, and modern" pieces "designed for women who appreciate simplicity but demand luxury." The company also creates custom and personalized keepsake jewelry perfect for moms welcoming their first baby or celebrating milestones.
I first found The Tiny Tassel on Instagram and was immediately drawn to founder Mimi Striplin's colorful, preppy, and adorably fun style. The Charleston-based brand—which was launched in 2015—sells clothing, hair accessories, purses, face masks, and more, but they're most known for their jewelry, especially their tasseled, beaded, enamel, and rattan earrings.
In this small-business Etsy shop, you'll find designer Nadirah's beautifully handmade rings, bangles, and earrings. She specializes in creating timeless, hammered metal jewelry and also includes colorful gemstones in many of her pieces. A lot of her items are stackable (so you can easily add to your collection over time) and feature birthstones making them special gifts for new moms and mom friends.
Aquarian Thoughts Jewelry
Aquarian Thoughts Jewelry
Aquarian Thoughts Jewelry
Atlanta-based designer Tasha Hussey creates uniquely gorgeous semiprecious and resin jewelry in her Etsy shop, which was launched back in 2008. She also sells rare, vintage pieces at great prices if you're looking for something truly one-of-a-kind. If you're a lover of statement earrings, this shop is for you as Tasha's collection includes many multicolored resin pairs that are perfect for jazzing up any mom uniform outfit.
This company was founded in 2018 by NYC fashion stylist Neumi Anekhe after she saw a need for more brands representing People of Color. Though a few clothing items—including bodysuits, dresses, and tops—are included in their online shop, the brand largely sells gold jewelry created to help women feel "empowered and confident." Need we say more about why this collection is so great?