We all know holiday celebrations are about to take over our lives (if they haven't already). Everywhere I look, I feel bombarded with ways to celebrate Christmas. My Instagram feed is full of families dressed in matching holiday pajamas, swoon-worthy images of picture-perfect Christmas trees, and mantels sporting custom stockings. As a Jewish person, this can all make me feel a bit left out of the holiday spirit. While my family celebrated Hanukkah growing up, the festivities and Hanukkah traditions never lived up to the hype of my Christmas-celebrating friends. As I got older, we kind of skipped over Hanukkah. Though it's a wintertime celebration, it didn't seem to compare.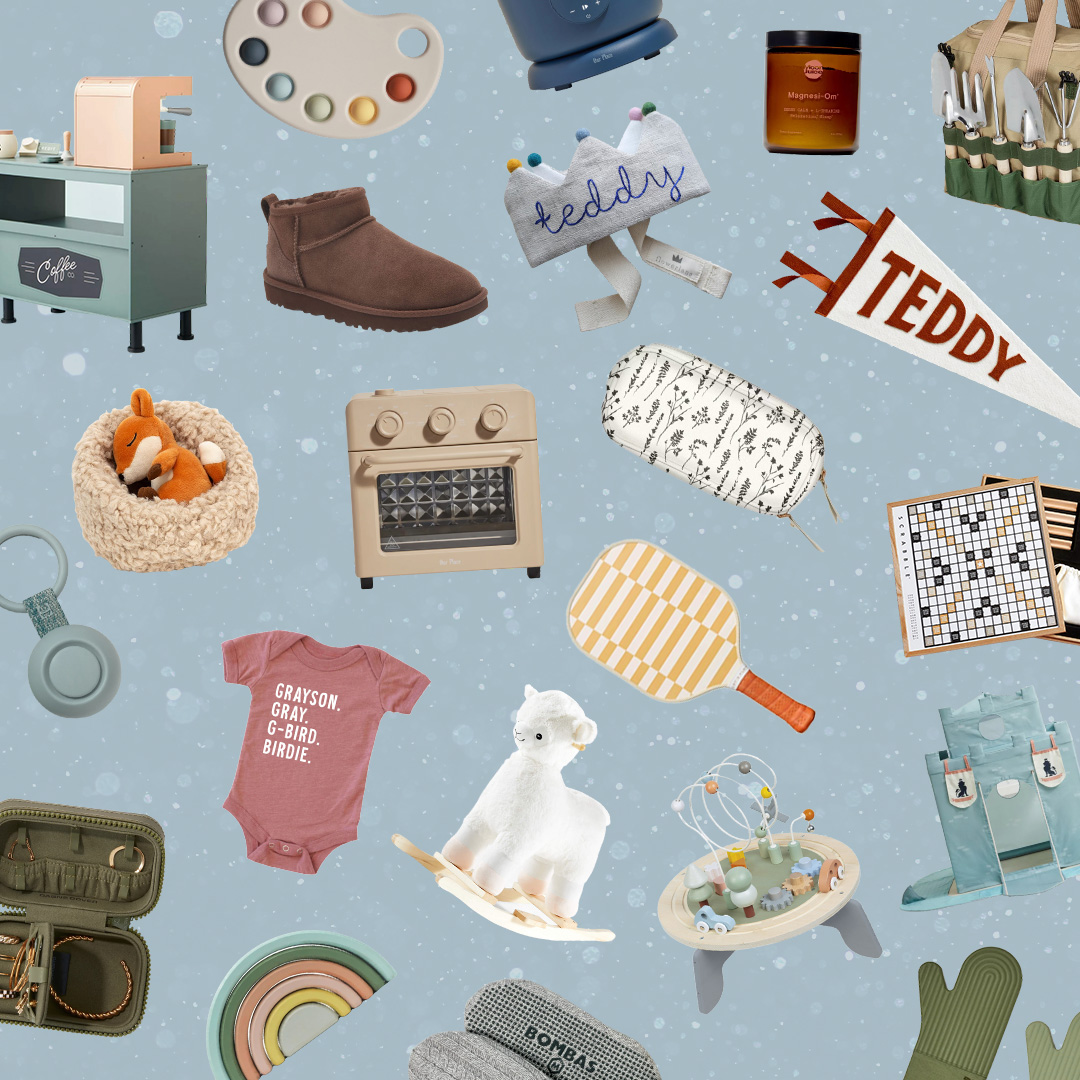 everything you need to ace holiday gifting this year 🎁
Now that my husband and I have our own kids, the magic of Hanukkah and winter celebrations are making a comeback in our home. My daughter attends preschool at a temple, so during class she learns and gets excited about Hanukkah and brings that excitement back to all of us. I want to make the holiday season special for our kids and create engaging Hanukkah traditions of our own. There are plenty of fun ways to celebrate this special holiday, and lucky us, we get eight nights to cram in all the fun.
Here are 10 ways to celebrate Hanukkah, hopefully inspiring new family traditions to look forward to year after year.
1. Latke Tasting or Latke Competition
Growing up, we always had a night of latkes (otherwise known as fried potato pancakes). They were pretty standard, made with your typical russet potato. Now I've learned you can get creative with your latkes. Spend a few minutes on Pinterest and you'll find endless latke recipes, like ones made with sweet potatoes, ones that are baked versus fried, ones that include a unique blend of spices, cheesy latkes, latkes including other veggies (like celery root, butternut squash, or zucchini), and the list goes on.
Turn these fun recipes into a new tradition, either making a variety and doing a mini latke tasting or turning it into a family competition. Each family member selects (or makes up!) his or her own recipe and submits them for a tasting competition.
2. Hanukkah Donut Decorating
The theme of fried food is strong during Hanukkah, and in addition to fried potato pancakes, donuts are another traditional holiday treat. Much like you might decorate holiday cookies, spend some time decorating Hanukkah donuts with frosting and special sprinkles. Either grab some plain donuts from a nearby shop or get extra fancy and make them yourself. Enjoy the donuts while lighting the candles and opening gifts.
Amazon
With blue and white colors and fun shapes and sizes, these sprinkles will make your Hanukkah donuts delicious and Insta-worthy.
Amazon
At less than $20, this donut maker will surely have a big return on investment year after year.
3. Candle Lighting
Lighting the menorah is a central part of celebrating Hanukkah, and it doesn't have to stop at just one. In our home we have a couple menorahs to light, plus other fun ways to mark each night of the holiday.
Pottery Barn Kids
Set up this fun toy menorah in your home and each night add a candle to "light the menorah." This is the perfect way for little kids to add flames in a fire-safe way.
KiwiCo
Another kid-safe way to light the menorah, this project kit using LED light is a Hanukkah gift, kid activity, and decor item all in one.
4. Make and Decorate Gelt
Sure, you can buy Hanukkah gelt, but you can make your own if you want to get really creative. Buy coin-shaped molds and melt chocolate to create your own chocolate coins. Include toppings like dried fruit, nuts, sprinkles, and whatever else appeals to your little ones.
5. Family Dreidel Night
Now you can use your homemade gelt for a family-friendly competition. Each participant spins the dreidel and, depending on which side faces up when it stops spinning, the player either gives or takes a piece of gelt from the pot, does nothing, or gets all the gelt from the pot. It's a quick and fun game that involves lots of chocolate—what's not to like?
6. Matching Pajamas and Movie Night
I'm happy to report that each year, I see more and more Hanukkah-themed pajamas. Grab a set for your entire family (dog included!) and cozy up together with your matching pajamas and a movie. Either go with a Hanukkah print or opt for a seasonal plaid or snowflake design. Admittedly, I wish there were more Hanukkah-themed movies to choose from, but any cozy, snowy movie will do.
Little Sleepies
These organic cotton holiday pajamas come in blue to wear for Hanukkah and all winter long. Baby, toddler, and adult sizes available!
7. Eight Nights of Mini Gifts
The most brag-worthy part of Hanukkah as a child is explaining that our holiday lasts for eight nights and includes gifts each night. Not every family goes for gifts on all eight nights, but if you can swing it, it's pretty fun. These gifts don't need to be huge. Each night can be the equivalent of a stocking stuffer type gift: little items that are fun to receive but don't break the bank. Consider gifts your kids already need (new socks, anyone?), and it's still fun for everyone!
8. Hanukkah Book of the Night
There are so many fun kids Hanukkah books to learn about the holiday. Set aside eight books (one for each night) and read them with your kids before bedtime. If you haven't yet purchased eight books about Hanukkah, this is the perfect item to give as one of your nightly gifts.
ERIC A. KIMMEL
There are so many fun books you can read with toddlers, including the adorable Hanukkah Bear that's also available as a board book.
9. Hanukkah Crafts
Toddlers love to get messy and creative with their crafts, and now's a great time to make the mess a little festive. We'll be doing a mix of DIY crafts with basic household items like toilet paper rolls and construction paper and with fancier options like this option from Target. Hanukkah traditions have never been so creative!
Target
Target to the rescue! I was impressed during a recent trip with how many Hanukkah crafts they offered, including this DIY suncatcher kit.
10. Snacking on Hanukkah Candy
Halloween wasn't very long ago, but we've now moved on to blue and white candy. Though I'm trying not to give my toddler too much of a sugar high (and an inevitable sugar crash), I do allow candy for us to enjoy, especially during this special time of year. I love the idea of a candy-version charcuterie board, and this activity combines crafting and candy. What's better than that?