One of the best parts of Hanukkah as a kid was that it lasted eight nights, meaning eight nights of gifts. As an adult, it's the most challenging part of celebrating Hanukkah: Am I really supposed to think of eight gifts?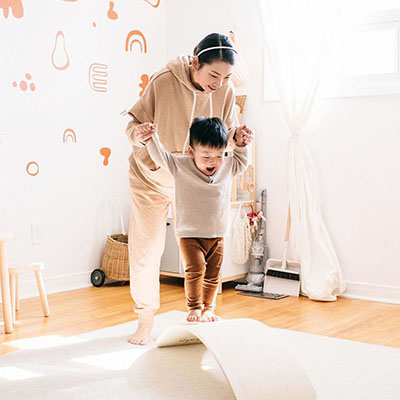 If your kid is turning 2, get ready for hilarious conversations, much more involved play, and lots of sweet, sloppy kid hugs and kisses. As for what you'll need? Leave that to us.
Thinking back to my own family's celebrations, I was always excited to tear through wrapping paper eight nights in a row, but now that I think about it, not all of those gifts were so exciting. For example, I remember getting Post-Its one night. Not exactly thrilling, but I still remember opening up some sort of present each night as a fun tradition. And now as a mom, you better believe I'm gifting hand sanitizer and unicorn toothpaste. I'm still a cool mom.
Every family celebrates in their own way. For my family, we did seven smaller gifts, and then the eighth night was the biggest. Last year, my daughter was too young to know what was going on, and she had just gotten so many toys and gifts from her baby registry that we sort of skipped over Hanukkah gifting. This year though, I'm ready to jump into eight nights of gifts.
If eight nights of gifting is part of your tradition, think about small and practical items or things you were going to get for your kids (or partner) anyway. I've noticed that pretty much every week, I place an order for something I want to get for my daughter (like new bath toys, a puzzle, cozy socks, a hat, etc.). Instead of handing them over as soon as they arrive, I'm saving these up as little Hanukkah gifts. Where possible, I'm buying in the theme of blue and white to make things extra festive. Again, not all of them will be the most memorable items for her, but it will still be fun to wrap them up and watch her explore her new items.
For Hanukkah gifting ideas, here are 36 items to consider—a mix of holiday-themed items and everyday necessities for both littles and adults, with lots of blue and white options.
Hanukkah Gifts for Babies
Hanukkah Gifts for Kids
Hanukkah Gifts for Adults