The holidays may feel different this year, but there's a surefire way to bring that warm, nostalgic feeling back into your life: movies. Every holiday for me growing up meant a new batch of holiday movies to curl up with and watch by the fire. Sure, Halloween has some witchy favorites, but nothing beats the warm-your-heart-right-up winter holiday flicks (snowy scenes are a plus). These movies are best paired with some hot cocoa and your favorite baked good, in my opinion, but who am I to tell you how to do it?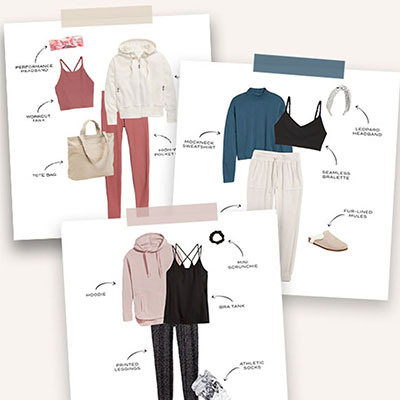 Shop 6 of Our Favorite Loungewear Outfits From Old Navy
Need to spruce up your at-home wardrobe? We've put together six cute, comfy, and budget-friendly loungewear looks from Old Navy.
This way to shop! —>
Read on for nine holiday favorites to watch as a family this year. 
1. The Muppet Christmas Carol
Rated PG; Recommended for Ages 5+; Disney +, Rent on Amazon Prime and Apple TV
This is my favorite holiday classic. The music is still incredible, the performances amazing, the lessons learned always worth holding on to. Michael Caine plays a convincing Ebenezer Scrooge from the classic tale, and the Muppets all line up to show him how love is actually the answer. It's a perfect thing to throw on when there's only "One more sleep 'til Christmas!"
2. Rugrats Chanukah Special
Not Rated; Recommended for Ages 4+; Hulu
While technically not a movie, the first time children's television aired a Chanukah special was with the Rugrats. The babies are learning about the story of Chanukah while their grandfather is battling with a rival in the local Chanukah play. A fun throwback for millennial parents, as well!
3. Dr. Seuss' The Grinch
Rated PG; Recommended for Ages 6+; Netflix
The animated 2018 retelling of the holiday classic of the Grinch who steals Christmas, only to learn to love. A fun update on the original that the parents might have grown up with, bringing the story to another generation.
4. Home Alone
Rated PG; Recommended 10+; Amazon Prime
A '90s throwback to when hijinks were served for the holidays. When Kevin McAllister gets left behind on the family vacation, he has to get crafty to survive the holidays and crazy burglars. Definitely more suited for an older audience, maybe for a night when your little ones have gone to bed early!
5. The Snowman
Not Rated; Recommended for Ages 3+; Amazon Prime
A silent film based on the book by Raymond Briggs. A little boy's snowman comes to life, bringing with it the magic of the season. Littles will love the visual storytelling!
6. Olaf's Frozen Adventure
Not Rated; Recommended for Ages 3+; Disney+
In keeping with the snowman theme, Disney's Frozen characters share their take on how holiday traditions are made from family-to-family and show how different people celebrate different things in this short film.
7. Jingle Jangle
Rated PG; Recommended for Ages 7+; Netflix
New to the rotation, this has holiday classic in the making written all over it! A musical, magic, and innovative toys—it can't miss! When a once happy toy maker's granddaughter appears on his doorstep, he finds a new purpose.
8. 8 Crazy Nights
Rated PG-13; Recommended for kids 13+; Showtime or rent on Amazon 
This is definitely for the older kids, and a little dated with its humor. But it's a beautiful redemption story for a guy who has messed up one too many times in his adult life. A great reminder that we can always learn to be a better version of ourselves.
9. The Santa Clause
Rated PG; Recommended for Ages 5+; Disney+
A holiday favorite for many! When a busy father accidentally walks in on Santa doing his job, he has to take over the gig. Again, certainly some dated dialogue, but it's a great story about how slowing down and making time for your family always wins.
What are some of your family's favorites? Share with us in the comments or on Instagram!