Now that the weather outside is truly beginning to feel frightful, it's the perfect time to cozy up by the fire (a space heater will do) with a warm blanket, your favorite hot beverage, and a holiday movie. Luckily, for decades we've been gifted endless holiday miracles in the form of films. From heartwarming tales to stories that make us laugh until we cry, there's something for everyone on Santa's list.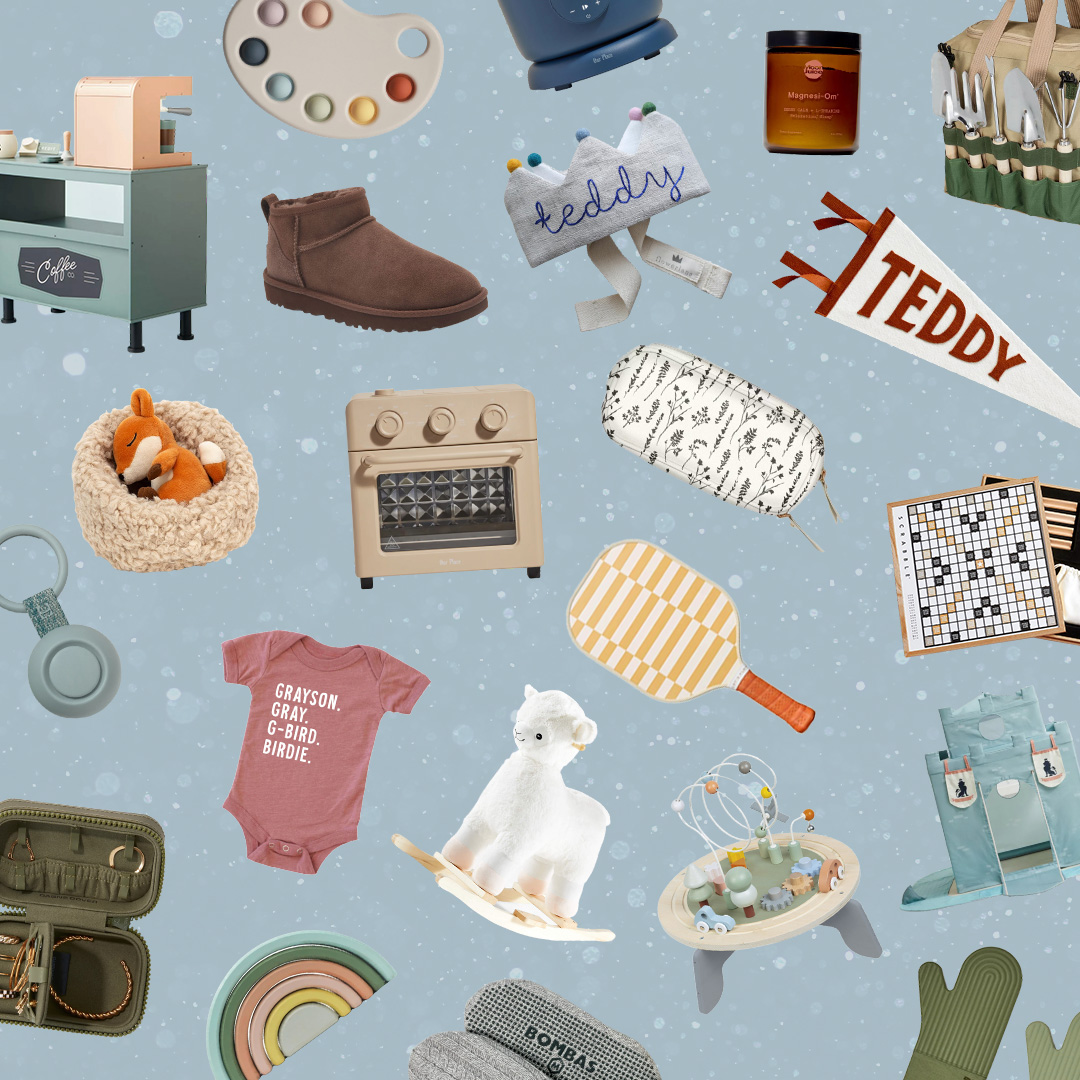 everything you need to ace holiday gifting this year 🎁
As you prepare for upcoming holiday celebrations, get in the holiday spirit by having a good old-fashioned family movie night at home. Grab everyone's favorite treats and let the decision-making begin. We know how tough it can be to decide what to watch in the moment, so we've rounded up all the best holiday movies that are currently available to stream. We've got the best of the best, from classics to new favorites and everything in between. We know you won't be able to contain your holiday cheer after watching a few of these. Read on for our favorite holiday movies to watch as a family this year.
Animated Favorites
Rudolph the Red-Nosed Reindeer (1964)
Rating: G
Where to stream: Prime Video or YouTube
Filled with the music of Burl Ives and based on the song of the same name by Johnny Marks, this classic stop-motion movie brought Santa's iconic reindeer Rudolph to life. It's a sweet story that also introduced us to Hermey the Elf (whose passion is actually dentistry), explorer Yukon Cornelius, and the Island of Misfit Toys.
A Charlie Brown Christmas (1965)
Rating: G
Where to stream: Apple TV+
Who hasn't related to Charlie Brown and his little Christmas tree at some point when feeling low around the holidays? This classic cartoon follows Charlie Brown, Linus, Snoopy, and their pals in search of the true meaning of Christmas.
How the Grinch Stole Christmas (1966)
Rating: G
Where to stream: Peacock
The first cinematic adaptation of Dr. Seuss's book, many of us probably have memories of this cartoon version with Cindy Lou Who and lovable Max the dog, not to mention the iconic song. "You're a mean one, Mr. Grinch…"
Frosty the Snowman (1969)
Rating: G
Where to stream: YouTube
Another favorite based on the classic song, this tale follows little girl Karen and her new pal Frosty—who comes to life with the help of a magic top hat—as they try to get Frosty back to the North Pole. 
Santa Claus Is Comin' to Town (1970)
Rating: Not rated
Where to stream: Prime Video
Famous fellows Fred Astaire and Mickey Rooney voice some of the characters in this stop-motion movie exploring the origin story of Santa Claus.
Mickey's Christmas Carol (1983)
Rating: G
Where to stream: Disney+
A retelling of Charles Dickens' classic tale, with Mickey as Bob Cratchit, this version is short and sweet at 26 minutes. Immediately following the movie are five other nostalgic holiday shorts like Pluto's Christmas Tree (with Chip and Dale) and Goofy going skiing.
The Muppet Christmas Carol (1992)
Rating: G
Where to stream: Disney+
While only a few characters in this pick are technically "animated," the beloved Muppets star in this family favorite filled with music you can't help but sing along to ("One More Sleep 'Til Christmas," anyone?). Kermit as Bob Cratchit, Miss Piggy as Emily Cratchit, and Animal as Animal star alongside Sir Michael Caine as Scrooge. 
The Polar Express (2004)
Rating: G
Where to stream: Hulu or Max
Based on the bestselling book, Tom Hanks stars as the train conductor of The Polar Express, which picks up children and takes them to the North Pole on Christmas Eve.
The Grinch (2018)
Rating: PG
Where to stream: Peacock or Prime Video
Because one animated adaptation of the classic Dr. Seuss tale wasn't enough, in 2018 we were gifted with a new, very funny rendition of The Grinch. Children will love the classic tale, while adults will find themselves giggling at the witty humor throughout. This one is truly enjoyable for the whole family.
Holiday Comedies
A Christmas Story (1983)
Rating: PG
Where to stream: Max
This is the perfect nostalgic movie to bring you back to the days of pleading with Santa to bring you the one special gift you wanted for Christmas. For Ralphie, it's a Red Ryder Air Rifle. His quest for securing the perfect Christmas gift is challenged by a grumpy father, a malicious bully, and the difficulties of being a 9-year-old. This one might win the prize for the most problematic Christmas movie from our childhoods—from the leg lamp to bullying to the Chinese restaurant scene—but it does show how far we've come in 40 years and is ripe for starting some good conversations with our kids.
Home Alone (1990)
Rating: PG
Where to stream: Disney+
Kevin is accidentally left home alone at Christmas and must defend his house from two bumbling burglars, Harry and Marv. This movie's magic is in its timelessness. As an adult, you can still relate to Kevin, but you may now also see yourself in Mr. and Mrs. McCallister. Disney+ has the whole Home Alone franchise including the 1992 sequel Home Alone 2: Lost in New York and 2021's new Home Sweet Home Alone, if you're up for a Home Alone movie marathon.
All I Want for Christmas (1991)
Rating: G
Where to stream: Prime Video
While this may be more of a cult favorite, in this heartwarming story, young Ethan Embry and Thora Birch star as siblings wishing for their divorced parents to get back together for Christmas.
The Santa Clause (1994)
Rating: PG
Where to stream: Disney+
When Scott Calvin (played by Tim Allen) accidentally knocks Santa off his roof, he reluctantly starts transforming into the big guy himself. Disney+ also has the sequels in this beloved series, and a new streaming series, The Santa Clauses, that debuted more recently. 
The Preacher's Wife (1996)
Rating: PG
Where to Stream: Prime Video
Denzel Washington and Whitney Houston star in this comedy-drama where an angel (Denzel) falls to earth to answer the prayer of a preacher who's lost his way.
Christmas with the Kranks (2004)
Rating: PG
Where to stream: Prime Video
This year, Luther and Nora Krank have decided to forgo the usual holiday festivities and have opted instead for a tropical cruise. Their neighborhood isn't going to let them off so easy, though, and the Kranks quickly become the (negative) talk of the town. When their daughter abruptly decides to return home for the holidays, they must alter their plans dramatically. 
Elf (2003)
Rating: PG
Where to stream: Hulu or Max
This hilarious and heartwarming Christmas comedy follows Buddy the Elf (played by Will Ferrell) who was adopted by one of Santa's elves as a baby. After discovering he's not actually an elf, he goes on a quest to find his human father in New York City. This was an instant classic from the first viewing and one you'll want to watch year after year, if you don't already. 
How the Grinch Stole Christmas (2000)
Rating: PG
Where to stream: Prime Video
It's hard to imagine anyone other than Jim Carrey embodying the Grinch so well. This version helps explain the Grinch's backstory, and it's also the movie that brought us Faith Hill's "Where Are You Christmas?"
National Lampoon's Christmas Vacation (1989)
Rating: PG-13
Where to stream: Hulu or Max
Laugh along as Clark Griswold's (played by Chevy Chase) desire to have a "big old-fashioned family Christmas" hits snags at every turn. With some suggestive scenes and language, this one is probably best for the older kids.
Festive Rom-Coms
The Holiday (2006)
Rating: PG-13
Where to stream: Hulu
Heartbroken during the holidays, a woman from Los Angeles and a woman from England swap homes for the holidays. As they learn to navigate their new and vastly different environments, each begins a budding relationship with local men. As the time to return home approaches, they realize this could jeopardize their newfound loves. 
Four Christmases (2008)
Rating: PG-13
Where to stream: Hulu and Max
Many of us know the struggle well—navigating the endless get-togethers of a split family. No longer able to take their tropical vacation, unmarried couple Brad and Kate spend their holiday attending the celebrations of their four divorced parents. 
The Family Stone (2005)
Rating: PG-13
Where to stream: Hulu or Prime Video
When a conventional businesswoman is asked to attend the Christmas celebration of her boyfriend's eccentric family, she enlists the help of her sister. Unfortunately, her saving grace may end up being her biggest problem. (Editor's Note: This film includes a storyline about someone battling cancer, so please skip watching if that's best for you and your family). 
Last Christmas (2019)
Rating: PG-13
Where to stream: Prime Video
Even though she works as an elf at a Christmas store, Kate's life is anything but festive—that is, until she meets the handsome and charming Tom and the two begin a joyous romance. 
Love Hard (2021)
Rating: TV-14
Where to stream: Netflix
When a young writer thinks she's finally met her perfect match on a dating app, she hatches a surprise—she's going to show up at his door so they can spend the holidays together. She can't get out fast enough after she learns she's been catfished, but unfortunate circumstances leave her stranded with the one who deceived her.
Cheesy Holiday Romances
A Christmas Prince (2017)
Rating: PG
Where to stream: Netflix
This royal holiday series was a huge hit when it premiered on Netflix back in 2017 and has been adding new films ever since. Amber is a curious reporter who goes undercover as a tutor to get an inside scoop on a notorious prince. However, when she finally does meet Prince Richard, she ends up entangled in royal intrigue and might even find love. Don't want the magic to end after you watch the first film? Luckily, Netflix also has the movie's binge-worthy sequels, A Christmas Prince: The Royal Wedding and A Christmas Prince: The Royal Baby.
Christmas Wedding Planner (2017)
Rating: PG
Where to stream: Netflix
Kelsey Wilson is a wedding planner who's just gotten her big break when she's hired to plan her cousin's lavish and extravagant holiday wedding. Connor McClane is a private investigator who's been hired by an anonymous source to look into the marriage and the event. Although Connor might interrupt the ceremony, he also manages to win Kelsey's heart. The sheer cheesiness of this movie is bound to win you over.
The Holiday Calendar (2018)
Rating: G
Where to stream: Netflix
When a struggling photographer inherits a magical advent calendar, she learns that it may be able to tell her future and point her in the direction of love. If you ask me, anything Kat Graham does is instantly pure gold, but you'll have to watch and decide for yourself!
The Princess Switch (2018)
Rating: PG
Where to stream: Netflix
The Princess Switch has been one of Netflix's most popular holiday movie series for years now, and it's all because of the sheer amount of Vanessa Hudgens in this rom-com-style film. When a duchess and an ordinary woman from Chicago meet and realize they're each other's doppelgängers, they subtly switch places. The best part? There are three installations of this series on Netflix, including The Princess Switch: Switched Again and most recently The Princess Switch: Romancing the Star, making for one great trio of holiday movies.
The Knight Before Christmas (2019)
Rating: TV-14
Where to stream: Netflix
Didn't get enough Vanessa Hudgens in your holiday season by watching all three Princess Switch movies? Neither did we, which is why The Knight Before Christmas is Netflix's perfect remedy. In this time-traveling adventure, a medieval English knight is transported to 2019. The hardened high school English teacher he meets is skeptical of true love, but she helps him navigate the modern world all the same.
Let It Snow (2019)
Rating: PG-13
Where to stream: Netflix
Based on the book Let it Snow: Three Holiday Romances by John Green, Lauren Myracle, and Maureen Johnson, this star-studded movie follows a group of teenagers snowed in on Christmas Eve by the biggest storm of the season. These high school seniors are in for a very eventful holiday—one that will impact their love lives and futures.
A California Christmas (2020)
Rating: PG-13
Where to stream: Netflix
California real estate is tough. In order to complete a business deal, CEO Amy Van Aston convinces her son Joseph to seduce the female owner of a family farm, to which he happily agrees. But when he gets to the farm, he's mistaken for a ranch hand—meaning he has to engage in manual labor to manipulate Callie out of her land. The film's sequel, A California Christmas: City Lights, is also available on Netflix.
A Castle for Christmas (2021)
Rating: G
Where to stream: Netflix
Ah yes, a tale as old as time: An American author attempts to escape scandal by purchasing an entire Scottish castle, and in the process, she falls for the grinchy Duke who previously owned the place. A Castle for Christmas may have an out-there premise, but the holiday spirit is infused in every second of this Brooke Shields rom-com. With a series of misadventures, an enemies-to-lovers trope, and a heartwarming conclusion, A Castle for Christmas has every element of a great sappy Christmas movie.
Single All the Way (2021)
Rating: PG
Where to stream: Netflix
Peter is having a rough start to his holiday season: Single for yet another holiday, he's facing a bombardment of questions from his nosy family members about his dating status. Desperate, Peter convinces his best friend Nick to come home with him for the holidays and pretend to be his boyfriend, but things get complicated when Peter's mom sets him up with a hot personal trainer. We'll definitely be curling up with a cup of hot cocoa to watch this cute and funny Christmas rom-com.
Christmas With You (2022)
Rating: PG
Where to stream: Netflix
A pop star seeking inspiration for a new holiday song forgoes the hustle and bustle of her regular life and grants a fan's wish by joining her in her small town for the holidays. It's here that she finds something more than just inspiration—the possibility of true love. We loved seeing Freddie Prinze Jr. on our screens again for this heartwarming Christmas tale.
Newer Holiday Movies
A Boy Called Christmas (2021)
Rating: PG
Where to stream: Netflix
This is the perfect film to help all of us believe in the magic of the holidays again. When young Nikolas sets out to find his father in a magical land, he ends up finding much more. With the help of a few extraordinary friends, he discovers his destiny. 
Jingle Jangle: A Christmas Journey (2020)
Rating: PG
Where to stream: Netflix
Plagued by decades of hardship and betrayal, a toymaker's hope is restored when he becomes united with his granddaughter. Together they craft something that has the power to alter life as they know it. 
The Christmas Chronicles (2018)
Rating: PG
Where to stream: Netflix
In an effort to live every kid's dream—seeing Santa with their own eyes—siblings Kate and Teddy craft a plan to capture the jolly man. When things don't go as planned, it's up to them to help Saint Nick save Christmas. A sequel, The Christmas Chronicles: Part Two, also debuted on Netflix in 2020 if you're up for a double feature!
8-Bit Christmas (2021)
Rating: PG
Where to stream: Max
Almost like a reimagined version of A Christmas Story, 8-Bit Christmas is full of 1980s nostalgia. In this story, 10-year-old Jake from Chicago is dreaming about getting the original Nintendo gaming system for Christmas.
Falling for Christmas (2022)
Rating: PG
Where to stream: Netflix
We could not be more excited about Lindsay Lohan's return to the big (TV) screen with her wholesome holiday film, Falling for Christmas. A young heiress to her father's successful hotel business sustains an injury while skiing just after getting engaged. Her fall wipes her memory so she no longer knows who she is. A charming inn owner and his daughter take it upon themselves to take care of the mystery woman. 
A Christmas Story Christmas (2022)
Rating: PG
Where to stream: Max
Getting a long-awaited follow-up to A Christmas Story is even better than a Red Ryder Carbine Action 200-Shot Range Model Air Rifle with a compass in the stock. This time, Ralphie is in the parental role and aims to give his kids a magical Christmas experience like he had as a child. 
The Noel Diary (2022)
Rating: PG
Where to stream: Netflix
After the passing of his estranged mother, author Jake Turner must return home to settle her estate. In doing so, he uncovers information about his past and the past of a young woman named Rachel. Together they must determine what the past means for their future. 
Spirited (2022)
Rating: PG-13
Where to stream: Apple TV+
If you've been waiting since Elf to see Will Ferrell in another Christmas movie, then add Spirited to your watchlist immediately. Ferrell plays the Ghost of Christmas Present who sets out to redeem Clint Briggs, played by Ryan Reynolds, in this musical retelling of Charles Dickens' classic story.
The Naughty Nine (2023)
Rating: G
Where to stream: Disney+
Andy is a typical mischievous fifth grader who finds himself without presents on Christmas morning. Thinking he must have made it on the naughty list, he bands together a group of other "naughty listers." Together they plan the ultimate heist: get to the North Pole and find the presents they deserve, learning some valuable lessons along the way.
Dashing Through the Snow (2023)
Rating: PG
Where to stream: Disney+
Just in time for the holidays is a new Christmas film from Disney+ starring Ludacris as a social worker and estranged father who has all but lost his Christmas spirit. Spending Christmas Eve with his daughter, the two are tasked with helping Santa save Christmas.
Best. Christmas. Ever! (2023)
Rating: PG
Where to stream: Netflix
We've all been in Charlotte's shoes: playing the comparison game with our seemingly-perfect friend. But, when she goes to uncover the "truth" behind the too-good-to-be-true exterior of her friend Jackie's life, she learns a lot more about what Christmas, friendship, and life is all about.
Holiday Classics
It's a Wonderful Life (1946)
Rating: PG
Where to stream: Prime Video
Frank Capra's Golden Globe-winning film It's a Wonderful Life gives main character George Bailey a glimpse into what life would be like if he'd never been born. As a kid, this one felt long, but it's filled with lessons older kids might start to grasp. Now, it's become a "wonderful" tradition to watch every year.
Holiday Inn (1942)
Rating: Not Rated
Where to stream: Prime Video
Starring the King of Christmas, Mr. Bing Crosby, Holiday Inn is a musical portrayal of a classic love triangle. At a picturesque inn during the holidays, a singer and a professional dancer battle for the affection of young performer. 
Meet Me in St. Louis (1944)
Rating: Not Rated
Where to stream: Prime Video
Judy Garland stars in this classic musical following the story of four sisters who learn to navigate life and love in the lead-up to the 1904 St. Louis World's Fair. 
Miracle on 34th St (1947)
Rating: Not Rated
Where to stream: Disney+
When Kris Kringle fills in for an intoxicated Santa Claus in the annual Macy's Thanksgiving Day parade, he quickly wins the hearts and admiration of spectators. After making several other appearances in the role, he begins to fall into character a bit too literally by claiming to be the real Santa Claus, and his mental health and authenticity are called into question. The 1994 remake is also a treat and also available to stream on Hulu.
Christmas in Connecticut (1945)
Rating: Not Rated
Where to stream: Max
Because you can never have too many black-and-white Christmas films, consider choosing Christmas in Connecticut for your next movie night. Determined not to be caught in her lie, a food writer must pretend to be the perfect housewife when her boss and a distinguished war hero invite themselves to her home for Christmas. 
White Christmas (1954)
Rating: Not Rated
Where to stream: Netflix
Bing Crosby does it again in a personal favorite Christmas film. Two friends, Bob and Phil, who have found success as a performance duo following World War II, team up with a sister act to save a beloved Vermont inn.