A week before I had my first baby I attended a neighborhood brunch for new moms and moms-to-be. I was new to the city, and though sitting around with strangers over lukewarm scrambled eggs was far from my idea of a good time, I desperately wanted to make some mom friends.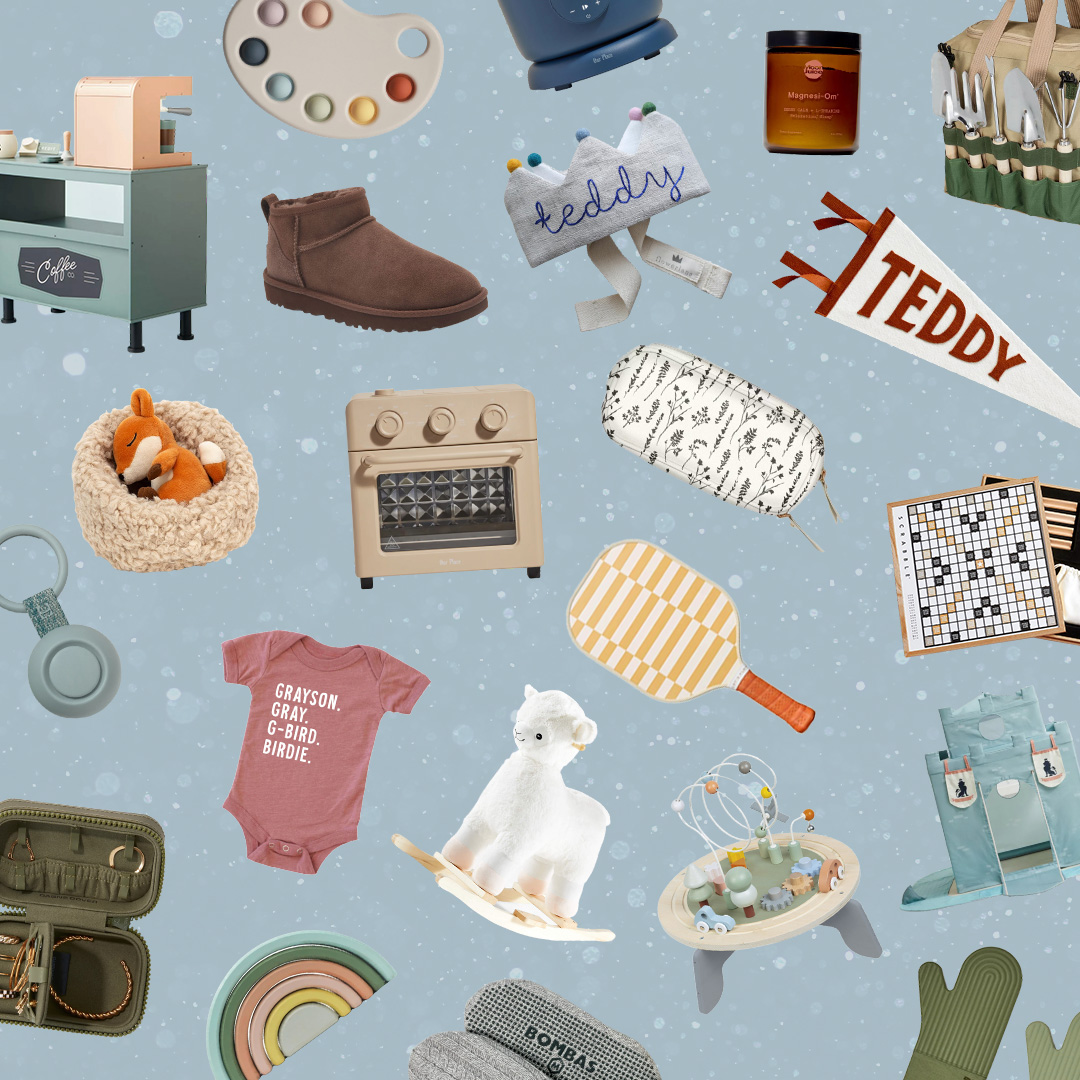 everything you need to ace holiday gifting this year 🎁
Everyone had assured me that mom friends would be crucial to surviving the next chapter of my life–and they were right. But what I didn't realize when I set out to forge new relationships is that not all mom friendships are created equal.
But what I didn't realize when I set out to forge new relationships is that not all mom friendships are created equal.
I assumed I'd make a new friend at the playground or Gymboree, and that she'd quickly become the Romy to my Michele, the Oprah to my Gayle, the Cristina Yang to my Meredith Grey. In short, I was looking for "The One."
Instead, I've ended up with a patchwork quilt of friendships. Some of them have been constants, some have ebbed and flowed, and others have only lasted a season. All of them, though, have played important roles in my life at exactly the times I needed them to.
The Neighborhood Friend
Sometimes, proximity is everything. This friend is always around for an impromptu playdate or a glass of wine on the front porch. She's seen you at the bus stop in the morning still wearing your bathrobe, and she knows all the good gossip about the neighborhood. And while she may have started as a friendship of convenience, she may quickly become part of your inner circle.
The Experienced Friend
This friend has older kids and has seen it all. She's the one who'll assure you over text at 11 p.m. that no, that weird rash doesn't merit a trip to urgent care and who'll remind you that whatever you're going through, this too shall pass. She's easy to make plans with because her kids are older and able to entertain themselves or even stay home alone. She's your shining beacon of hope, reminding you that one day, you too will sleep without a baby monitor and take family vacations that don't involve cartoon princesses.
The Sidelines Friend
You may not see her regularly outside of soccer or swim season, but you love hanging out with her in the bleachers when you do. She cheers just as loud for your kids as she does for hers, and chatting and laughing with her makes the time fly by. Plus, she always brings the best snacks.
The "In Case of Emergency" Friend
This is the friend who'll pick your kids up from school for you at a moment's notice when you're stuck at work. She's the one who says, "Why don't I take the kids to the playground for the afternoon?" when you have the flu or are in the middle of packing for a move—and she means it. She's always there when you need her and you're not sure what you'd do without her.
The School Mom Friend
She's your main hang at school events or for coffee after morning drop-off. She's got all the intel (and strong opinions) on the teachers, and she's up-to-date on all the behind-the-scenes school politics. She's probably involved with the PTA and can tell you which committees you do or don't want to volunteer for.
The Planner Friend
She's always researching the best kid activities and never steers you wrong. When you text to see if she wants to hang out with the kids on Saturday, she sends back a carefully curated list of weather-appropriate excursions. She also throws the best parties (champagne fountain and pony rides, anyone?) and can lend anyone an event tent and seating for 20 at a moment's notice.
The Connector Friend
She knows everyone and generously shares her network. Need a new dentist? She's got a recommendation. A new job? She can help with that, too. Even if you've been out of touch for a while, she's always happy to introduce you to just the right person for whatever you need.
The Heart Friend
Maybe she started as one of the other kinds of mom friends, but now she's your ride-or-die. She's been there for good, the bad, and the ugly, and she never judges any of it. You struck gold when you met her. Kids aside, you know the two of you are in it for the long haul.
---
Some mom friends may play more than one of these roles, of course, and some will change roles over time. Others will drift away as your kids get older, and some you'll become even closer to as each year passes. 
Especially as we age, we face the reality that there are friends for different reasons and seasons. This doesn't make the roles they play any less important. If anything, it makes us lucky to have the right people in our lives at exactly the right times.