Trigger Warning: In this article, the author discusses weight and disordered eating.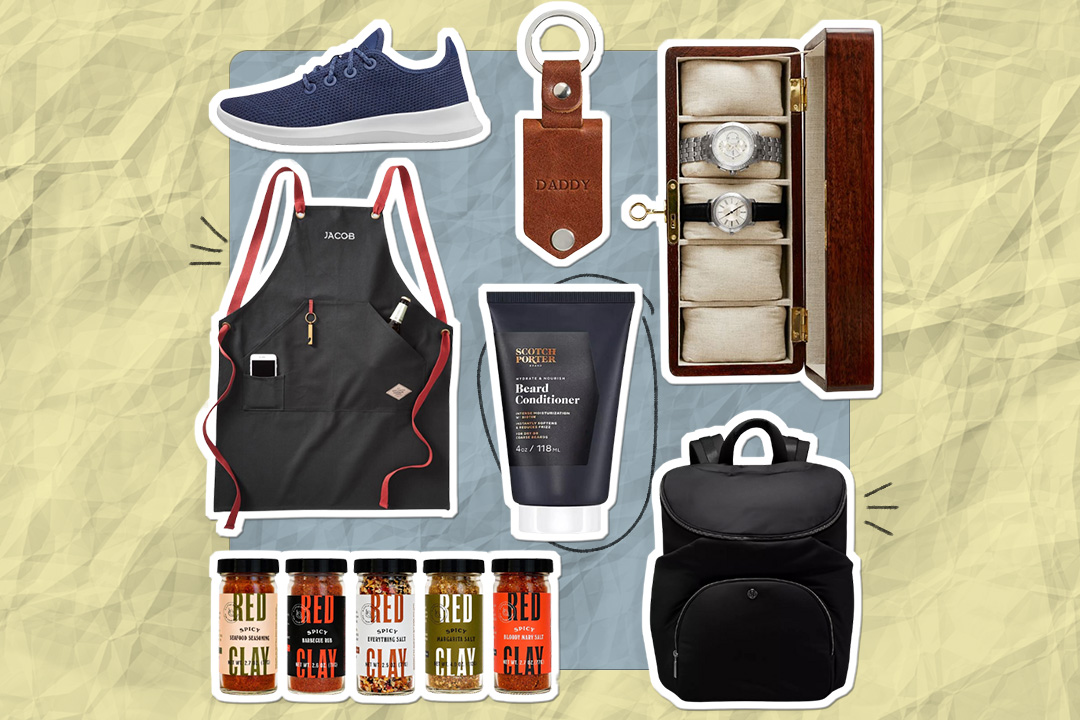 june 18 is coming up fast — have you started shopping yet? 😎
When I found myself pregnant for the first time, I immediately jumped into the to-dos that Instagram told me were essential to the pregnancy journey: I ordered a pregnancy journal, started planning a nursery, and read every first-time-mom book and article that I could get my hands on. Though incredibly nauseous and exhausted, newly-pregnant me was also excited about the prospect of having professional maternity photos taken. I immediately reached out to the husband and wife duo who had taken my wedding photographs and booked the engagement.
As the months began to pass, nausea and vomiting were replaced by new symptoms. GERD and breathlessness soon became companions to my much more obvious pregnancy symptom: my steadily growing abdomen and general overall weight gain. Having spent much of my teenage and adult years trying to wrangle a healthy relationship with food and body image, I was less than excited to see my weight gain growing steadily above the recommended amount.
Fighting Old Body Image Issues
As more of my clothes were pushed to the back of my closet to be worn again "someday" and my figure continued to change, my self-confidence plummeted at an equal ratio. I had expected my stomach to grow (of course!), but I had been completely unprepared to see other areas of my body growing as well. I had entered the pregnancy both physically and mentally healthy, and I thought I had vanquished the demons that had once led to disordered eating. I was wrong.
I thought I had vanquished the demons that had once led to disordered eating. I was wrong.
As I entered the third trimester (and my maternity photo shoot date crept up), my weight gain only accelerated. I became incredibly swollen (goodbye shoe collection, see you again in a few months), and I no longer recognized the face looking back at me in the mirror. The last thing I wanted to do was have my photo taken.
I expressed my woes to my husband, crying on almost a daily basis about the way that I looked and the way that I felt. He was incredibly supportive but also explained that he didn't see what I was seeing. He frequently told me I was beautiful. But still, I wanted to hide under a rock.
On the day of our photo shoot, I remember doing my makeup and thinking darkly that the practice supplied me with a new understanding of the expression "putting lipstick on a pig." This was not a personal attack on my weight, necessarily, but rather on not recognizing the person I had become. I felt like a sham—how could I smile and look happy when on the inside I was miserable? Either way, I was incredibly unkind to myself. I didn't want to go through with the shoot, but I forced myself out the door because I knew, one day, I would want the images. And, more than that, I would want them for my son.
Choosing to Still Have the Maternity Photos Taken
My attitude immediately changed the minute we arrived at our chosen location. In addition to being incredibly talented, our photographers are wonderful, kind-hearted people, and simply spending time with them was a joy. They made my husband and I laugh and feel comfortable, and they made the entire experience a pleasant one for our pre-kids memories.
Several weeks later, the digital gallery arrived in my inbox. I was so nervous to open the link. What if I hated the way I looked in all of the photos? But my worries were for naught. I was blown away.
Tapping through the images at eight months pregnant, I finally began to see what other people—like my husband—had been telling me. I was luminous, full of life, and beautiful. The love between my husband and I was palpable and so was the excitement we had for our soon-arriving bundle of joy. To this day, they are some of my favorite images of myself and my husband.
Looking Back Now
Since having these photos taken, I often find myself feeling grateful that I didn't pull the plug on the photoshoot when the insecurities began to take hold. As I had anticipated, I now cherish those photos and the time I spent pregnant with my son. While my pregnancy was often challenging, the photos remind me of the good moments and also remind me that for a fleeting time, our lives were as entwined as any two people can be.
Having maternity photos to look back on has also given me a reminder as to how strong I am—as a woman and as a mother. Now further removed from the challenging period in my life, I can appreciate just how amazing the human body is and the things that it is capable of doing. I appreciate my body so much more now that I am a mother, and my photos make me smile, reminding me that I am a bona fide superhero for growing, birthing, and raising another human being.
I appreciate my body so much more now that I am a mother, and my photos make me smile, reminding me that I am a bona fide superhero for growing, birthing, and raising another human being.
Currently five months pregnant with my second child, I can feel the insecurities creeping in. But in spite of the negative thoughts I find myself beating away, I'm excited to have maternity photos taken again, knowing that the practice is a fun and unique way to celebrate the beauty that is pregnancy and the special bond that grows between families.
While having maternity photos done is a luxury, it's definitely a practice I would recommend to any family expecting a new addition. Like many of life's phases, pregnancy is fleeting—capturing that moment is an opportunity worth taking advantage of. I know as my children grow, I'm excited to look at the photos with them together. We'll share stories of how excited we were to meet them and remind ourselves how much we've all grown.