As your little one approaches 4 years old, birthdays start to become even more exciting. As parents, we're past the phase of throwing a birthday party for mostly other grown-ups and cute photo ops. By age 4, kids start to have their likes and dislikes, like favorite shows and movies, and may even have some close friends they love to play with. A fourth birthday is generally the first one kiddos have a real say in how they celebrate.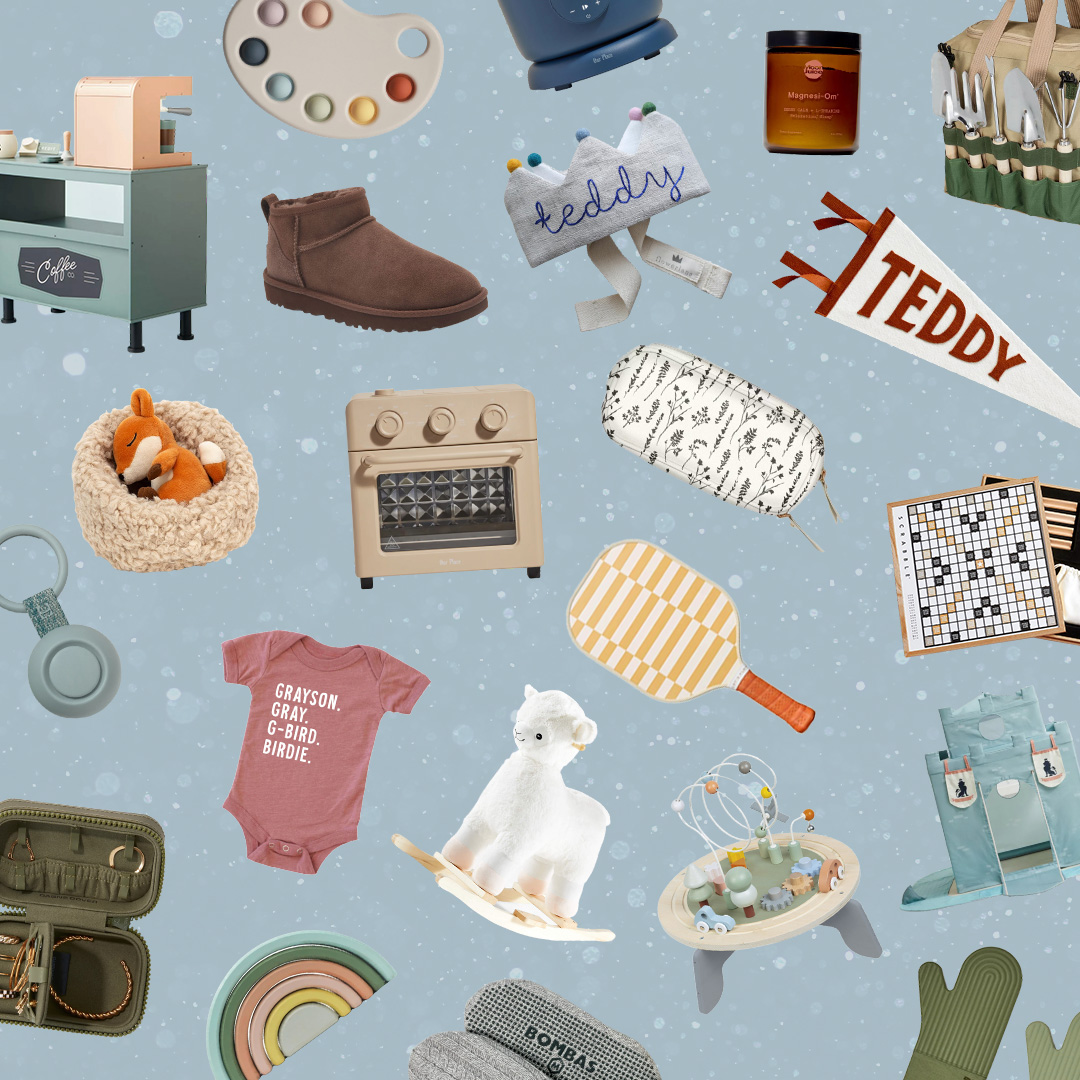 everything you need to ace holiday gifting this year 🎁
All that excitement aside, a fourth birthday party can also come with more preparation. Like any good party, having a theme can aid in planning. Even a loose theme will help determine decorations, foods, and fun activities for birthdays. Some kids may know without a doubt what theme they want for their fourth birthday (Bluey-obsessed kiddo? We've got you covered) while others may benefit from a little inspiration.
That's where we come in. We've rounded up 21 of our favorite 4-year-old birthday party ideas to get the creative juices flowing. We've broken them up into ideas for boys and girls, but of course, each theme can be used for any child, depending on their interests. Scroll on for the most epic 4-year-old birthday party themes they'll never fourget.
4-Year-Old Birthday Party Ideas
Birthday Party Ideas for a 4-Year-Old Boy
1. Roar Four Dinosaur Party
This may be one of the most popular 4-year-old birthday party ideas for boys. So many party stores will easily accommodate this theme with dino balloons and decorations. Plus, cake decorators probably have this theme for birthday cakes down to a prehistoric science. Take the party a step further and encourage your kiddo and their friends to dress in dinosaur costumes. If you really want to step out of the box, they could even dress up as characters from Jurassic Park, or have a few adult attendees dress in theme to be surprise guests.
2. Four-Ever Wild
Help your kiddo celebrate their love for animals with this ultra-fun theme whether you go jungle-, safari-, or zoo-themed with decor. We love the idea of having party hats to mimic real ones worn for exploring the jungle or going on a safari to really get the kids into the theme. Make this one really special by including face painting, where each kiddo can pick their favorite wild animal.
3. 'Paw Patrol' Paw-ty
With the popularity of Paw Patrol, we know all of your child's friends will be just as excited about this themed party. Plus, there's no shortage of decorations and party favors for this birthday bash. Consider serving hot dogs to fit the theme.
4. 'Fantastic Four' Superheroes
Because they're turning fantastic four, help them celebrate with their favorite superheroes. Whether that be the Marvel gang, DC Comics, Ninja Turtles, or others, they'll be sure to have a super special birthday celebration. This is a great theme to have guests play dress up or give superhero capes away as party favors. And if you want to go all out, have some adults dress up as their favorite superheroes for a surprise appearance.
5. All Aboard the Party Train
Whether your kiddo is a fan of Thomas & Friends or simply loves all things railroads, a train theme is always a fun idea. We picture invites being sent out in the form of 'tickets,' a conductor's hat for the birthday kid, and fun themed decorations. Have a 'fueling station' for treats, and set up toy train car tracks throughout the space for attendees to play with.
6. Super Mario Bros.
The Super Mario Bros. Movie was recently released and with that, we anticipate lots of kiddos will be in the mood for this theme. Budget permitting, make this one totally epic by hosting it at an arcade where the kiddos can play games. Or have some games planned at home and the movie ready to stream in the background. Decorations will be filled with tons of bright colors, meaning plenty of photo ops!
7. A Pirate's Life Four Me
Costumes encouraged for this one! This may be one of the most fun 4-year-old birthday party ideas on our list. Whether you go for a Pirates of the Caribbean route, or a classic "He's Turning Fourrrr," pirate theme, this one is just too fun. Be sure to set up a scavenger hunt—or should we say, treasure hunt—to entertain party guests.
8. Having a Ball Sports-Theme
Have a kiddo who's always ready to get active? This may be the perfect theme. Decorations, table settings, and party favors will be a breeze to find at your local party supply store. Plus, the themed activities will be simple. Consider setting up sports stations for basketball, football, and more.
9. 'Star Wars' May the Fourth Be With You
Kids have probably been yearning for Star Wars birthday parties since the movies debuted in the 1970s. And with The Mandalorian as a family favorite show on Disney+, a Star Wars birthday party is sure to please a galaxy full of 4-year-olds, especially if Baby Yoda makes a cameo.
10. I Scream Four Ice Cream
Of course, all kids would likely love an ice cream-themed party. This birthday party idea lends itself to a make-your-own sundae bar and plenty of sprinkle-themed decor. Be sure to have a dairy-free option to accommodate guests with any allergies.
Birthday Party Ideas for a 4-Year-Old Girl
11. 'Bluey' Birthday
The Aussie pup Bluey, from the show by the same name, and her family have officially entered icon status for kids and parents alike. Since Google searches for "Bluey birthday" shot up in 2023, you're sure to find plenty of party decor and snack ideas—oh biscuits anyone? Plus, guests can play party games like Pin the Tail on Bluey or any number of creative games from the popular show.
12. Barbie Party
As if the theme wasn't popular enough already, we're sure the release of the new Barbie movie will take this one to new heights. We couldn't be more excited to see all of the pink decorations and outfits. Plus, we imagine goody bags filled with tons of fun stuff like sunglasses, sparkly stickers, and, if you want to go really big, a Barbie doll. We know Barbie photo boxes will be available everywhere after the movie premiere, so be sure to grab (or make!) one for photo ops.
13. Under the Sea
If your little one hasn't been able to stop talking (or singing!) about the new Little Mermaid movie, this theme is a must. It feels only right to add water to this party whether with inflatable pools, splash pads, or sprinklers. The kids can get dressed up in mermaid costumes or swimsuits, splash in the pool, and pretend to be mermaids themselves.
14. Princess Party
We can't think of anything more fitting for a little princess than a princess-themed birthday party. This classic theme is always a great option for any little one who can't get enough Disney in her life. As an added bonus, party supplies are truly endless with this theme. Consider hiring a professional princess—or have someone you know dress up as your kiddo's favorite characters—for a memory they'll never forget.
15. For the First Time in Four-ever 'Frozen' Birthday
Since we're on the topic of princesses, Frozen parties are still all the rage for little Elsa, Anna, and Olaf fans. Any party store will have plenty of Frozen-themed decorations and paper snowflakes are an easy DIY decor option. Not to mention, with two epic Frozen movie soundtracks, you'll already have a built-in party playlist.
16. Tea Party
Let's 'Par-Tea'! As the sweetest theme on our list, this option has so much potential. Go the classic route with inspiration from a traditional high tea, or tap into Alice in Wonderland for endless possibilities. Encourage party guests to dress "fancy" and serve finger sandwiches and tiny desserts. Don't worry if tea isn't actually on the menu, little ones will love sipping apple juice out of teacups.
17. Enchanted Four-est
This magical, woodsy theme is perfect for little ones who love fantasy stories. This one will be all about the whimsical details, but they don't have to cost a fortune. Fill mason jars with string lights to mimic fireflies, hang and line tables with faux greenery, and provide fairy wings as party favors.
18. Hocus Pocus
Just like the second Hocus Pocus film that came out last year, this spooky theme will be just as fun for parents as it will for kiddos. There are tons of decorations on the market, and bakeries have mastered the spells to create perfect cupcakes and treats to fit the theme. While perfect for little ones born in October, a kid in their wizard or witch era could have this birthday party theme any time of year.
19. Flower Power '70s Party
Give 'flower power' a new meaning with this adorable theme! Host a groovy party with decorations filled with flowers, smiley faces, tons of bright colors, and peace signs. Play party games like musical chairs with fun disco music!
20. Unicorns
With so many kiddos mystified by the magical creatures, putting together a unicorn-themed party starts with adding rainbow and sparkly decorations. We love the idea of grabbing some unicorn horn hats or headbands for the kiddos to wear and grabbing a giant blow-up unicorn for photo ops.
21. Bonjour Four
Lean into the Parisian theme with French carousels and Eiffel Tower vibes—or try a party theme based on your little one's favorite feisty book character, Madeline. For food, frites and French pastries are sure to be a hit with the 4 and under crowd.