A glance at Alaina's personal blog, Instagram stories, or even The Everygirl itself will tell you that she loves interior design – to make a space beautiful and inviting is one of her greatest passions, and greatest gifts, if we do say so ourselves. So you can just imagine the amount of sheer love and joy that went into designing the perfect first home for her newest little love, her almost-four-month-old son, Henry.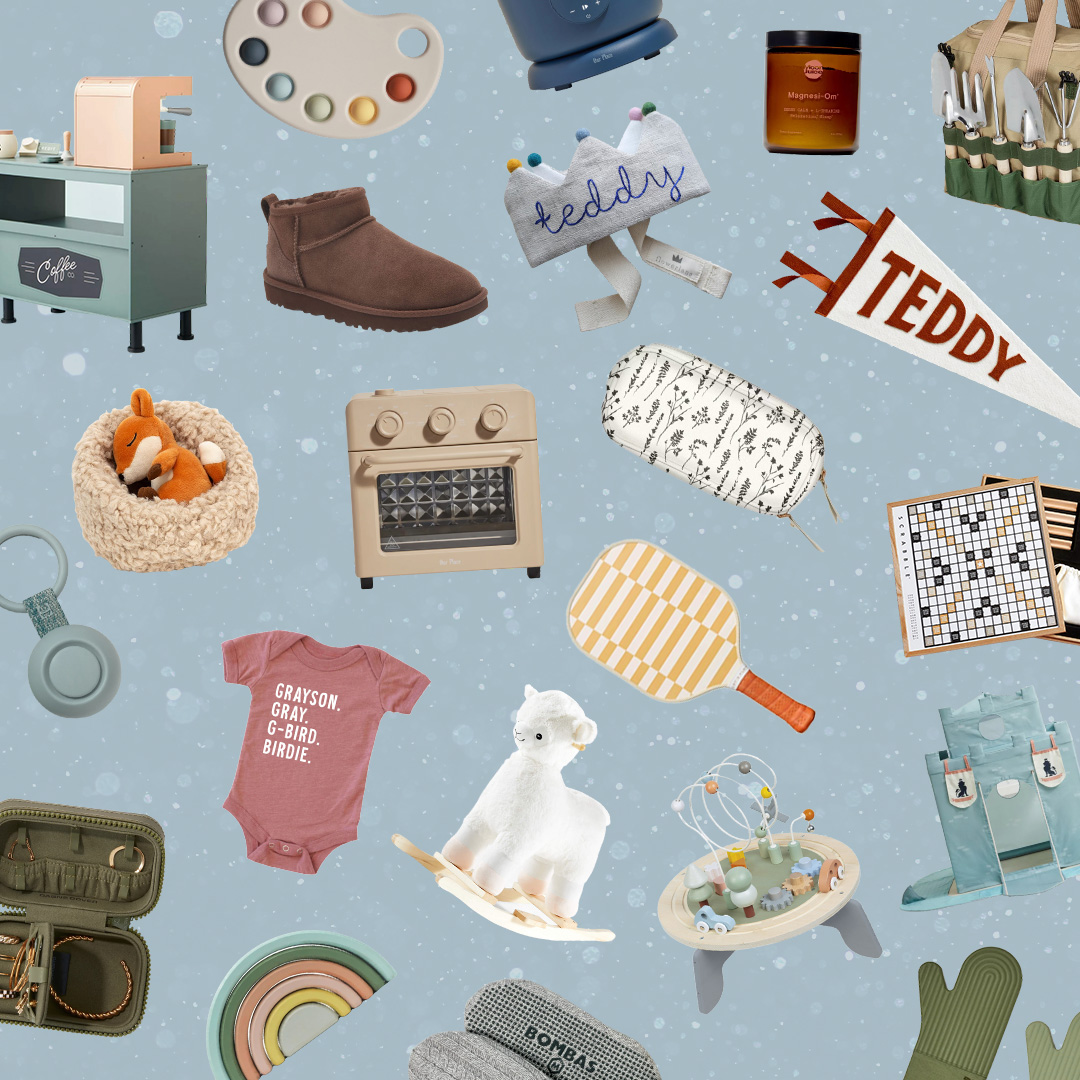 everything you need to ace holiday gifting this year 🎁
From the transitional furniture that will grow with him to the smallest details (we can't get over how much we love that sailboat mobile), Alaina made this nursery the little boy haven of our dreams. Read on for how balanced the whimsical with the masculine, her best tips for sprucing up a rental space, and how she's balancing her love for her growing family and her growing business at The Everygirl Media Group.
Name: Alaina Kaczmarski
Age: 32
Current Title/Company: Cofounder and Co-owner of The Everygirl Media Group
Rent or Own: Rent
City/State: Chicago, IL
Children: Henry, 3.5 months old
How has your decor style evolved as you've transitioned from living on your own to living with your husband to adding a baby to your family?
My decor style has always been a fresh take on traditional design – but I went a bit more traditional than I usually would, given the architecture of our current home, which was built in the late 1800s. I wanted Henry's nursery to be an extension of the rest of the home, so I attempted a baby version of traditional that was calming, young-looking, and a bit masculine. I incorporated pieces like the brass pharmacy floor lamp, a French style mirror, and a campaign dresser, but mixed them with modern items like the sleek crib, simple stripe rug, and sculptural table lamp. As Dan says, he's rather "apathetic" when it comes to interior design, which means he basically lets me make all the design decisions. Huzzah!
THE BEFORE
THE AFTER

You've made a lot of changes to your home, which you rent, and many people don't often do that. What's your thought process behind making upgrades to a rental space?
I have! I've only ever rented, and it's important to me my home feels like home, so yes – I'm always willing to put in the extra effort to make it happen, and I don't regret it one bit.
I weigh a few factors before tackling any major changes to a rental: How much does the thing that I want to change really bother me / can I live with it? How much will it cost to change, and how much of my time will it take?
Painting is easy peasy for me and makes such a huge difference, I'll always do it. I have a handyman who will change out light fixtures for a song, so I do that also, knowing I'll take the light fixtures with me when I move.
A big investment of time and money was changing out the stair runner, and really, our landlord should have done it since the original was really unlivable — so dirty after years of wear.
What advice do you have for those who want to decorate a rental without making permanent changes?
I see so many renters shy away from putting nails in the wall and hanging things. My advice is to get to Target, pick up a $10 hammer and nail set, and get stuff on your walls! It instantly personalizes it — and add curtains! You'll almost forget those aluminum blinds are there. Just make sure you're hanging things at the right height!
What was your biggest inspiration when designing Henry's nursery? How did you turn your vision into reality?
My biggest inspiration was to use neutral, classic designs that could work for future children regardless of gender. So I started with the dresser, crib, and glider. None of those items are trendy or boy-specific, so I don't see myself tiring of them and hopefully getting a lot of use out of them! I also knew I wanted to include some more masculine pieces and bring in soft colors with the accents, toys, and accessories. The sailboat art above the crib, the sailboat kite we have hanging, and the throw pillow and crib sheets give the space more of a masculine feel.

What was the biggest obstacle in Henry's nursery design?
Finding shelves! It's a small room so I really didn't know what was going to fit or where the shelves could even go, but I knew I wanted the additional storage. I love the etagere I ended up getting from Wayfair! It's perfect for books, toys, and housing Henry's cute fox night light.
What are your best tips for creating a functional and stylish nursery in a small space?
My best piece of advice is to use lighter colors on the walls and with the decor – too many bright or dark colors will make it feel cramped. Look for furniture items that are smaller- scale. We used a Moroccan pouf as a footrest instead of an actual ottoman or glider footrest since it's small and can easily be moved to open up floor space for the baby to play.
Where do you find home decor inspiration? And where do you like to shop?
I use Pinterest and Instagram for design inspiration. I follow accounts that have content that inspires me, or I'll search for specific things when I am working on a project. For example, for the nursery, I searched "boy nursery" and "neutral nursery" and "traditional nursery" on Pinterest. But Instagram also does an amazing job with suggesting content and posts I would like – it's always beautiful interiors because that's what I mainly follow on that platform, so I get a ton of inspiration there.
My favorite shops include Wayfair, Serena and Lily, Target, McGee & Co., and countless more.

How do you think you'll adjust Henry's room as he continues to grow?
I hope the majority of it can stay as is with the exception of the crib changing for a bed! The bookshelf, dresser, wall bookshelves, and glider can all stay as he grows up. Or we can move the glider to a living space in the house and make room for more play space. I might switch out some of the pastels for bolder color as he gets older, and it will start to include some of his own favorite things versus what I chose for him.
With children around, it's easy for their stuff to overtake a home. Do you have a system for tidying up to control the spread of baby stuff?
Right now the items overtaking the home are burp cloths, blankets, and contraptions designed to rest baby in (MamaRoo, a bouncer, etc.). Having designated areas and baskets in the living spaces to store his belongings make all the difference, and folding up his blankets keep it tidy.
How can parents create functional spaces throughout the house (i.e. toy bin, diaper station, play/sleep area) in their home without adding too much clutter?
When I figure out the answer to this, I will let you know! Right now we have a changing station on our dining room table – yes, you're reading that right – so we don't have to walk upstairs for changings 10 times a day.

How do you manage the day to day responsibilities that come with both your family and your career? What is your advice for women juggling both?
My advice is actually Sheryl Sandberg's advice: Make your partner your partner. I actually asked Dan to read that chapter of her book Lean In long before we were even expecting and it, fortunately, struck a chord, and we really do 50/50 in terms of taking care of Henry, our home, our pets, and each other.
For women who are raising children on their own, I am so blown away and don't know how you do it: you're a superhero.
Henry is 3.5 months old and we literally just found and hired a nanny to help during the workdays. I came back to work when he was 2 months old, so the past month has been interesting. We've had our parents helping but that's only a couple days a week. So every week we find ourselves packing up and going to the burbs so the grandparents can watch him an extra day without dealing with the commute. It's been a lot of packing and unpacking and taking turns with work calls and getting through work or having work travel while the other one takes care of the baby.
You are just coming back from your maternity leave. How do you expect your career to change as you progress into motherhood?
I work a lot less at night and on weekends! I'm more choosy about projects I take on outside of The Everygirl. That's hopefully just about it! I absolutely love my work and don't want it to change much.

How has your view of motherhood changed since becoming a mom?  
Motherhood is tough. Really tough. Moms truly do not get the respect they deserve – except from other moms who get it – and you literally cannot know it until you experience it. A woman's life does a 180 in a matter of hours and will never be the same. Our bodies and minds go through hell and back to create this little tiny life, and it just is how it is. We hear that women have done it since the beginning of time – like that somehow makes it easy and doable. It's not – it's really tough. Women are just that incredible.
I can't help but wonder, looking back at ALL THAT FREE TIME I had before Henry was born, and I think why don't I know three languages and why didn't I work out every day and cook dinner every night? What did I do with all of that time?
I also can't quite wrap my head around the fact that 1) I GREW him. That's bananas. And 2) these absolutely precious, most special years of my life, my time on this earth, are because of this baby boy – and Henry won't even remember them. These moments that mean SO much to me and shape who I am as a person, he has no idea about.
What's the most rewarding and challenging part of being a parent?
This is tough to answer since I've only been a parent for three months, but I'd have to say so far, the most rewarding part is knowing this tiny human life relies solely on Dan and me, physically and emotionally. If he smiles and laughs, it's because we entertained him. If he's learning, it's because we taught him. If he stops crying, it's because we comforted him.
The most challenging part? The back and shoulder pain from constantly holding him. Ha, it's real. You don't just "get strong." Muscles ache! The constant tiredness – despite getting sleep. The sheer amount of hours spent caring for a babe. Doing pretty much the same things every day (at least at this age – that will change as he gets older). But the worst is when he's upset or fussy and not knowing why. It doesn't happen often, but when it does it's heartbreaking to see him distraught.
If you could only pick one, what has been your favorite memory from motherhood so far?
My favorite memory happens daily – when we go to wake Henry up in the morning we hear him stirring, often sounding uncomfortable or fussy or upset, but we look into his bassinet and say, "good moooorning, Henry," and he pauses and looks up at us, his eyes adjusting, and then he just smiles. The sight of my face brings this tiny babe instant joy. That is an incredible feeling I never want to forget.
Alaina Kaczmarski is The Everymom…
Favorite family tradition? Family walks in the evening complete with stroller and two dogs – sometimes with wine or beer for Dan and me. It's our new "date" night.
Easy go-to family meal to prepare? Sheet chicken! Chicken, asparagus, carrots, onion, Brussel sprouts, and potatoes on a pan – it's my favorite meal!
Your dream vacation? Cannot wait to take Henry and Dan on a big Italian adventure road tripping around the country.
Last home item you splurged on?  Counter stools for our new home. Chairs add up quickly when you need a bunch of them, and we needed four!
Guilty pleasure? Anything rom-com-esque with TV or movies – Netflix and Hulu are putting out so many good shows and original movies. Younger, The Bold Type, The Guernsey Literary, and Potato Peel Pie Society are a few things I've made time to watch lately.
SHOP HENRY'S NURSERY
crib, Serena and Lily
polka dot crib sheet, Serena and Lily
sailboat art, Minted
"goodnight" wall art, Anthropologie
glider, Serena and Lily in Ash Belgian Linen
pom throw, Serena and Lily
Moroccan pouf, Lulu & Georgia
woven hamper, Serena and Lily
side table, Serena and Lily
floor pharmacy lamp, Wayfair
campaign dresser, Wayfair
table lamp, West Elm
metal H, RH Baby & Child
mirror, Serena and Lily
striped rug, Serena and Lily
lamb rocking toy, RH Baby & Child
chandelier, Serena and Lily
white wall bookshelves, Pottery Barn Kids
wooden bookcase etagere, Wayfair
felt bookends, RH Baby & Child
ship mobile, Haptic Lab
dog and lamb knit dolls, Cuddle and Kind
raccoon knit doll, BlaBla Dolls
polar bear knit doll, BlaBla Dolls
"house white" knitted plush toy, Cheerily
brass curtain rod, West Elm
black-out curtains, RHBaby & Child
closet storage bins, Container Store