When I was in elementary school, my mom would help me type up reports on her typewriter. It wasn't until high school that my parents sprung for a desktop computer that used dial-up internet. (Sidenote: It would also crash every time she called anyone on the house phone or put on the washing machine.) Times have certainly changed as, now that I'm a mom, I'm on the hunt for the best laptops for kids.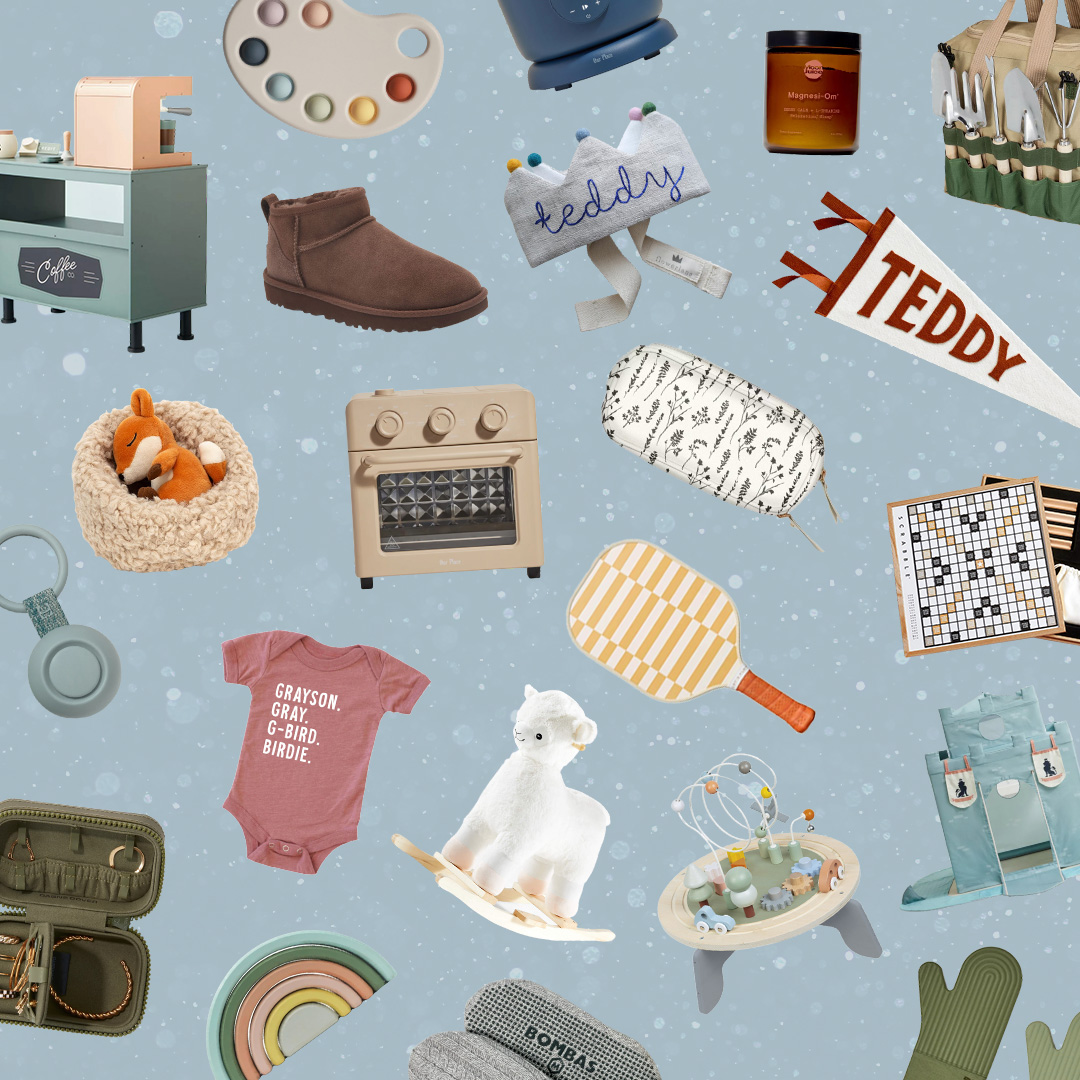 everything you need to ace holiday gifting this year 🎁
With so many options to sort through, it can be overwhelming to narrow down options. This year, both of my boys will be in elementary school together, and at the ages of 5 and 6, computers will be a part of their regular curriculum in class. They will be learning how to type and do educational activities online, as well as play a fun game or two. While some schools provide laptops for students, there are still many families that need to or choose to purchase one on their own. But with so many options, where do you begin? We're breaking down some of the key differences and features in laptops below, along with our picks for the best laptops for kids.
What to Know Before You Start Shopping
How much Gigabyte or RAM do I need? What about durability or warranties? Here are some of the basics to look for when shopping:
Random Access Memory (RAM)
RAM allows your computer to store and access data quickly in the short term. We've all experienced a computer running slowly, higher RAM means a higher speed and performance. It differs from storage (below) that stays on the computer's storage drive. 4GB of RAM is standard for most budget laptops, which could be fine for your child's use.
But if your kid is going to be using their laptop for gaming, experts recommend a minimum of 8GB of RAM, with 16GB being ideal.
Storage
Even with the cloud, your child is likely going to want/need to save files on their computer. 32GB is the minimum recommended storage. Note that storage comes in different types like eMMC (Embedded MultiMediaCard) and SSD (solid-state drive), with SSD being the superior storage type.
Size
If buying online, take note of the screen size and consider how portable you want their laptop to be. Our picks below range in size from 11.6-inch to 15.6-inch screen sizes, so remember that the larger the size, the heavier it will be.
Warranty
Kids often aren't exactly gentle when it comes to their things. Drops and spills are part of childhood, and most warranties don't cover physical damage. So depending on your laptop investment, you may want to look at an extended warranty—or encourage your kids to use extra care when using the laptop.
Best Budget-Friendly Laptops
Lenovo
Lenovo is a budget-friendly choice that has a great performance and is very easy to carry on the go. We love that it has a comfortable keyboard, fingerprint scanner, and can keep up with younger students' needs.
Highlights:
11.6-inch screen with a long-lasting battery life of about 16 hours

4GB RAM memory and 64GB eMMC in storage

This 2-in-1 laptop

comes with a stylus—to practice drawing and writing—at a very affordable price and a one-year warranty
Acer
This is one of the most affordable laptops and can be a perfect starter computer for young students.
Highlights:
15.6-inch screen with a long-lasting battery life of about 12.5 hours

4GB RAM memory and 32GB eMMC storage

This laptop is extremely affordable and a solid choice for students, although its size might make it a little heavy for early elementary students

The Acer Chromebook boots up in under eight seconds and works efficiently
Best Laptop for Older Children & Teens
This laptop is one of our favorites because it is a powerhouse with an amazing operating system, and it is also lightweight enough for kids and teens to bring back and forth to school. This means that it's excellent for homework and even entertainment.
Highlights:
13.3-inch screen with a 12-hour battery life

Operates on Chrome with 8 GB RAM and 128 GB eMMC storage

This is a lightweight, powerful laptop that is great for older students who are used to a touchscreen

This computer rivals Mackbook Pro or even the Surface Pro and has been said to be the best Chromebook to date
Best User-Friendly Laptop
We love the Vivobook's large screen and simple design that makes it easier for children who are just learning the basics of computers.
Highlights:
15.6-inch screen with a long-lasting battery life of about eight hours

12GB RAM memory and 512GB SSD in storage

Windows 11 Home provides a user-friendly interface and large screen that is amazing for its price

For families looking for a laptop that gets the job done without the frills, this is a perfect option due to its solid performance and affordable cost
Best Fast-Charge Laptop
The Fast Charge on this HP is a great feature that allows a quick charge when needed.
Highlights:
15.6-inch screen with over nine hours of battery life and its Fast Charge will charge to 50 percent within 45 minutes

4GB RAM memory and 256GB SSD in storage

It runs on a Windows Home 10 in S mode operating system and has full Android app support as well as Chrome features which allows better performance than competitors

This laptop also features a touchscreen display with a backlit keyboard

The powerful Intel processor makes it perfect to multitask for school and creativity
Best Battery Life
The Dell Laptop comes at a very reasonable price and has one of the longest charges, which makes it an excellent choice for students who need computers all day long.
Highlights:
Very easy to use and reviewers love its touchscreen

15.6-inch screen with a long-lasting battery life of about 18 hours

8GB RAM memory and 256GB SSD storage

The Dell Inspiron was also built using post-consumer recyclable plastics as well as waterborne paints

This laptop is efficient and comes at a great value which makes it great for both children and young adults headed to college
Best Sustainable Laptop
Simply put, it works well for schoolwork and gaming, and we love the Pavillion's vivid OLED display. It is also one of HP's first full-metal covers made from recycled aluminum and ocean-bound plastic, making it a sustainable choice.
Highlights:
14-inch screen with a long-lasting battery life of about six hours

8GB RAM memory and 256GB SSD storage

It has a touchscreen, fingerprint reader, two USB ports as well as an HDMI port that comes at a solid price

It has an OLED touchscreen display, and its webcam is perfect for group projects over Zoom
Best High-Performance Laptop
We all know that Apple products can be a bit pricey, but the Macbook Air coupled with an education discount can be worth the splurge for students that need a powerful computer to keep up with projects, papers, and college applications. We love that it's one of the most powerful for the price and will last an average of seven years before you need to replace it.
Highlights:
13.6-inch screen with a long-lasting battery life of about 14 hours

This laptop is one of the most affordable options by Mac

It has a powerful M1 Chip that enhances the performance that will last for many years and 256GB SSD in storage

Students with iPhones can scan in notes and assignments or airdrop them straight to their Macbook Air

The slim design makes it easy to bring on the go