My love of podcasts started when I listened to Serial on my New York City subway commute about 6 years ago. Ask any New Yorker and they'll know it's imperative to never leave the house without your phone and headphones or else you'll be the subject of several entertainment shows on the A train. Back then, I couldn't get enough of listening to journalist Sarah Koenig questioning everyone and everything to get to the bottom of an unsolved murder mystery. Since then, I have really enjoyed listening to all different kinds of podcasts; girl talk, self-help, reality TV show recaps, interviews, and so much more.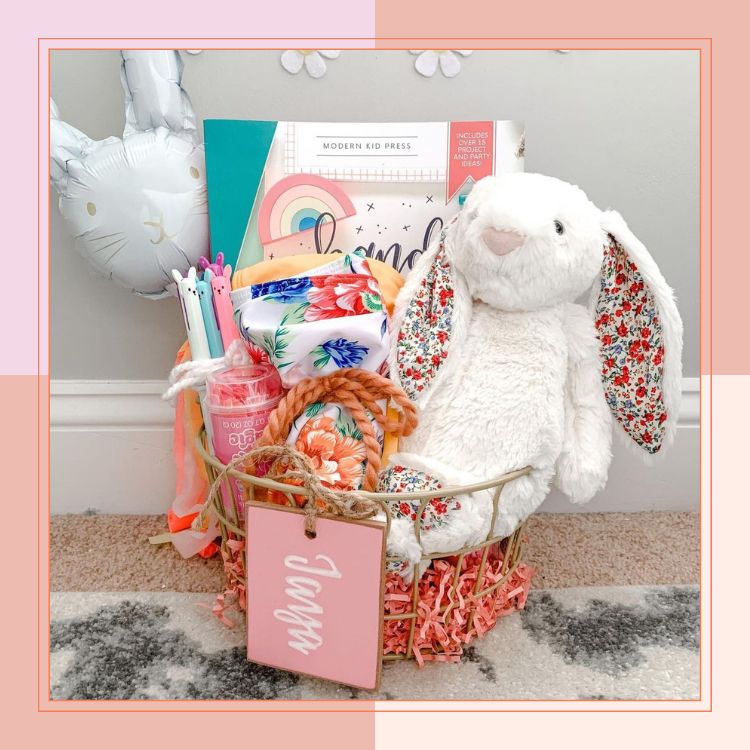 everything you need to get ready for the Easter Bunny's visit on April 9th! 🐰
Since I became a mom two years ago, I've also been listening to some really helpful motherhood podcasts. For me, I have to be mindful of who and what I'm listening to. There tends to be a fine line between informational and information overload when it comes to motherhood advice. Below I'm sharing some of my favorite mom podcasts and no matter what stage of motherhood you're in, there's a little something for everyone.
While the show ended in January 2021, Karly, a licensed midwife, and Ali, a birth and postpartum doula, have 138 episodes for you to dive into. What I love the most about this podcast is how they don't shy away from the tough, gross, often unmentionable conversations that are so important in motherhood. While some of their conversations are woven with light-heartedness and humor, they also aren't afraid to dive into conversations around infant loss, motherhood identity shifts, and many different kinds of birth stories.
Do you know that best friend that you call to give it to you straight without sugar-coating their advice? That's Myleik. As the founder and owner of CurlBox and mom of two, she is the straight-shooter that every mother needs.
She started her podcast back in 2011 when she was starting her business as a single woman in Atlanta and she has taken listeners along for the ride as she navigates being a business owner, dating, pregnancy, and beyond. If you're looking for a lifestyle podcast that peppers in conversations around pregnancy and motherhood, check this one out!
Ever wonder what goes on behind the scenes of the mom influencers you follow online? I sure do, which is why Under the Influence has been my new podcast binge in the last month. Jo Piazza is a journalist who was curious about how mom influencers turn their social followings into mostly full-time businesses.
While so many of us are scrolling, we often forget how much of what we're reading or seeing is actually an advertisement. Also, are those kitchens really that white? Did their kids not fight while being in front of the camera for all of those photos? And do they really like that teeth whitener or were they just paid to say that?
For an interesting, truthful, and eye-opening listen into what goes on inside the mom-influencer world, give this one a listen.
Described as a "personal development podcast for moms," The Unfiltered Motherhood Podcast delves into some rich conversations. While I don't know her personally, host Jamie seems like such a sweetheart. I don't follow a specific religion, but I do appreciate some of the faith-based conversations and inspiration Jamie brings to her show.
She has a way of sharing stories that makes you feel like you're just two girlfriends chatting over cheese and crackers about all things marriage, motherhood, womanhood, and more. If you don't mind conversations that talk a little bit about church and faith when it comes to how to find peace while trying to juggle all of the things in life, I think you'll like Jamie's show.
Well, if you ever wondered if you're the only mom showing up to drop off and pick up in pajamas three days in a row, this is the podcast for you. On countless occasions, I have found myself truly laughing out loud while listening to this show.
Hosts Amy and Margaret are those mom friends who are laughing with you, not at you as you navigate the tricky parts of motherhood. I like this show because they don't only talk about the infant and toddler years, but also how motherhood changes as your kids grow older. I'm telling you, this is a fun podcast to listen to while you may also coming away learning a thing or two. 
I haven't dug into this podcast yet, but it is next on my list. As unfortunate as it is, the reality is that plus-size women are often treated vastly differently among physicians than women in smaller bodies during pregnancy.
The host, Jen McLellan, interviews plus-size women and moms to discuss all sorts of topics like plus-size pregnancies, finding a size-friendly doula, breastfeeding while plus size, being Black and plus size, and so much more. No matter the shape or size of your body, I think this is going to be a really good one to listen to.