When you're a mom with young kids, taking a shower can be considered a luxurious form of self-care. Even though you may hear phantom cries and are compelled to take a turbo-speed shower before the baby wakes up from his nap, it's still time just for you. But the reality is, moms deserve more than just self-care crumbs—we deserve true wellness and to care for our bodies, minds, souls, and our hearts.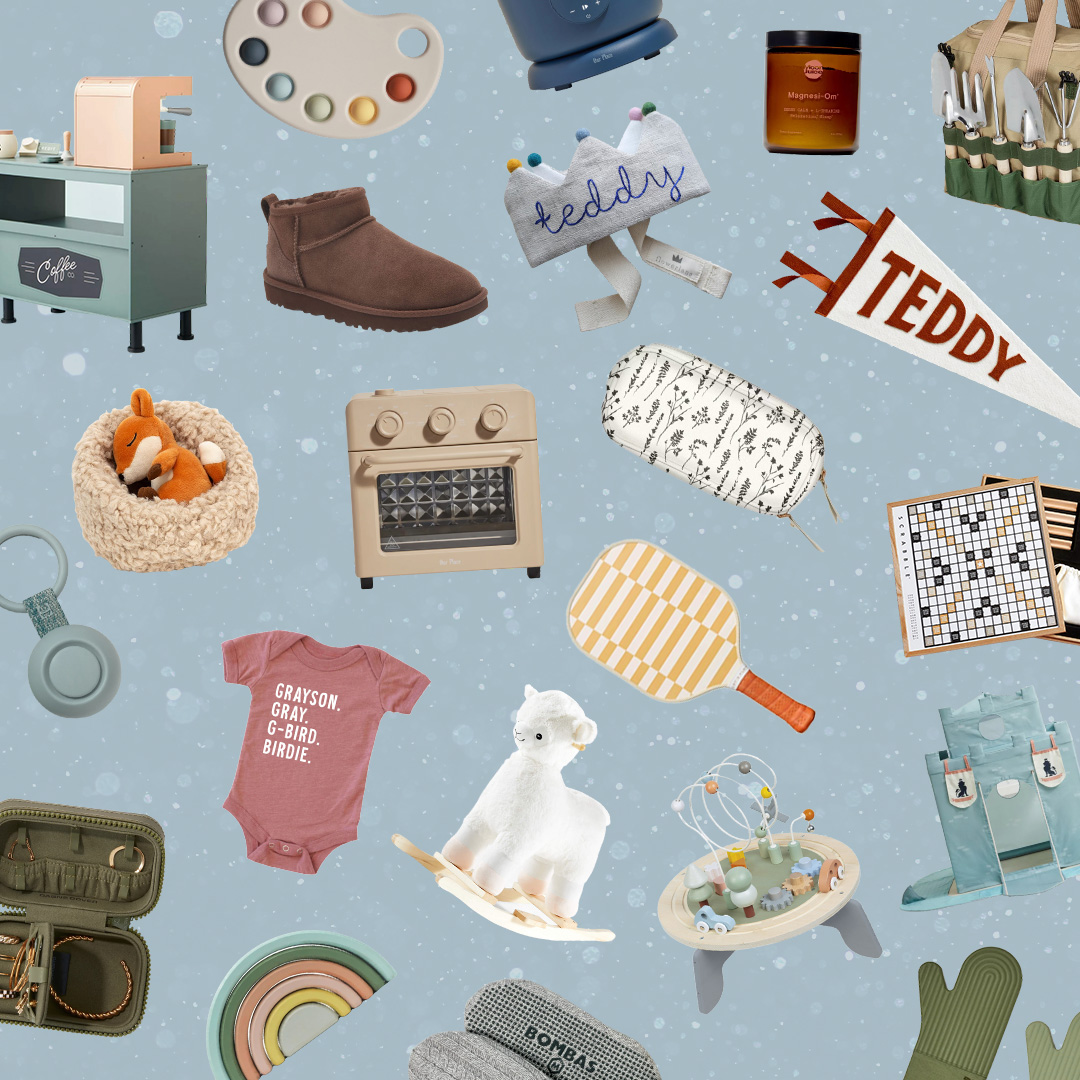 everything you need to ace holiday gifting this year 🎁
As moms, we need to be strategic in developing wellness goals because our time is precious and we deserve to be the best versions of ourselves not only for our well-being but also for that of our family. Wellness is a profitable concept, and many companies attempt to sell us endless merchandise, all with the promise that their products will help us achieve our goals. But one product stands out above the rest for me because of its ability to fit seamlessly into the lives of busy mamas who are struggling to keep up with laundry, juggling multiple schedules, and being the defacto home-nurse: The Peloton, which is quite the investment but, in my opinion, is worth every penny and was (and still is!) the hero that saved many of us during the pandemic.
Moms deserve more than just self-care crumbs—we deserve true wellness.
When gyms closed and we were home-bound, my Peloton is what kept me sane and replaced my perception that showers were my only form of self-care. Although it seems like just a stationary bike, it is so much more than that. With the purchase of the bike, you have access to countless classes including cycling, yoga, running, Pilates, strength training, meditation, barre, and much more. Beyond the array of cardio and wellness options, the Peloton is a mindset, a lifestyle, and a support group, all inspired by that compact, sleek black bike. If you're on the fence as to whether or not to make the Peloton purchase plunge, check out one of our editor's honest review of the Peloton.
But if you're like me and have jumped on the Peloton bike-wagon, this list of my six favorite Peloton instructors is for you. The beauty of having a Peloton is that you can tailor your workouts to suit your taste and specific wellness goals. These are some of my personal favorite instructors, but take the time to explore for yourself to find your Peloton groove because there is someone for everyone to feel motivated and inspired. What makes Peloton a truly unique experience is its instructors. They are versatile, professional, fun, and driven, and they encourage you to invest in your own well-being.
1. Cody Rigsby
Recommended Rides: 30 Minute Britney Spears Ride & 30 Minute Ricky Martin Ride
If I am not living my truth in everything I do, then I am not doing it right. I want members to have fun while they're working out, and remember that even though it's challenging, it's not that deep! —Cody
Everyone wants a piece of Cody Rigsby. You may have read about him in The Washington Post or The LA Times or have seen him on ABC's Dancing With the Stars. He is by far the "star" of Peloton and rose to fame during the pandemic. Cody makes you forget you're working out because you're busy laughing at his self-deprecating humor or his uncensored pop culture reviews. He's a ball of energy and optimism who makes you feel like you're riding with your best friend. My favorite rides with Cody are the pop music ones where you quickly learn that Britney Spears reigns supreme.
2. Robin Arzón
Recommended Ride: 30 Minute Live DJ Ride
A life lived in sweat is my mission. Every day, I work hard planting seeds for tomorrow's greatness. The hustle in me honors the hustle in you. —Robin
A former lawyer-turned-Peloton's vice president of fitness programming, Robin Arzón inspires respect and sweat when taking her rides. She also recently had a baby, Athena, and embodies mommy strength and drive. She loves '90s music and running marathons, and she peppers her rides with motivational speeches and pithy quotes that you want to repeat to yourself when things aren't so great. She is a true queen and reminds us all to keep our own crowns on when focusing on our wellness goals.
3. Ally Love
Recommended Ride: 30 Minute Wedding Celebration Ride
My life goal is to remind the world that we all have one life to live, and together we should live it to the fullest. —Ally
Ally Love is an embodiment of her namesake, as she inspires us to love ourselves and love our wellness journey. She wears multiple hats, including being a model, health coach, and entrepreneur of the fitness lifestyle brand "Love Squad." You can also find her hosting The Brooklyn Nets and other shows on ESPN in her spare time.
Ally makes inspiring speeches during her rides that keep you coming back for more. She also hosts this lovely series live on Sundays at noon EST called "Sundays with Love," where we are invited to wear purple and ride with all our heart and soul. My favorite rides are her Artist Series spectaculars, such as ones featuring music by Beyonce and Tina Turner. I don't want to get off my bike because spending 30 minutes with Ally Love is pure joy! She also recently got married and shared her dreamy wedding with all her followers on Instagram.
4. Alex Toussant
Recommended Ride: 45 Minute Two for One Mother's Day Ride
Using my military background, I push my members to their full potential at all times. I want members to approach my workout like an athlete, and leave feeling like a champion. —Alex
Alex's classes are challenging and engaging—he is an incredible motivational speaker. With a military background, Alex is more structured in his approach on the bike and reminds us that we can push past any discomfort because on the other side of this challenge, rewards await us. He exudes strength and perseverance every minute of his class. Alex's incredible Hip Hop rides inspire great cardio workouts while also providing a platform to elevate Black voices.
5. Tunde Oyeneyin
Recommended Ride: 30 Minute Latinx Heritage Month Celebration Ride
I focus on crafting my classes with music that drives you. This rush of adrenaline allows you to move past the expectations or limitations you showed up with that day. Beyond that, I will always push you, but never let you fall. —Tunde
Tunde's rides get you excited to exercise because she spends time showing us our potential to thrive. A former celebrity makeup artist-turned-Peloton instructor, Tunde has absolutely epic playlists that get you moving and smiling. Her rides have personal, motivational touches, as she understands the struggles of weight gain and the importance of self-confidence. She makes you feel like you can accomplish anything you put your mind to on each ride.
6. Camila Ramón
Recommended Ride: 20 Minute Pop en Español Ride
I was born in Argentina and grew up in Miami. Family is everything to me. I'm deeply connected to my community, and I bring that energy with me to every class, every day. —Camila
Camila is Peloton's newest instructor and has quickly risen to fame for her effervescent personality and lively classes. She is the first instructor to have bilingual classes—she teaches some classes in English and others in Spanish and sometimes in both languages! She originates from Argentina and Miami and infuses her culture into her rides. There is an authentic majesty in the way she connects to the music in Spanish.
Riding with Camila reminds me of my own identity. Additionally, she makes a point of diversifying her playlists so that all the different Latinx cultures are represented in her rides. Her sweetness and her energetic classes make her one of my new faves.
This article was originally published at an earlier date and has been updated for timeliness.