As a new parent, sleep is often at the top of the priority list. If there is something that will help a baby sleep better, most parents are all for it! One amazing way to improve your little one's sleep starting in the newborn months is by incorporating white noise. A 2018 study found that playing white noise helps colicky babies sleep longer and soothes crying better than just rocking/swaying. White noise is the combination of sound waves that extend over a wide frequency range to help drown out background noise.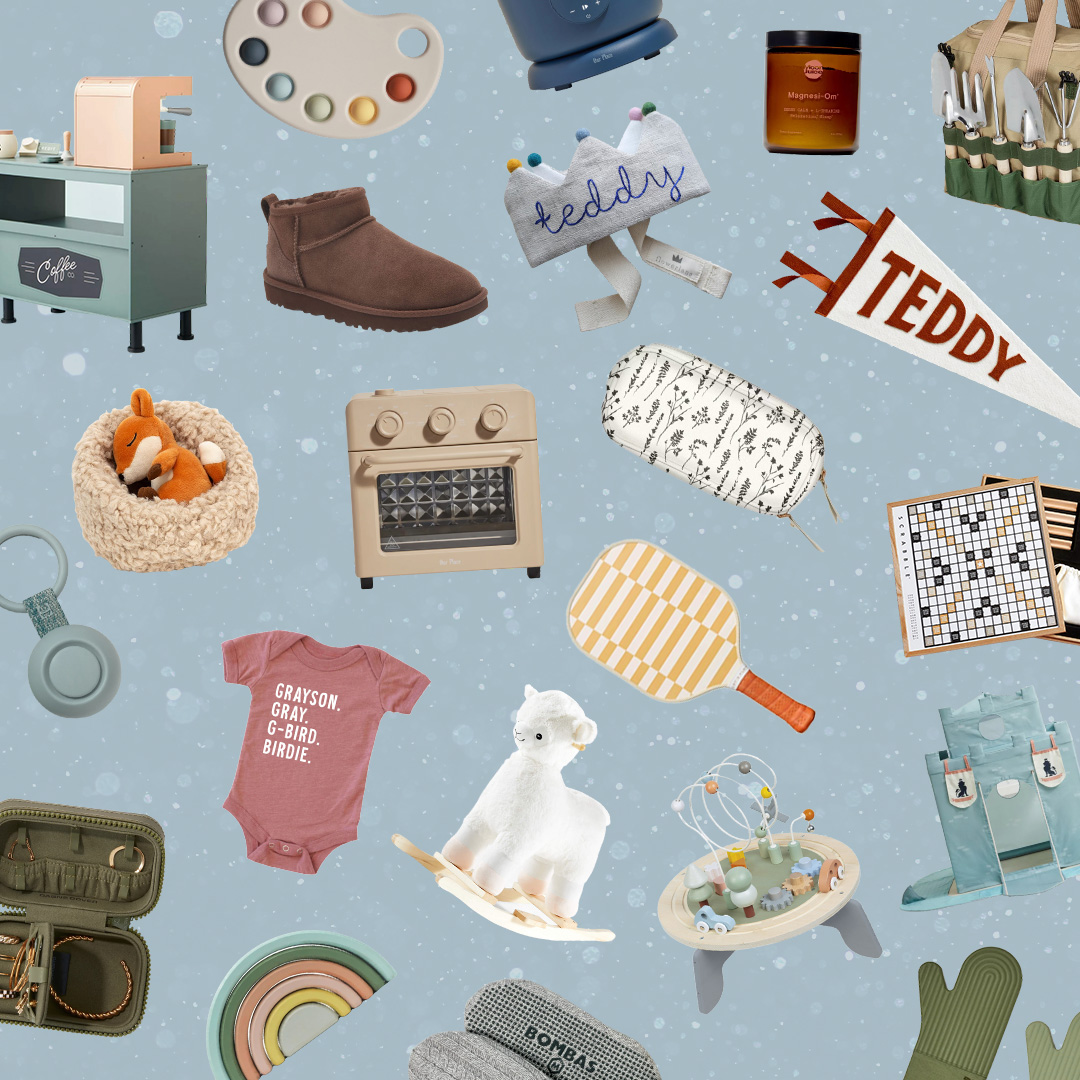 everything you need to ace holiday gifting this year 🎁
Did you know that the decibel or volume level of noise within a mother's womb is between 85 to 95 decibels? This loud whooshing noise that you might have noticed when an ultrasound is performed is comforting to the baby snuggled up inside. When your baby is born, using white noise or a sound machine at an ear-safe volume is an amazing way to recreate the comforting environment they have just left. As your little one continues to grow and develop, the sound machine becomes a great sleep association and helps block out household noises.
Before buying a white noise machine, here are three things you should consider:
Volume Level
The American Academy of Pediatrics recommends using the sound machine at a volume no louder than 50 decibels. This protects your little one's hearing. If you are unsure about the decibel level your sound machine is producing, I suggest downloading a free decibel meter app and placing your phone in your baby's crib to get an accurate volume reading.
The Sound
I highly recommend using classic white noise instead of varying levels of sound, such as waves or rain. The continuous pattern of classic white noise will help your little one transfer seamlessly between sleep cycles.
Sound Machine Placement
The sound machine should be placed at least 3 to 6 feet away from your little one's crib. I also recommend placing it near the wall where most of the external noise is coming from.
The Best Overall Sound Machine
If you are creating a baby registry for yourself or buying a gift for a friend, I highly recommend putting the Hatch Rest sound machine at the top of the list.
Product Highlights
App/Bluetooth controlled: You can create personalized settings on the Hatch app and change the volume or sound via bluetooth.
Touch sensor: The top of the sound machine also has a tap sensor where you are able to turn it on and off with just the tap of your finger.
Light feature: If you are feeding a newborn in the middle of the night or your toddler is eventually requesting a nightlight, the hatch is for you! You are able to adjust the brightness and color of the light.
Sleep tip: I recommend using an amber light at night for newborn feedings or your older toddler, as this light will not disrupt melatonin production.
Reliable and durable: As a parent myself, I have a Hatch for each of my children and they have lasted a long time! They have also withstood the occasional tumble. 🙂
Pricing: Although this is one of the more expensive sound machines, it will be a one-time purchase that will be used for many years to come.
*Sleep tip: If you use the Hatch for your little one, I suggest choosing the noise titled "TV Static."
The Best Travel White Noise Machine
Are you planning to travel and your little one will be napping on the go? This Hushh sound machine is for you!
Product Highlights
Perfect size: When traveling with a baby, the last thing you want is another big and bulky item to carry around. The Hushh sound machine is perfect for travel, as it is compact in size and will fit really well in your diaper bag or purse.
Clip-on feature: If you have your little one in their car seat or in the stroller, you are easily able to baby-safe clip to make sure the sound machine stays securely in place.
Great battery life: Most rechargeable sound machines do not have a great battery life, but this one is amazing! It can be operated for 6+ continuous hours on one battery charge.
USB charger: Charging the sound machine on the go is so easy with the USB cable.
Daycare: If your little one goes to daycare and you are allowed to bring in a sound machine for them to use, this is a great option.
*Sleep tip: I suggest using the white noise or deep white noise when using this sound machine.
The Best Classic White Noise Machine
If you are overwhelmed by all of the choices in the white noise market and are looking for a simplistic but effective machine, the classic Dohm is for you!
Product Highlights
Tried and true: The Dohm was one of the original sound machines on the market (created in 1962) and it does an amazing job at blocking out environmental noise.
Simplistic: The Dohm includes two volume levels that are easy to use with a button on the side of the machine.
Fan-based sound: The sound produced from this white noise machine is not electronic but instead produced with an internal fan. This creates a very natural white noise sound for your little one.
Great noise-canceling capability: Did you know that many therapists use this sound machine to protect client privacy during a therapy session? Similarly, this sound machine does a great job at canceling out household noise to ensure your baby or toddler's sleep is not disrupted.
Minimalist appearance: As a person who leans more minimalist, I love the sleek appearance of this sound machine.
The Best Non-Looping Sound Machine
If you are looking for an easy-to-use sound machine without a brief break in the sound (loop), consider the Lectrofan.
Product Highlights
Non-looping: As mentioned, this sound machine produces continuous white noise instead of looping between recordings. This continuous noise will ensure your little one falls asleep without disruptions in sound.
Noise options: This sound machine offers a variety of white, pink, and fan noises to choose from.
Volume adjustment: The sound can easily be adjusted to meet the needs of your baby or toddler's sleep environment.
All ages: Lectrofan has rave reviews and is used by children and adults alike.