I finished college with almost zero personal finance skills.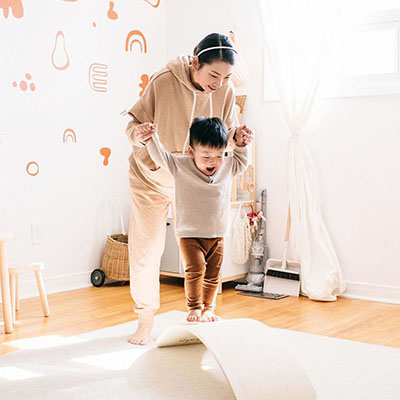 Shop Our Most-Used Items From Amazon for Toddlers!
If your kid is turning 2, get ready for hilarious conversations, much more involved play, and lots of sweet, sloppy kid hugs and kisses. As for what you'll need? Leave that to us.
This way to shop —>
In my early 20s, I racked up a fair amount of credit card debt on multiple cards and took out a car loan that I couldn't afford. I barely understood the 401k offered at my job and had no knowledge of any other retirement account or investing options. "Emergency fund" definitely wasn't in my vocabulary.
Now, in my early 30s, I'm a completely different person than I was a few years ago (though I'll always be a financial work in progress). All of those credit cards are now completely paid off. I traded the expensive car in for a used model that I paid for in full. I take advantage of the 401k employer match, as well as the tax-advantaged dependent care and health savings accounts. I also started a separate savings account for emergencies at a high-interest online bank.
What forced me to change was having my daughter in my late 20s and realizing I wasn't financially prepared for parenthood. I knew my finances needed to be more sustainable in order to raise a family, send our kids to college, and eventually retire.
I fixed my money situation by teaching myself personal finance and money management skills through books I came across or that were recommended by friends. These books taught me that my salary number is really just one piece of the wealth-building puzzle, and what's also important is how I learn to make my money grow, set my spending priorities, and use what I have wisely.
In order to build a strong financial life, I need to focus not just on earning raises, but also adding in smart investments and passive income streams, boosting my credit score, and negotiating and shopping around for high-dollar goods and services. It makes more of an impact to figure out how cut my expenses by 10% than to get a 5% raise. It's not always worth chasing more and more when you can be smart about what you have.
These are the books I keep on my shelf and constantly thumb through as I work towards the concrete steps of building and strengthening my financial life.
Additionally, I've discovered a few podcasts that also provide a lot of direct and explicit personal finance advice:
I LOVE this podcast because the episodes are short, but very concrete and actionable. The host provides very tangible advice and lessons on income taxes, IRAs, budgeting tools, HSAs, and much more.
The Five Tip Friday episodes are great. They are five minutes long and provide quick money management tips on topics like saving for vacations, setting up spending rules, and reducing monthly expenses.
What are your favorite resources for personal finance?