You know the feeling: when you find a product that works—like really works—you want to sing it from the rooftops. Whether it's an eye cream or an espresso machine, we all want to give our fellow moms a boost by sharing all the tricks that make our lives easier.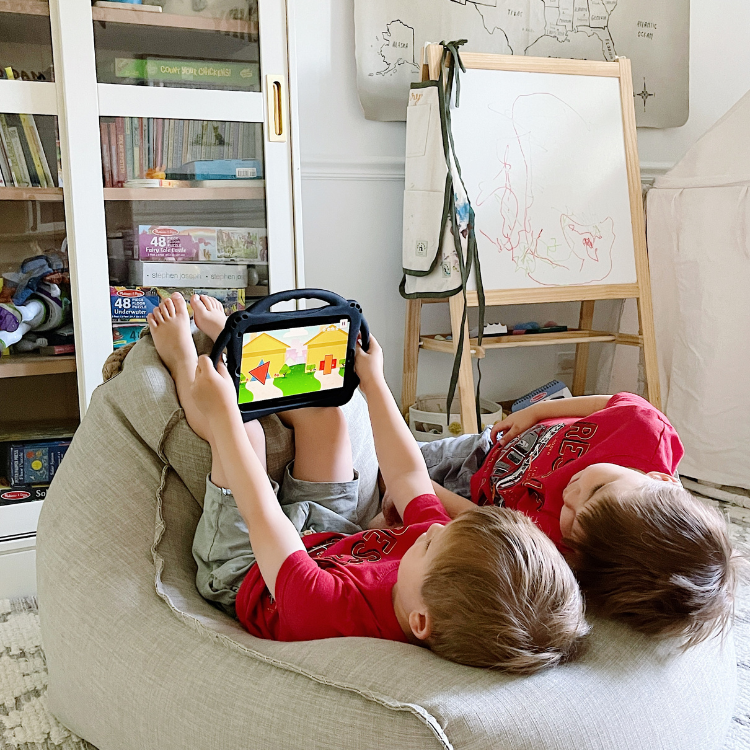 a pediatrician shares what she *really* thinks about LOs and screen time
And that's just what our editors are up to today: singing the praises of 12 budget-friendly toys and activities that have caught the eyes of our little ones as of late.
So from one mom to another, here's everything that held our kids' attention, fed their curiosity, and gave us a little time to ourselves last month.
Mom to: a 15-month-old
We've had these toys for a while, and my daughter has just now gotten excited about them. It's so funny how one day they have no interest in them, and the next they are suddenly able to stack the toys. We've been stuck inside a lot (based in Portland and dealing with smoke from nearby fires), so we've been playing with these toys nonstop. 

Mom to: a 2-year-old
My father-in-law got this for my car/truck-obsessed son for his birthday and recently this has been one of his go-to toys. He loves putting the tracks together, taking them apart, and pressing the on/off button on the car to make it zoom around the track and our entire house.
I got this jumbo pack of different craft supplies from Amazon and have been using different age-appropriate pieces for craft projects. We have done pom-pom color sorting in an egg container, matching colors in old plastic food containers, and have used pipe cleaners to make fun accessories for cars and trucks! There are so many great activities, and we reuse our supplies after each use.

Mom to: a 3-year-old and 4-year-old
I have been using this DIY playdough recipe by I Heart Naptime. The food dye I had stained, so I definitely will be doing it without next time … especially since my kids mixed it all together anyway, and it turned brown. I also added some almond extract I had to make it smell good.
Mom to: an 18-month-old
My son is high energy and loves exploring. We grab a beach pail and let him hunt around the yard for an outdoor treasure hunt. He'll grab rocks, leaves, flowers, anything. This is also great to do in the park or even around the house.
Mom to: a 7-year-old and 4-year-old
I bought this astronaut set and an explorer set as stocking stuffers last year. At the time, my kids pushed them to the side in favor of their bigger, better gift items. But these toys have been recently rediscovered and my girls have been playing with them often. Each set comes with a magnetic doll, a two-part background, and a variety of outfits and accessories. I love overhearing my girls playing pretend with each other as they imagine and create their own stories.
We have so many LEGO sets … like so many. But the fun of the sets for my kids is often found in the process of building. Once completed, the sets stay displayed for a bit, until they get ignored. But recently, my girls have broken down nearly every set, mixed up the pieces in two plastic storage bins, and have been using baseplates to build brand new scenes, like a neighborhood with multiple homes, a library, a beachfront, and even a Starbucks. These larger LEGO base plates give them canvases to let their imaginations build something completely new.
Mom to: a 2-year-old and 6-year-old
In the past few months, I have really embraced the "less is more" philosophy when it comes to toys. Recently, my oldest and I went around the house and packed many of our toys away in clear plastic bins I stored in the basement. Every few weeks, I'll revisit a tote and put select items back in rotation upstairs. The toys below? They have been on repeat for months, keeping both of my kids totally engaged in play. The rug especially becomes a speeding highway for cars, sure, but also troops of Care Bears and My Little Pony figures. It's the best $20 I've spent lately.