Being a working mom is no joke no matter what your profession is. But being a working mom in the medical field comes with its own set of unique challenges (working long hours is just one!), and for double board-certified facial plastic surgeon and mother-of-three, Dr. Lesley Rabach, finding a manageable work-life balance in this industry meant starting her own practice. Thankfully, Dr. Lesley's sister is a board-certified dermatologist, so together the two Big Apple-based women joined forces to cofound LM Medial NYC, a place where they could create workday schedules that served them best and, more importantly, create a personalized patient experience with spectacular outcomes.
Today, this impressive mama is a successful working parent with three young kids, a supportive and involved husband, and a very full schedule. We chatted with Dr. Lesley to learn all about her journey to becoming a facial plastic surgeon, how she started her own practice, how she balanced maternity leaves with working as a doctor (spoiler alert: she once nursed her baby son between performing a facelift and a rhinoplasty!), and so much more.
Keep reading to get a peek at her daily schedule, learn why her kids' bedtime routine is her favorite part of motherhood so far, and find out why she says multitasking is the secret to keeping everything afloat at home and the office!
Name: Lesley Rabach, MD, Double Board Certified Facial Plastic Surgeon at LM Medical NYC
Age: 39
Current Location: New York City
Education: BA from Brown University, MD from Drexel University College of Medicine, Otolaryngology Residency at Yale University, and Facial Plastic Surgery Fellowship
Children:  Henry, 4, Arabella, 3, and Miles, 1.5
What was your first job and how did you land it?
My first job was working in a basic science laboratory at Yale University School of Medicine for the Dean of Internal Medicine at the time, Dr. Jack Elias, MD, who studies Asthma and Emphysema research. My mother has a long-standing history of asthma, and at 16 years old, I decided I was going to cure asthma!
You're now a double board-certified facial plastic surgeon! How has your career developed since you first started?
When I first started, I had just gotten married and then pregnant with my first child. I was working at three separate practices in NYC a few days each. It was very interesting seeing the different ways people had structured their practice, and I gained a lot of understanding about the business side of a medical practice. This isn't something you learn in medical school or residency. I was very fortunate to be able to compare practices. Then, as my sister, Dr. Morgan Rabach, a board-certified dermatologist, and I began discussing opening our own office, we were able to cultivate exactly how we wanted to do it! 
Our office is constantly developing and changing; we are always refining our process and developing better ways to make our patient experience seamless with the best outcomes.
You are the cofounder of LM Medical, a renowned, holistic cosmetic medical center in NYC. What challenges did you and your sister face in opening your practice?
When we first found our space at 33 Fifth Avenue, located in Greenwich Village, it hadn't been renovated in over 60 years! It took us a year to negotiate, and then another year to set it up to be the modern office it is for us now.
How has your personal background played a role in the development of LM Medical?
I am very organized and obsessive about the patient experience. Both my sister and I believe that most things we do in the office are not "necessary," in the sense that it isn't a medical procedure that we have to do. Thus, first priority is always safety, and then close second is experience and outcome. Both should be spectacular. We treat each patient how we would want to be treated — luxurious, fun, and with outstanding results and minimal discomfort and downtime. There have been so many advances in modern medicine to make the patient experience amazing. We want patients to feel good coming into the office and spectacular going out of the office.
What has been the most rewarding aspect of building your brand and connecting with your patients?
Patients send their friends and family! It is always a testament to us that this happens often. We love getting to know our patients.
As a mom to three children under age 5, how has motherhood impacted you personally and professionally?
I am so lucky that I have been able to be both a mother and have a career. There are so few careers where this is possible. I think that being a mother is the absolute best thing I have ever done, and I absolutely love spending real time (no cell phones or computers) with my children. I also think that it is so easy to get caught in work, work, work mode – but it is so important for me to take a step back and realize that there is more to life than just work. Yet, I don't have to give up my career. So, having children has made me a much more balanced person, or else I would never stop working with patients!
As a facial plastic surgeon and businesswoman, were you able to take a traditional maternity leave when you had your children? Tell us about that experience.
This is funny. For my eldest child, I took off six weeks, and then since I was only working part-time, I went back a little to "stay in the game." It was a good break for me, but I missed my son. For my second and third children, because I was in my own practice, I took off less time – people wanted surgery! I couldn't make them wait for two to three months. But I restricted my workdays and slowly came back, keeping the days that I worked longer, pumping in between surgeries and patients (ha!) and then staying home more days. 
I remember for my third child, my mother came with me to the Surgicenter with my youngest in-between a facelift and a rhinoplasty so that I could nurse him in between the cases. Not traditional at all! I am so lucky my mother is closeby — she has been such a wonderful helper. 
As a working mom, how did you decide what childcare situation was best for your family?
Growing up, my mother was home with me and my sister, and this was something that felt very important to me: to be at home with my small children. On the days I work, I've found two wonderful women who are able to be home with my little ones and take them to classes, play with them, read with them, or do art projects. It was very important to me that our caregivers spoke another language. My kids speak Spanish without knowing they are learning!
In your experience, what do you believe are the key components in balancing your career, your relationships, and parenthood?
For years, when I was working long hours at Yale-New Haven Hospital during my surgical training, I saw the absolute sickest patients. It really made me feel grateful for how lucky I was to have myself, my sister, my parents, and even three grandparents all living and healthy. During my surgical training, I met my husband who is truly wonderful, and I am thankful I get to spend my life with him. I live in this crazy city, NYC, where everything around you is more and bigger. It's not that I don't want to grow, but my perspective is that I have created a wonderful family life with the man of my dreams, have truly unreal parental support (and still have grandparents in their mid-90s!), and a business that I share with my sister – who could be luckier?! 
It is so important to take a step back when you are walking around on your own; while everything might not be perfect, appreciating all the good things goes a long way. It is important to me to self-reflect almost daily, keeping in mind all the things in my life that make me happy, and remember that spending quality time with my husband and children is the foundation for everything else.
Can you walk us through your daily routine?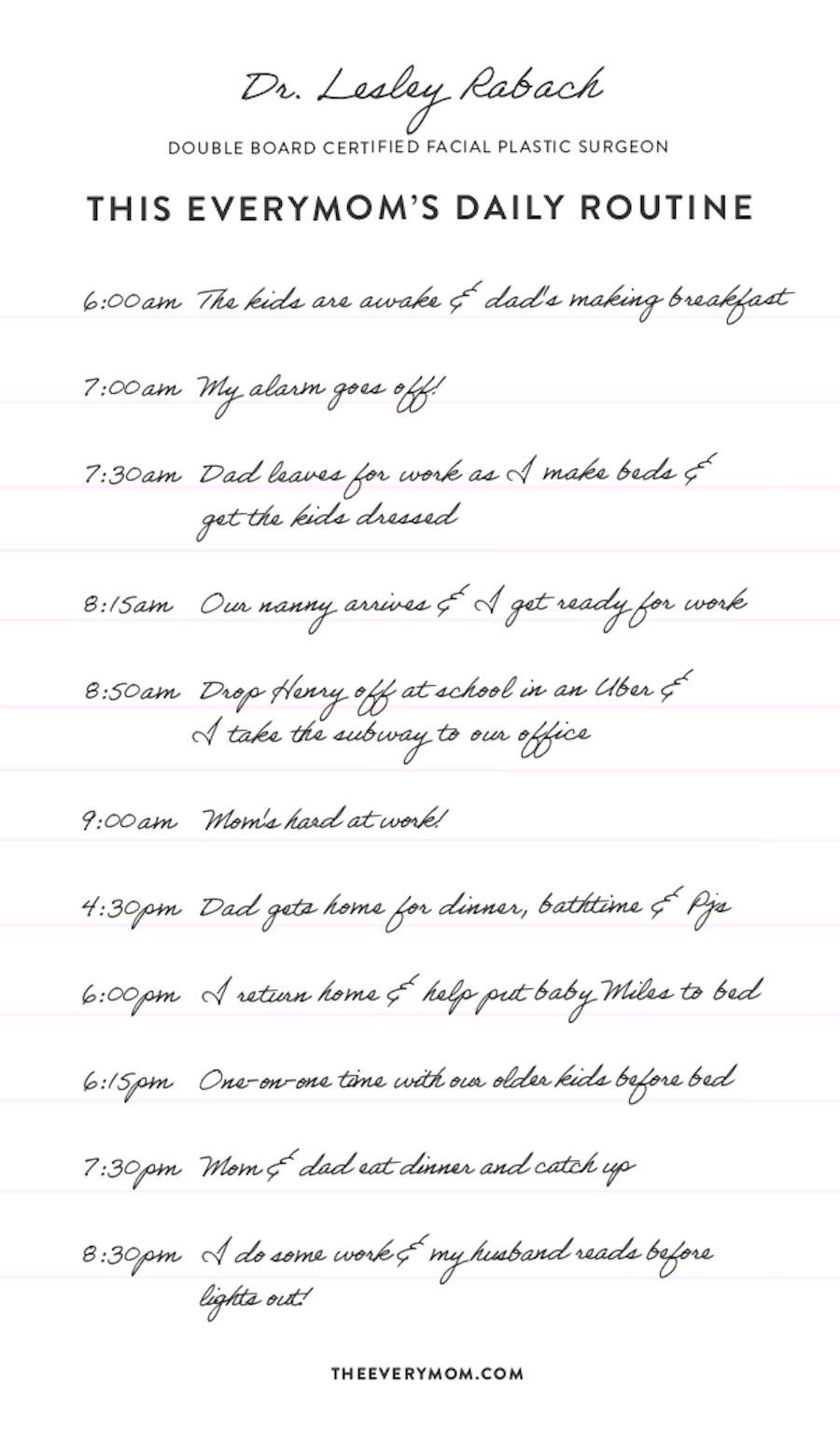 The kids wake up around 6-6:30am, and my husband, Dan, usually makes them breakfast — which is typically steel-cut oatmeal with berries and raisins — and they let me sleep until 7am. Once I'm up, Dan gets in the shower to get out of the house by 7:30am, and I quickly make everyone's beds and help the kids get dressed by 8am. We try to do a few sheets of "work" at the breakfast table before our nanny arrives at 8:15am. Then, I quickly get ready (often my daughter wants to brush my teeth), drink some coffee, make sure my oldest, Henry, has his lunch in his backpack, and each kid is ready for whatever activities they have for the day.
If it's a work day for me, Henry and I hop in an Uber to school, he gets dropped off by 8:50am, and then I take the subway downtown to our office. If it's a "mommy" day (AKA I have the day off), I often go to a coffee shop after drop-off, work on a few things for an hour, and then walk home to be with my little kids until pick-up time for Henry.
On work days, when I get home, the kids are usually bathed, in PJs, and have eaten dinner, so we can play games or with toys for a short time before it's time to brush teeth and read bedtime stories. If it's a home day, I do the bath routine. My husband gets home from work by 4:30pm, so it's nice for us all to have family time together. Then, once everyone has teeth brushed, we alternate putting our youngest, 18-month-old Miles, to bed while the other reads to the bigger kids. Once Miles is asleep, each kid has one-on-one time with either of us (this changes every night). Lights out at 7pm, and we stay in bed with them until they settle. 
After the kids are asleep, we cook dinner every night except Friday, and relax and talk about whatever we didn't chat about throughout the day. We try to get to bed early, but somehow when we both end up in bed, my husband reads a lot, and I do work, so it gets late! But we are together, and it's quiet and peaceful.
When it comes to being a mom, what are you most insecure about and what are you most confident about?
I often feel like I need just one extra hour in the day! I feel that since I'm such a hands-on mom, and also have a busy practice, I don't have quite enough time to "do it all." Because I am organized and efficient, I can save time doing multiple things at once, but I do wish I had more time for everything. So in an ironic way, it's both my most confident and insecure thing about me. 
If you had to choose just one, what has been your favorite part of motherhood so far?
The bedtime routine. I just love to bathe, read books in bed, and snuggle with them at night. 
What advice would you give to your 22-year-old self?
Same advice I give myself now – anything is possible, and don't let anyone tell you otherwise.
Can you share with us a few mom hacks you rely on to make things work in your day-to-day life?
With three kids, a husband, and a busy office, if I am not doing at least two things at once, I feel as though I'm wasting time. I am already teaching my older two the art of multitasking — they think it's funny. I use notes on my iPhone to write down all my to-dos, and I love crossing them off. I also create various email drafts about things I need to do, follow up with, etc. It works for me! 
Dr. Lesley Rabach is The Everymom…
Last Netflix show you binged? After my kids are asleep, my husband and I like to make dinner together, so we don't really watch any shows. On occasion, we watch a few minutes of The Daily Show. 
Coffee or tea? Coffee!
Beauty product you can't live without? Lancôme mascara and SkinMedica sunscreen
Last item you splurged on? A Herno winter jacket with a fur collar
Dream vacation spot? African safari or Seychelles islands
Favorite way to wind down after a long day? Shower followed by dinner with my husband, and/or a good massage…
Your ideal Sunday looks like… Sleeping in (until around 8am), then having family breakfast, followed by going to Central Park or perhaps the Natural History Museum if we are in the city. We have movie night every Sunday night!
Most embarrassing mom moment? One time, we were at a really nice outdoor restaurant for brunch (which was packed), and my eldest son, Henry, was playing a few tables away by some small planters, and my 2.5-year-old daughter was playing in my bag. She pulled out a tampon and started yelling/running towards Henry holding it up and shouting, "Henry, Henry! Look what mommy bought us. It's a new kind of string cheese!" 
Favorite family tradition? Thanksgiving
If you could have lunch with any woman, who would it be and why? Ruth Bader Ginsburg — a true inspiration for women!