Whether they work in the home or outside of the home, moms have one of the hardest and most fulfilling jobs on earth. But if you're a parent who has a traditional 9 to 5 job added to your daily schedule in addition to motherhood, you may rely on a few go-to hacks to do it all. From outsourcing grocery shopping and using handy apps to keep things organized, to creating a capsule wardrobe and making chores a game for kids, moms often use every time-saving trick in their arsenal to ensure their days run smoothly.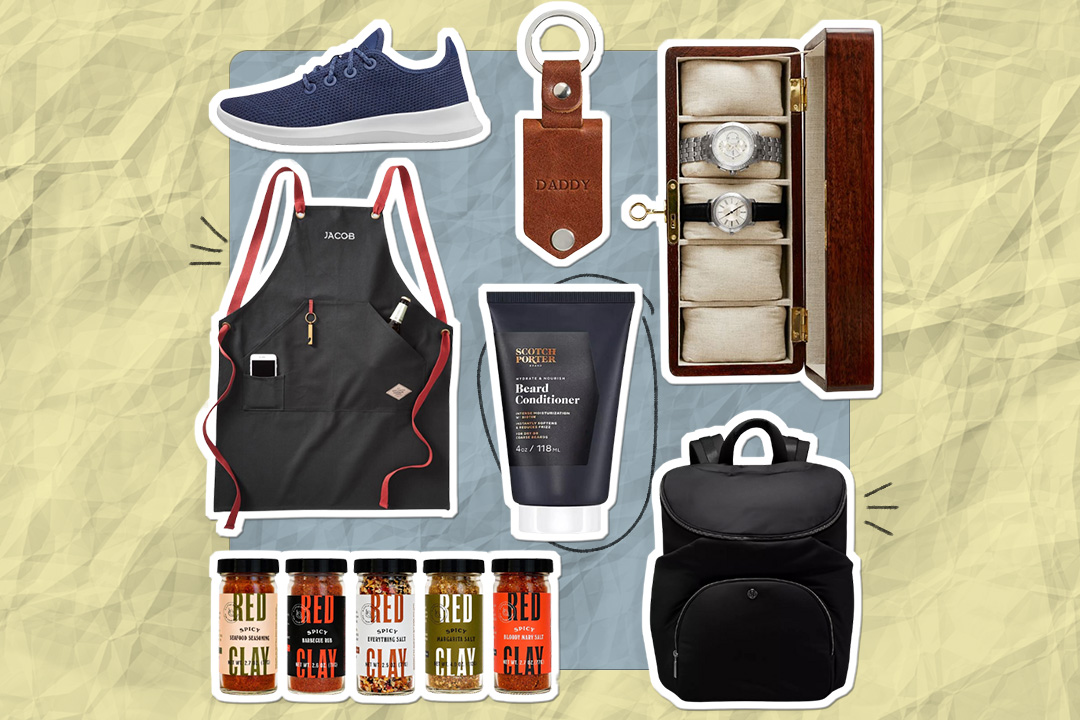 june 18 is coming up fast — have you started shopping yet? 😎
Since every woman's motherhood journey looks different, we asked 10 modern working mamas to reveal a few of their best and most-used mom hacks — this is what they shared.
Kimberly Alula, 35 — Senior Director, Integrated Merchandising & Marketing Strategy at Fanatics
1. I have an affordable mother's helper 2x a week for two hours for the crazy post-work dinner, bed, bath, dishes, and bottles blitz. It gives us peace of mind to know we have a little help and flexibility since we don't have family locally.
2. Chic baskets with lids. It really makes it easy for [my daughter], Liya, to clean up independently and our place looks instantly better.
3. My kids bathe at night, and they sleep in what they wear to daycare (unless something special occurs like picture day or my infant has a blowout). This won't last forever but has been a lifesaver on doing less laundry.
4. The freezer and the microwave are my best friends in the kitchen.

Hitha Palepu, 35 — Entrepreneur, Investor & Author
1. Outsourcing grocery shopping and all errands, courtesy of Amazon Prime Now, Instacart, Postmates, and Capsule.
2. Taking a morning walk in Central Park with my baby son, Rhaki, once my older son, Rho, is off to school. It's a really nice way to start the day and to get quality time with my youngest, and some exercise to boot.
3. Purchasing 5 of these dresses and wearing one every single day. It's all I've been wearing lately, and I'm totally fine with it.
4. Meditating or reading the news while pumping.
5. Working from The Wing on Tuesdays and Thursdays, and scheduling all my meetings, calls, and friend catch-ups for those days.

Mimi Raleigh, 39 — Army Sports Medicine Doctor
1. Make time for exercise. I use the Peloton bike or treadmill for working out at home or on the go. I also use the app for coached runs when I run with a stroller or for workouts in a hotel when I travel for work.
2. Keep solids simple. We did baby-led weaning AKA started feeding our son "real" food and not purees or rice cereal when Liam turned 6 months old. We don't prepare special kid's food — he eats what we eat!
3. Be organized! My favorite app is Wunderlist to keep track of to-dos, groceries, and even lists of movies we'd like to see. It's sharable, so if my husband swings by the grocery store, he can see what I've put on the list.
4. Shop for staples. Use Amazon Prime's Subscribe and Save for those items that are easier to just put on autopilot (diapers, wipes, favorite laundry detergent, etc.)!
5. Outsource what you can. I get some help with cleaning every other week. That's less time I have to spend changing sheets and cleaning the house and more time to spend with my family. In between, I have my son Liam help me. He loves to put laundry from the washer into the dryer and follows me with my vacuum with his little toy vacuum!

Amy Walberg, 44 — Founder of PRESS Premium Alcohol Seltzer
1. Get a pet. It sounds counterproductive, but having an animal buys me time. If I need 10 minutes to take a call, I can tell the kids to go brush the cat, and it teaches responsibility too!
2. Pack school bags the night before. Saving it all for the last-minute drives chaos, and starting the morning off with a clear mind is important in our house.
3. Make creative play a habit. I encourage creativity wherever we are, and that skill has made my kids so adaptable. They can make anything into a game. Sometimes that might look like finding clovers at the park so I can take a call, but they're having fun and not always waiting on me to create fun for them.
4. Ask kids their opinions. I bring them in on the business by sharing what I'm working on and asking for their ideas — which they love. Including them seems to have made them more understanding or forgiving when I need to work harder. We're in this together, and I want them to feel part of it.

Meg Hall, 33 — Senior Director for Digital Marketing at LEGO
1. Make your bed! My days are so chaotic that starting and ending my day with a crisply made bed somehow gives me a sense of accomplishment.
2. Borrow everything. We've bought virtually no big toys aside from a play kitchen and Little Nomad mat because we just rotate with friends. They play with things for such a short time, and it keeps our more home tidy.
3. Leave your phone at the door when you get home until the kiddos are in bed. That one to two hours (for me) of quality time with no distractions is my favorite part of my day.
4. Wake up before your babies. This can be tough, but if I can get myself ready and my daughter's daycare bag packed and in the car before she's up, my whole day goes more smoothly!
5. Invest in a capsule wardrobe! It's so worth it to have your whole wardrobe work together. Simple but quality pieces like my Yearly Co. bangles, favorite button-downs, and Chloe flats help me feel pulled together every day with little effort.

Ashley Ortiz, 37 — Creative Director at Antique Taco
1. Use a meal subscription service for kids. We still sometimes struggle to get lunches packed and get the girls to school on time, but when we have some help in the meal department, it really makes things much easier.
2. Teach the kids how to clean the windows. Have a contest of who can clean all the smudges the best. This tactic is key when company is about to come over.
3. Incorporate veggies into your kids' diet by making mushroom and squash lasagna. After baking with really good pasta sauce, gluten-free pasta sheets, and cheese, they cannot tell the difference. It's delicious and freezes well for yet another crazy dinner time.
4. Make frittatas or soup out of leftovers. My wonderful husband loves to grill, and he always makes too much. Whether its grilled meats or veggies, those make for a nice smokey finish of your favorite comfort food, and the kiddos love it.
5. Download ABC Mouse. Showers and baths require some strategy in my household, and a little iPad time is allowed when trying to tend to two kids. ABC Mouse is both entertaining and educational!

Onyi Azih, 31 — Physician Assistant & Blogger
1. Order groceries! I used to love going to the grocery store but realized so much of my time spent there could instead be quality time spent with my boys. Now, I make sure to add to my list each day of the week so, by Friday, all my items can be delivered to my house. No need to pack toddlers into the car to get groceries!
2. Use a mother's helper. For the past three months, while my husband works out of town, I've been doing everything on my own after returning home from work. Because of this professional and personal workload, I recently had a bit of a mental breakdown and realized I needed help with after school care for my kids. Now, I have someone come by our house for two hours each weekday to help me with dinnertime and tidying up before bedtime. It's helped save my sanity!
3. Always have a backup plan! I can't tell you how many times I've been called to pick up my kids while my husband is working out of town and I'm unable to leave work. It helps to have someone —  a family member, babysitter, neighbor, close friend, anyone! —  you can call for help during a time like this.

Genevieve Custer Weeks, 37 — Founder & CEO of Tutu School
1. Rent the Runway Unlimited subscription. It's kind of like keeping your wardrobe in the cloud and having it shipped directly to you when you need it. You get to have four items home at any time, and then you send what you don't want any more back and select new items. At any given time I usually have a coat, a bag, and two seasonal pieces or clothes for upcoming events.
2. Podcasts and audiobooks. When we're spending time in the car — either between activities or on road trips and drives to our family cabin — podcasts and books on Audible have been lifesavers for us and have kept the kids from spending all their time with screens. We especially love Wow in the World (a science podcast for kids), and on our road trip this summer we listened to From the Mixed Up Files of Mrs. Basil E. Frankweiler, which was really fun because we then visited the Metropolitan Museum of Art with the kids, where the book takes place.
3. The Starbucks app. No, but really. It also helps to have kind baristas at your neighborhood Starbucks who pretend not to notice when you run in to pick up an emergency "car picnic" breakfast before school multiple times in the same week.

Rachael Hardy, 35 — Creative Director
1. The app Any.do. I'm a list maker, so this helps me organize and write down tasks on the fly. I can set reminders for each day or schedule to be told weeks from now. It also syncs to all of my devices so I'm not out of the loop.
2. Amazon Prime/Amazon Prime Now. We have dance recitals, soccer practices, etc., and I always have to buy last-minute items like tights, tap shoes, etc. I can prime something via the app and have it delivered to Whole Foods while I'm making a food run that evening. I also love their Prime Video app which has a lot of wholesome children's programming when we're traveling.
3. Use group chats. Staying connected with friends keeps me up-to-date. Even if they're muted, I can catch up on the day's thread or weigh-in later. As moms, we get tunnel-vision and opted out when we don't want to. I've found my many group-chats the way I stay connected to friends.

Natasha Case, 36 — Founder & CEO of Coolhaus
1. Plan ahead what you're going to wear the next day. My theme is efficiency! It's all about making the best use of your morning.
2. Pack your lunch whenever possible — have as much food ready as possible!
3. Let your child choose. For example, if you want them to eat something, give them two options. If you only them only one option, you are more likely to be met with a "no." Help them feel some agency!