With an extensive business background and a personal love of all-things sports, Kimberly Alula is, frankly, the perfect fit for her role as Senior Director of Integrated Merchandising and Marketing Strategy at the popular online sports retailer Fanatics. Outside of her 9 to 5, this working mama is also busy raising two adorable little kids (wait until you see their pics below!) with her husband in sunny Florida. We loved chatting with Kimberly about her typical workday, how she balances her career with family life, how having kids changed her marriage, and much, much more.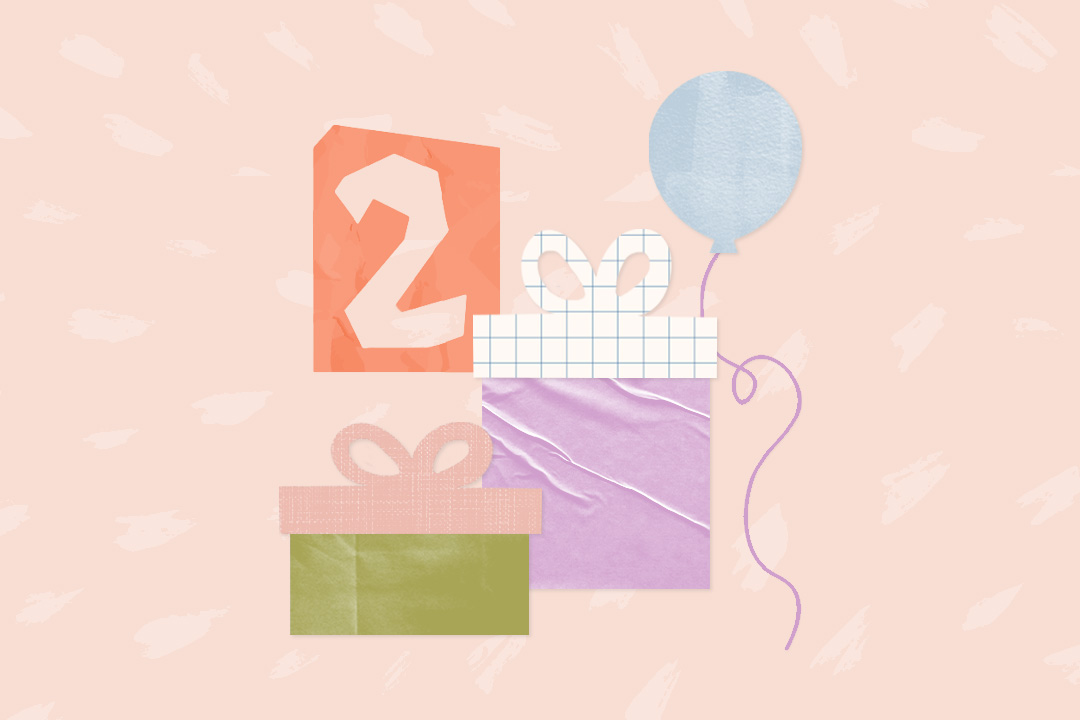 a LO in your life will love these! 🎁
Keep reading for Kimberly's tips for introducing a new baby to an older sibling at home, the go-to mom hacks that save her workdays, and the parenting advice she wishes she'd actually followed!
Name: Kimberly Alula, Senior Director of Integrated Merchandising & Marketing Strategy at Fanatics
Age: 35
Current Location: Jacksonville Beach, FL
Education: BA in Economics from Spelman College and MBA from Columbia University
Children:  Liya, 2, and Yohannes, 4 months 
What was your first job and how did you land it?
I started my career in merchandising at Lord & Taylor first as an intern through on-campus recruitment, which resulted in a full-time offer into their Buyer's Training Program. I was an intern in a program called BRAG (Black Retail Action Group), which was a dual-track Diversity & Inclusion internship program across several leading retailers in the industry.  
Where did you go to school and what did you study? 
I went to Spelman College for my undergraduate degree. It's an all-women, Historically Black, Liberal Arts College in Atlanta, GA. I studied Economics and was a student-athlete as I played golf in college.   
I earned my MBA at Columbia University and studied retail and marketing. I was very involved in our Retail & Luxury Goods Club and was the Co-President of our Black Business Students Association. I had the opportunity to learn a lot from the Luxury Goods sector within retail during my internships at Giorgio Armani and Moet Hennessy and conducted a real case study at Cartier in partnership with students at Parsons Design School.
You now work at leading sports e-commerce and merchandising company Fanatics! Tell us about your job.
I lead a team focused on competitive analysis, and I also lead the Integrated Merchandising & Marketing strategy. My responsibility is to ensure preparedness for driving visibility and traffic across platforms to our most important collections and items, hot market sports championship moments, new product launches and growth initiatives, including strategy to offer our fans an improved Women's, Better Brands, and Plus/Extended size assortment and experience. 
Can you walk us through your typical workday?
It's cliche, but true — no two days are alike! The only things that are consistent are: starting with coffee, analyzing sales and competitive reports, drafting/editing decks for our senior leadership team, meeting with my direct reports, and a significant amount of email and meetings. There are a host of other things to work on depending on the season — working with our buyers to learn/share new product trends to create new stories, aligning with the creative team for cool product launches (like our DKNY Collaboration with MLB and NFL teams), researching new approaches to our competitive data, or even meeting directly with the leagues to discuss strategic growth opportunities. 
You have a career history of working in sports — has this always been your passion?
I've always been tuned into sports growing up as a competitive golfer and find the business behind fandom to be both incredibly interesting and fun. I had a series of wonderful experiences that led to my ability to thrive in the role I have today. I learned my love and talent in merchandising at Lord & Taylor. I further solidified my skills in merchandising at a lean tech organization and was exposed to the licensing industry and eCommerce at Dr. Jays. I learned about brand management and digital marketing in practice at some of the best global brands and leaders during business school. My move to Macy's post-MBA honed-in my skills for growing businesses and working with the senior leadership teams. I followed my (now) husband from New York City to a much smaller Jacksonville, FL, to work in a local office of a major talent agency which taught me business development and sales skills. All of this culminated in my joining Fanatics in a role that literally married all of these experiences at a time when they were ramping up the team to become a world-class innovative organization.   
I think it is really important to know yourself and your gifts (can be different at different companies), do a great job, be curious, build strong relationships, and follow what's best for you versus looking left and right at what others are doing, especially early in your career. And always be thankful for opportunities that teach you something. Even if you learn it's not for you long-term, there's always something to learn and bring with you to the next opportunity. 
What do you think are important skills to possess in order to be successful in marketing?
So many channels within marketing — having an innate curiosity, customer-centricity, being data-driven, and having your finger on the pulse of what's happening (not just living in an echo chamber).  
Have you had any challenges as a woman in a leadership role? If so, how did you overcome them?
I "grew up" in merchandising under a lot of smart, empowering women in leadership roles, so I never felt that as a barrier or challenge. I've become more aware of being a woman in leadership as a new mom. I suddenly realized that 8am and 5pm meetings were nearly impossible while juggling daycare drop off and that wasn't something my male or older colleagues (who were super supportive) had to think about. It was important to be honest about what was possible, set boundaries and priorities.  
What has been the proudest moment in your career so far?
TBD… I try to celebrate small wins every day, but not sure I have a single defining "moment"  just yet.
You're also a mom-of-two! Tell us about your children, Liya and Yohannes. 
I agree with all moms — my children are the two greatest humans on earth. Liya is smart, funny, decisive, stunning, and maybe the most strong-willed person I have ever met. Yohannes is this amazingly zen, sweet, and strong boy. I wanted all girls, but he's changed me 🙂 They are the center of my universe.
What was your maternity leave experience like after having Yohannes? 
Maternity leave is such an important gift, and I have a company that truly respects the leave (I do NOT work on maternity leave — except all of the work it takes to be a new mom). I absolutely adored my maternity leave both times. I was shocked at how easy it was to unplug from career and dive into staring at my newborn on the couch most days. Taking naps, walks, and watching Grey's Anatomy in the middle of the day was such a foreign concept. I also quickly learned that extremely admirable and hard work of being a stay at home mom is not for me!  
Returning from maternity leave was the hard part — I had to learn to balance my passion for high performance at work with my limited bandwidth now that my children come first.  As I mentioned above, establishing boundaries, so that I can be present wherever I am, has been essential to my sanity and success. My children are only 21 months apart, so the second leave felt easier with the newborn but certainly more challenging to balance the life of a mom of two, which was harder for me than #1.
With both, I ended maternity leave with a nice family trip to savor the moment before heading back to work and diving back into the juggle.
How has Liya handled having a new sibling at home?
It was hard at first. She was only 21 months, so she didn't always have the words she needed to express her feelings.  There was certainly a bit of jealousy, which resulted in some non-gentle touches, but we found great guidance/recommendations from friends and Google searches, and she now has such a deep love and kindness towards him. She is absolutely his favorite person, and there's nothing better than seeing them laugh together as two little ones.   
Some things I found useful:
Talk to the baby out loud the way you talk to your toddler so they hear fair treatment, for example, "Baby Yohannes, you have to wait your turn, I'm with Liya now."
If my toddler used non-gentle touches, we did not feed that action with negative attention; we instead turned our attention to the baby even more. I read that your toddler would feel satisfied with the negative attention, and it wouldn't put an end to the behavior. It worked immediately, and she started saying that the baby "hurt" her when she hugged him.
I say things like, "You two are always having so much fun and teaming up on me" to develop a sense of camaraderie among siblings instead of competition.
How have you managed to balance being a mom-of-two while also working full-time?
There's no balance. My children are my top priority, and my colleagues are aware of that and supportive. I have learned to be more patient with the expectations of my career self, and while always doing my best, I know that this is just a family-first season of life.  
I am active in our women's network and have developed amazing bonds with colleagues who are in the trenches with me while also getting hope from those ahead of me that it doesn't get easier, but it does get better in many ways.
I try my best to be present wherever I am to maximize the time. So, if I'm at work, I'm focused on work, and when I'm at home, I focus on my family.  I set boundaries around my availability and sometimes move or decline important meetings to accommodate my life.
I had to learn how to turn off self-judgment about my hours being limited to 9 to 5 (I was used to working late), and if I'm still awake when everyone goes to sleep, I check back in to follow up on any urgent emails before I go to bed.  
With two children, my biggest hurdle is the exhaustion. I'm always tired. Managing pacifier withdrawal with Liya and starting to let my infant cry a bit now that he's of age, I just don't get a healthy amount of uninterrupted sleep. 
Lastly, I now try to limit work trips to what's absolutely required. I just feel bad leaving my husband outnumbered at these ages and stages.
How do you and your husband divide parenting roles at home? And how has parenthood changed your marriage?
We do what comes naturally to each of us, fairly traditional gender roles. I do daycare pick up and drop offs (they are near my job), cooking (or microwaving most days), purchasing (I spend way more time and money at Target/Amazon/Publix than I like to), and general research/planning/management of all things family (i.e. the mental load). He loves doing the laundry, keeping the house clean (in addition to our weekly cleaner), taking our daughter to the pool or beach or park or gymnastics if I want errands to be fast, and loves to manage and discuss financial planning for the kids.  
Parenthood makes us appreciate each other more. We both see the other as a great parent and try to vocalize that as much as possible. We try to prioritize date nights and even time to ourselves or with the girls-guys because we recognize that even with limited "spare" time, we're still whole people.   
Sometimes, my daughter will do or say something that is SOOOOO my husband, which makes me laugh and a little annoyed! But I truly love him even more now.
What are your favorite activities to do as a family right now?
One perk of leaving NYC single and raising our family in a much smaller city is that we live on the beach now! We love to watch the sunrise from our bed, take beach walks, or revel in the brightness of the moonlight. 
We also love watching Disney/Pixar movies together to discover a new favorite.  My husband adores Coco, I love watching The Little Mermaid with my daughter, and we all love Madagascar 2.  
With fall approaching, we cannot wait for all-things apple picking, pumpkin patches, fall festivals, and Halloween — such a beautiful and family fun time of the year!
When it comes to motherhood, what are you most confident about? What are you still insecure about?
I am really confident in my unconditional love and effort for my children. I know myself, and I know I have that down.  I'm also really confident in my choice to work out of the home and send my children to an excellent daycare. I would go insane at home with them seven days a week, and as my best friend stated best about her own experience and resonates deeply for me, "a little distance makes the heart grow fonder."
I'm less secure about arts, crafts, and cooking. I've never been interested in those things but recognize the importance of them and admire moms who do this.
If you have to choose just one, what's been your favorite moment from motherhood so far?
This is almost impossible, but the one that stands out the most is when my husband brought my daughter to the hospital to meet our son. It just felt very touching and special.
Can you share with us a few mom hacks you rely on to make things work in your day-to-day life?
1. I have an affordable mother's helper 2x a week for 2 hours for the crazy post-work dinner, bed, bath, dishes, and bottles blitz. It gives us peace of mind to know we have a little help and flexibility since we don't have family locally.
2. Chic baskets with lids. It really makes it easy for Liya to clean up independently and the place looks instantly better
3. My kids bathe at night, and they sleep in what they wear to daycare (unless something special occurs like picture day or my infant has a blowout). This won't last forever but has been a lifesaver on doing less laundry
4. The freezer and the microwave are my best friends in the kitchen.
Kimberly Alula is The Everymom…
Go-to meal to cook? Scrambled eggs and bacon. Fast and works for all hours of the day. Pasta with butter too. Tasty, filling, and not as messy as red sauce.
Dream vacation? Returning to Amalfi Coast with our kids!
Guilty pleasure? Driving alone in complete silence. I think I'm supposed to feel guilty about some of my TV selections, but I don't 🙂
I wish I knew how to… Enjoy arts and crafts and cooking with kids. 
Best mom advice you've ever received? You're not eating for two when pregnant. And sleep train your kids (didn't take that advice and I'm still annoyed with myself).
Most embarrassing mom fail? I'm late to work constantly.