After Mownika Chawla welcomed her first child, son Rohan, the Indian-American stay-at-home mom realized she couldn't find traditional Indian clothing for her little one to wear to special family occasions. So, she decided to make some herself, and her children's clothing brand, Hava World, was born.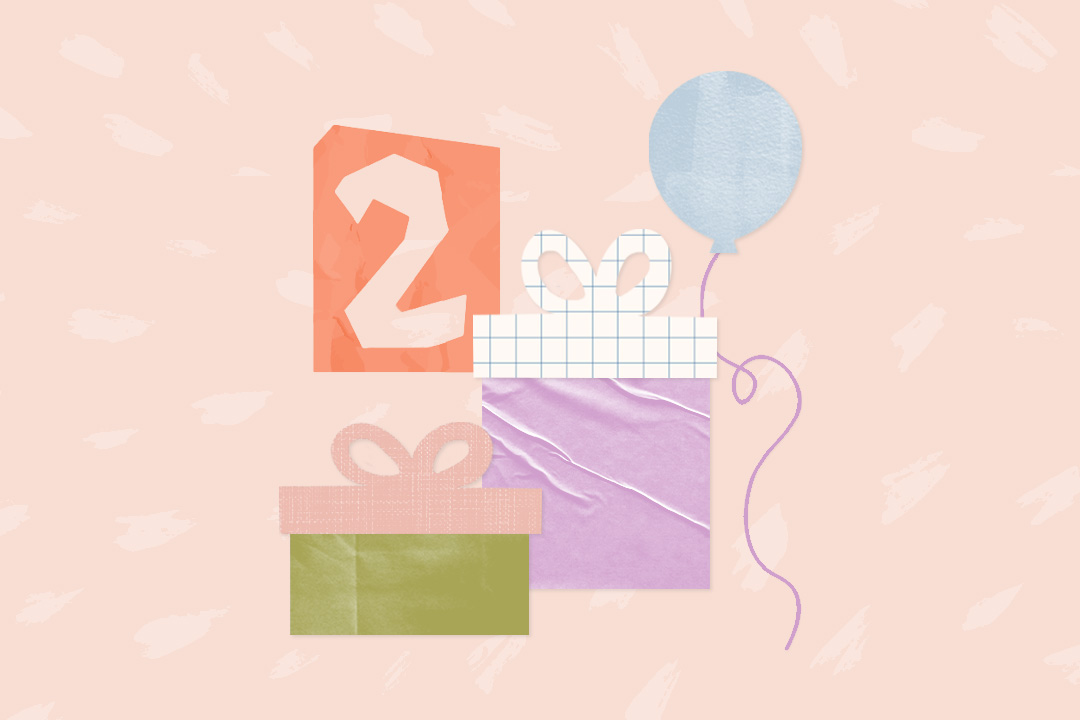 a LO in your life will love these! 🎁
Fast forward a bit and today, Mownika is busy running her own business while also raising her adorable son. From designing pieces and reviewing pre-production samples to filling orders and running the brand's social media, this mama does it all at Hava — and loves every second of her new career.
Keep reading to learn more about how Mownika's Indian heritage inspired her company, check out the advice she'd give to other women hoping to start a business, and see her five expert working moms hacks (spoiler alert: she loves the Montessori method!) that help ensure her days run smoothly!
Name: Mownika Chawla, Founder and CEO of Hava World
Age: 33
Current Location: Chicago, IL
Education: Graduated from medical school
Children: Rohan, 2
You are the founder and CEO of the children's clothing brand Hava. Tell us about your business!
Hava was inspired by my childhood and my love for experiencing other cultures. We make globally inspired clothing for children. Our mission is to inspire curiosity about other cultures so our children embrace a global community.
Tell us a bit more about your current job title and the ins and outs of your day-to-day work.
I am the founder and CEO of a start-up that hasn't raised capital, which means there's not a big team to do all the work that needs to be done. Each day is different depending on what the business needs from me. One day, I'll meet the delivery truck at the loading dock of my storage locker to unload boxes and do inventory, and other days are spent in front of the computer. My favorite part (other than filling orders) is the entire design process from scouring the Pantone book to the final pre-production sample.
Why did you want to start your own company?
When my son was 2 months old, we were planning to attend a family wedding, and I was looking for Indian clothing for my son, but I couldn't find anything cute and comfortable. What I did find didn't fit him well, and the fabric didn't feel great. I figured I wasn't looking in the right places, and I didn't have the time at that point to really look into it. He ended up not wearing Indian clothes at all to the wedding. I did, however, find tons of comfortable tuxedos and suits for newborns and young children!
We then had a few more events when my son was around 7 months old, and I had the same problem again. This time, I decided to just put him in the uncomfortable clothes, and he was really cranky, so I ended up changing him halfway through the first event. The next day, I decided not to put him in the Indian clothes I had for him. After this event, I really started to research the options out there and found that they were not what I was looking for — so I decided to make them myself. But as I started to formulate my business plan, I thought about how these outfits are usually only worn for special occasions and then they just sit in a closet. I realized I wanted to start by making clothes that could be more versatile. By incorporating traditional Indian designs and patterns with organic cotton and child-friendly fabrics, Hava World is able to produce clothing that kids love to wear and parents love to dress them in!
How has your personal background played a role in your career and in founding Hava?
I am an Indian-American who grew up in Texas, but I never quite felt like I fit in. Growing up, kids would make fun of my mother's clothes or the way Indian food smelled. The more I experienced this, the more I would try to be "less Indian." When I was a freshman at The University of Texas at Austin, my mom really wanted me to go to school in India to reconnect with my roots, but I was very resistant. After my mom passed away in a car accident, I moved to India and started medical school — and I found that I was too American there! I am proud to be an American, and I'm proud to be an Indian. I've learned that I cannot be just one or the other. As obvious as that may seem, it really took me a while to accept that fact. As I watched my son and his friends grow, I saw how much children absorb from the world around them, and I decided to bridge this cultural divide through clothing.
You previously studied medicine in India — when and how did your passions shift to entrepreneurship?
I decided in second grade that I was going to be a pediatrician. My passion for entrepreneurship developed in high school, but the stability of medicine won out! I loved the creative outlet that was provided to me by mom's business growing up, and I wanted that from my own career.
What challenges did you face with starting your own company? And what has been the most rewarding part of having your own business?
I am learning everything from the beginning, and the learning curve has been steep! Finding a manufacturer that would work with a start-up proved to be very difficult. I spent hours every night after my son went to sleep calling, emailing, and messaging manufacturers around the world. The most rewarding aspect has been the brand's community on Instagram and getting to know the Hava customer. It is still so surreal to me that people are choosing to spend their hard-earned money on Hava pieces. I am so thankful that I've had the opportunity to pursue this dream!
What advice would you give to other moms who are interested in starting their own business?
Get started in whatever small way is possible for you today. Reach out to people you think could give you advice or feedback — you'd be surprised how many people are happy to help. I joined the incredible community HeyMama before I even started my business, and it has been an invaluable resource for me.
As a mom to a 2-year-old, how has motherhood impacted you personally and professionally?
As cliche as it sounds, motherhood has been the hardest and the most incredible experience. Personally, I feel more confident, but it took me a while to get here. There are so many ways to raise a child, but I did my research and chose what works best for my family, and at the end of the day, my husband and I get to decide how we do this. The stakes are higher now, so you learn to stand up for yourself and your family. Professionally, I've learned to be much more selective with what I can take on.
Were you able to take maternity leave with you had your son? Tell us about that experience.
I wasn't working when I had my son, so I was able to keep him home with me. It was extremely hard and very isolating. My husband was in his first year of residency and had no flexibility. I wasn't thriving as a stay-at-home mom, and I started working on Hava when my son was around 9 months old. So, we decided to start daycare three days a week, for everyone's sake, when he was 11 months old.
As a working mom, how did you decide what childcare situation was best for your son, Rohan, and your family?
We went back and forth between hiring a nanny and sending Rohan to daycare, but ultimately, we liked the social aspect of daycare. It was a bit of an adjustment, but we are all doing so well with our routine!
What has surprised you the most about motherhood so far?
I have always wanted to be a mom and have always been drawn to all kids. I always spent more time with the kids than the adults at any family party, so when I had my own child, I expected it to be this heart bursting, overwhelming, love at first sight experience. It wasn't. I loved my baby, and I wanted nothing more than to give him the best and protect him from everything, but I always felt a little like I didn't know him. My husband, on the other hand, had the experience I thought I would have and that made me feel even more guilty. As I slowly came out of the postpartum haze, I felt more connected to my son, and it's been amazing to watch his personality develop. I wish everyone could experience his personality the way I get to.
In your experience, what do you believe are the key components in balancing your career, your relationships, and parenthood?
Saying "no"! This is so hard to do because you feel like you're always letting someone down, but it's the only way to stay sane. My son recently had surgery. While it wasn't a major surgery, it was scary, and he needed me to be completely present, so I got really behind on work, and I'm still catching up. That week, I had to say "no" to a lot, and that was an easy decision. Sometimes, it's just turning off the computer for an hour of catching up with my husband before bed. It's not easy to do with such a long to-do list, but it is very necessary. I'm currently on a red-eye flight from India to Indonesia with my son, feeding him with one hand and typing this with the other — balance looks different each day. I'm learning not to be too hard on myself.
Can you walk us through your daily routine?
I wake up at 7am and have to get breakfast ASAP — Rohan always wakes up extremely hungry. Breakfast is usually fruit and toast, eggs, or cereal. We try to keep it as easy as possible. We quickly get ready for the day, and depending on what time my husband has to get to the hospital, we drop him off and then I take my son to school. After drop off, I go home and go through emails and DMs and answer anything that I can immediately. I make a list of emails that I need to get back to later. Next, I fill orders, and I head to the post office to drop off packages. The rest of the day is different every day — meetings, calls, various approvals. No two days are the same!
At 4:45pm, I try to wrap up what I'm doing and go pick up my son from school and then my husband if he's done with work. Rohan eats dinner around 5:30pm, and then, we read and play until bathtime, which is at 6:30pm. At 6:50pm, we offer Rohan a snack and then head to his room to start our bedtime routine. He chooses his pajamas and chooses two books to read. We put his sleep sack on, read the book, Rohan then turns off the light, and we sing a goodnight song I made up (I think) and "You Are My Sunshine."
After Rohan is asleep, I usually get back to work from about 8pm to 12am. Usually, this is the time I talk to manufacturers and other members of the team that don't live in the U.S. I also take this time reply to the emails and DMs that take longer to answer. Somewhere in there, I take a break to eat and spend time with my husband.
What are the greatest challenges and rewards of being a working mom?
Mom guilt is very challenging. I remind myself that, when I'm working, I'm the best version of myself and that's ultimately best for my son as well. It is so rewarding when my son asks to "help" me with my work. He'll examine product and say, "I like it mommy, I like it!" I am so glad he gets to grow up seeing two parents do what they love.
When it comes to being a mom, what are you most insecure about and what are you most confident about?
Depends on the day! In general, I am most confident about how loved and secure I make my son feel. I am most insecure about his eating habits these days.
If you had to choose just one, what has been your favorite part of motherhood so far?
The unconditional love I receive from my son can always turn my day around. I feel like I have a higher purpose and the little things don't bother me as much now (most of the
time).
What advice would you give to your 22-year-old self?
Slow down. Everything is a phase — the good and the bad!
Can you share with us a few mom hacks you rely on to make things work in your day-to-day life?
1. I make everything a game for my son to make transitioning from one activity to another easier. For instance, he doesn't want to stop playing to go take a bath, so we say bye to his toys and look for his ducky. We'll look under random objects and he says, "Silly mommy, ducky is in the bathroom" and all of a sudden he's ready to get in the bath. It's fun for me to see his absolute glee versus the screaming that would typically ensue. When he starts getting impatient if we are out somewhere, we also play "I Spy" and that always buys me time.
2. We have been following the Montessori method since my son was born. We keep a few toys out, and the rest are in the closet — we rotate them periodically and it's like a new toy each time. Our system is not as streamlined as it used to be, but we still follow the same principle. I used Montikids and Lovevery and could not be happier with how well this worked for us.
3. I have struggled with my mental health for so many years now that I make it a priority to do something for myself every day. Some days that's a cat nap or some mindless TV watching, and other days it's Qigong and pilates. It's sometimes overwhelming for me to even take 10 minutes off, but I make sure to spare at least a few minutes to be calm.
4. Periodic brain dumps — it can be 10 minutes or 30 minutes, but make sure to set a timer. I make four categories: Rohan, Hava, home, and miscellaneous (yes, I fall under miscellaneous). This has been working really well for me. I'm still behind on my to-do list, but I feel less overwhelmed by it.
5. The best mom hack is learning to be OK with not doing it all. Even with the tons of tips and tricks I've implanted in my life, things still tend to fall between the cracks, and that's OK!
Mownika Chawla is The Everymom…
Last Netflix show you binged? Friends — for the millionth time!
Beauty product you can't live without? Augustinus Bader The Rich Cream
Favorite Hava product? Sachi set! Being a boy mom, it's nice to have a unique set to mix and match. We use it so much.
Dream vacation spot? An overwater villa in the Maldives
Favorite way to wind down after a long day? Watching TV with my husband
Your camera roll is full of… my two babies, Rohan and Hava
Most embarrassing mom moment? Any time Rohan lifts up my skirt or shirt in public!
Favorite family tradition? Not exactly a tradition, but Rohan's bedtime routine is so calming and the three of us feel so connected during that time every day.
If you could have lunch with any woman, who would it be and why? Eva Chen! I really admire how she forged her own path. I think that would be a fun lunch!