Back in college, Sophie Elgort was on the pre-med track when she started helping friends photograph products for their e-commerce fashion brand as a fun side project. Fast forward a few years and Sophie is now a professional photographer and director working and living in New York City with her husband and their young daughter, Stella. Though she's able to make her own schedule, this hardworking mom is always busy prepping for shoots, editing her gorgeous photography, running a business, and (as if all that's not enough!) occasionally acting as a substitute cohost on a parenting-themed podcast.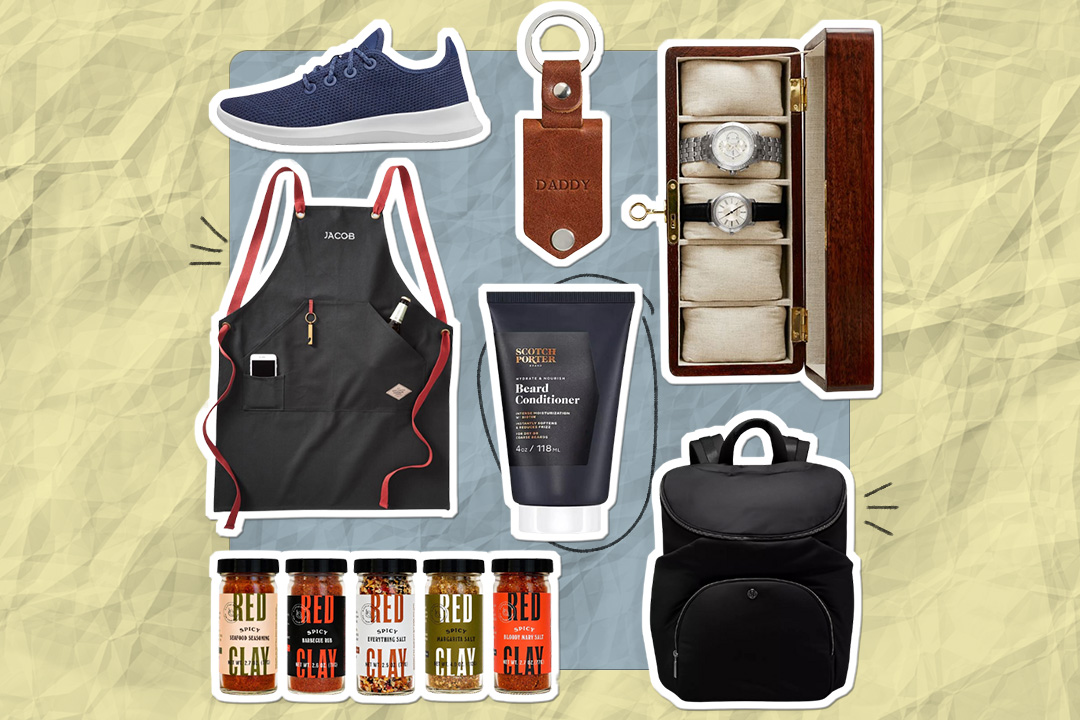 june 18 is coming up fast — have you started shopping yet? 😎
Scroll down to find out what Sophie loves most about her job, read what she thinks are the best parts of raising a toddler in the Big Apple, and check out her five favorite mom hacks!
Name: Sophie Elgort, Photographer & Director
Age: 33
Location: New York City
Education: B.A. from Brown University
Children: Stella, 18 months
You're a fashion and portrait photographer based in New York City — how did you decide you wanted to work in this industry? 
I grew up in New York City and went to Brown as a comparative literature major thinking I never wanted to take math or science again. Interestingly enough, after a year of a bunch of visual arts and literature courses, I decided to become pre-med. At Brown, you have to fulfill certain courses to do pre-med, but you don't necessarily have to be a Biology major. I guess I just wanted a path. I wasn't sure what I wanted to do when I grew up, so I looked at pre-med as a backup path while I was figuring things out. My whole family is made up of artists, and I wanted to do my own thing. 
In the meantime, my friends started an e-commerce fashion brand and they needed pictures. My dad is a photographer, and I always grew up taking pictures, so they asked if I could photograph for their brand in exchange for some clothes. I started doing all of their pictures as social media was starting to gain traction in 2010. They got great exposure through MTV and Teen Vogue, and I got photo credit for it. I started getting asked to do all of these shoots, and at that point, I decided to become a photographer. It was kind of a random path!
What do you love most about working as a photographer? 
I really like it because every day is different. I get to meet all sorts of interesting people and create images that I want to create. I get really excited about going through the images and seeing what we got at the end. I get to be creative, but I also get to run my own business, which I love. Being a photographer right now is so interesting because there's so much you can do with it. You're not just behind the scenes anymore. Now, people care about the process that goes behind the photos. I can create my own stories around my shoots, and I've gotten to do fun projects surrounding that. I've done some "expert spots" talking about image, fashion, and photography on different TV segments and podcasts. I'm a substitute cohost on a podcast called Moms Got This. It's a really great time to be an entrepreneur because you can really make your career what you want it to be.
Tell us a little bit about your family and what it's like being a working mom.
My husband's name is Eric, and we've been married for almost five years. We had our first daughter, Stella, on Valentine's Day of 2018. It's been a crazy, life-changing experience. One of the things I've realized about my career now that I have my daughter is that I can be really flexible with my schedule. Even though I put a lot of hours into my work, I can make my schedule look how I want it to look. I'm not on set every day, and when I'm not, I get to choose when I want to spend time with her.
My parents are both artists. My dad used to bring us on set when we were younger — he is a photographer. My mom is an opera director, and I used to be in the operas if there was a kids choir section and would be able to hang around her productions. Even though I didn't plan it for myself, I'm realizing the value in it now. I've made my schedule so that I can have a good amount of time with my daughter most days. I'm really glad that I get to work and be a mom. I can imagine it's more challenging to do that in a really structured job.
How has your husband played a role in supporting your goals as both a mother and a photographer? 
Eric is always 100 percent supportive — sometimes I probably take it for granted. It's very much about what I want. Right now, we have a nanny for Stella four times a week because I've chosen to take Fridays off to spend the day with her. I'll take her to classes, we'll arrange playdates with friends, and I'll take her around the city. That's my choice. There are certain times when I feel overwhelmed because I'm losing that day of work, and my husband reminds me, "You don't need to take Fridays off, we can get help on Fridays as well." We always come together and decide what makes sense and how we want to spend our time. He's very clear on the fact that we will make things work in a way that's good for both of us. He's very supportive about helping me to find that balance.
How did you and Eric decide that having a nanny was the best childcare option for your family?
Originally, we were thinking of doing daycare for socialization purposes, but the timing of it just didn't work out. Stella was going to be too young for daycare when I wanted to start back up at work. Even though I work for myself, I took a normal maternity leave. We ended up getting a nanny, and I made the decision of working four days a week and have Fridays off to spend with her. Our nanny was a recommendation from a family friend who has known her their whole life, and she's incredible. She has three daughters herself and is a wonderful mom. I don't know how she does it. She's great with Stella. When I first saw them play and interact, I knew she was in good hands and was learning a lot. For now, we'll do that, and then I'd like to start Stella in a twos program two or three days a week this September. We would still keep our nanny on the same schedule. She also does all the cleaning, some housework, and even brings food for Stella sometimes. Hopefully, we'll have more kids, and we'll try to keep a similar schedule with our nanny because it works so well for us.
My parents both still work, so even though they live in the city, they can't watch Stella for the week if I'm out of town. My husband's parents are retired and live in Arizona. The last time that I was traveling, his mom came for the week and watched her when I was gone. His mom actually does that for his brother's kids too, and we know she enjoys doing it. That has been our plan for when I'm traveling. We're still trying to find a few different solutions and to see what works.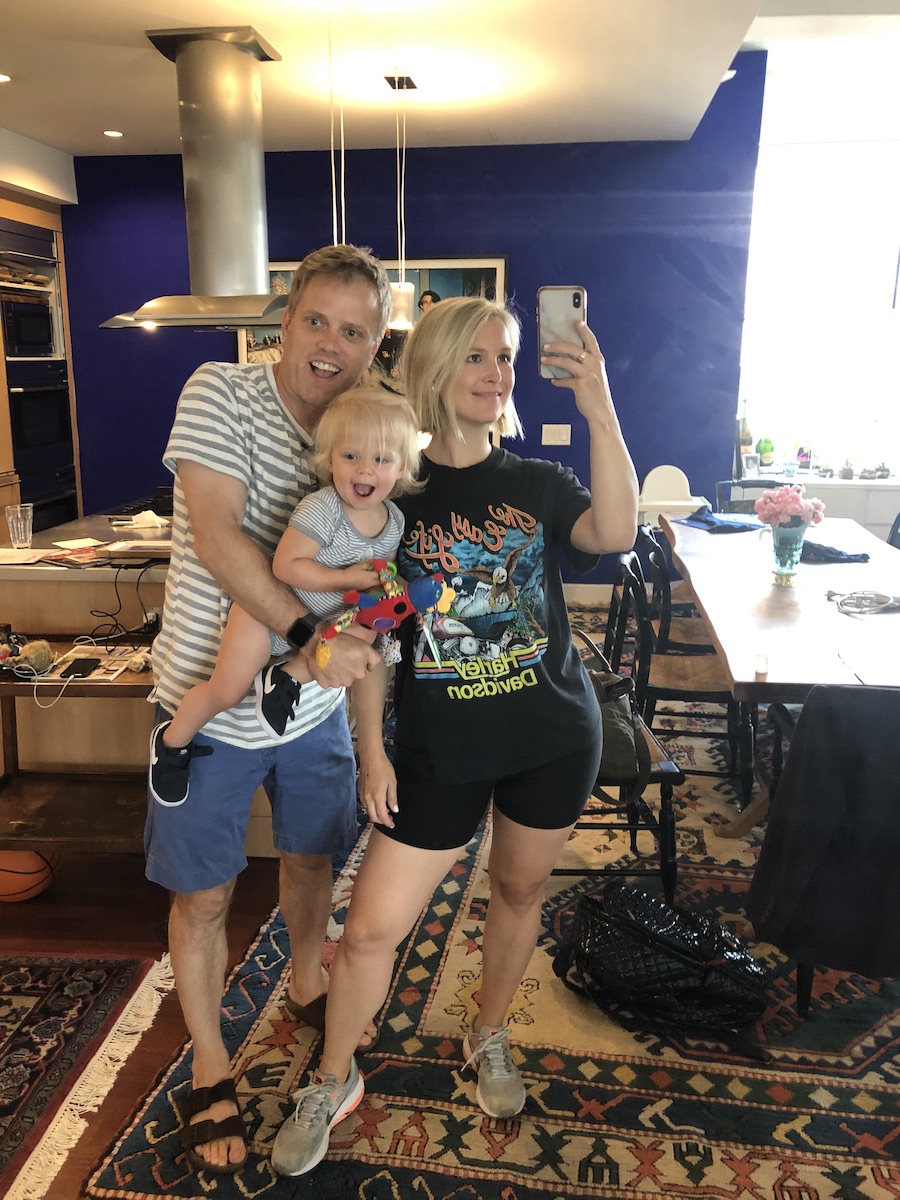 What did your maternity leave look like with Stella? What was your experience like when you returned to work?
I sort of played it by ear. I was breastfeeding and with how frequent nursing was in the beginning, I knew that I needed to be home. Even if I wasn't breastfeeding, I would have wanted to be home for bonding during that time. I did one half-day shoot at six weeks out because it was right in New York, so I wasn't gone for long. I think I only missed one feeding, so I just pumped for that.
My first real campaign back was after three months, and that was also in New York. I didn't actually travel for work for a year. I think, even though I wasn't shooting for those three months, I still had to respond to emails, so I wasn't totally off of the grid. I kind of liked having both, though. I was definitely ready to be back to work when the time came! I love my time off from work to hang out with her on Fridays, but that's also my most challenging day — it's just a lot. Some people are totally cut out for being a full-time mom. For me, it just takes so much energy. At the end of the days on Fridays I'm like, "Whew, that was my craziest day of the week!" I really like having both a career and motherhood.
Our nanny is with Stella from 9am to 5pm. If I'm not shooting, I'll be with her from 5pm to bedtime, and we'll do different activities together. I love that I get to spend time with her after a fulfilling day at work and can really focus my attention on her. I like having that balance between working and having my mom time. When I first went back to work when Stella was 3 months old, we shot a two-day campaign, and at the end of the day, others on set were like, "Sorry that was such a crazy day." I just remember thinking, "You must be out of your mind. That was not crazy. It's crazy being a stay-at-home mom!" I have a lot of friends who are stay-at-home moms who have chosen that path. A lot of them say that they feel judged on their decision because they have degrees they aren't using. I think it's incredible. I tell them all of the time that that job is the hardest job of any. Raising a little person is the most challenging but rewarding thing you can do.
You've lived in New York your whole life! How has it been raising a child in a big city and how has New York changed for you since welcoming Stella?
I think New York is great because it's so walkable and convenient. You don't have to get in a car and strap your child into a car seat. You can walk around and meet friends. I grew up in New York City, so this is what I know. For me, it's so nice to be able to have everything right here and to not have to drive anywhere. I rarely take cabs or Ubers with Stella because I find it such a pain to have her in her car seat and strap her in all day. It's just not my thing.
I take the subway, use the MTA app, and click where the accessible stations are so that I know which stations have elevators. Sometimes, it's frustrating because the elevators can be out of service, especially on the weekends. I'm always pretty annoyed about that because I do need help to get the stroller up the stairs. It can also be difficult during rush hour because you might not be able to fit in the subway with a stroller. In general though, it's so fast to take the subway, and Stella is so friendly. She loves waving to people on the subway and streets. I think that is a result of having her out and about all of the time. I have a diaper bag packed that goes under the stroller which has a change of clothes, some diapers, a changing mat, wipes, her water, a few snacks, her bib, and a toy or two. I don't bring that much stuff around!
Can you walk us through your daily routine?
We have a gym in our building, and we have a personal trainer come on Tuesday and Thursday mornings. Eric works out from 6:30-7:30am while I watch Stella, and then we switch. She wakes up around 7:30am, so most of the time, he runs back and tries to shower before she wakes up. He's more of a morning person, so he exercises earlier than I do. While I'm working out with the trainer, he gets Stella out of bed and makes her breakfast. By the time I get back up, she's been fed, he leaves for work, and then I wait with Stella until our nanny arrives. Depending on the day, I'll take calls, answer emails, prep for shoots, and work from my home office during that time. Stella's nanny comes at 9am. On Tuesdays and Thursdays, they go to the library for a sing-a-long story hour, and then they'll go to the playground. I see her in between her activities during the day, but I try to stay in the office to get things done.
Our nanny will leave at 5pm. I'll get Stella at that time, and we'll go meet up with a friend of mine, go on a playdate, or I'll bring her to a work event. I've started to integrate her into my life so I can keep doing what I would have been doing before while spending time with her. My husband gets home at 7pm. I feed Stella before he gets home. He does the bedroom routine with her where he gives her a bath, puts her pajamas on, and she's in bed by 8pm. After that, Eric and I have dinner together, and then we usually go to bed around 10:30pm.
On Fridays, we wake up and Eric feeds Stella breakfast. I'll take her to her swim lesson at 11am, and then we go to lunch at my dad's studio which is really fun because she gets to see him every week!
What are the greatest challenges and rewards of being a working mom?
As a parent, there's just no downtime anymore. I was recently with my brothers — who are both in their 20s — at my parents' house and one of them asked if I could watch Game of Thrones and I wasn't caught up. He said to me, "It's the afternoon, just catch up on the episodes you missed before tonight!" And I was like, "When? I have to watch my daughter all day. I can't take my eyes off of her. She'll climb on the dining room table and fall off the back!" You have to be constantly on, and I guess I didn't realize how much energy it all takes. I think that's the biggest challenge. When I started taking days "off" with Stella, I thought I'd be able to get some work done, but it just doesn't work except for the one hour that she naps. Otherwise, I feel like I'm doing a bad job on both ends, and that's just not worth it.
The greatest reward of motherhood is that it's so fun to have this little person that is growing and changing all of the time. It's so great to watch her see joy in everything. I love being a mom. I love the whole experience.
When it comes to being a mom, what are you most insecure about? What are you most confident about?
I was never someone to read a lot of books about having kids, so I feel like there's a lot that I just don't know. I wouldn't necessarily say that I'm insecure because I don't know what I don't know! I just figure it out as it pops up. I guess my biggest challenge is finding the best way to juggle everything. Eric and I have been wanting to go away just the two of us for a while, and we haven't been able to make it happen. We have to consider the logistics of who would watch her. I hate logistics in general. Also, I worry about safety. We have window guards on our windows and have the basics down, but I always want to make sure I'm doing all of the right safety protocols. 
I'm most confident that I've stayed true to who I was before having Stella. I still spend a lot of time with my single friends who don't have kids. I feel pretty good about integrating being a mom with who I was before.
Can you share with us five mom hacks you rely on to make things work in your day-to-day life?
1. Taking public transportation whenever possible (the subway and the railroad).
2. Feeding Stella what we eat from the beginning. She will now eat absolutely anything!
3. The Mother Goose Club Sings Nursery Rhymes Spotify playlist can change Stella's mood from a tantrum to laughing in seconds.
4. Using Jetblack, a shopping by text service. I can send a picture of what I've run out of and it's delivered the same day or next.
5. Using dry shampoo because sometimes there's no time to wash my hair!
Sophie Elgort is The Everymom…
Favorite family tradition? Whenever we are both home for dinner, we set the table, light candles, and put on music even if we are just ordering takeout.
Easy go-to family meal to prepare? Cauliflower pizza — I have frozen cauliflower crusts in the freezer and just add Rao's marinara sauce, mozzarella or burrata cheese, and the toppings of my choice that night (often it's soppressata, red onions, and basil). I do an arugula salad on the side.
Your dream vacation? Biking through the vineyards in Beaune, France. This is where my husband proposed to me (a complete surprise)! We hope to go back for our 10 year anniversary.
Last home item you splurged on? Framing — my photography, art we have collected, and personal photos.
Guilty pleasure? Red wine and dark chocolate.
Most embarrassing mom moment? I usually take Fridays off, but a few months back, I was scheduled for a meeting on a Friday (and she knew I was going to bring Stella). So, Stella was sitting on my lap toward the end, and all of a sudden I felt something warm. She had peed through her diaper onto my lap. My jeans were soaked. Needless to say, I had to cut the meeting short. The woman was very nice about it, and we have remained in touch!
Proudest career achievement? Being named on the Forbes 30 under 30 list in 2016.
Favorite date night activity? At night, trying new restaurants. For day dates, it's skiing, tennis, biking, surf lessons, paddleboarding — the list goes on.
Best mom advice you've been given? Everything is temporary.