Many parents are crippled with anxiety over what kind of childcare they need right now. This pandemic has tossed all of our worlds upside down, with many of us having to decide at a moment's notice what the next best thing is for our family. It doesn't matter if you have a newborn or a fifth-grader, most parents are making an incredibly difficult decision when there isn't a perfect option to choose.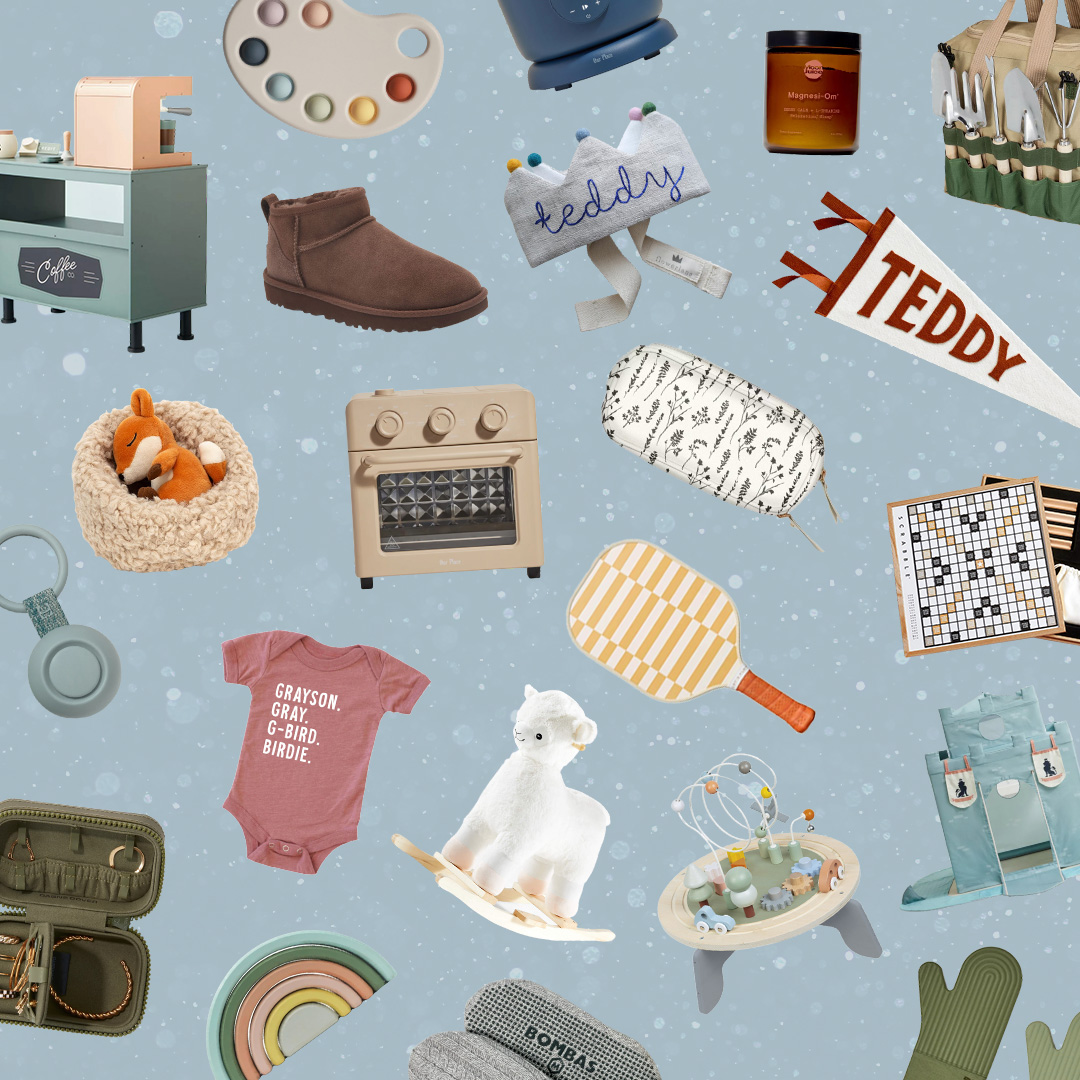 everything you need to ace holiday gifting this year 🎁
It seems like every week I'm reading another article about the mental impact school and childcare decisions are having on us parents (not to mention our kids). You, too, may be wrestling with childcare options, whether you should send your child back to school this fall, and how you're going to juggle work if that's a part of your life right now.
We often hear the phrase "you're not alone" in parenting, but I wanted to show how true it is. I reached out to other moms and asked them how they've made it through the last five months with their kiddos and what their plans are for the future. I hope somewhere in these women's stories you can truly feel that we're in this together.
Daycare
1. Jaclyn
When COVID first hit, we kept the kids home with us for four months, even though daycare was deemed essential and remained open. My mom helped us a ton from March through July, but it was completely unsustainable for all of us—my kids included.
Ultimately, we had to make the choice whether we would continue to pay for two daycare spots that we weren't using or pull the kids out of care altogether. Daycare waiting lists are SO long, and we didn't want to risk not having any care. We sent them back a few days a week while I work from home, and my husband is back in the office. As I take on more work projects, we will probably add days to their care schedule.
2. Laura
When everything started shutting down, unfortunately, our daycare did too. My husband and I were forced to work from home full-time while caring for our 16-month-old son. To put it mildly, it was impossible, chaotic, frustrating, and overwhelming. At this age, he is walking, and his mind is full of curiosity which means he wants to get into anything and everything his hands can reach. As you can probably imagine, it is unrealistic for either of us to constantly have our eyes on him while also tending to our work or being in hour-long meetings.
While I originally thought I'd keep him home for as long as I possibly could, in the heat of frustration we sent him back full-time daycare once it opened. On day one, they sent home his first finger painting picture and sent us photos of him chasing bubbles. These are the kind of activities we just couldn't do during our day while working from home, and so for now, while I question it every day, this is the best decision for us.
3. Krys
My son has been in daycare for about two years now. When the pandemic hit, his daycare sprung into action creating very firm boundaries on who and what could come in and out of the facility. I'm an essential worker, so I had to get a letter from my job and complete a form that allowed him to continue with the daycare under the pandemic license.
Since February, the protocol has been dropping him off at the front door, staff taking his temperature every morning, and parents maintaining a social distance with masks on. Having him still in daycare during this pandemic has been a blessing both for my career and for my ability to keep up his normal schedule. I know not every parent has this experience, so we are grateful for having options during this time.
Help From Family or a Nanny
4. Alaina
Childcare: My husband during the stay-at-home order, now a nanny and grandma
When Chicago went into lockdown at the end of March, we had a brief moment of "OK, well, we can't have our nanny coming anymore–it's too dangerous" (which she agreed since the city was under a stay-at-home order) to "Well, crap, we're going to have to tag-team watching the kids and block scheduling work" as we both tackled working from home without childcare.
But literally the next week, my husband was furloughed from his job which meant he was put on temporary leave as businesses were shutting down. He became our childcare for the next few months which truly was a godsend.
Now that he is back at work, we had to find a nanny again, but at this point, we have moved out of the city and are very fortunate there are much lower numbers where we currently live. Our current nanny is temporary and only with us for the summer, so we are doing the interview process all over again. One of the first things we bring up are their COVID precautions. We have to ensure candidates uphold all of the necessary precautions of wearing masks and social distancing and trust they're doing it. I emphasize that we do see grandparents, and it's really important to keep them safe.
5. Kathy
Childcare: My husband and I at first, now a babysitter
My husband and I tried our best to both work from home and homeschool our two daughters during the school year, but we knew it was not going to be sustainable for the summer. My job is more flexible, but it still meant reduced productivity for me during the day.
Our college-age babysitter was self-isolating with her family during the lockdown and was eager to begin working after her college moved to online classes. In late May, we had her come back part-time so I could get at least three full days of work in. It's been a great decision. My girls have focused attention and someone who can drive them to safe activities, play LEGOs, or bake cookies with them upon request. As we move into the school year, my kids will be going back for in-person instruction. I know I'm not alone in feeling anxious over our choice to send them. I worry we'll be in for another work-from-home and homeschooling situation again if cases rise.
No Childcare
6. Amanda
Currently, I work part-time from home, and I've been doing this since my daughter was born (she's now 1). I'm grateful I never had her in any sort of childcare and haven't had to make the tough decision of sending her back or keeping her home, but if you had asked me before all of this started if I'd be juggling working from home and caring for my daughter, I would have said no.
Previously, I thought by this point I'd be working more hours and she'd be in some sort of daycare part of the week. I wish that was a realistic scenario as it would give my daughter more opportunities for socialization, and it would give me more time to focus on my work, but for now, it makes more sense for her to stay home as I worked limited hours.
7. Rachel
My partner quit his job in January to stay home with our son. He loves hanging out with our kid, and my work is more demanding, pays better, and I like it more. For the year that we were both working before COVID hit, we felt a lot of stress to cover childcare for our ever-changing schedules. When COVID began, I had a lot of travel (both for fun and work) canceled, and I was OK with that because it meant I was able to be there as our toddler began walking and talking.
The self-isolation has forced me to pause my business, and it's been nice to take a break from the work hustle. Since we're foster parents, my daily hustle now looks like changing diapers and making food for our toddler and another newborn we welcomed into our home in May. Since I'm self-employed, I don't get parental leave. We've been considering offering childcare for another family that is working from home to give our little guy some socialization and allow us to continue being together.
8. Lizzie
Before the pandemic, I had childcare set up with my family, most of whom live very close by. Now that we're living in a parallel universe, my husband and I feel pretty risk-averse about the whole situation and have opted to keep our girls home while we work.
It is mostly terrible, I'll be honest, though it's not lost on me that we are incredibly lucky to have the option to continue working through this crisis. We trade off work hours—my husband gets up very early and I stay up very late—and we milk naptime and weekends for all they're worth. This hardly feels sustainable, but we feel there are no safe alternatives, so we soldier on. The keys to surviving this season of life seem to be communication, micro-naps, and plenty of dance parties.
9. Ojus
When the shutdown started, my husband and I managed to work from home with our two kids, and it was pretty much a disaster, but we did the best we could. Now that my husband is back at work, I'm still working from home full-time with the kids home with me. Though my younger son's school is now open, with me being eight months pregnant, we are trying to keep our bubble as tight as possible. Since we don't live near any close friends or family, our options for an extra hand feel rather limited.
I'm doing the best I can, but it's honestly an impossible struggle—not only am I exhausted and in desperate need of a break, but I feel terrible about having to tell my kids I can't play with them when I know they, themselves, are trying to manage their own emotions surrounding isolation and shutdown. On top of that, feeling constantly behind at work even though I feel like I'm working all hours of the day is anxiety-provoking for someone like me who needs to check things off a list to feel accomplished. I pride myself on my work and my family, and right now it definitely feels like I'm failing at both.
10. Jasmine
When all of this COVID stuff came out, I was juggling working part-time outside of the home and a side business at home all while my husband was in between jobs too. When they closed schools, my husband was around to stay home with our four girls while also learning how to live with one income. We chose this option because, at this time, it is the best one for us. We may have a tight budget, but the best place for our children is at home, and we have made it work so far.
The decisions parents have to make right now are not easy. It's OK if you're feeling stressed and don't have a clear answer of what to do next—none of us do. We're all just trying to make the best decisions for our kids and families, and sometimes that can change month to month or, even moment to moment.