When Clare Kalimuthu and her husband were designing their son's nursery in their Logan Square, Chicago home, they knew they wanted to create a sophisticated and gender-neutral space for their little boy that could also work for a future daughter. The result is a stunning, black and white room featuring chic gold accents that literally provides all the interior design inspiration you need to put together a monochromatic space for your new addition. Keep reading to find out where Clare gets home decor ideas, how she repurposed a bar cart in her child's nursery, and how she plans to transition the space into a toddler room for baby James.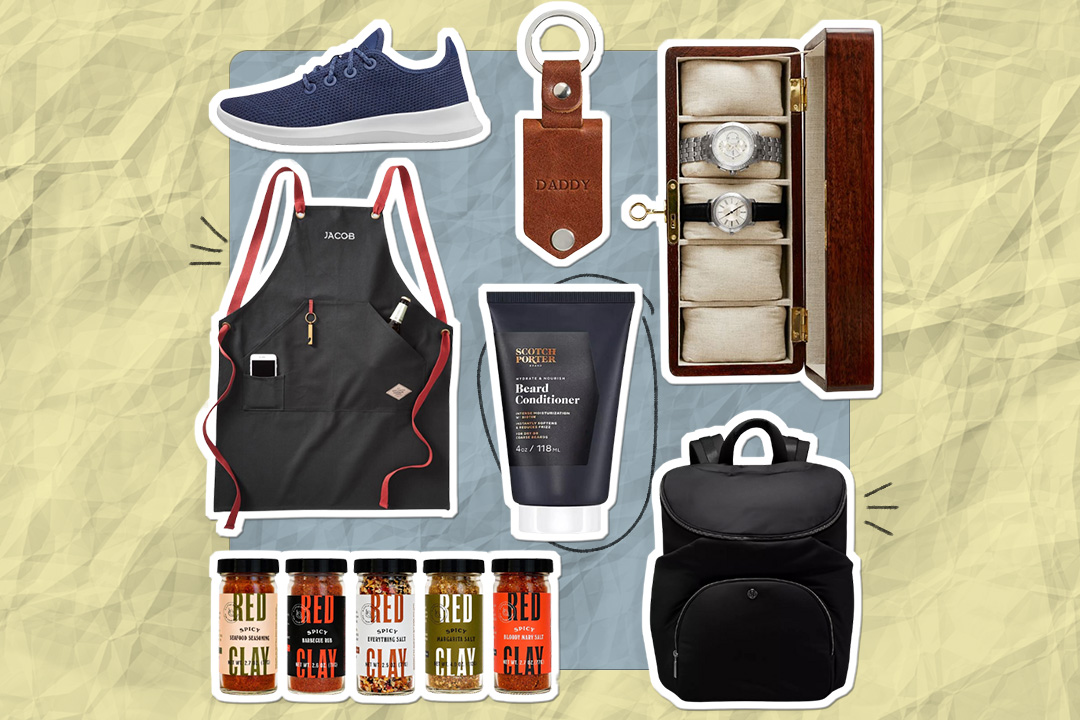 june 18 is coming up fast — have you started shopping yet? 😎
Name: Clare Kalimuthu, Facilities and Events Coordinator
Location: Logan Square, Chicago
Sq. Ft.: 2,000
Years Lived In: 1
Rent or Own: Own
Children: James, 8 months 
You're an events coordinator in Chicago. How did you get into this profession? What's your favorite part?
I started working at my current company as a Front Office Assistant and a position for facilities and events coordinator opened up. I love to plan events, especially events that are in the city. I also love to travel to New York for events that I plan in New York. I also work within facilities and love being able to help with design and coordination of our space in all of our different offices. 
You and your husband, Mike, moved into a new home a week before your baby boy James was born! What drew you to this house?
We loved our last condo, which was in Logan Square, but it was on the third floor and the garage was not attached — so not very baby-friendly! We also did not have much space for the baby with two bedrooms since we used the second bedroom as an office and my husband's closet! Our current home has an attached garage and three bedrooms. It is also a townhouse which makes it feel like a single-family home. The home was also new construction which was amazing to be able to customize the finishes. 
SHOP THE LOOK

You chose to do a neutral wall color with bold flooring for your son's nursery. How did you decide on this color scheme? Why did you decide to go with a dark color for the flooring?
I love white walls and dark floors! I love black and white color schemes with a pop of color. 
Can you walk us through your design process for this space?
As I mentioned, I love a black and white color scheme and also wanted nursery furniture that was gender-neutral in case we have a girl one day. I loved the black and white scheme but adding some color with stuffed animals and some artwork. I also wanted to make sure to add some brass in the door handles, bookshelf/cart, and light fixture. 
Were there any quirks in this room you had to design around? If so, tell us about them. 
Not at all! The only thing is we have a huge terrace outside of his room and a lot of light gets in, so we had to get blackout drapes and blackout shades to help make the nursery a little darker for sleeping. Other than that the room is perfect for him! There is also a bathroom within the room that works perfect for bathtime routine. 
The use of gold accents throughout the room is so pretty. Were there any design "rules" that you followed in this space?
I didn't want to use too much gold where it might start to look a little too flashy. I also wanted to make sure I picked the light fixture and handles for the dresser that were gender-neutral as some light fixtures and handles could look more for a girl's nursery.
SHOP THE LOOK

I love the idea of using a bar cart for a makeshift bookshelf! Where did you get this idea?
We actually had this bar cart left from our rooftop deck at our last home, and I couldn't think of anywhere to reuse it! When we moved in, I realized it would fit perfectly on the wall in his nursery! I didn't have any bookshelves yet and had a ton of books for him as well as other little items that could fit perfectly on the bar cart! It's my favorite little spot in his room 🙂 
How do you think you will adjust his room as James gets older?
As he gets older, I feel like we will either use the items in his room for another child and get him a new bedroom set or his crib has an option to make the crib into a toddler bed. I feel that I would maybe do more of a kids theme when he gets older depending on what his likes are. We can easily incorporate any theme in this room I feel like! 
You have a huge love for home decor! Where do you go for inspiration?
I love researching on Pinterest, The Everygirl, and new homes on the market, but mostly, I find a lot of inspiration on Instagram. I follow a lot of new moms that have a lot of great ideas for nurseries and Project Nursery is a great source for nurseries. 
How does your dog, Stevie, get along with James?
Stevie and James both love each other! Stevie is always trying to sneak in for a kiss, and James can't get enough of her! 
SHOP THE LOOK

How has your view of motherhood changed since becoming a mother?
One thing that has changed is not going out as much as I used to. I definitely used to go out in the city a lot more than since James was born. Also, being a working mother, I don't really have much time for myself anymore, but I enjoy the time that I have to be spent with James. It is definitely challenging to try and do everything! 
How do you divide parenting roles with Mike, and in what way has your marriage changed since having James? Have you learned anything new about each other since having a baby so far?
Mike and I both do equal parenting. When I do want to go out or he goes out, one of us will stay home with James. We both go together to and from work and take James to and from daycare. I feel that nothing really has changed since having James other than super happy and enjoying every minute!
When it comes to being a mom, what are you most confident and insecure about?
Being a new mom, I would say I am most confident about spending as much time as I can with James and trying to raise him to be a good person.  Also, knowing that I am doing the best I can to be the best mom I can be. It's not always easy, but I have a lot of family and friends with kids that are good to talk to for advice.  I would say what I am most insecure about is not being able to be with him much during the week and having to send him to daycare. I feel bad that I really can only spend a few hours a day with him, but I realize that so many moms out there do this, and he loves daycare! 
Clare Kalimuthu is The Everymom…
Favorite family tradition so far? I can't really think of any yet! I want to start taking a family vacation once a year — as of now, we have just started taking him to Wisconsin for a few weekends in the summer! 
Last item you splurged on? Mike and I planned a trip to go to Portugal! One thing we used to do a lot before James was travel, and we don't want to give that up! 
Guilty pleasure? Fast food 
Favorite date night activity? Dinner and cocktails! 
Ideal way to spend a Saturday? Spend the morning relaxing and then get things done around the house! Go out to brunch or dinner and trying out new restaurants in the neighborhood 
Home essential everyone needs? Decorative pillows, throw blankets, cocktail table books, candles, and my favorite is a cute bar cart to accessorize!