Shauna Dean's Instagram is captivating for two reasons – first, it is bursting with joy. Like, that authentic, sometimes messy, mostly smiley joy that reminds you in the kindest way that motherhood can be a blast in between the craziness. The second thing is that her feed is, miraculously, clutter-free – no, really, you can actually see the playroom floor, and we just had to ask how she made that happen with two toddler boys.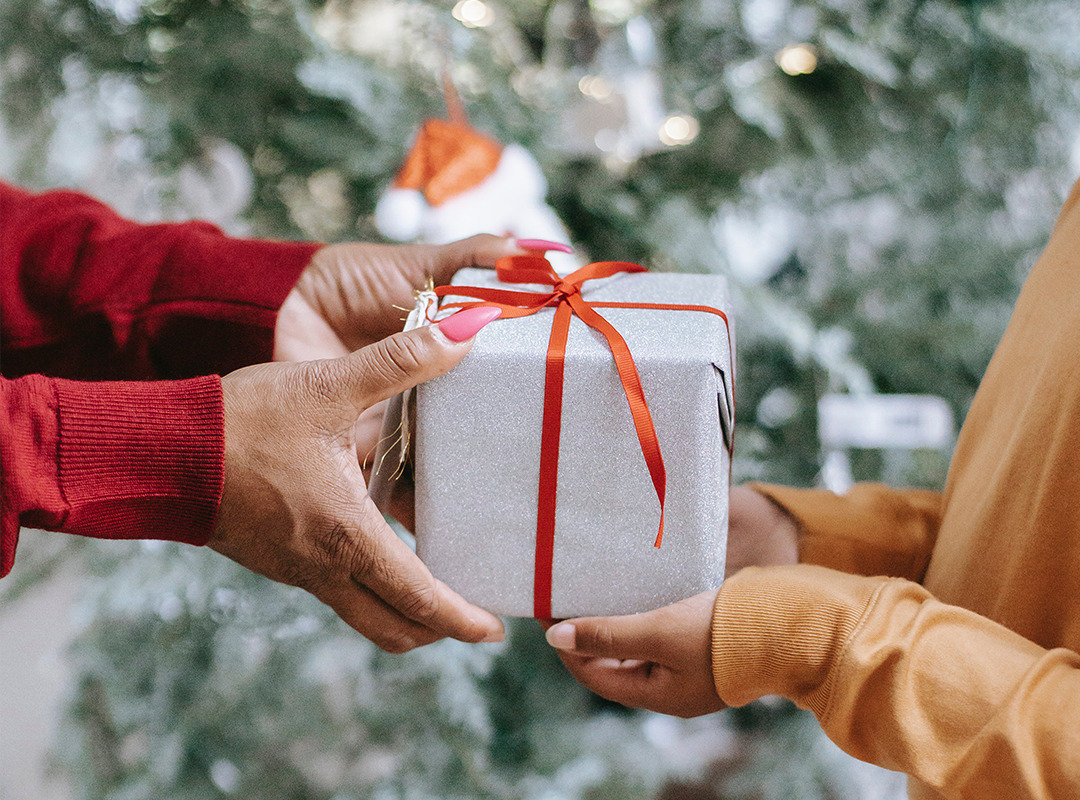 this makes gift buying so easy—trust us! 🎁
The modern playroom is making our minimalist-design hearts sing, and content creator Shauna (of one of our favorite motherhood blogs, Quentin & Co.) is telling us all her tips and tricks to making such a lovely space come true. Read on for her design secrets, how she and her husband are growing together as parents, and her go-to piece of mom advice (that doubles as her design philosophy).
Name: Shauna Dean
Age: 30
Current position/company: E911 Dispatcher and Content Creator
Location: Ontario, Canada
Rent or Own: Own
Children: Cohen, 3.5, and Crew, 2
What was your first job, and what valuable lessons did you take from that?
My first job was as a hostess at a restaurant, and from there I went on to wait tables for six years. It taught me how to be personable with anyone, but by the end of that career, I was so over having to be kind to rude customers. The service industry requires acting of sorts, and it gets exhausting. The valuable lesson I learned there was the importance of feeling authentic in your job.
You launched your modern motherhood blog, Quentin & Co., back in 2015. What prompted the launch? How have you seen the site change and grow over the years?
I launched a few months after my son was born. I had just started a year-long maternity leave, had just finished re-decorating our home, and was an avid blog reader at the time. Subconsciously I think I was looking for a creative outlet (that didn't require leaving the house because, newborn days); when you become a mom you give so much of yourself away. Quentin & Co was something that was all mine, a little refuge from the all-encompassing role of motherhood. I'm a better mom because of it.
Over the years, I've honed my voice more when it comes to blogging. The posts and content I share now are more authentically me than ever before.
What was some of the best advice you received about starting your site? What advice do you have for bloggers just starting out?
I didn't really receive any advice about starting it, because I didn't ask! I just quietly went for it and didn't even tell friends and family, other than my husband, until I had dipped my toes in the water.
That would be my advice for bloggers starting out – just go for it! Don't let anyone else's opinions influence you; it's not about them. Just do your thing and you'll find your community. If you're authentic, you'll love what you do, and that's what it's about.
This playroom was the first room you designed when you moved into your house in 2017. Were there any important features you had in mind when designing it? Was the end result different than you anticipated?
The first thing on my mind when I designed it was proper storage and the first item I purchased were two sleek looking cabinets from IKEA. I decided to put two of the Besta units side by side to fill the space, and from there it was time to sprinkle in all the fun! Initially, I envisioned something extremely minimal in style, that you would hardly notice is a playroom. What I ended up with is something more reflective of the boys' fun personalities, and I'm happy with that.
The color palette is soft and neutral; what made you decide on this? What elements did you add to make sure it was kid-friendly?
Life with two little boys can be pretty chaotic, so I need to channel the calm however I can! In our home, that means a soft and neutral color palette. I think it feels clean, classic, and soothing. That's the vibe I wanted for our space!
My biggest focus for a kid-friendly playroom was making sure the boys could easily access their things. We tested to make sure they could open the doors on the storage unit, kept the bookshelves low to the ground, and added an activity table with rolling storage bins that they can access underneath.
All the white was a bold choice with kids – how do you keep it looking clean and fresh? What tips do you have for moms looking to get that all-white look while protecting their furnishings from dirt and spills?
You have to give up sleep and most of your social life once you have little ones, but not white! I have gotten strategic since sharing a home with a dog and kids, though. Anything white in the room can be wiped down, and because I've tried and failed, I now avoid white upholstery altogether. When messes happen, my weapon of choice is Magic Erasers. Have a stockpile of those on hand and you'll be fine!
How do you keep the room organized? Tell us your storage secrets!
The biggest key to the playroom looking and feeling organized is that nearly every piece has storage of some kind. The activity table sits in the middle of the room and came with two rolling storage bins that tuck neatly underneath. The play kitchen has storage in the fridge, stove, and underneath the sink, so all the play food and utensils live there.
Another organizational tip is storage within storage! To prevent the inside from becoming chaotic, our Besta cabinets are filled with baskets for sorting and storing toys. One shelf is for puzzles, a few others for vehicles, and the rest hold baskets for smaller toys that tend to cause organizational chaos otherwise!
What are your favorite places to find furniture and accent pieces?
IKEA forever has my heart when it comes to storage. It's affordable enough that I can really dive in and organize the heck out of a room. I also love the endless options to customize and adjust their pieces as your needs change (we can remove the legs and mount the Besta cabinet to the wall later on, for example).
When it comes to adding those focal furniture pieces to the kids' spaces, I don't think it gets more classic than Pottery Barn Kids. I can picture myself passing down the table and play kitchen to future grandkids! They'll always look right.
In terms of accent pieces, I adore decal and wallpaper companies like Urban Walls. They make the star decals that fill the main wall of the playroom. Such a fun and easy way to add so much character! Small shops that I find on Etsy always pull through with unique accents, like the hanging animal heads from Heartfelt Creations.
You have two boys — how did you incorporate both of their interests and personalities into this space?
I chose to avoid any color in the space, so I used lots of patterns, like stars and polka dots, to weave in the boys' playful personalities. They love to be active – always climbing, running, or wrestling – which is why I decided to splurge on the white elephant slide. I wanted a sturdy piece that allowed them to get some energy out, and it's been worth every penny. Aside from that, their interests shine in the toys we have in the room – baskets of animal figurines and bins of trucks and trains!
Is the playroom the only space in the house where the boys' toys are? Or do they tend to take over the whole home?
The playroom is the only space where the boys' toys live! This is a combination of really intentional storage and the fact that I regularly sort through their things. I've gotten my three-year-old into the habit of doing this with me.
Whenever I notice the toys are getting out of control, we go through the playroom together and fill up a donation bag. I think it's healthy for him to learn to assess what he has, what he truly uses, and to donate the rest to someone who could gain joy from it. Plus, they play more when there are fewer toys.
Our two favorite pieces of this room are that gorgeous calendar and the sleek play kitchen; how did you make the choice to incorporate those pieces?
Even when we lived in a much smaller home, I've always loved adding an oversized element to each space. I think it makes the room look larger. So when I needed art for above the long storage cabinets, I knew I wanted something BIG. I've always loved the Stendig calendars, they remind me of a classroom, so the playroom seemed like the perfect spot for one!
As for the play kitchen, that was a decision my heart made! I loved them as a kid, and seeing my boys play with theirs makes me so happy. I think it's a quintessential childhood toy.
What's your favorite part of the room?
Definitely the play kitchen. Adding all the little baskets and bins for utensils and play food was so fun! We even found an adorable wooden coffee maker. Along with the letterboard that sits above (from Letterly Love) there was so much opportunity to add personality, so styling their tiny kitchen became a fun mini project. It's also the spot where the cutest play happens! They love making me imaginary coffee, and I added mini muffin tins to their stove so they can cook up little creations.
How would you describe your decorating style, and what transitional skills have you learned from this design process that have helped you as a mother?
I'm always struggling to define my decorating style, and the best I've landed on is modern traditional. I gravitate toward clean lines, neutral colors, and an open airy feel, with a dose of traditional (like a vintage-looking rug or a classic chandelier) to make everything feel warm and inviting.
So many design skills have translated to motherhood, surprisingly! "Done is better than perfect" comes to mind. So many times I get stuck design-wise, and I don't want to move ahead if I feel something isn't perfect. In parenthood (and decorating) I've found it better to go with the flow instead of working against it. The boys have also steered me away from the more feminine, romantic design style I used to favor.
We just love your big terrier, Quentin! How did you introduce a pet to the kids?
Oh gosh, Quentin! We had him for nearly two years before the kids came along, but they were on our mind as we chose a breed. We'd heard Airedale Terriers are great with kids, and from the time he was a puppy we were very intentional about training him to tolerate someone petting him while he eats, or touching his face and paws, etc. The boys have also had some training! We make it very clear that Quentin is a member of the family who gets treated gently and with the same respect as any human. The boys adore him and vice versa!
How do you and your husband divide parenting roles? How do you work on your relationship?
It's tricky! I think the best thing we do in terms of dividing roles is knowing at the end of the day, we're a team. It's not my way vs. his way. It's more like, let's take both of our opinions into account and figure out what works best for this family. We share and swap all the roles of parenting, but there's always ongoing conversations so that we're working off the same gameplan. That makes it sound very straightforward, but any parent knows it isn't that simple!
I think we're naturally working on our relationship as we navigate parenthood every day, but the most intentional (and fun) way is date night, or if we're lucky, a weekend away. Taking that step back gives us a chance to appreciate all the hard work we've put into building our life together and to just enjoy each other without the demands and responsibility of parenthood.
Shauna Dean is the Everymom…
Best brunch in your city/town? Eggs Benny at The Twisted Apron in Windsor, Ontario.
Show you could watch over and over? Friends.
Best advice your mom ever gave you? You worry about being a good mom because you're a good mom.  
Favorite children's book? On The Night You Were Born by Nancy Tillman.
Your camera roll is full of… Videos of Cohen dancing and Crew learning how to talk.
Guilty pleasure song? Anything from a Disney soundtrack, especially "Bonjour" from Beauty and the Beast. I don't know why it makes me so happy?!